Anti-Trump Republicans mobilizing center-right voters in Nevada to switch their registrations, caucus with Democrats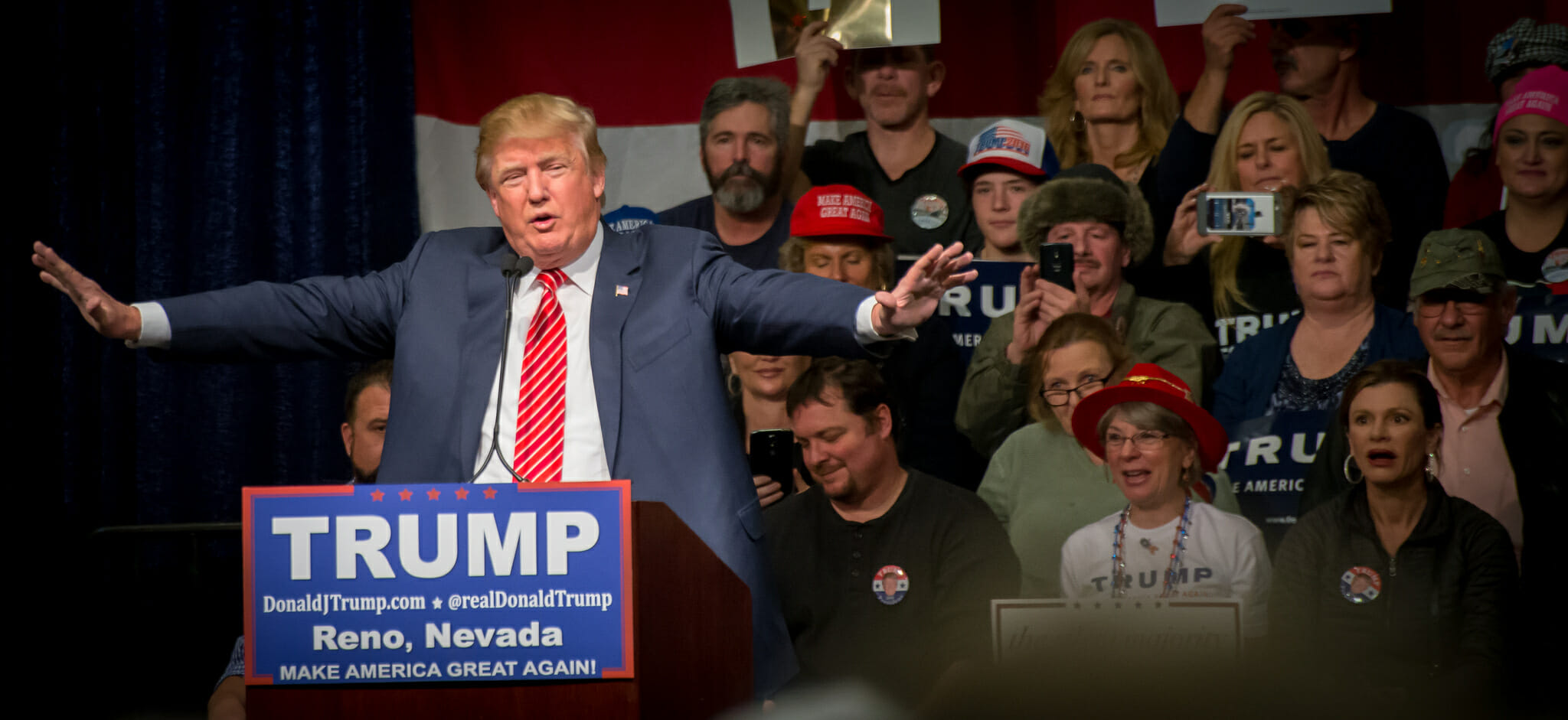 A new center-right organization working to oppose President Donald Trump's re-election is launching a voter mobilization effort to encourage disaffected Republicans and right-leaning nonpartisans in Nevada to switch their party registrations and participate in the state's Democratic presidential caucus later this month.
While Trump has encouraged Republicans to cross over and vote in the Democratic primary in order to select the "weakest" candidate to oppose him in the general election, this new organization, Center Action Now, is trying to get center-right voters to elect a Democratic presidential nominee they could support in the general election over Trump, according to Tim Miller, one of the groups' directors and a former Jeb Bush staffer. The organization — which was established as a nonprofit on Feb. 3 — launched its voter engagement effort ahead of the New Hampshire primary and is now turning its focus to Nevada.
Miller said Center Action Now's goal is to "expand voter engagement among disenfranchised moderate, former Republican voters who don't feel like they have a home in the political process."
"A lot of them right now feel like they don't have a vote in the process, and they don't have a way to participate," he said.
A memo, obtained by The Nevada Independent, highlights the planning and detail anti-Trump Republicans have put into building an organization that would allow them to have a say in the Democratic nominating process. Miller, however, cautioned that the memo outlines "a project that did not come to fruition" as first detailed.
"Anti-Trump conservative voters have a clear interest in the Democrats nominating a standard bearer who is both ideologically tolerable — even if there are major differences on policy — and more likely to defeat the President and allow the Republican Party to move beyond Donald Trump," the memo says.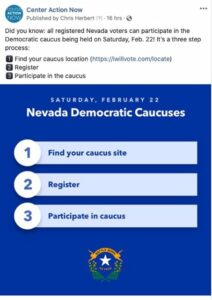 The organization, which was first reported on by Quartz on Tuesday, plans to identify Republicans and right-leaning nonpartisan voters in Nevada in coordination with other groups and organizations that maintain lists of such voters. Center Action Now is also launching a digital ad program in the state focused on building up its list of moderate voters and getting people to re-register to vote as Democrats by directing them to iwillvote.com, a voter registration website paid for by the Democratic National Committee.
In an effort to identify the types of voters it's looking for, the organization has run digital ads targeting both Vermont Sen. Bernie Sanders and Trump. One Facebook ad, which ran ahead of the New Hampshire primary, shows a picture of the two politicians side by side and encourages people to "sign our pledge for sanity."
"We're tired of division. We're tired of anger. We need leaders who can bring Americans together, not continue to inflame hatred," the ad says.
His personal feelings aside, Miller said the goal of the ads is not so much to discourage people from supporting Sanders so much as whittle the universe of voters that the group is hoping to target its outreach to.
"I think that if you're trying to engage voters who feel ostracized by the extremes of both parties, they're going to likely not support candidates that are at the extremes of both parties," Miller said. "We're testing what works for identifying these types of voters and trying to figure out who they are."
He added that the group will not attempt to persuade the voters it contacts to support any particular Democratic candidate. The group's efforts, he said, will be solely to focus on informing moderate voters in Nevada about the Democratic caucus process.
"The voters we're talking to, they're not happy with the state of the Republican Party. They're not happy with the president. So we're educating them to get involved in the Democratic process so they can back a candidate they can be happy about and that they can support," Miller said. "This is about empowering them to throw their support behind someone that they can feel good about that they can get behind."
In addition to Miller, Sarah Longwell, a political strategist and another Never Trump Republican, and John Stubbs, a former official in the George W. Bush administration who founded a Republicans for Hillary Clinton group in 2016, serve on the nonprofit's board of directors.
Miller declined to provide any details about who is funding the group, its budget or the size of its staff. As a 501(c)(4) nonprofit, the organization is not required to disclose its donors. According to Facebook, the group spent $13,280 on ads the day before and the day of the New Hampshire primary. The Nevada campaign, Miller said, will begin "imminently."
He also said that a "much higher percentage" of the group's financial resources will be directed toward voter contact through phones, text and mail over digital ads.
Since its launch, the organization has been reaching out to possible disaffected Republican voters and nonpartisans it has identified to gauge their interest in switching their voter registration to participate in the Democratic nominating process.
The hard part is they're not even sure how big the universe of voters they're trying to reach is. Miller said it's likely a subset of the roughly 360,000 registered nonpartisans in the state and another 10 or 15 percent of the 530,000 registered Republicans turned off by Trump.
Once those voters have been identified, Miller said, the focus is educating them on how to participate, including whether they need to switch their voter registration depending on the state in which they live and helping them figure out how to participate,.
"A big part of this is going to be telling people they can do this," Miller said. "My anecdotal feeling is that a lot of voters who are inclined to support a Democrat in the general election don't realize that they can participate, or how to or what a caucus is, or what to do when they get there."
IndyFest is proudly sponsored by:
Comment Policy (updated 4/20/2021): Please keep your comments civil. We reserve the right to delete comments or ban users who engage in personal attacks, use an excess of profanity, make verifiably false statements or are otherwise nasty. Comments that contain links must be approved by admin.