Armed militia movement takes center stage in first Bundy standoff trial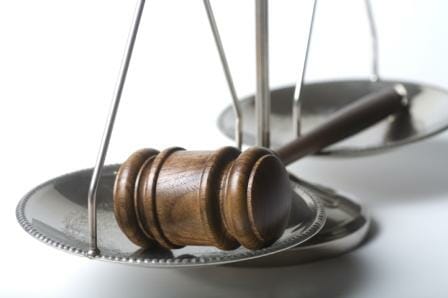 The shadow of America's armed militia movement fell over U.S. District Judge Gloria Navarro's courtroom this past week in the trial of six defendants charged in the role of gunmen for Bunkerville rancher Cliven Bundy.
 The trial has been downplayed as simply the first of three scheduled and one featuring the "least culpable" of the 18 total defendants named in the case. But evidence introduced in recent days gives a clarifying picture of what could be ahead in the second trial, which includes the rancher, two of his sons and militia member Ryan Payne.
 Armed militia members, many expressing anti-government views and promoting violence, were all over the standoff.
 FBI agents made a methodical presentation of sections of more than 12,000 pages of Facebook posts and messages collected in a government search. It revealed defendants and others with ties to various militia groups communicating with members of the Bundy family and planning to bring their weapons to the increasingly tense scene of the April 12, 2014 standoff between the rancher, who owes $1 million in unpaid grazing fees, and Bureau of Land Management law enforcement charged with securing hundreds of cattle in a court-ordered roundup.
 The testimony presented a different view of the defendants, whom their lawyers have portrayed as patriotic citizens who came to Bundy's aid after viewing troubling Internet video posts that were made in the days leading up to the standoff.
 Although no shots were fired and no injuries were reported that day, the defendants are charged with using their weapons to intimidate law enforcement in an effort to recover Bundy's trespassing cattle. The effort proved a temporary success when the decision was made to depart the area near the impound site approximately 90 miles northeast of Las Vegas off Interstate 15.
 Prosecution evidence left no doubt that defendants Richard Lovelien and Gregory Burleson drove to Bunkerville with weapons in anticipation of using them. Lovelien was described as a leader of a group called the Montana State Defense Force of Libby.
  For the most part, Lovelien's social media posts were relatively circumspect. But he also offered what sounded an awful lot like a defiant workingman's credo in a September 2013 post well prior to the trouble in Bunkerville. "I demand my country back from those who aren't fit to run it. ... And if you are not willing to give it back I am prepared to take it back."
 Not all those communicating with Lovelien and other militia members were on board with taking weapons to a nonviolent protest. Wrote Roy Roady Voss, "You guys are going to get people killed. ... Stop trying to blow this thing up and stop helping others do the same thing."
 Others appeared giddy at the prospect of a possible battle. One beer can commando ended his bragging missive with "BYOG (Bring Your Own Gun.)" Another, in writing a letter of resignation to Lovelien, said he was heading to Nevada to join the fight. "I'm off to war!" he wrote.
 Burleson, who went blind in the months following the standoff due to a medical malady, in Facebook posts wrote fatalistically and expressed a willingness to die if necessary in Nevada.
 "I see all those who have gone before me and they beg me to take my place besides them in Valhalla," he wrote. "... Feds and BLM have started confiscating weapons from civilians (unconfirmed), 400 more BLM rangers are on their way to the Bundy Ranch. ... I look forward to joining my ancestors in the afterlife."
 In reality, guns weren't being confiscated, and the only reinforcements the BLM and U.S. Parks Service Police received came from Las Vegas Metro, the Nevada Highway Patrol and the FBI. (Burleson made references to getting information from the Drudge Report as well as from mainstream media sources.) Most law enforcement backup arrived in the wake of an intelligence report that noted dozens and even hundreds of militia members were discussing converging on the Bundy Ranch.
 In what could reasonably be described as gloating, after the cattle were released, Burleson was back on Facebook posting messages and photographs.
 "I faced off with heavily armed Federal Agents this weekend, what did you do, go shopping?" He wrote, later adding, "Officially an American Badass WORLDWIDE!"
 A day later, with a photo of himself holding an AR15 assault weapon near the site of the standoff, Burleson posted "That right there is a True American militia."
 The celebrant could barely contain himself: "Drove 8 hours, no sleep for 24, got there, KICKED ASS and smoked a Cohiba ... Round one is ours, gonna go back in a couple days to make sure the Fed Bastards get the message." And: "That right there is a Real Minute Man, and I got the hat to prove it."
 He's not alone.
Navarro rejected a steady litany of defense objections that the Facebook messages were more prejudicial than probative. Not all defendants were mentioned in the posts, nor have all yet been directly tied to militia organizations. While some militia groups portray themselves as constitutionally focused fraternal organizations that aid their local communities in times of crisis, others espouse anti-government rhetoric and even nationalistic and white supremacist views while advocating violence against federal employees.
 America, and especially the West, saw a surge in militia growth with the 2008 election of President Barack Obama. But it appears the Bundy standoff also had an impact on the phenomenon. In January, the Southern Poverty Law Center reported a more than one-third increase (from 202 to 276) in armed militias nationally in its wake. SPLC Intelligence Project director Heidi Beirich observed, "We believe these armed extremists have been emboldened by what they saw as a clear victory at the Cliven Bundy ranch and the fact that no one was held accountable for taking up arms against agents of the federal government."
 In one post Burleson observed, "Damn and all I did was go there looking for a fight."
 Now that the militia shadow has fallen on the first Bundy trial, and its essential importance to the future trials is clear, Burleson and the others are in the fight of their lives.
Featured Videos
Comment Policy (updated 4/20/2021): Please keep your comments civil. We reserve the right to delete comments or ban users who engage in personal attacks, use an excess of profanity, make verifiably false statements or are otherwise nasty. Comments that contain links must be approved by admin.