About 300 people eligible for parole are being held in Nevada prisons beyond release date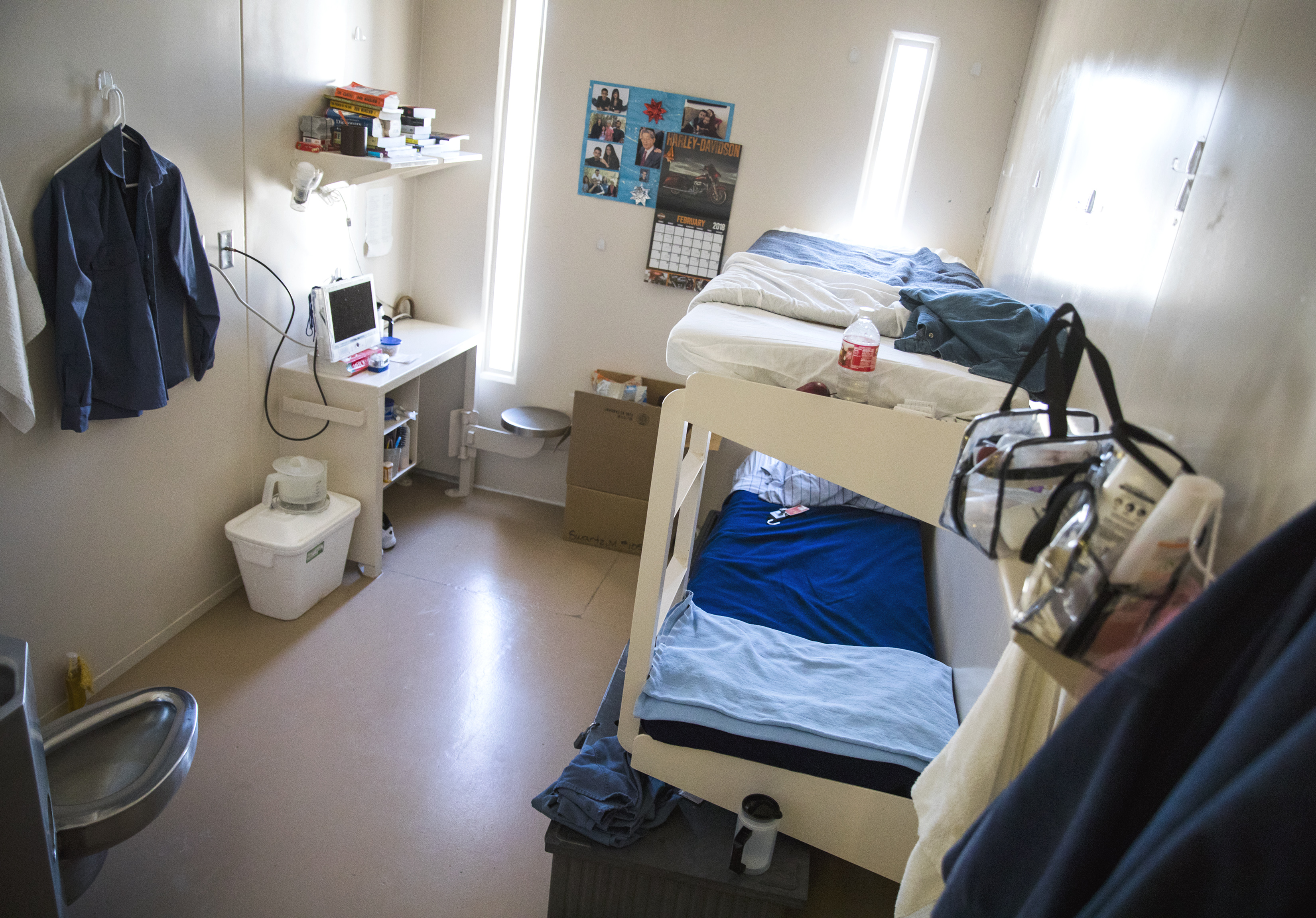 Some 300 inmates who have been granted parole are still locked up in Nevada prisons, even though Nevada lawmakers took steps last session to try to usher people more quickly into the community once they've served their time, officials said Tuesday.
At a Board of Prison Commissioners meeting, the Nevada Department of Corrections reported there were 272 inmates on in-house parole, meaning they weren't approved for release into the community because there were issues with their transition plan, administrative hold-ups or lack of appropriate housing. That's out of a total count of 13,229 inmates.
"I believe the majority if not all of them are just waiting for housing," said prisons Director James Dzurenda. "There's nowhere to go and it's a safety concern to put them out on the street without housing."
The Division of Parole and Probation said they counted 347 people on their parole eligibility list; the source of the discrepancy between the agencies' two counts wasn't immediately clear. Division statistics of point-in-time counts taken roughly monthly show the list as of May 15 was the shortest it's been since December 2016; the count fluctuates and reached a high point of 475 at the end of September 2017.
"Our parole eligibility list is always a hot topic of conversation," said Capt. Shawn Arruti of the Division of Parole and Probation in a phone interview following the meeting.
Nevada's problems moving people from prison to parole have been documented in the past, including in 2015 by the Las Vegas Review-Journal, which reported that the state averaged 365 offenders serving out parole in prison during the year 2014. More recently, The Associated Press detailed the emotional toll of incarceration past a release date on inmates in New Mexico, which also struggles with a backlog.
In 2017, a Democratic-controlled Legislature focused on reducing Nevada's prison population and improving recidivism rates passed a number of bills aimed at tackling the in-house parole list. But Tuesday's quarterly meeting brought some discouraging news, including that the prison population is trending upward.
Dzurenda said the number of parole violations and new admissions is ticking up, while the number of releases granted by the parole board dropped from 353 in March to 203 in April. Arruti said that over a longer period of time — dating from July 2017 to April 2018 — his division hasn't noticed any alarming spikes in parole violations or parole board denials. 
The division reported 564 paroles were revoked in the first 10 months of this fiscal year, which goes through the end of June. Last fiscal year, the parole board revoked 800 paroles.
Dzurenda said the uptick in population, coupled with the fact that new admissions tend to rise in the summer, had him concerned. But in response to questions from board members Attorney General Adam Laxalt and Gov. Brian Sandoval, he said he didn't think the state would need to build a new prison anytime soon, or send additional inmates to private prisons out of state (currently, Nevada is housing 200 inmates at a private prison in Arizona).
Democratic leaders who played key roles in passing some of the laws last session addressing the parole backlog and population upticks didn't return calls seeking comment on Tuesday. But Holly Welborn of ACLU of Nevada, which advocated for many of the changes, said it's important to give the reforms time.
"It is troubling that the numbers remain high, but I do think that we need to give some more time and some more opportunity to see if these programs will actually help for getting people out of jail who really shouldn't be there," she said. "I think that that's very typical of Nevada and typical of a lot of states. It takes time. A lot of things have to go through the regulatory process for new programs to take effect, and I think the department has been faced with that."
Embedding parole officers in prisons
Arruti said there are a variety of reasons people might be on the parole eligibility list but not out free on parole. Parole officers have to investigate when an inmate submits a proposed transition plan to them, verifying that they aren't breaking a rule by trying to move in with the person they victimized, for example.
Some of the inmates on the list may have those checks pending, may be refusing to participate in the parole planning process, are waiting for approval to be supervised out of state or are waiting for the resolution of some in-prison disciplinary action, he said.
In hopes of helping inmates develop viable transition plans that are likely to be approved and allow their release, lawmakers approved new positions allowing parole officers to be stationed within the prisons. So far, six officers are on the ground, "embedded" in institutions around the state and working with inmates to make living arrangements on the outside.
"Prior to the embedded specialists, if there was a discrepancy, there'd be some back and forth between the two agencies," he said.
Arruti pointed to the drop in the length of the parole eligibility list as evidence of early success in the program.
Day Reporting Centers
The parole division has been working to open two physical "day reporting centers" where parolees can check in with an officer, use a computer to work on resumes or online courses, take personal growth classes and get connected with resources to help them get back on their feet.
The Las Vegas center opened last fall, has a capacity of 200 participants and has 183 currently enrolled, Arruti said. A graduation of 19 parolees is scheduled for next week.
The Reno center opened in February. It can accommodate 50 participants and has 40 enrolled.
Sandoval raised the prospect that with the day reporting centers, parolees might be having more contact with parole officers, thus opening them up to more chances of getting caught for a technical violation such as a positive drug test. Such a pattern would be counterproductive for a center meant to help parolees break the cycle of substance abuse through more contact with parole officers and other resources, he said.
Arruti said that while he doesn't agree there's a notable spike in parole revocations, the division is working with UNLV to develop a study examining whether the day reporting centers make a material difference in people's success on parole, versus those that aren't using the center. He said he expects the report should be ready for the Legislature in the 2019 session.
Funds for poor inmates
Lawmakers approved $150,000 for each of the next two years in "indigent funds" — money that parolees can use to help pay the costs of housing once they're released. That is an increase from the past; the Review-Journal reported the Legislature approved about $69,000 in indigent funds in the 2014-2015 fiscal year.
Arruti couldn't immediately say if those funds are also available to parolees who have tapped into the fund before, following a prior prison sentence. That was a problem for Nevada inmates three years ago.
The 2017 Legislature also approved 450 slots for state-funded house arrest. In the past, offenders on house arrest were on the hook to pay for the cost of their supervision (often GPS monitoring), so the option precluded those who couldn't pay and they might be sent back to prison.
Right now, 347 people are taking advantage of the state-funded house arrest option, Arruti said.
Parolees are notoriously difficult to place, especially when they're sex offenders who are rejected from many regular housing options. The division has been partnering with the long-term hotel chain Siegel Suites to find placements for parolees, but Arruti said an accelerating housing market is also a challenge for ex-offenders.
"As the market heats up, it's always good for the economy, but it makes it more difficult for finding open placements for our unique population," he said.
Comment Policy (updated 4/20/2021): Please keep your comments civil. We reserve the right to delete comments or ban users who engage in personal attacks, use an excess of profanity, make verifiably false statements or are otherwise nasty. Comments that contain links must be approved by admin.