As a more normal school year inches closer, districts are scrambling to fill high-need positions
The wheels on the bus going round and round make learning possible for many children.
But school districts across the nation and in Nevada are facing critical bus driver shortages — among other hiring difficulties — as they prepare for the upcoming academic year. The scramble to find bus drivers isn't a new challenge, though the increasingly dire need has put a squeeze on school transportation departments. In the Washoe County School District, the department's chief of operations even drove an afternoon bus route a few times each week last school year.
"Obviously, getting our kiddos to school and home safely is our top priority," said Caty DeLone, the district's human resource manager of talent acquisition. "We can't have them in the classroom if we can't get them to the school site."
While teacher shortages have plagued Nevada for years — and continue to be an obstacle — districts are sounding alarms about the need for more support staff members, such as bus drivers. School officials say it's a national problem, likely exacerbated by the pandemic. A transportation survey conducted this spring by HopSkipDrive — a ridesharing-like service for children — found that 78 percent of respondents, most of whom work for school districts, cited the bus driver shortage as a concern. More than half of school districts with student populations ranging from 25,000 to 100,000 said it could take three months for normal operations to resume.
Earlier this month, the Reno-area school district announced financial incentives to attract more bus drivers. New drivers will earn $2,000 in bonus pay during their first year of employment, while already-employed drivers stand to receive $2,000 for returning and an additional $1,000 if they refer prospective employees who are hired and spend a full year with the district.
More recruitment and retention pay may be on the horizon for other in-demand workers, such as custodians, groundskeepers and nutrition services staff, said Pete Etchart, chief operating officer for the Washoe County School District. He said the worker shortages are "more acute" than they ever have been.
The school district is struggling to drum up enough applications, let alone actually hire new employees. That's where the monetary incentives — largely paid for by federal coronavirus relief funding — come into play. Etchart knows the competition is steep. He sees billboards from Walmart and other companies seeking workers, including drivers.
"I don't know how much it is going to take to move the needle to get employees," he said. "I'm hoping people see the benefit of working for the school district and how important it is, and the difference you can make in children's lives."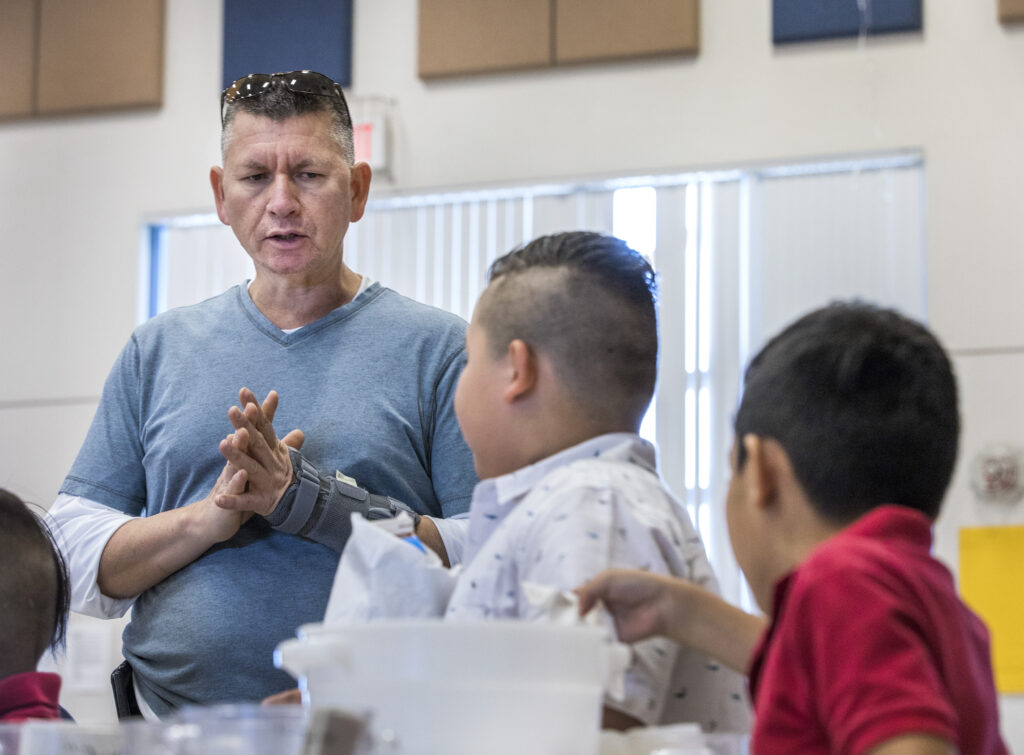 Scope of need
As of last week, Etchart said the Washoe County School District had the following number of vacancies in its high-need areas: 70 bus drivers, 75 nutrition services workers and 45 custodial and groundskeeping staff members.
The vacancies equate to roughly 24 percent of the district's bus driver workforce, 20 percent of the nutrition services workforce and 11 percent of the custodial and groundskeeping workforce.
Etchart pins the challenging hiring environment on a variety of factors, including continued fear about COVID-19, competition from businesses that can pay higher wages and an increasingly expensive housing market that's pushing some residents to the far corners of the Reno region.
The median price for single-family homes in the Reno-Sparks area crested the half-a-million-dollar mark for the first time in May, landing at $502,000, according to the Reno Sparks Association of REALTORS. The median price is higher — $550,000 — if looking at Reno alone. Closer to Lake Tahoe, the price increases are even more dramatic. The Reno Gazette-Journal reported earlier this month that the median home price in the Incline Village-Crystal Bay market nearly tripled from a year ago, reaching $2.53 million in April.
The Washoe County School District, which includes Incline Village, is seeing an even more pronounced worker shortage in the lake-adjacent area. Fifty percent of custodial jobs at Incline Village schools are vacant, Etchart said. Some district non-licensed employees have resigned, citing the need to find higher-paying jobs to pay for the cost of living or move elsewhere.
The school district is mulling a site-based pay increase for Incline Village workers, which could be in the form of additional pay or a travel allowance for those making the commute from Reno, Etchart said.
"We are looking at every option we can think of," he said.
When it comes to bus drivers, the Clark County School District finds itself in a similar position. As of June 18, the Las Vegas-area district was seeking 235 school bus drivers, making the position its top need heading into the new school year. Other priority hiring areas for support staff members in Clark County: teacher assistants for special programs, custodians, autism intervention specialists and campus security monitors.
Clark County Superintendent Jesus Jara agreed with his Washoe County colleagues, saying that not unlike other industries struggling to find workers, the hiring process has been "a little bit worse than other years."
Ultimately, school leaders don't want the vacancies to affect students, but at this point, it's essentially a race against the clock. The new school year begins Aug. 9 in Clark and Washoe counties.
Etchert said the Washoe County School District needs to hire at least 27 bus drivers to maintain the current level of service, and even then, some administrative staff would still need to drive routes. If those hires don't occur, the elementary student walk zone distance could be expanded.
In Washoe County, school bus driver wages start at $14.72 per hour and go up to $21 an hour. While other businesses may be able to offer higher hourly pay, school officials are reminding prospective bus drivers that they would receive medical benefits and Public Employees Retirement System (PERS) eligibility.
Bus routes range from five and a half to eight hours per day, making it an ideal position for retirees or college students with flexible schedules, DeLone said. Drivers must be at least 21 years old and must obtain their commercial driver's license. (The district provides training.)
DeLone's own 62-year-old husband is among those she recruited to the district last year as a bus driver. She pitched it as a way for him to ease into retirement. The gig let him stow away the business suits in favor of jeans or shorts. Now, the couple has hand-drawn pictures and cards, all given from students, decorating their refrigerator.
"It's something he never thought of," she said. "Now, I think he has found his home."
As for nutrition services-related positions, Washoe school officials hope the full-time return of more students later this summer creates a domino-effect with workers. Etchart said about 75 percent of kitchen staff at school sites are parents or retirees, who may be more likely to return when their children or grandchildren do. Many of those positions are part time.
If not, schools might need to rearrange lunch schedules or deal with longer cafeteria lines.
"That's horrible because obviously we know we need to feed kids," he said.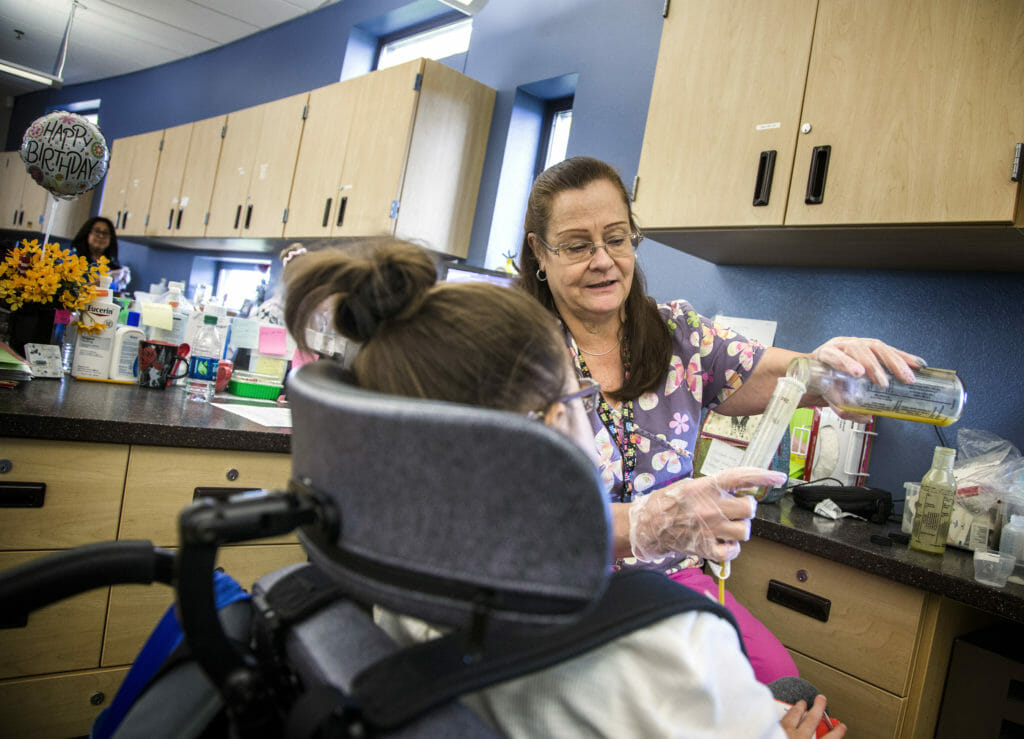 Calling all school nurses
The Clark County School District has also set its sights on hiring dozens of new school nurses — specifically, 50 school nurses and 105 contract nurses that can assist with special procedures and other student needs that do not require creating a plan of care.
Before the pandemic, the district's school nurses often served two to three schools, splitting their time among the campuses. That's not a rare situation. Only 52 percent of public schools nationwide had a full-time school nurse during the 2015-2016 academic year, according to the most recent data available from the National Center for Education Statistics. Thirty-two percent of schools had a part-time nurse.
School nurses play a critical role addressing student physical and mental health needs, in addition to providing assessments for disability eligibility, said Monica Cortez, the district's assistant superintendent of the student services division. Over the past year, they also have pitched in with COVID-19 contact tracing and vaccinations.
"It is more than just the day-to-day medical," Cortez said, explaining school nurse responsibilities. "Our nurses are the ones who connect our kids to Eye Care 4 Kids, the dental (resources) — the things that some of our students have missed out on in the last 14 months."
The hurdle to overcome in the recruitment process is pay, Cortez said. The starting salary for school nurses mirrors that of first-year teachers — $41,863 — meaning it's often lower than what they could earn in hospital settings. (School nurses must have a minimum of a bachelor's degree in nursing, a state nursing license and possess a school nursing license through the Nevada Department of Education. Contracted nurses are registered nurses or licensed practical nurses but do not have the credentials to be a school nurse.)
In the quest to fill many of the nursing positions by the Aug. 9 start date, Cortez said the district has been busy raising awareness about the positions and relying heavily on word of mouth. Existing school nurses, she said, are the best people to describe the job to others.
Pandemic-related career shifts, however, could help the school nurse recruitment process.
"A lot of nurses are burned out in working in the hospital with all the trauma that they've had in the past year," she said. "What we're finding out is sometimes they just don't realize the process to work for the school district and the benefits."