Inmates in the yard at the Northern Nevada Correctional Center in Carson City on May 19, 2017. Photo by David Calvert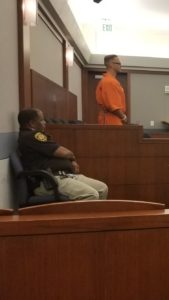 Standing tall in an orange jumpsuit and handcuffs in a Las Vegas courtroom on Monday, Scott Dozier showed no signs of wavering in his quest to be put to death in a remote Nevada prison two months from now.
But Dozier, who voluntarily gave up further appeals after he was convicted of murdering and dismembering two men in the mid-2000s, agreed that he does need to know some basics about how his life will end.
"What do I need to be mentally prepared for?" said Dozier, 46, who is set to be the first person the state executes in more than a decade. Would it be something reasonably painless, "or do I need to have my game up and have the mental fortitude and physical fortitude to have it less than that — what could be a miserable experience?"
His case has drawn scrutiny after Nevada officials announced they would use an unprecedented cocktail of drugs for the lethal injection: diazepam (the anti-anxiety drug commonly sold as Valium), cisatracurium (a paralytic drug) and fentanyl, the powerful painkiller commonly associated with the opioid epidemic and deadly overdoses. Groups including the ACLU have asked whether the "experimental" combination, never before used for capital punishment, complies with the law.
The plan emerged after Nevada's existing supply of lethal injection drugs expired, and the state was unable to find suppliers who would replace it. Numerous pharmaceutical companies refuse on moral grounds to allow their products to be used to kill prisoners, and the scarcity of drugs has led some states to go to extreme lengths — Arkansas' scheduled a rapid succession of executions this spring in a race against expiration dates.
Federal public defenders who are working Dozier's case have challenged the state to provide more information about how the execution will take place, in what order the drugs will be administered and what kind of training the execution team will have. On Monday, they pushed back after the Nevada attorney general's office provided the defense what attorney David Anthony described as a "heavily redacted" document, shared only between attorneys, that detailed the execution protocol.
State prosecutors disputed that the redactions were heavy and said the blacked-out sections dealt with security procedures. A Clark County prosecutor argued that disclosure of the protocols was moot because Dozier has previously said he doesn't care how painful the process is.
"I went into this recognizing I wouldn't know those things," Dozier said at a hearing last month. "Listen, if they tell me there's a good chance it's going to be a real miserable experience for you for those two hours before you expire, I'm still going to do it."
On Monday, the two sides decided to meet to discuss how much of the protocol document the state is willing to provide to the defense's expert witness, an anesthesiologist. They're scheduled for a status check on Thursday, where they'll also discuss whether, and how much, of the execution protocol should be released to the general public and the media.
Judge Jennifer Togliatti said she wasn't sure criminal court was the appropriate place to make the public records judgment and a civil process might be a better route.
Meanwhile, Dozier is preparing to die at 8 p.m. on Nov. 14 in the state's new, unused execution chamber at the Ely State Prison. Togliatti granted him a request to move from High Desert State Prison in Southern Nevada and back to Ely, where he said staffing is more consistent and he has easier access to a phone where he can make some of his final calls to friends and family.
Togliatti said she would let him skip the many incremental hearings that are expected over the next two months, but wanted him to send her a letter each week confirming that he'd met with his attorneys and whether he still wanted to volunteer for his execution. She expects to see him in person at least once more before Nov. 14.
"There's going to be that final day of reckoning, where he's going to look me in the eye and say yeah, I'm steadfastly maintaining it," she said.