As businesses board up, some child-care centers continue providing a community safety net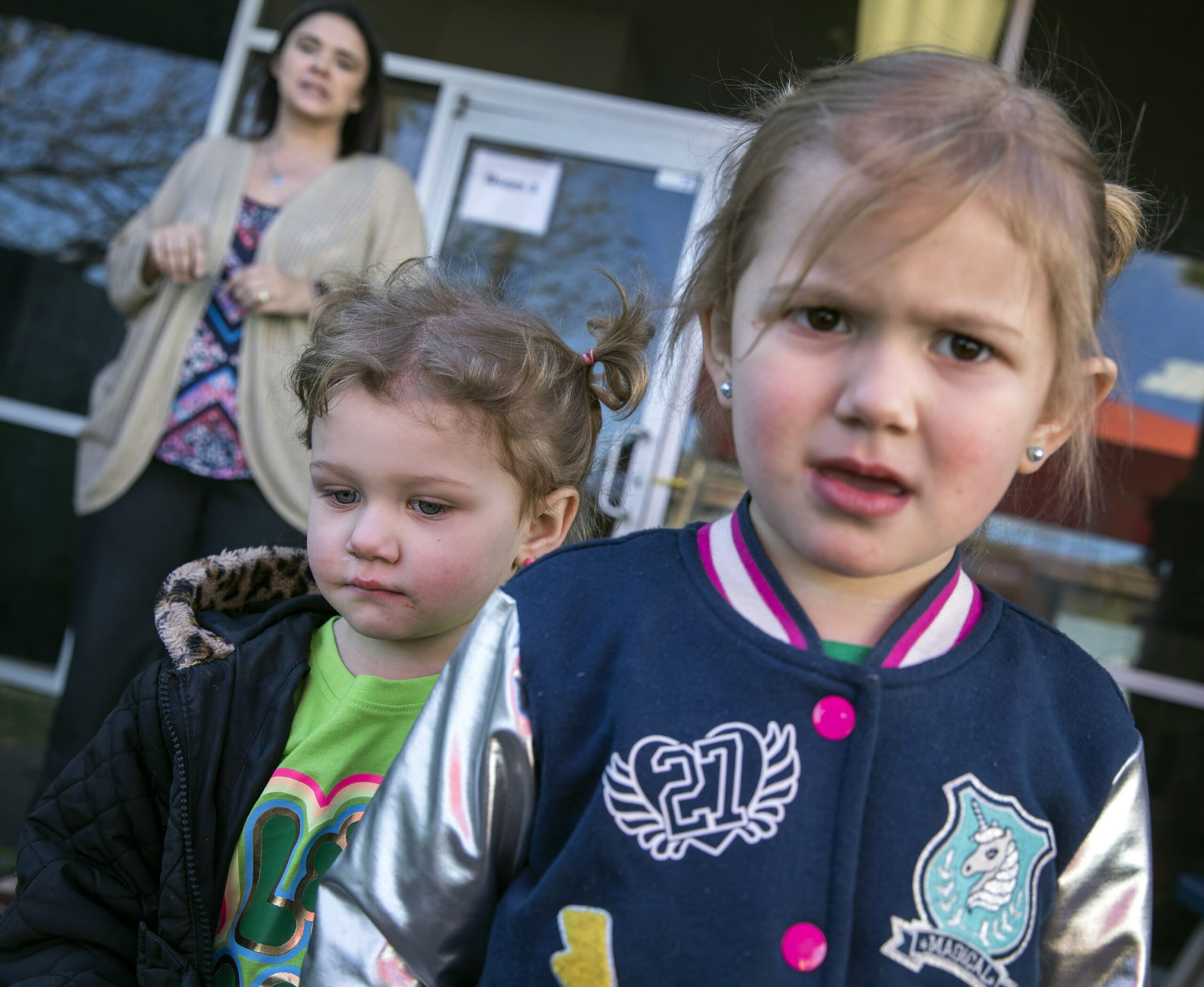 Some children pedaled tricycles. Others cruised down slides. And one complained that her friend didn't want to play.

This was the scene Tuesday morning at Kidz Preschool in the southwest valley, where toddlers enjoyed fresh air like they would any other day. It was a rare gathering of children in a state where K-12 schools have been temporarily closed, but as Gov. Steve Sisolak made clear Tuesday night, child-care centers are one of the few businesses exempt from his directive to shutter operations.

Amber Thompson, director of Kidz Preschool on South Rainbow Boulevard, considers reliable child-care a necessity given the health care workers, emergency responders and grocery workers required to work amid the unprecedented shutdown of casinos, schools, malls and other businesses.

"We become a part of that essential group to kind of come around our community and make sure that we're doing our part to stay open for them," she said.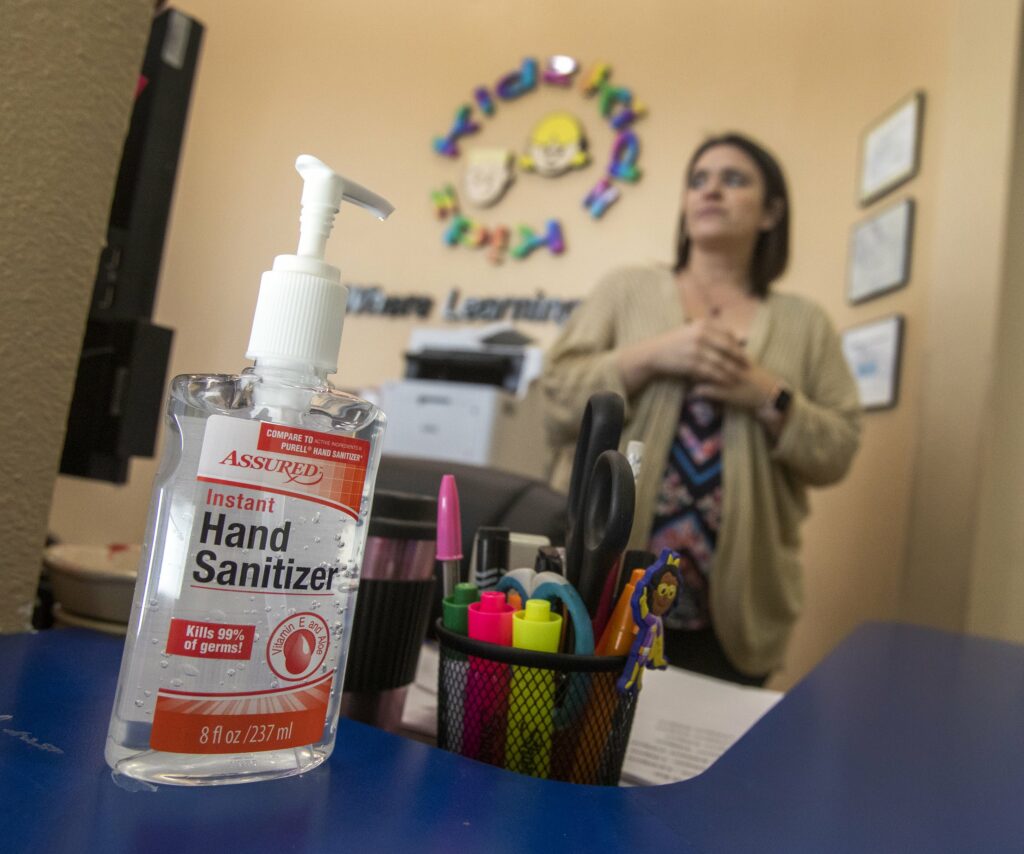 Kidz Preschool, which has nine locations throughout the Las Vegas Valley, has elected to stay open for that reason despite an attendance drop. About 20 children showed up to the Rainbow location Tuesday, compared with 45 to 50 on a normal day.

Thompson said the child-care center is working with families who have experienced a layoff to provide financial flexibility given the situation. The same goes for parents who find themselves working from home and, therefore, able to watch their children and those who are keeping their children home for health reasons.

But for other families who need child care, it's business as usual — with heightened attention to cleanliness. The child-care company has hired a cleaning crew to provide extra sanitation, scrubbing carpets, surfaces and touch points, Thompson said. And, during the day, employees are following Southern Nevada Health District sanitation protocols while teaching children a 25-second hand-washing song:

Tops and bottoms, tops and bottoms
In between, in between
Scrub them all together
Scrub them all together
Now we're clean
Now we're clean.

"So it's every time that we see them touching their face, 'Hey, listen, let's go wash our hands. Can you sing that song for me?" she said.

Still, not all child-care providers have chosen to remain open. The Hills Preschool in the northwest valley temporarily shut down starting Monday. The center's principal, Kathy Yoder-Bass, said the decision boiled down to health and safety, especially because many of its children come from low-income, multi-generational families who may have an older relative at home.

"It's fairly impossible to keep kids germ-free," she said. "If they're not sick, they could be carrying those germs from other people."

The closure comes with its own set of financial worries, although Yoder-Bass said she was relieved to learn Tuesday that her center would continue receiving some of the tuition subsidies it receives from the Las Vegas Urban League.

The Hills Preschool, which serves children up to 5 years old, has 22 employees, all of whom at least possess an associate's degree.

"We want to make sure we can keep our teachers," she said. "We spend a lot of time and money training them and making sure they're educated."

The coronavirus-related effect on the child-care industry — both in the short- and long-term — prompted the Children's Advocacy Alliance to send Sisolak a letter Tuesday with recommendations, such as ensuring essential personnel have access to emergency child care and allowing affected child-care providers to access unemployment and paid sick leave.

The group also asked the governor to develop a plan that would restore economic stability to the child-care workforce, which has struggled since the last financial crisis. Nevada saw a 52 percent decline in licensed family child-care programs and a 5 percent decline in licensed centers from 2008 to 2017, according to the Children's Advocacy Alliance.

"To think about losing even more of that capacity would be detrimental to our business community, our economic stability," said Kate McNabney, the organization's school readiness policy manager.
Sisolak didn't elaborate much on child-care centers during his announcement Tuesday night, aside from saying they must enforce social-distancing recommendations.

While the long-term financial outlook for child-care centers remains unclear — much as it does for almost any industry — Thompson said parents have risen to the occasion, donating hand sanitizer and cleaning supplies.

"It's been stressful, but our families have come together," she said. "It's good that we have that camaraderie here."

The Nevada Independent is raising $200,000 by Dec. 31 to support coverage of the 2024 election.
Tax-deductible donations from readers like you fund this critical work.
If you give today,your donation will be matched dollar-for-dollar.
Give + Get Matched
Featured Videos