As candidates threw verbal punches, debate viewers cheered, jeered and mulled their choices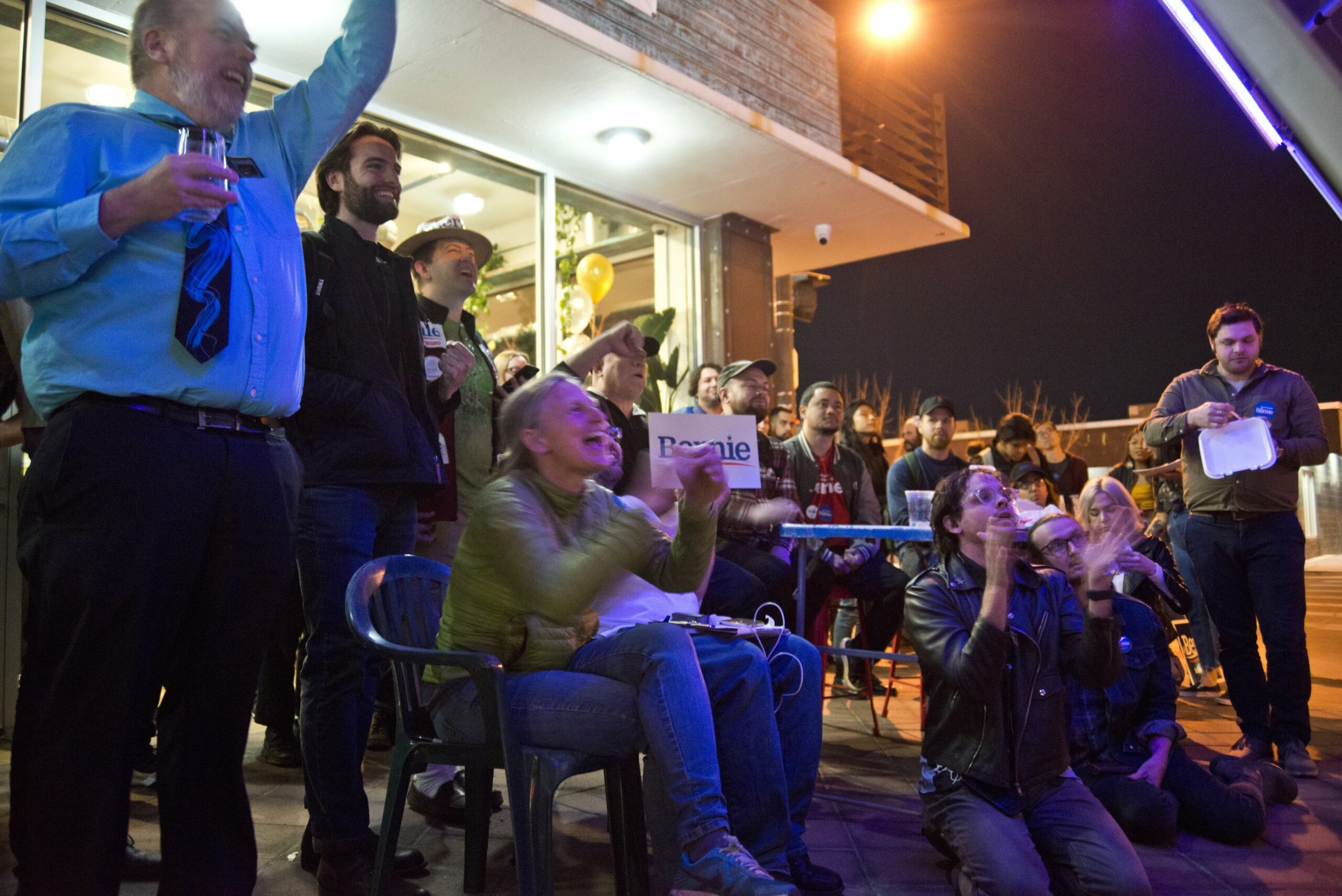 Lisa Matvay found herself surrounded by Bernie Sanders supporters Wednesday night by accident.

The 60-year-old Las Vegas resident and her friend visiting from the Bay Area sought an "energetic" place to watch the Democratic presidential debate. They succeeded, but not until after securing front-row seats inside Tacotarian in downtown Las Vegas did they notice the plethora of posters, buttons and stickers boosting the Vermont senator. This was a candidate-specific debate watch party, and Matvay had walked in as an undecided voter.

"I'm so torn. I hate this," she said in a hushed tone. "Normally, I know exactly who I'm going for."

So the stakes were high as Matvay watched six Democratic presidential candidates — Sanders; former Vice President Joe Biden; former South Bend, Indiana, Mayor Pete Buttigieg; Minnesota Sen. Amy Klobuchar; Massachusetts Sen. Elizabeth Warren; and former New York City Mayor Michael Bloomberg — duke it on a debate stage just several miles south on the Las Vegas Strip.

This is the power of a debate, a war of words that can bend and twist public opinion, possibly changing voters' minds just three days before Nevada's caucus. Watch parties sprouted across the state as a result, giving the die-hard supporters and the undecideds a chance to gather and see the on-stage drama unfold in real time.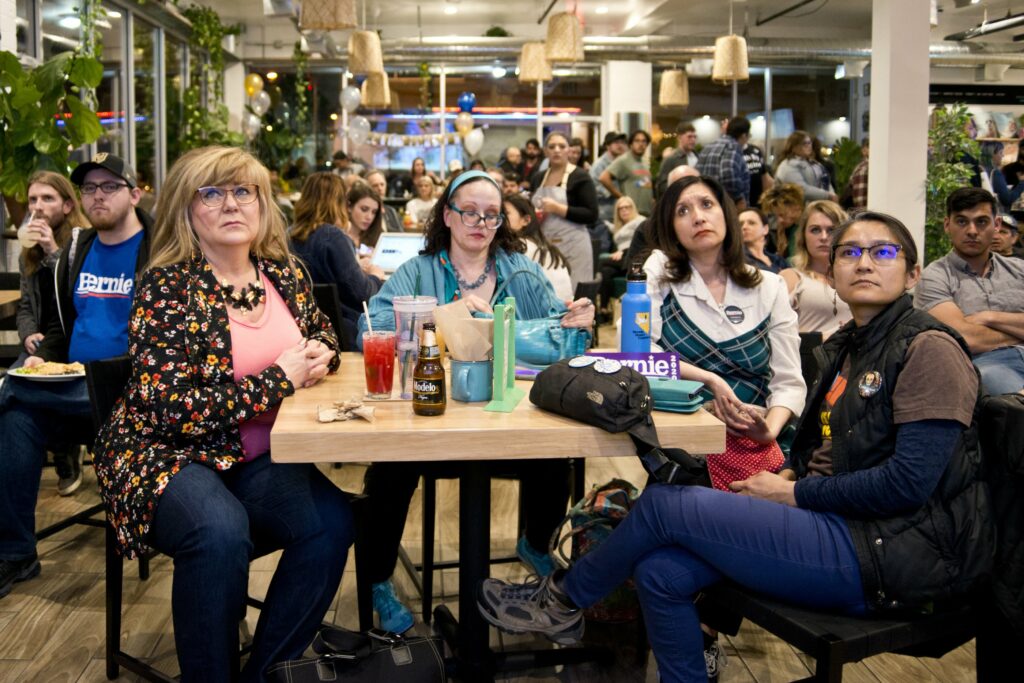 In Reno, William Toledo, 33, walked into a Warren watch party knowing he'd cast a vote for her Saturday. But he came for the entertainment factor.

"Seeing her moments on stage and seeing how she responds to the issues facing us is really inspirational," he said. "And that's kind of what keeps me in the fight is watching her just speak or going to her events, watching her at the debate."

It's a sentiment shared by others lured to the watch parties. Ben Chartier — a 16-year-old Sanders devotee from Alberta, Canada — was driving through Nevada with his parents when he discovered an online posting about the Sanders watch party downtown. He talked his parents into making a two-hour detour off Interstate 15 so he could attend.

"Even just watching events like this, there's so much more passion here than an event with Bloomberg with Baby Boomers," he said, before adding his own prognostication: "I think in Nevada he'll do well."
The senator's supporters, munching on vegan tacos, cheered loudly when Sanders — who suffered a heart attack last year in Las Vegas — declared he's healthy enough to handle the stress and rigor of the presidency. Boos followed a minute later when Buttigieg attacked his Medicare-for-All proposal and his plan to pay for it.

But the Indiana mayor's comments drew satisfaction from Christian Phifer, 26, who attended a watch party in Las Vegas hosted by Nevada conservation groups. He thought Buttigieg, his preferred candidate, was "able to hold his own" during the debate.

"I like the idea that health care should be a choice whether they're willing to go with public or private," he said. "They shouldn't be forced to use one option."

Elsewhere, testy exchanges between Bloomberg — who qualified for the debate but didn't file to be on Nevada's ballot — and the other candidates gained the most visible reaction. Laughter filled a watch party room at the LGBTQ Center of Southern Nevada when Buttigieg took a shot at the billionaire former independent, saying the party should elect someone who is "actually a Democrat."

Bloomberg played a largely defensive role in the debate, trying to swat attacks about his previous support for stop-and-frisk policing and allegations regarding his company being a hostile work environment for women. The Bloomberg attacks came equally strong at some watch parties.
"Sounds like somebody who doesn't pay health care bills!" a person yelled while attending a Sanders watch party in Reno. Another attendee chimed in, "Eat the rich!"

Ron Forsythe, 55, didn't see a clear winner at the end of the debate, but he did come to another conclusion.

"I think if you look at the other end of the spectrum, I think Bloomberg was a clear loser," said Forsythe, who attended a watch party at the LGBTQ Center. "I really didn't see anything of interest from him other than he would spend his own money."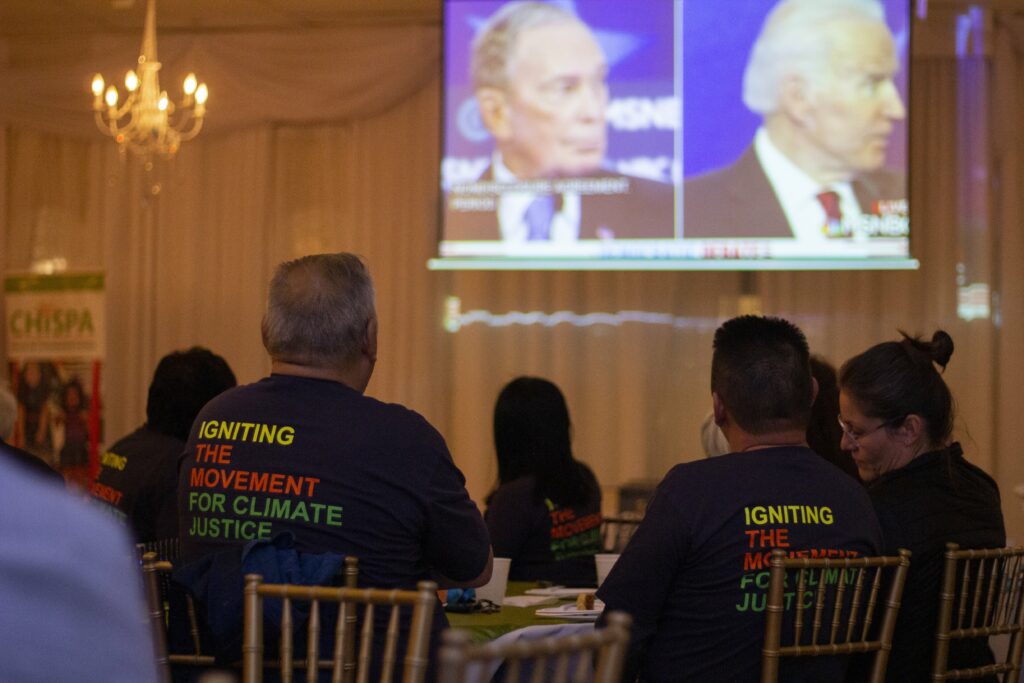 Nevada allowed early voting for this first time this year, which means by the time the debate happened almost 75,000 people had already cast their preference ballot. Bill Whistler, 67, was one of those people. He recently moved to Las Vegas from Dubai, where he closed a business and "came straight here to help Bernie."

Other debate viewers, such as Clinton Toledo, are waiting until Saturday to caucus. The government teacher said he has been preaching the importance of voting to his students and gearing up for the participatory process in a few days. He's a precinct captain for Sanders.

His debate takeaways?

"I thought it was like fireworks. It really was," he said from a Warren watch party in Reno. "I think it was the debate that voters were waiting for this entire year. I think it was a big win for progressive values tonight. I think Liz came out swinging. She held Bloomberg to his reputation. I think Bernie really came out and defended his positions and his policies."

While the candidates lashed out at each other inside the Paris resort-casino, business as usual occurred just steps away on the famed Las Vegas Boulevard. But at least a few hotel room televisions were turned to the debate.

Wes Spain, 42, said he planned to catch a portion of the Democratic match-up while getting ready for dinner. As a Trump fan in blue-heavy Minnesota, Spain said he wanted to stay informed about the Democratic candidates even if none of them would garner his vote.

"I have to at least be able to play nice," he said.

Others were tuning in as an act of Democratic solidarity.

"We need somebody that will beat the opposition," said a woman visiting from New York who declined to give her name. "We're big supporters of the party but Bloomberg, in particular."

But in a tourist-mecca filled with entertainment options galore — gambling, eating, drinking, or catching a show — the debate didn't exactly carry the same level of intrigue. Standing beside the Bellagio fountains Wednesday afternoon and sipping a yardstick-length boozy beverage, Adam McNeil, 33, paused at the mention of a presidential debate happening across the street.

"So they're actually in town?" he said, referring to the Democratic candidates.

Curiosity followed the confirmation. McNeil, a Canadian visiting from Toronto, said he normally monitors the American political scene given the economic link between the neighboring countries. Festivities for a friend's wedding would be capturing his attention Wednesday night, but McNeil offered this take instead: He wants to see someone defeat President Donald Trump come November.

"He isn't making America great again," he said. "He is making it worse."

Matvay, the undecided voter at the Sanders watch party, concurred.

"This is so important," she said. "In my life, I have never felt this kind of anxiety about being an American."

Matvay cited health care as a major concern, noting that she and her retired husband pay $1,600 a month for medical insurance. Still, the health care exchanges on the debate stage didn't necessarily bring her any clarity. Maybe, she thought, viewing the debate a second time would help.

"I'm taping it at home," she said. "I'm going to go watch it again."

Reporters Kristyn Leonard, Tabitha Mueller, Shannon Miller and Jazmin Orozco Rodriguez contributed to this story.
Featured Videos
Comment Policy (updated 4/20/2021): Please keep your comments civil. We reserve the right to delete comments or ban users who engage in personal attacks, use an excess of profanity, make verifiably false statements or are otherwise nasty. Comments that contain links must be approved by admin.