As COVID-19 cases rise in Nevada, contact tracing lags, two union members tell health panel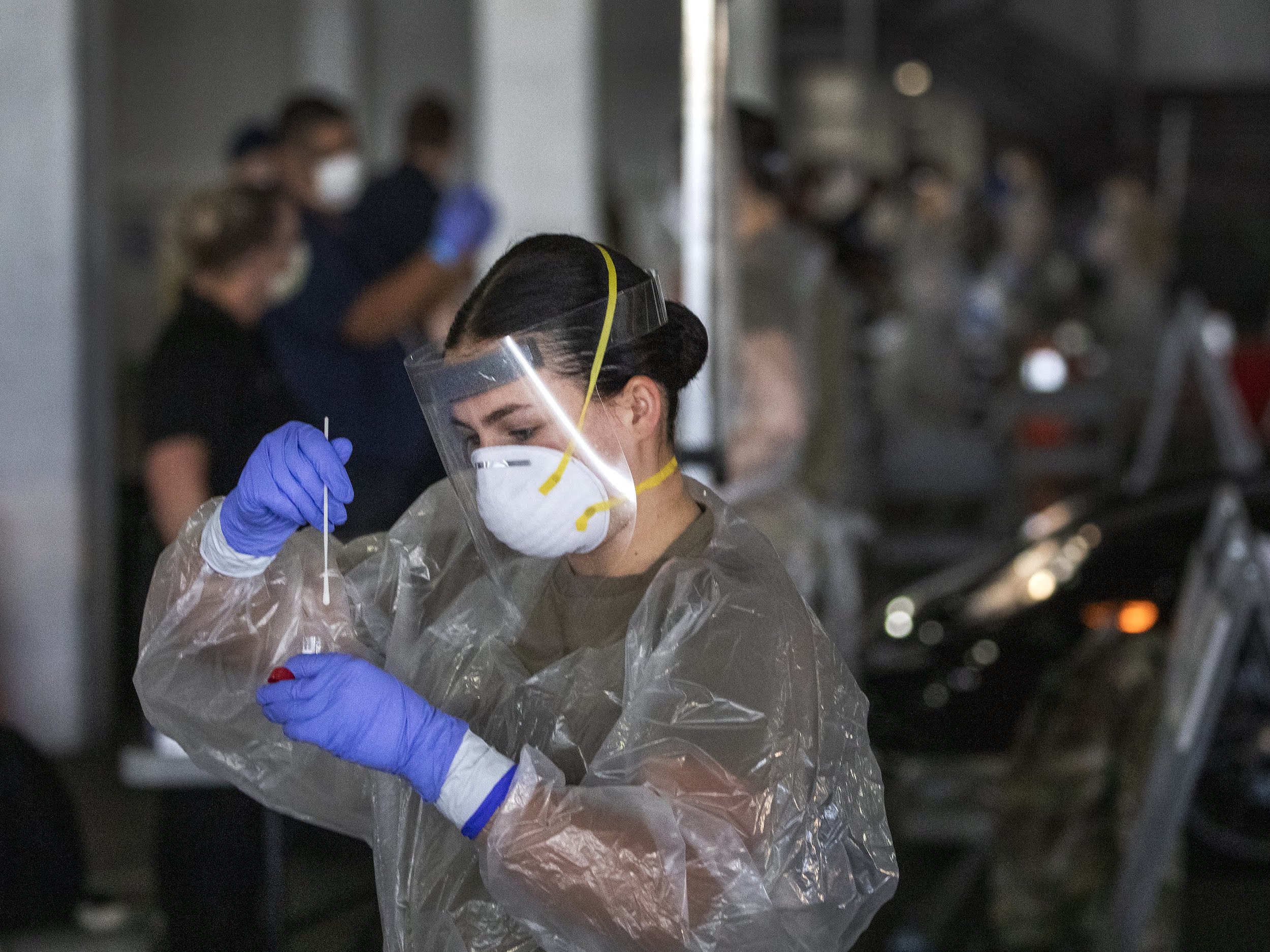 When someone tests positive for COVID-19, the goal is for the local health district to make contact with them within 24 hours and then contact all of their contacts in the next 24 hours, state health officials have said.
But two members of the Culinary Union told the Patient Protection Commission on Monday that it took them more than a week and a half to be contacted by a contact tracer after receiving their positive results. The commission has been soliciting feedback from patients and members of the health care community as part of a review of the state's health care system in the time of coronavirus.
Juston Larsen, a barista with HMS Host at McCarran International Airport, told commission members that he went to an urgent care after he came down with a cough and a fever and received his positive results eight hours later. But Larsen said that he didn't hear from health district officials until more than a week later.
"It took the health district 10 days after I tested positive for COVID-19 to reach out to me," Larsen said. "When I was trying to find testing through the health district website, it was hard to navigate, I kept getting redirected to the CDC's website. As a COVID patient. I think we really need better information and resources."
Larsen said that he took it upon himself to call his friends that he had hung out with before testing positive. Two ended up testing positive, while another two tested negative, he said.
"When I first started feeling symptoms, I didn't think anything of it because I have asthma and the symptoms are very similar of how I felt when I did get just a normal cold or just sick," Larsen said. "I wasn't sleeping much, and I thought it was just fatigue from just being tired and staying up late."
Sixto Zermeno, a bellman at the Signature at MGM Grand, told commission members in written testimony that he came down with the virus after working three shifts "completely short-staffed and in close contact with guests who were not wearing masks." Zermeno said that his work called him two days after he reported testing positive to ask who he had come into contact with and it took the health district two weeks to call him to trace his contacts.
"Meanwhile, co-workers who I had close contact with continued to work," Zermeno said. "Gaps in company procedures to contact trace and notification put us workers and our families at risk."
Southern Nevada Health District officials have previously said that positive cases are typically contacted within 24 to 72 hours of receiving their result instead of the recommended 24 hours because of how short staffed they have been during the pandemic. To address those concerns, the health district has implemented an automated text message notification system designed to send an alert out to the positive case as soon as the result hits their system. They're also working with a Deloitte call center to streamline the contact tracing process.
Julia Peek, a deputy administrator with the Division of Public and Behavioral Health, said on a press call Monday that there are other reasons the state has seen delays in contact tracing as well. She said that several employers conducting their own testing have sent samples to out-of-state labs that haven't been reporting their results back to the state within 24 hours; in other cases, the positive result will come back without appropriate contact information for the patient, delaying the contact tracing process.
"That could cause a delay, but all sorts of opportunities in there to look at the delays and figure out a solution so it doesn't happen in the future," Peek said.
She added that through contracts with Deloitte and Salesforce the state hopes to develop a platform where positive cases will be able to go in and self-report information for contact tracing purposes.
Members of the Patient Protection Commission plan to hear from health district officials in Clark, Washoe and the rural counties at a future meeting to figure out why, exactly, contact tracing is taking so long.
"It's unacceptable that 10 days goes by before a contact tracer contacts somebody," said commission member Theresa Bohannan, who was appointed to the commission as a patient advocate. "I have my own personal anecdotes on this, I'm not really prepared to share them today, but I can tell you that I don't think that we're doing all that we can do."
UMC CEO Mason VanHouweling, another commission member, predicted that a quarter of the state's population could have COVID-19 by the end of the summer if current trends continue.
"If we don't get a handle on contact surveillance and tracing and we go 10 days, not knowing, or at least being contacted so others know, I think that's a dangerous path for our state," VanHouweling said.
This story and all others about the Patient Protection Commission are edited by Managing Editor Elizabeth Thompson and/or Assistant Editor Michelle Rindels. Sara Cholhagian, the commission's executive director, is in a relationship with Editor Jon Ralston.
IndyFest is proudly sponsored by:
Comment Policy (updated 4/20/2021): Please keep your comments civil. We reserve the right to delete comments or ban users who engage in personal attacks, use an excess of profanity, make verifiably false statements or are otherwise nasty. Comments that contain links must be approved by admin.