As customer demand increases, businesses struggle to find enough workers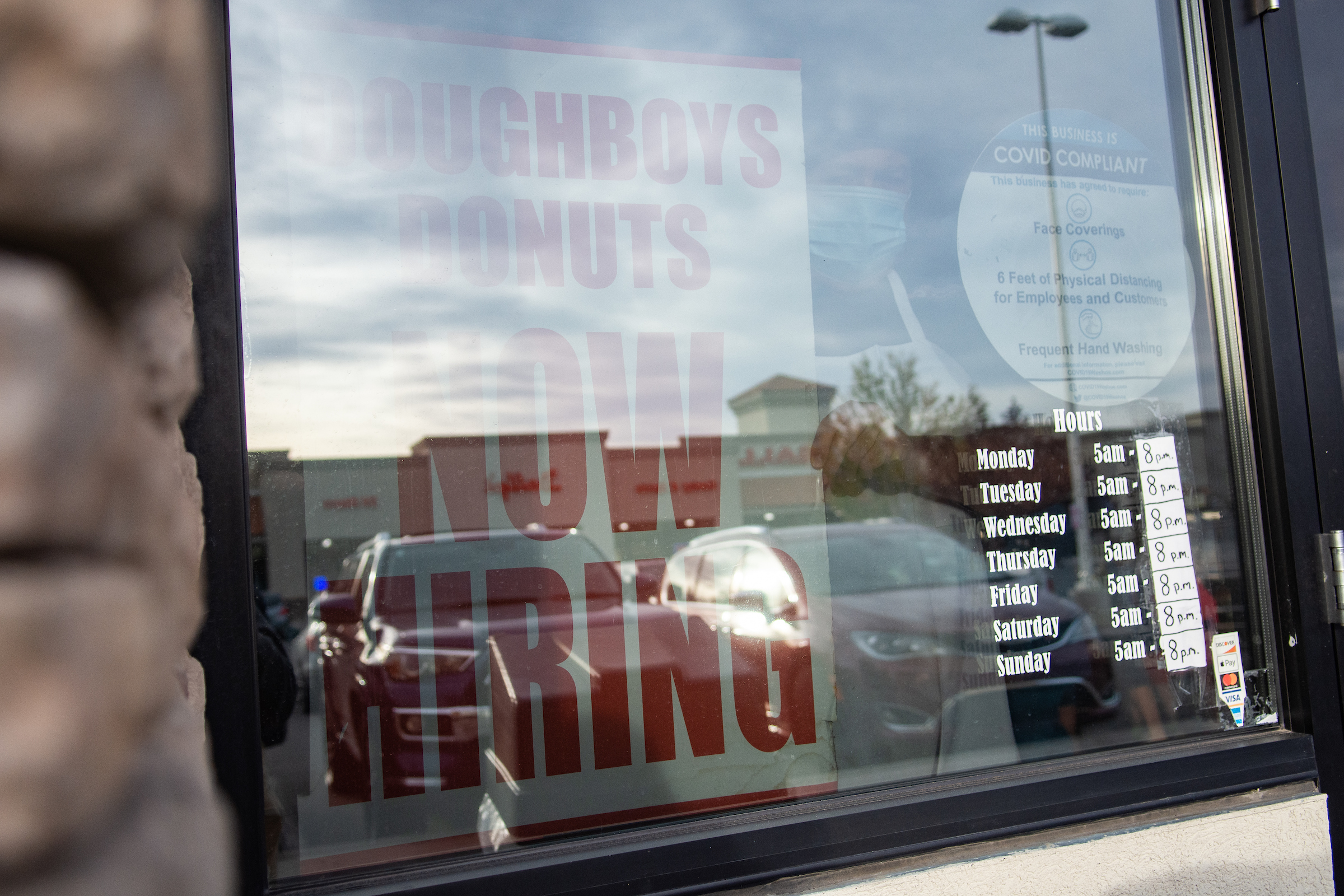 When the pandemic shuttered casinos more than a year ago, Sara Vargas lost her job as a food and beverage cashier at Sam's Town. She had worked there 22 years.
Weeks turned into months, and soon Vargas found herself guiding her two children, ages 4 and 7, through distance education. Unemployment benefits helped keep their family afloat, though her husband retained his job throughout the virus-altered period. But, on Wednesday, Vargas put on a pink dress and black cardigan and headed to the Gold Coast, a casino, like her prior employer, owned by Boyd Gaming.
The company was hosting a job fair. Vargas arrived an hour and a half early.
Forty-five minutes later, she was signing paperwork after interviewing, receiving a job offer and accepting it.
"I was like, 'there's going to be younger people out there.' I'm in my 40s," she said. "I wasn't expecting to get a job. I figured I would still have to look a lot more."
What Vargas didn't realize was that employers big and small across the state are struggling to find workers. It's another bump along the way for businesses during the pandemic, which brought layoffs, closures, capacity-restricted reopenings, reimagined operating models and, lately, pent-up customer demand as COVID-19 vaccines multiply and people clamor for a return to some semblance of normal. Business leaders say this is especially true in retail and service-oriented industries, where the sudden change in human behavior — people wanting to dine at restaurants, browse merchandise-filled aisles, try their luck at a slot machine — necessitates a larger workforce.
While some point to generous unemployment benefits as an incentive for would-be workers to not find a job, others say it's a more nuanced problem. Child care, housing and health concerns could also be complicating factors.
"I really push back on the notion of, 'it's just easier to receive relief,'" said Tiffany Tyler-Garner, executive director of the Children's Advocacy Alliance and former head of the Nevada Department of Training and Rehabilitation (DETR). "It really isn't easy to be uncertain."
DETR reinstated a requirement this week that claimants search for work in exchange for receiving unemployment benefits. That requirement had been lifted over the past year because of virus-related concerns and the steep drop in available jobs amid state-mandated restrictions. It essentially adds another step in the process for obtaining weekly assistance checks because claimants must show a good-faith effort toward securing work, but it won't immediately disqualify a large pool of people. In 2019, for instance, the department flagged fewer than 1 percent of claims for possible work search requirement violations.
On top of the base unemployment benefits, there's $300-per-week add-on federal aid for those without a job. That assistance runs through Sept. 6.
The work-search requirement didn't play a role in Vargas' decision to attend the job fair. It had more to do with her children's schooling. With summer fast approaching and a likely full-time return to in-person instruction next school year, she will no longer need to play the role of teacher. Instead, she can resume work as a food and beverage cashier — this time at the California casino in downtown Las Vegas.
"It's kind of scary because it's a whole new group of people," she said.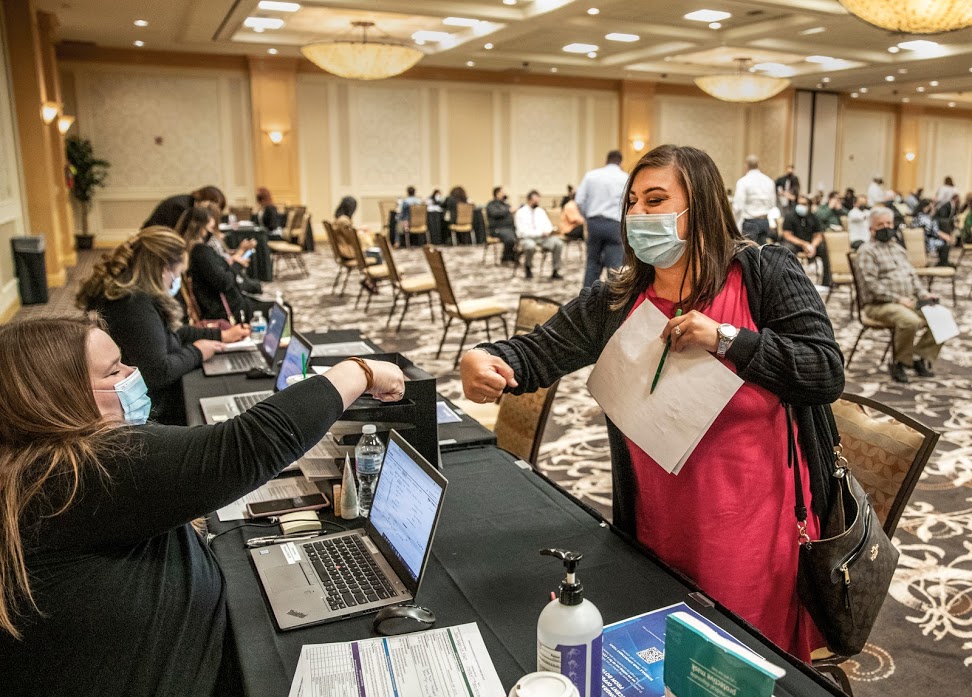 ---
Although Nevada's unemployment rate has fallen dramatically over the past year, it's still among the highest in the nation at 8.1 percent. The peak, in April 2020, was 28 percent.
The employment-population ratio, which measures the proportion of the eligible working population that is employed, is another way to gauge the Silver State's workforce situation. Over the last 11 months, Nevada's employment-population ratio has increased 14.1 percentage points, moving from 42.7 percent in April 2020 to a preliminary 56.8 percent in March.
"In Nevada, when compared to the Great Recession, the decline in employment in 2020 was twice as large, and happened almost 30 times more quickly. But the recovery has been 20 to 30 times as swift," Todd Sorensen, an associate professor in UNR's Department of Economics, wrote in an email. "However, the share of the workforce with jobs right now is just a bit higher than it was during the depths of the Great Recession. So, firms may be struggling to adjust to these rapid swings in the labor market, but there are workers out there."
Several hundred of those prospective workers attended the job fair at Gold Coast last week. It was the third job fair Boyd Gaming, which has hundreds of openings, has held in recent weeks. Much of the need is concentrated in the hospitality realm — guest room attendants, food and beverage workers and security personnel — but the gaming company also has several dozen positions available in its corporate offices, said David Strow, vice president of corporate communications.
Hiring workers has been challenging, though not impossible, Strow said. Roughly 300 job seekers waited for an interview and the possibility of an on-the-spot job offer an hour into the job fair Wednesday. The majority were local residents. Knowing the fierce competition that exists, Strow said, the company touts its culture as a place where people build careers and stay for decades.
"People have a lot of options right now," he said.
Jay Kenny, owner of DoughBoys Donuts in Reno, feels the competition, too. He has been advertising job openings on sites such as Craigslist and Indeed as well as in bilingual newspapers but has received barely a nibble. His entry-level positions, such as cashier, pay $12 to $14 per hour, while bakers could earn $18 to $22 an hour. Still, it hasn't been enough to lure job seekers, some of whom he believes are migrating to higher-paying jobs at places such as Tesla or Panasonic.
Nittaya Parawong has observed a similar trend at her Las Vegas restaurants, Nittaya's Secret Kitchen and Block 9 Thai Street Food. A few employees have downgraded their hours, she said, after receiving job offers from larger businesses providing pay boosts. Parawong considers her pay attractive compared with other Thai eateries, but, like Kenny, she said it's difficult for small businesses to suddenly increase wages across the board.
"I know we're not cheap on our people, but we can't jump from what it is to compete with a big corporation," she said. "We still have to at least break even."
Money isn't always enough, though. Josh Molina, chief executive officer of Makers & Finders restaurants in Las Vegas, said he increased wages for certain jobs but even that hasn't significantly helped the recruitment process. Many applicants simply disappear. In his six years owning restaurants, he said this is the toughest labor market he has encountered.
Molina thought those initial days and weeks of the pandemic — the sudden quarantine and furloughing of staff, with the restaurant industry left in complete uncertainty — would be the most difficult to weather. He was wrong. An avalanche of pent-up customer demand paired with a tough hiring environment, he said, have put a burden on existing staff members.
"All of that boiled together is still not as difficult as what we're going through now," Molina said.
These days the restaurateur is shuffling schedules to make sure his two locations are staffed, worried about burnout among his employees and having one-on-one conversations with baristas, line cooks, dishwashers and others to alleviate stress when possible and assure them it will get better.
Molina described the situation as a "buyer's market" for prospective workers, who have multiple jobs to choose from or the option to continue unemployment benefits, which he considers a key aspect of the problem.
"It's an easy target because most like there's a lot of truth to it," he said, referring to unemployment benefits perhaps disincentivizing potential job seekers. "That's probably the biggest factor. Another one is safety concerns because there's still COVID."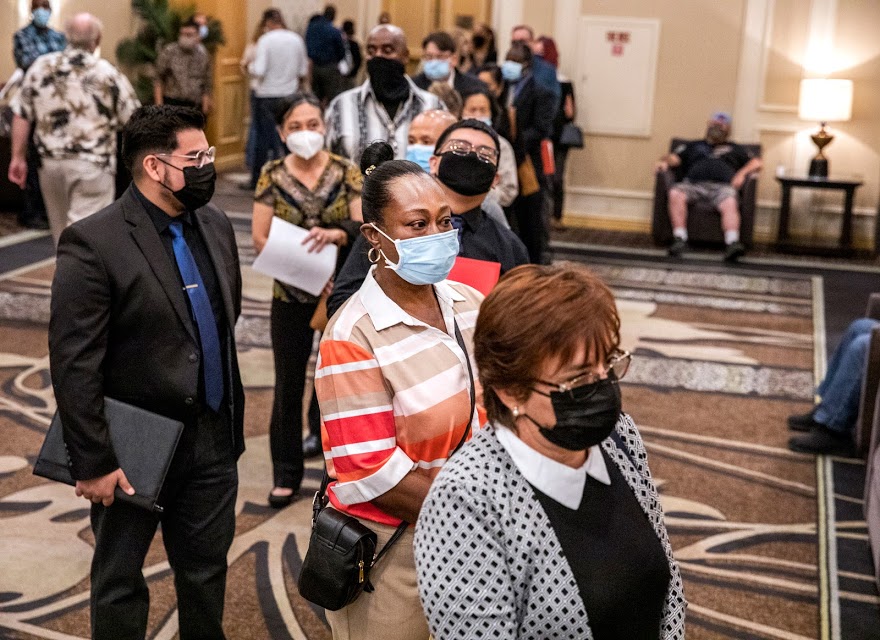 ---
Hugh Anderson, chairman of the government affairs committee for the Vegas Chamber, said the pandemic likely caused many people to rethink their life priorities. Perhaps a wage earner in a family has decided not to go back to work and, instead, stay home to care for children. Others may be contemplating or embarking on a career change.
But, like many business owners, Anderson suspects the extended unemployment benefits are causing hesitation among prospective workers, especially those potentially earning more money than they did at their prior jobs. If the federal government had implemented a gradual phase-out of the benefits — such as a percentage decrease in payments each month — he said that may have created more urgency to begin a job search.
He fears the federal assistance may be lulling people into a false sense of security that could put them in a bind when the benefits expire and a wave of job seekers hit the market at the same time.
"Wouldn't it make sense to start your hunt now when no one else is doing it?" he asked.
For families financially devastated by the pandemic's economic fallout, even starting a job hunt may be too costly, said Tyler-Garner with the Children's Advocacy Alliance. Money considerations for everything from hair cuts and interview clothes to child care and rent deposits may hinder the process.
The Culinary Union's food assistance program still sees steady traffic, underscoring the cash-strapped position many families find themselves in, union spokeswoman Bethany Khan said. Ninety-eight percent of the union's 60,000 members across the state were furloughed at the beginning of the pandemic, she said. Only about half have been called back to work.
The free groceries allow people to put their unemployment benefits toward other expenses, such as rent, mortgage and car payments, Khan said.
Rising housing and rental prices could be another wrinkle.
"The decision to return to work isn't one about whether or not I want to go," Tyler-Garner said. "It's, 'Do I have the resources to be able to go as quickly as the economy would like to recover?'"
DETR director Elisa Cafferata said the department has been fielding more calls lately from employers finding themselves in a hiring bind. It's not limited to one industry but rather "all over the map," she said, including transportation companies, food and beverage businesses and retailers, among others.
The department has a business services unit that can help on the employer side, she said. Roughly 40,000 job postings exist on the department's website.
"We certainly would be happy to work with employers to post their jobs if they have them and they're not listed," Cafferata said. "We also can work with employers to do job fairs. We can pre-qualify applicants. We can actually go through the people in our system and identify people who would be good prospects and say, 'Hey, here's a job that fits your skills.'"
The bottom line, she said, is that the state's in a transition period that involves putting together multiple puzzle pieces.
And in a labor market that may be more tilted toward the job seeker — at least for the time being — Anderson said employers will need to make compelling arguments about why their workplace is an attractive environment.
Prospective workers may want to hear, "We pay a fair wage. We respect you as a human being," he said.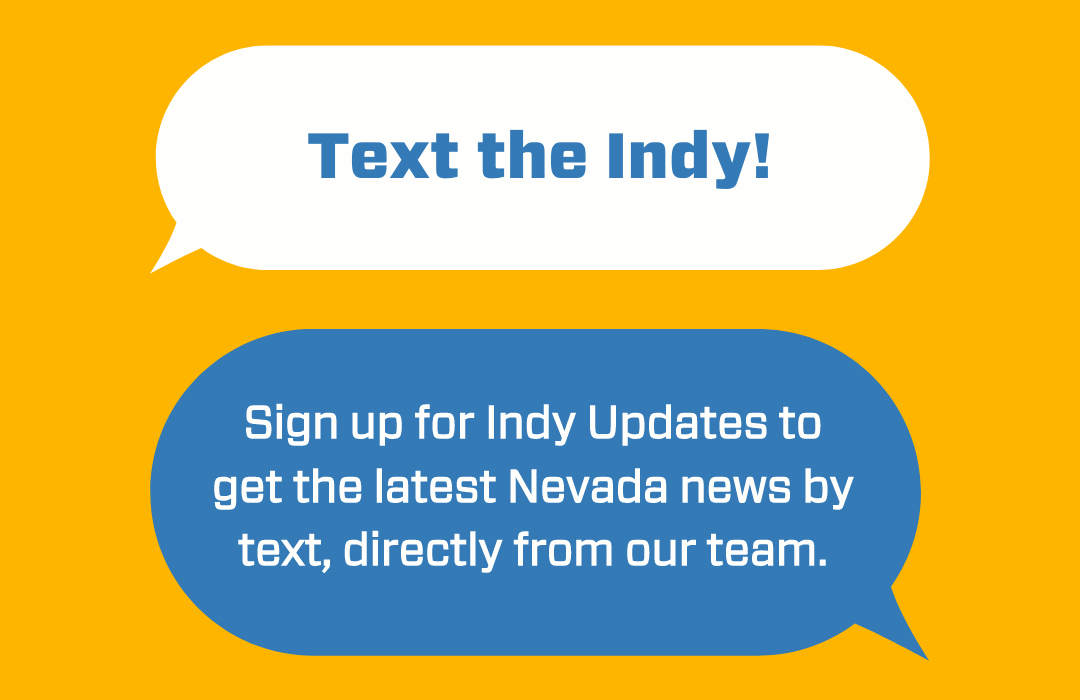 Featured Videos
Comment Policy (updated 4/20/2021): Please keep your comments civil. We reserve the right to delete comments or ban users who engage in personal attacks, use an excess of profanity, make verifiably false statements or are otherwise nasty. Comments that contain links must be approved by admin.