As part of 'Team Tahoe', Feinstein's legacy includes lake protection, preservation
The late California senator worked with Nevada officials for decades to send millions of dollars to Tahoe — and inspired the women who came after her.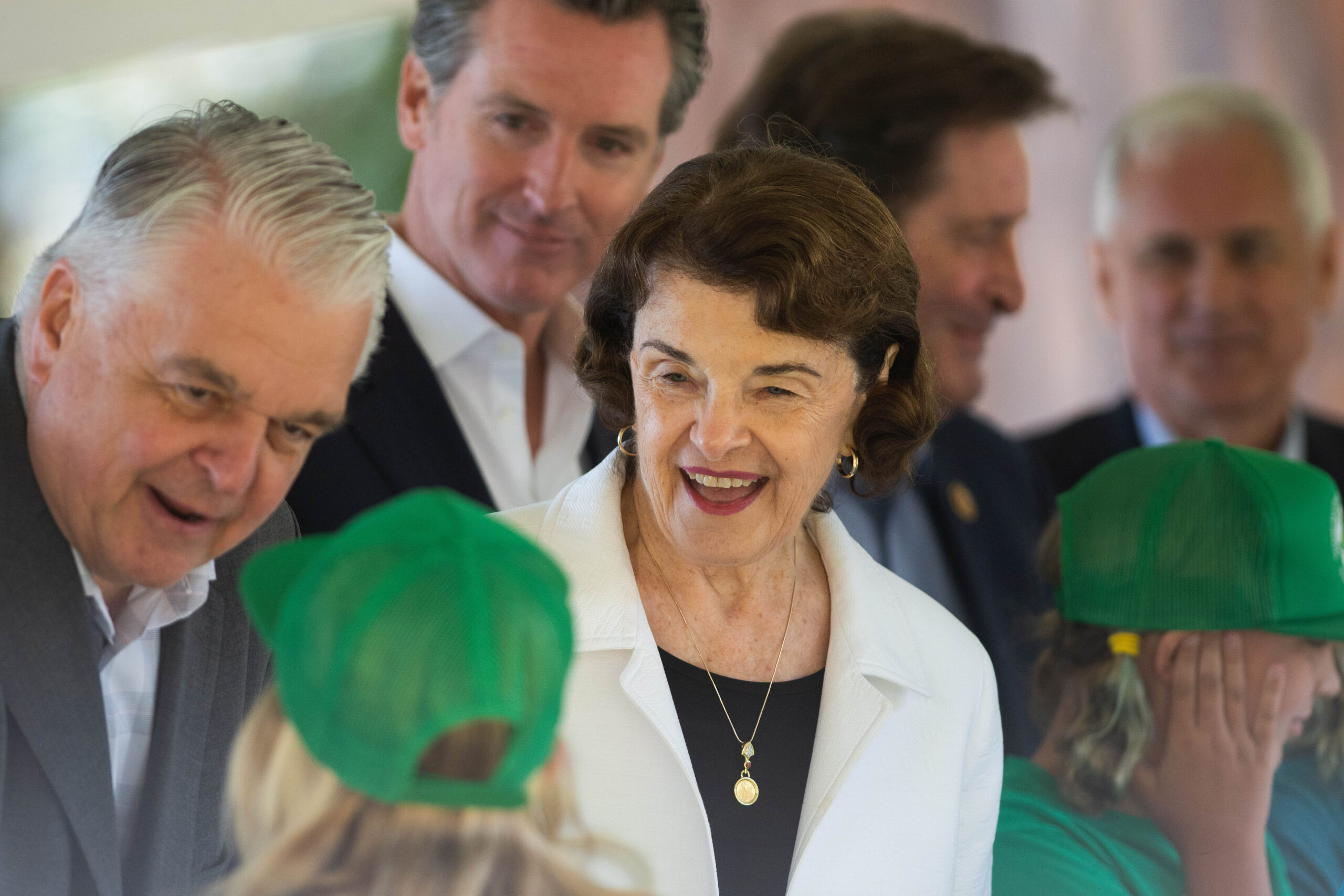 In 2011, the bistate compact between Nevada and California that had long governed Lake Tahoe was under threat.
Formed in 1969, both states had for more than 40 years committed to the Tahoe Regional Planning Agency (TRPA), a shared governance model to enforce caps on development on their respective sides of the lake. But a bill in the Nevada Legislature threatened to pull the Silver State from the compact, jeopardizing environmental progress in the "Jewel of the Sierras" and enveloping the annual Tahoe Summit — a meeting of elected officials and others involved in lake management each August — in a thick blanket of tension.
Sen. Dianne Feinstein (D-CA) hosted the 2011 summit at California's Homewood Mountain Resort. After the morning's programming and her annual stakeholder luncheon, she brought all the key players, including then-Govs. Jerry Brown (D) of California and Brian Sandoval (R) of Nevada, into a room.
"She said, 'OK, we need to work this out,'" recalled TRPA executive director Julie Regan. "'And I would like to hear a plan for you to work this out within the year.'"
Her intervention worked. In December 2012, a compromise was reached and TRPA approved a new regional plan. In 2013, Sandoval signed a law recommitting to the compact, ending fears of a Nevada exit.
Feinstein, who died last week at age 90, has been eulogized for her groundbreaking achievements in women's rights, as the first female mayor of San Francisco and as chair of the Senate Judiciary and Intelligence committees. Her legacy is intertwined with gun control, having become mayor as a product of two assassinations and as the author of the federal 1994 assault weapons ban.
Perhaps of equal importance to the San Francisco native who grew up visiting Lake Tahoe as a girl and owned a massive vacation compound along the lake's West Shore with her late husband, Richard Blum, is her legacy in safeguarding the lake.
Feinstein, along with the late Sen. Harry Reid (D-NV), were longtime partners in the fight to preserve Tahoe. She helped create the inaugural Tahoe Summit in 1997, and attended subsequent summits for over 25 years.
Out of that first summit came the 2000 Lake Tahoe Restoration Act (LTRA), a bill Feinstein and Reid championed and authorized $300 million for restoration projects around the Tahoe Basin. With the rest of the California and Nevada senators, Feinstein co-sponsored the 2016 LTRA reauthorization, providing $415 million in federal funds for restoration projects over the next seven years.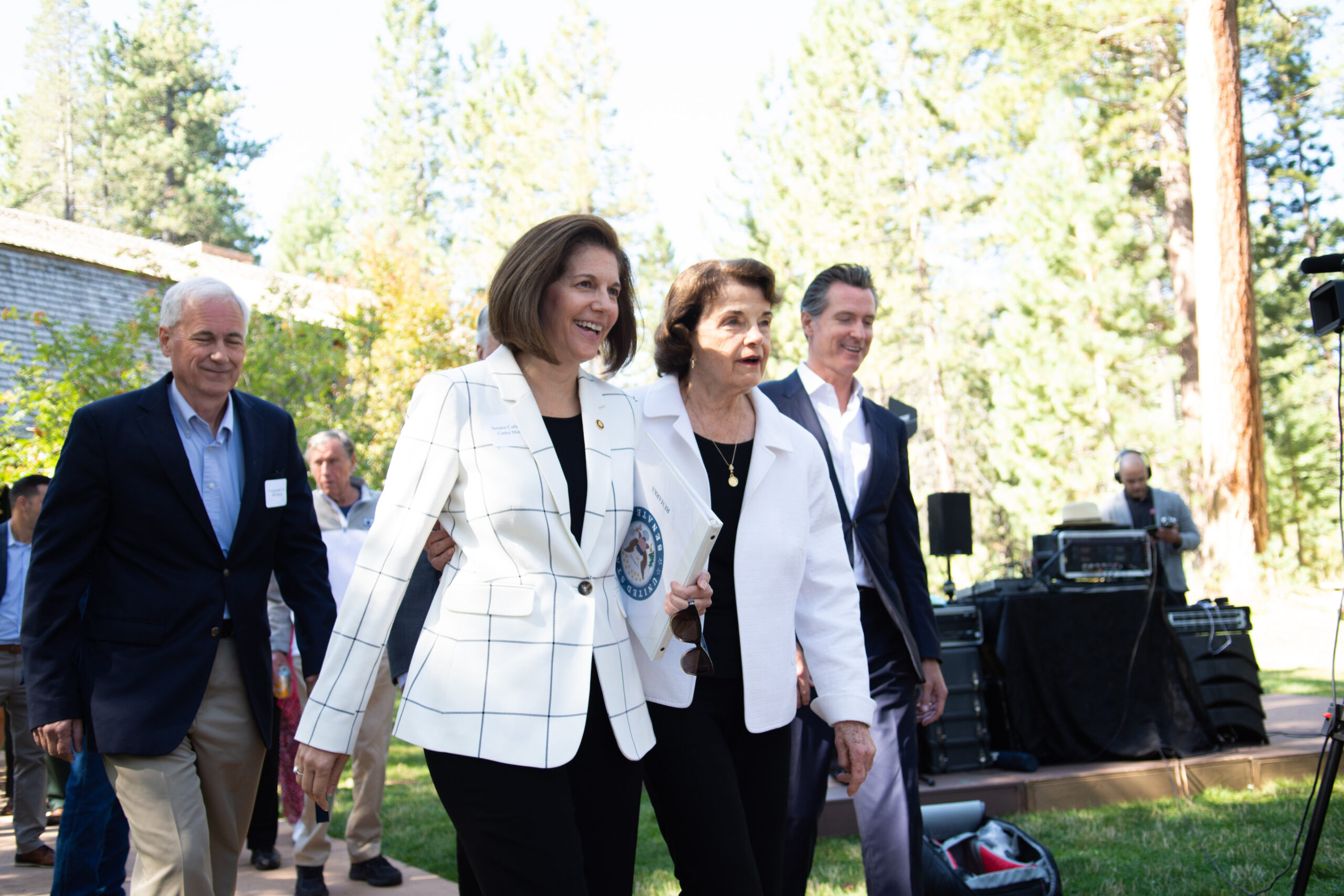 Earlier this year, with the authorization set to expire, Feinstein, the last of the original summit attendees still in Congress, co-sponsored the latest reauthorization bill, which would allow the already-appropriated funds to keep flowing.
Unable to attend August's summit due to her declining health, Feinstein's Tahoe legacy was evident with a number of tributes and a full slate of new leaders, including Sen. Alex Padilla (D-CA) and Nevada's two senators, who recalled her passion about the lake and efforts restoring the lake's clarity that would outlive her.
"I'm going to miss the opportunity to sit with her at lunch and talk about what we still need to do to fight to protect this incredible, pristine lake," Sen. Catherine Cortez Masto (D-NV) said on the Senate floor Friday.
Regan said the 2011 episode demonstrated the effectiveness of Feinstein's matter-of-fact leadership style and, as a veteran of decades of political fights, knowledge of how to avoid conflicts — especially when it came to the lake she used to bike around as a child.
"That's her leadership — pulling everyone together to say 'We work things out at Lake Tahoe,'" Regan said. "'We have policy differences. We always have. We always will. But we will work this out.'"
Summit leadership
In 1997, with the lake facing declining clarity and water quality, Reid and Feinstein organized the inaugural summit. At Reid's request, they landed major attendees — President Bill Clinton and Vice President Al Gore.
With attendees expressing their gratitude for Clinton's attendance and a jovial Clinton joking about how happy the event made the environmentalist Gore, Feinstein looked directly at the president and listed off a litany of forest management issues and potential tools to solve them, including asking that Clinton appoint a regional director at the U.S. Forest Service to take charge at Tahoe.
"You mentioned up to 3,000 acres of controlled burn here," Feinstein, then a first-term senator, told the president. "That alone won't solve the problem."
Clinton agreed.
Her directness portended the next 20 years of summits. Never one to settle, Feinstein continually brought up concerns about wildfires and climate change, unafraid to dive deep into topics like specific invasive species and forest thinning techniques.
"She's very focused, and she was that way throughout every summit that she participated in," said Darcie Goodman Collins, the CEO of the League to Save Lake Tahoe. "It was extremely helpful."
Regan said Feinstein was always deeply interested in the science behind the restoration work at the lake, and she gave her numerous briefings on water clarity over the years. Beyond her personal connection to the lake, Goodman Collins said Feinstein felt that Tahoe was a model for the rest of the world, and that if the United States could not successfully preserve such a pristine place, it would send a poor signal to the international environmental community.
Feinstein also hosted an annual luncheon after the summit, bringing together politicians, scientists, environmentalists, officials and local leaders. It was in those rooms that progress was often made, participants said, particularly on achieving a scientific consensus that mattered beyond Nevada and California.
"The research that we've been able to do [by] bringing together universities, engineers, scientists, and, of course, the environmental community — as we like to say, what happens in Vegas stays in Vegas, but what happened here didn't just help Lake Tahoe," Sen. Jacky Rosen (D-NV) said in an interview this week. "It's helped bodies of water all across the country and all across the world."
For years, the productive relationship Nevada and California maintained in being stewards of Tahoe was reflected in the partnership between Feinstein and Reid.
Regan and Goodman Collins said the summits and Tahoe's progress since 1997 would have been impossible without their dedication.
"She had a deep respect for Senator Reid," Regan said. "The two of them were such an incredible team that inspired the greater Team Tahoe partnership in the basin."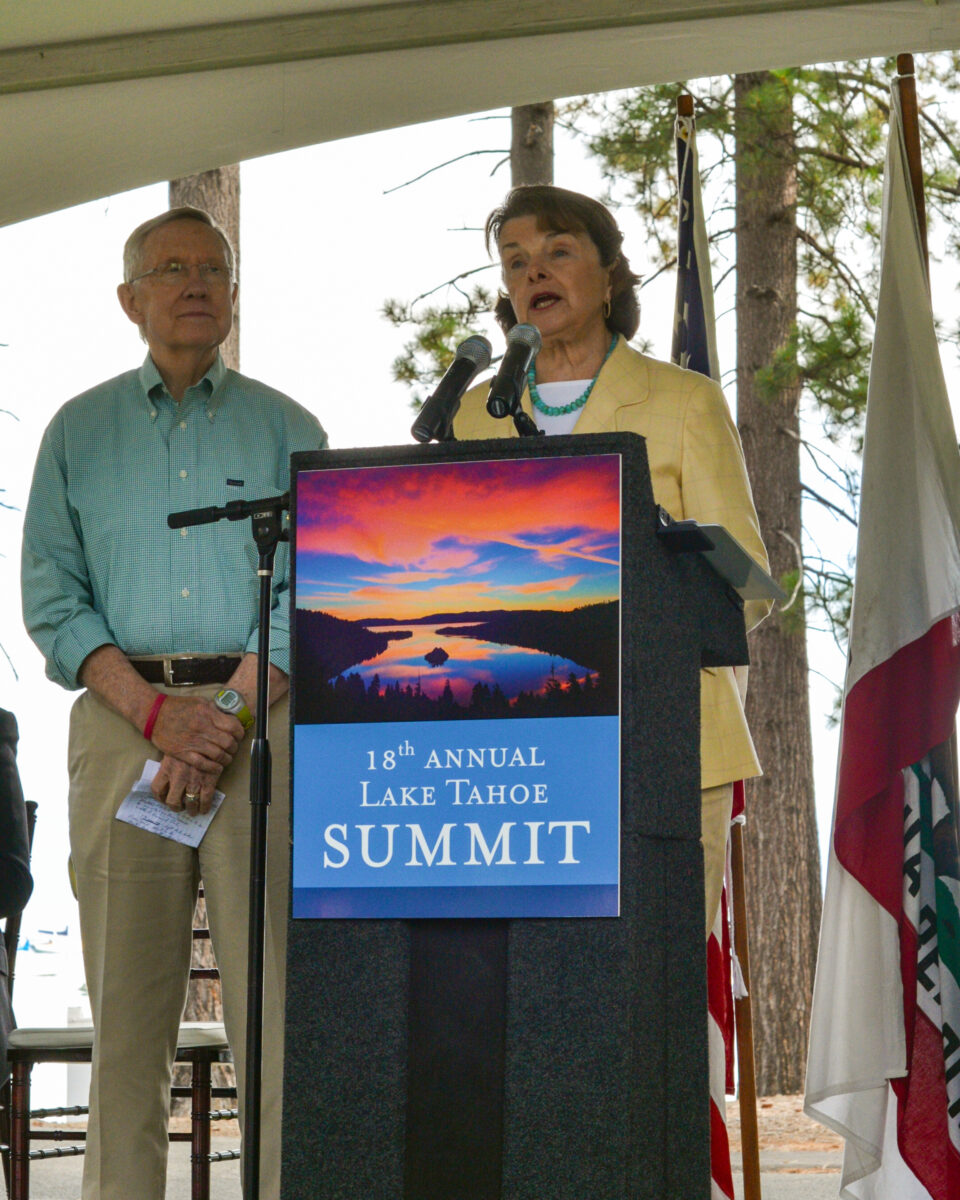 At the 2016 summit, headlined by President Barack Obama, Reid (on the verge of retirement) and Feinstein reflected on their work on behalf of the lake.
Their mutual respect was evident. Feinstein bragged that Reid's position as majority leader would make Senate reauthorization of the LTRA a breeze, while Reid called her "the most dignified member of the United States Senate."
"Dianne Feinstein has had a love affair with this beautiful lake for a long, long time," Reid said.
Safeguarding her legacy
Known in the Senate for her kindness to new women senators — inviting them to lunch, hosting bipartisan dinners and always armed with gifts — Feinstein took on the same role at Lake Tahoe.
Goodman Collins said in the mid-2010s, Feinstein — so often the first woman to achieve various leadership posts — was impressed by the number of women leading agencies and advocacy organizations around the lake. Wanting to serve as a connector, she hosted a leadership luncheon for the women working in Tahoe for several years; not in her capacity as a senator, but as a local homeowner while on her annual vacation.
"She would host a lunch and just let us all talk about what we're working on, and then figure out how we can all work together," Goodman Collins said. "[She would] just be really inspirational around it, encouraging us to continue to grow in our leadership roles."
When Reid retired and Cortez Masto took his seat, she said Feinstein took great care to welcome her to "Team Tahoe," as she had coined it. In a tribute on the Senate floor, Cortez Masto recalled that in her first year in the Senate, Feinstein pulled her aside to invite her to that year's summit and express her hope that Cortez Masto would always be at future ones.
And Feinstein helped secure the future of the summit by passing the luncheon hosting duties to Cortez Masto a few years later.
"[The luncheon] was about how we work across party lines to really focus on protecting for everyone who wants to enjoy this Lake Tahoe," Cortez Masto said. "She was a true champion. And she will be missed."
If the 2023 summit, the first one ever without Feinstein or Reid, is any indication, the lake's political future is in safe hands. Speaker Emeritus Nancy Pelosi (D-CA), one of many well-known dignitaries who have come to the summit and a close friend of Feinstein's, gave the keynote address.
Feinstein sent Pelosi a text that the former speaker read aloud to attendees.
"I was a child in Lake Tahoe," Feinstein wrote. "I was an adult at Lake Tahoe. I am a senator for Lake Tahoe. And I'm determined that Lake Tahoe will survive."
The Nevada Independent is raising $200,000 by Dec. 31 to support coverage of the 2024 election.
Tax-deductible donations from readers like you fund this critical work.
If you give today,your donation will be matched dollar-for-dollar.
Give + Get Matched
Featured Videos