As reorganization goes into effect, do new school organizational teams really feel empowered?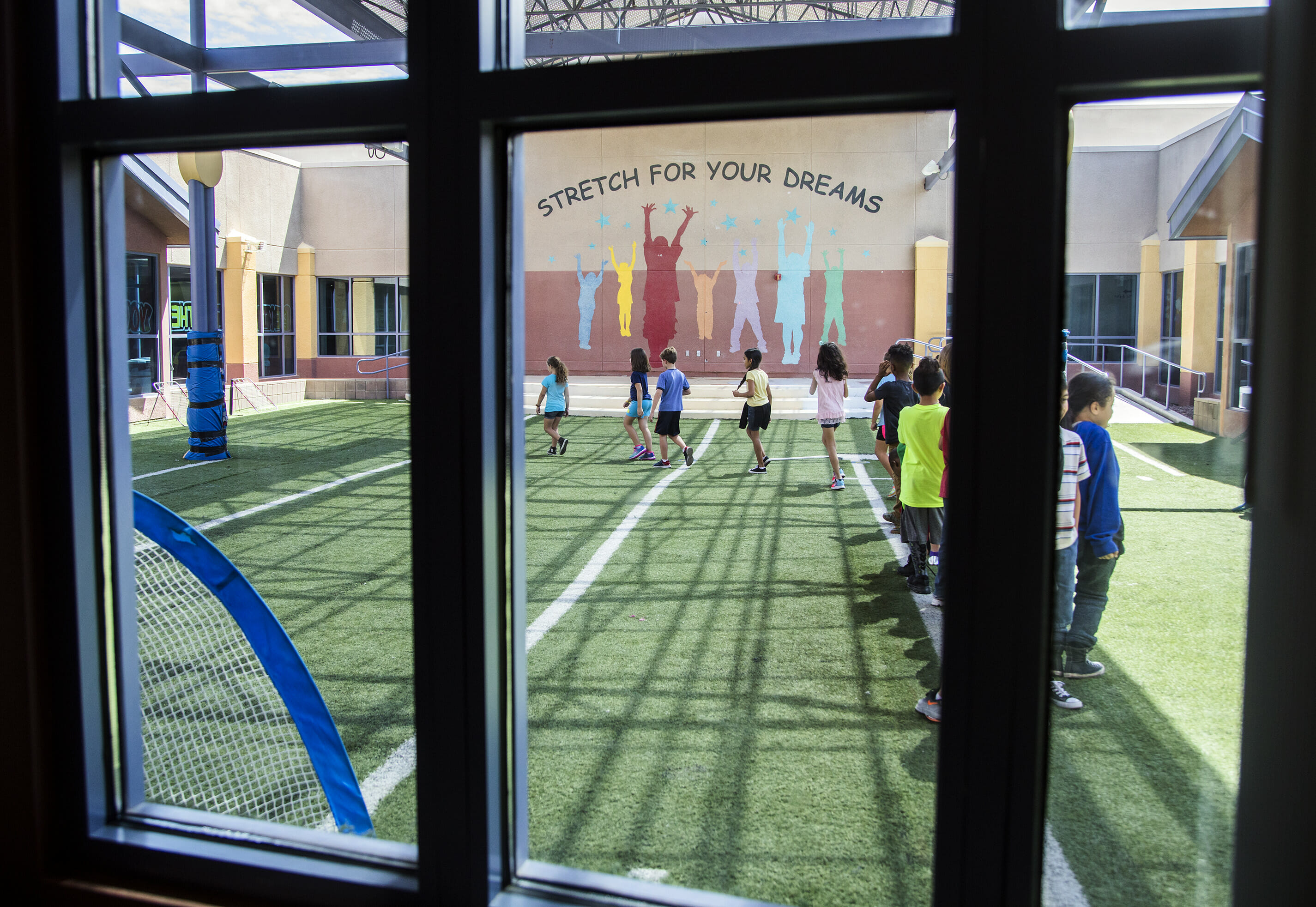 A large, airy room in Kay Carl Elementary School that was lined with 19,000 books now boasts two basketball hoops, some exercise equipment and durable tile floors.
The books didn't leave campus. They made a short trek down the hallway to the former physical-education room that was too tight for most mobile activities. The new library features fresh murals on the walls and enough space for children to wander the aisles in search of a good book. Coming soon: a "Magic School Bus"-themed reading area fashioned out of an unused, rectangular closet.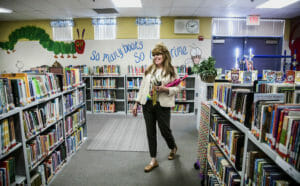 "I'm not against books," Principal Brenda Swann said. "I'm just saying, in this day and age we live in, we have to do things differently."
And so when the building's beloved librarian announced his departure last year and the P.E. teacher suggested the room swap, Swann brought the idea to the school organizational team (SOT). The group — which is the very embodiment of doing things differently — consists of parents, staff and community members who help guide decision-making at the schools.
The school organizational team gave the plan a thumbs up, triggering a summer of cosmetic changes and moves. The library-turned-gymnasium connects to an outdoor courtyard covered in donated turf resembling a football field, giving students even more space to work up a sweat.
Swann credits the newly-formed school organizational team for making the "out-of-the-box idea" a reality. Without that group, she may not have been able to prove community support.
"It just made all the difference in the world," she said. "I'm not afraid of having people know what's going on."
BUMPS ALONG THE WAY
The school organizational teams — or SOTs, as they're called — serve as the most visible change of the dramatic reorganization that's designed to empower schools and undo a top-down operating structure. Formed last year and made up of elected members, they're the frequent subject of conversations that involve buzz words or terms like "autonomy," "parent engagement" and "site-based decisions."
At its core, the reorganization is an experiment in student achievement: If principals, parents and teachers know their children best, can they make better budgeting decisions that will enhance their learning?
It's too soon to fully answer that question, but with nearly a year under their belt, SOT members have reported mixed results about their experiences.
"Here, it was a good experience," said Helen Welte, a librarian and SOT member at Matt Kelly Elementary School. "I felt like we had input over our student learning and the path the school takes."
Welte felt comfortable voting against her principal's suggestion to add a humanities teacher to the school's rotating list of specials. Instead, Welt said she thought the school, which sits on the corner of Lake Mead Boulevard and J Street, should put the money toward boosting students' reading and math skills.
"We felt like we had a voice, and we didn't feel intimidated," she said. "It wasn't on a personal level. It's all about the students."
Not everyone felt so lucky.
Several SOT members attended a recent reorganization meeting and lodged complaints about the process. They described feeling powerless or, in the case of staff members, a sense of being subject to retaliation if their views clashed with the principal's agenda. Although the organizational teams vote on issues, they're technically only advisory groups. The principals have the final say, as they're ultimately held responsible for students' success.
Still, Robert Hollowood, a science specialist and SOT member at Staton Elementary School, couldn't shake the feeling that the group was nothing more than a rubber-stamp committee for the principal.
"Things were being presented to us in the form the principal wanted," he said, adding that the process didn't seem transparent or flexible. "It was very frustrating."
Hollowood had high hopes for the reorganization because it mirrors an empowerment model piloted a decade ago at several dozen schools. Staton Elementary School, located in Summerlin, was one of those empowerment campuses.
"It was fantastic being able to make site-based decisions, being able to budget, being able to not be like the rest of the district," he said. "It was without a doubt the best of my teaching years."
That didn't happen this year. Hollowood said the Staton SOT wanted to change the fifth-grade structure and have students switch classes for most subjects, but the principal, who retired this summer, quashed the idea.
"We were able to choose the new principal in the interview process," he said. "It was the only thing that was not interfered with, along the way."
Frustrations, particularly about funding, have sprouted in Clark County's rural areas as well.
Courtney Sweetin, a community member on Virgin Valley Elementary School's SOT, said the school received $100,000 less than the prior year, despite language in Assembly Bill 469 — which codified the reorganization regulations into state law — ensuring that wouldn't happen.
Sweetin, whose kindergarten-age son attends the school this year, said the team's concerns have fallen on deaf ears with their associate superintendent.
"It's almost like he doesn't know what to do with this whole group of parents," she said.
District officials haven't commented on specific cases, but they acknowledge there are kinks in the system that need to be worked out as the process matures.
"The current process allows for School Organizational Team disputes to go to the school associate superintendent and then to the chief academic officer for review," district spokeswoman Melinda Malone said in a statement. "Based on feedback from the community, we are looking to enhance the process and outline it for our SOTs."
FINDING A BALANCE
The SOT members who reported positive experiences credited supportive principals or administrators with making the new system work. A hallmark of any functional team, they said, is allowing room for healthy debate among members.
"I find that sometimes there's this belief that things happen in a vacuum," said Yolanda Lowry, a librarian and SOT member at K.O. Knudson MIddle School. "If you have people on your SOT who are open to the process, then those kind of debates are good because it gives people a chance to say how they feel and express their concerns."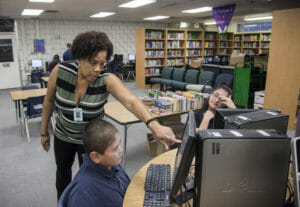 Discussion among Goldfarb Elementary School's SOT members led to them doing away with a full-time substitute position for the building and putting that money toward opening a second computer lab in the eastern valley school.
They also developed a "school compact," listing the responsibilities of parents, staff and students to make Goldfarb a welcoming and productive atmosphere.
Before any of that happened, though, Principal Jacqueline Gillespie said she spent the first several SOT meetings imparting as much knowledge as possible regarding the school's budget, mission and vision — in other words, laying the groundwork for the weighty issues they would be tackling together.
"You really can't make decisions if you don't have information," said Gillespie, who described herself as a "facilitator" of the meetings.
Another way the Goldfarb SOT tried to set the right tone: food. They brought pizza, cookies, chips — you name it — to make it a festive afternoon gathering, where every teacher sat next to a parent to ward off any us-versus-them vibe.
"When you're eating, you feel like family," said Christine Dessormeau, a kindergarten teacher and SOT member at Goldfarb Elementary School. "It's not like, 'Let's go to the library and be all dressed up.'"
But good cheer wasn't necessarily enough to keep parents' attention span toward the end of the school year.
Parent participation on Matt Kelly Elementary School's SOT dipped starting in April, Welte said. The school's art teacher offered to keep parents' children occupied during the meetings, but even that didn't boost turnout.
"I perceive that they think it's more of a business meeting," she said. "They're happy with how their school is."
LOOKING FORWARD
The Inaugural SOTs will be wrapping up their work soon. School communities will be electing the next round of SOT members by Oct. 1, per the reorganization law.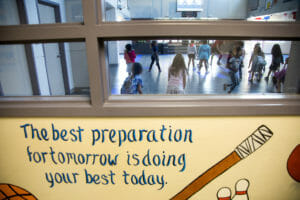 On a recent morning, Swann walked around the Kay Carl Elementary School campus, marveling at the changes prompted by the SOT decisions. In addition to the library and P.E. room swap, the school also created an outdoor "lab" for its science-oriented special. Giant tires filled with soil sit on painted pavement, ready for the class to use for their garden activities. Donated concrete picnic tables dot the pavement as well.
She's optimistic the empowerment model, driven by the SOT, will catapult the school beyond the two-star performance rating it had when she began as principal four years ago.
"It is the attitude of the leader," Swann said, describing what she views as the key ingredient of SOT success. "It makes or breaks everything."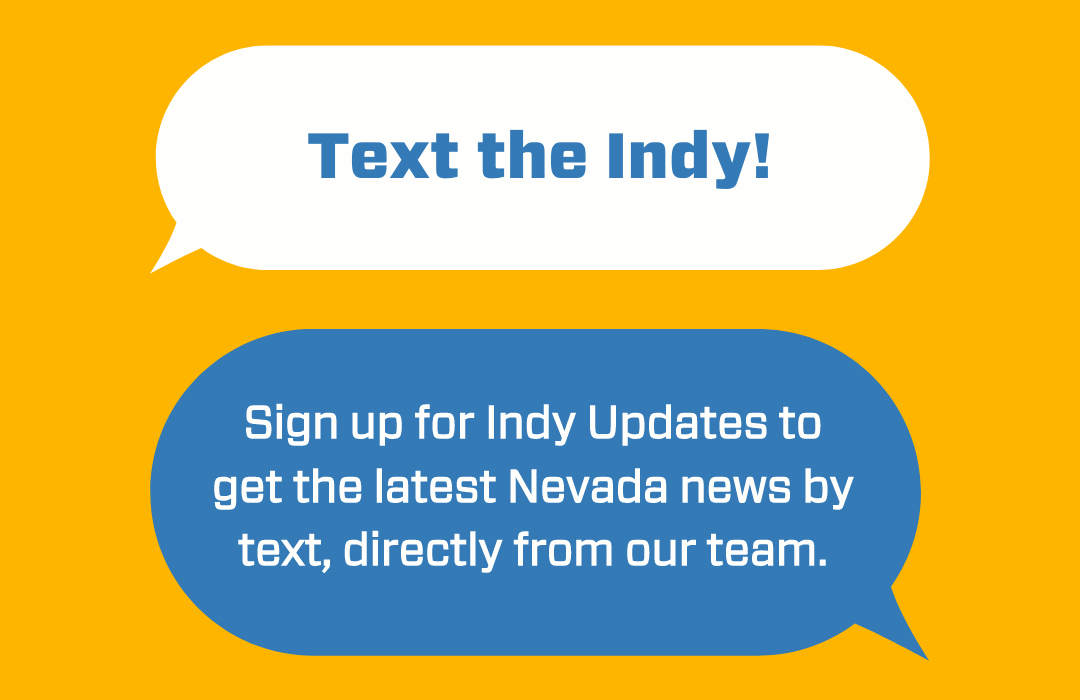 Featured Videos
Comment Policy (updated 4/20/2021): Please keep your comments civil. We reserve the right to delete comments or ban users who engage in personal attacks, use an excess of profanity, make verifiably false statements or are otherwise nasty. Comments that contain links must be approved by admin.