As Republicans push for ethics probe into federal coronavirus relief that benefited her husband's company, Rep. Susie Lee insists she 'took the right vote'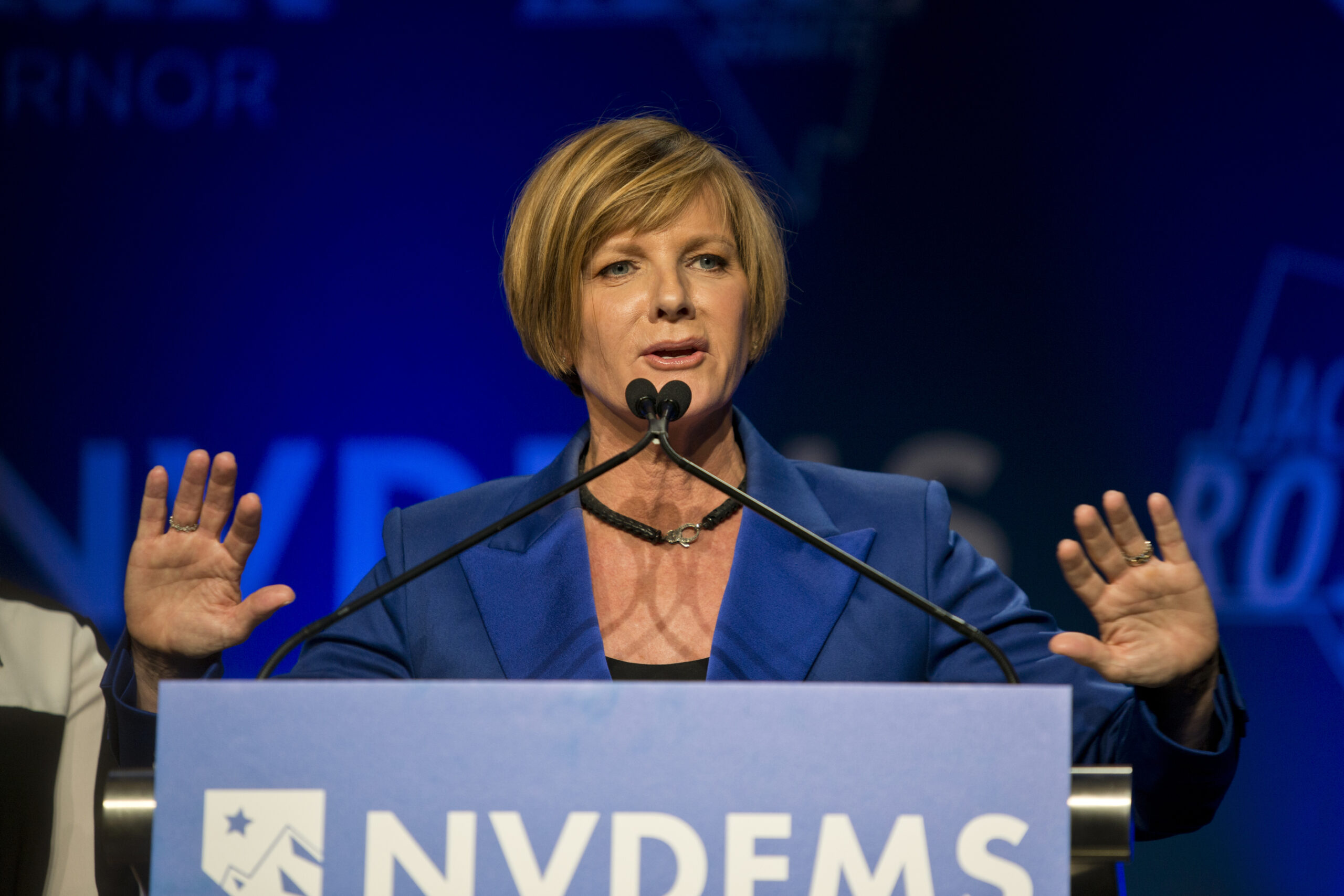 Democratic Rep. Susie Lee's push for a change in the federal government's pandemic loan requirements that ultimately benefited her husband's company have given Republicans fresh ammunition — including an outside ethics complaint — as the race for District 3 begins.
Lee, alongside the rest of the state's congressional delegation, had lobbied the Small Business Administration in April to amend its rules to allow small gaming businesses to benefit from the then-nascent Paycheck Protection Program meant to stem permanent job losses triggered by coronavirus shutdowns.
But a report last week from The Daily Beast found the company run by Lee's husband, Dan, Full House Resorts, received $5.6 million across two PPP loans roughly two weeks after the SBA made the change.
Lee denied any involvement in the loans, telling The Daily Beast through a spokesperson that "she had no influence" over either the decision to file an application with the SBA nor the ultimate approval of that application. A spokesperson later clarified that she was, however, notified of both the application and its eventual approval.
Since the story broke, Lee has eschewed direct media interviews and relied instead on spokespeople. The congresswoman declined a request for an interview from The Nevada Independent and declined at least one other offer from MSNBC since the original story from The Daily Beast was published.
In a statement to The Nevada Independent, a spokesperson for Lee said the congresswoman was working to address "two urgent and unprecedented public health and economic crises" and that "40,000 Nevada businesses and their employees now have a lifeline in this storm" because of her advocacy in Congress.
"She took the right vote, advocated for the right policies for her district, and is demanding total transparency for all coronavirus programs," the spokesperson said. "Republicans and Democrats joined Susie in this vote and this fight, yet now a bunch of partisan hacks and shadowy super PACs are attacking her for it. That's deceptive and cynical, even by Washington's low standards – but Susie Lee has never let dishonest, partisan attacks stop her from doing her job for Nevada."
Republicans, meanwhile, have seized on the issue as a purported conflict of interest as they have sought to make the loans an issue in Lee's reelection bid. The Congressional Leadership Fund — a major super PAC for GOP House leadership that has already reserved nearly $1 million in advertising targeting Lee in the fall — has cast her "improper" decision as one that was "rigging the system."
Those criticisms solidified Friday with the announcement from a conservative-leaning ethics watchdog, the Foundation for Accountability and Civic Trust, that it filed a formal complaint against Lee with the Office of Congressional Ethics.
That complaint, largely citing The Daily Beast story as evidence, said in part that Lee's financial interests in Full House "creates doubt" about her impartiality and whether or not her actions were "in the public's best interest."
"This is not a case where Lee simply voted on legislation, but is a case where she used her official position to advocate for an agency to change its regulations," the complaint read. "Therefore, the conflict rules must be strictly applied to prevent both an apparent or an actual conflict of interest."
Breaking down the push to change SBA rules
Small gaming businesses across the state were decimated after coronavirus shutdowns in March forced their doors closed. But those economic straits rapidly morphed into an existential crisis after the SBA revealed in early April that any business earning more than 33 percent of its revenue from gaming would not be eligible for federal paycheck relief.
Though early characterizations from the Trump Administration focused on the ineligibility of "small casinos," the rule more broadly denied access to federal relief for businesses ranging from taverns, grocery stores and other businesses that maintain slot machines as part of their business.
Alongside the rest of the Nevada delegation, Lee had for weeks pushed the SBA to reverse its decision and expand its definition to include gaming businesses. Those efforts included a letter Lee wrote to the SBA urging the agency to adjust its guidelines to "reflect Congressional intent" and extend paycheck protections to small gaming businesses.
But Lee was not alone in pushing for a change. All six members of Nevada's congressional delegation scrambled to make a series of public and private calls to rescue small gaming businesses, including penning their own letters to the SBA and praising their own roles in securing the change after-the-fact.
Rep. Dina Titus touted writing to the SBA as early as March 27; Rep. Steven Horsford highlighted his own testimony to the Small Business Committee; and Sens. Catherine Cortez Masto and Jacky Rosen even introduced a legislative remedy in the Senate, alongside an identical bill in the House introduced by Titus, that would have forced the SBA's hand.
In a joint statement issued after the SBA's reversal, the senators said they were "glad to see that our calls for reform were answered."
Rep. Mark Amodei — the delegation's lone Republican — appears to have played a more direct role in the SBA's decision. Speaking to The Nevada Independent in April, Amodei said he spoke directly to incoming White House Chief of Staff Mark Meadows and Treasury Secretary Steven Mnuchin, lobbying the pair on the issue of small gaming and even chastising Mnuchin.
Amodei said at the time that "As the only Republican with, I think, that kind of access to the administration…it's like, 'Hey, I gotta have this.'"
Following last week's scrutiny of Lee's role in the PPP change, a report Tuesday from Politico named three more members of Congress who have financially benefited from federal coronavirus relief, including two Republicans and one Democrat.
Key to this scrutiny is lingering secrecy surrounding the allocation of hundreds of billions in coronavirus relief funds, as the SBA and the Treasury Department have resisted calls to disclose recipient information through the Freedom of Information Act.
Democrats have pushed for increased transparency of the federal government's coronavirus relief payments, most notably through an attempt to pass a new disclosure law last month that was ultimately blocked by House Republicans. That includes Lee, who has touted a vote in favor of that bill, the so-called TRUTH Act.
Still, concerns have continued to mount regarding the ethical implications of Lee's role in the broader policies that allowed the eventual loans to her husband's company.
Full House operates five properties across four states, including two in Nevada: Grand Lodge Casino in Incline Village and Stockman's Casino in Fallon. Documents from the Securities and Exchange Commission show Full House applied for the loans in anticipation of re-opening two of its non-Nevada casinos, Bronco Billy's in Colorado and Rising Star in Indiana, and as it looked to re-hire "several hundred" employees between the two properties.
Though the company itself technically exceeds the 500-employee limit for access to PPP loans, its individual properties do not, eventually opening the doors to the $5.6 million in loans.
In a conference call with investment analysts last month, Dan Lee said "we are kind of prime candidates" for the paycheck program, adding that "we're using it the way it's intended to try to put people back to work."
Financial disclosures show Lee and her husband own millions in Full House stock or stock options that cratered as the hospitality industry nationwide was shuttered by the coronavirus. As markets crashed in the early days of the pandemic, the company's share price plummeted from a $3.55 peak on February 21 to just $0.53 by March 18.
In the time since the loans were approved, that price has steadily recovered — though it still falls far short of the February peak. As of publication, the stock sat at $1.78, down $0.30 since the publication of The Daily Beast story.
The race for District 3
The Republican furor over the potential conflict of interest comes as the dust has settled in the primary races in Lee's Congressional District 3 — a swingy district eyed by the GOP as the single-most competitive pickup opportunity in Nevada in the 2020 cycle.
In her own non-competitive primary, Lee cruised to victory in early mail-in returns last week, securing roughly 83 percent of the vote as of Tuesday morning.
She will now face Republican Dan Rodimer, an ex-wrestler turned entrepreneur who emerged from a bitter, often combative Republican primary with a near 19-point victory over his nearest opponent.
Endorsed by Republican House leadership, the pro-Trump Rodimer has frequently cast his campaign as best-positioned to beat Lee, who won her seat by roughly 9 points in 2018 and enters the 2020 general contest with more than $2 million in her campaign coffers.
Rodimer, repeating criticisms made by the CLF, has also looked to chip at the incumbent on the issue of the PPP loans, accusing her in a tweet Friday of going to Washington to serve her own interests.
"Taking advantage of a pandemic to enrich herself and her family, while tens of thousands of #NV03 families suffer?" Rodimer tweeted. "It's time to fire Susie Lee!"
Disclosure: The Nevada Independent has received a PPP loan.
Updated, 6/16/20 at 1:48 p.m. - This article was updated to include comments Dan Lee made regarding Full House's PPP loans during a call with investment analysts in May.
Updated, 6/17/20 at 8:02 a.m. - This article was updated to reflect that FACT has filed its complaint with the Office of Congressional Ethics. An original version referred to the organization's intent to file.
The Nevada Independent is raising $200,000 by Dec. 31 to support coverage of the 2024 election.
Tax-deductible donations from readers like you fund this critical work.
If you give today,your donation will be matched dollar-for-dollar.
Give + Get Matched
Featured Videos