Lawmakers and the governor have made curbing access to prescription opioids a top priority over the last two legislative sessions.
In 2015, Gov. Brian Sandoval spearheaded a bill requiring doctors to check a state database that tracks narcotics prescriptions in order to identify patients who might be doctor shopping — visiting multiple doctors with the aim of obtaining multiple prescriptions for opioids. Last year, another bill backed by the governor and passed by lawmakers dictated the steps doctors must take before writing short- and long-term prescriptions for opioids and required ongoing education for prescribers.
But as Nevada, like other states, has taken steps to reduce prescriptions for opioids, treatment providers say anecdotally that they're seeing an uptick in heroin use.
"It's heroin. I mean, you know, when we started in this business in the '80s and early '90s it was mostly heroin that we treated for opioid addiction. Then we came through a period in the late '90s, early 2000s of the majority of the patients that we treated were prescription opiates," said Brant Massman, owner of the Center for Behavioral Health."Now as states and physicians have begun looking at their prescribing policies they've reduced the number. Now what we're seeing is there is more of a pendulum swing back towards heroin use."
And the data backs that up. Although overall opioid deaths in Nevada slowly declined between 2011 and 2016, from about 17 to 13 per 100,000 residents, heroin deaths nearly doubled over that same time period, jumping from about 1.5 per 100,000 residents in 2011 to 2.7 per 100,000 in 2016, according to the state's opioid dashboard.
That's why the state has also turned an eye to what it can do to boost opioid addiction treatment — whether for pills, heroin or fentanyl, a synthetic opioid that is up to 100 times more potent than morphine — even as it takes steps to reduce prescription pill abuse. Earlier this year, the state announced the names of three organizations it had selected to become integrated opioid treatment and recovery centers (IOTRC), one primarily in the south, one in the north and one in Elko.
Those programs are currently in various stages of ramping up, developing mobile outreach teams to respond to those who have overdosed, providing mental health and peer recovery support to those in treatment and distributing naloxone throughout communities to more quickly respond to overdoses when they happen. The three organizations say the grant dollars that come with the IOTRC designation will allow them to facilitate recovery in a more holistic way.
"The long term target is to develop a system of care for people that have opiate dependence issues where they came come and receive a lot of the care at our center," said John Firestone, executive director of the Life Change Center, one of the IOTRCs. "We'll have the resources internally help these folks get the treatment they need at our facility or we help them to find treatment somewhere else to the level of assessment, case management and everything so we can link them with the right services."
An integrated treatment approach
Funding for Nevada's treatment and recovery centers comes by way of the federal 21st Century Cures Act, which a lame duck Congress passed and President Barack Obama signed into law in December 2016. Among other things, the law designated $1 billion in state targeted response (STR) grant funds for states to fight the opioid epidemic over the course of two years.
"It wasn't a political issue, it was a public health issue and everyone came together and passed this," said Jon Perez, the regional administrator for the federal Substance Abuse and Mental Health Services Administration, in a March interview. "The dollars that were attached to the state targeted response were designed specifically to offer states maximum flexibility to create their own programs to meet their own needs."
In April 2017, the state announced that it had received $5.6 million to build out its state targeted response initiative, of which $2.1 million was designated toward developing the integrated opioid treatment and recovery centers.
Other states came up with different plans. California used its funds to build out its Drug Medi-Cal Organized Delivery System, which offers a continuum of care for substance use disorder treatment services. Arizona used some of its funding to open its first 24/7 opioid treatment program.
"These are incubators," Perez said. "Each one of the programs in each one of the represents the possibility for the states to develop their own programs."
The focus of the first year of grant funding for Nevada was developing the integrated opioid treatment and recovery centers. The state put out a request for applications to certified community behavioral health clinics, federally qualified health centers and opioid treatment services providers in September and announced the awards in November.
Since then, each of the organizations that received the grant has been building out key aspects of the centers, including bringing on additional staff to provide behavioral health counseling, providing education to the community, creating mobile outreach teams and distributing the anti-overdose drug naloxone.
For instance, the Center for Behavioral Health, an opioid treatment center with four locations in Las Vegas and one in Reno, used some of the funding to build out its in-house mental health services. Previously, the organization only focused on therapy and medication assisted treatment to address opioid addictions and would refer out patients with co-occurring mental health needs to other resources in the community.
With the grant funding, the organization was able to hire a mental health professional to rotate between the Las Vegas locations and is in the process of doing so at its Reno location as well, Massman said. The center is also working with the state to create a new provider type so that it is able to bill Medicaid for the mental health services it provides. Part of the overall goal of the grant is to build capacity, after which the organizations are expected to become self-sustaining through billing Medicaid and any other providers they work with.
"That's how you sustain those services out into the future," Massman said.
The Life Change Center, which has opioid treatment centers in Sparks and in Carson City, has used about 80 percent of its grant funding to hire additional staff — administrators, peer recovery specialists, nurses, counselors and case managers — to bolster its capacity, Firestone said. Their goal for the next year of grant funding is to get a psychiatrist on staff part-time, hire a therapist, double the number of case managers and add a peer recovery specialist.
Like the other two recipients, the third, Vitality Unlimited in Elko, has also focused its efforts on adding additional staff with its first grant funding. But it has had to grapple with its remoteness and the difficulty of bringing providers to frontier Nevada, particularly from out of state.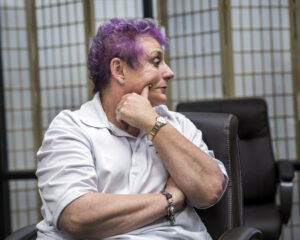 CEO Ester Quilici said that Vitality has tried to hire five people with its grant funding but lost two because of difficulties getting them licensed in the state. Plus, she said it's also just generally difficult to get people to want to come work in Elko.
"We have some good things and we have some things that are drawbacks that are attracting people to Elko," Quilici said. "But we have that problem out here. It's wide open for services."
As it waits to bring additional staff onboard, it has been relying on its existing staff — a case manager, peer recovery support staff and nurse — to carry out the goals of the grant. Unlike the other two centers, Vitality isn't an opioid treatment provider but a so-called certified community behavioral health clinic (CCBHC), a special behavioral health home designation that requires clinics to provide nine essential behavioral health services in exchange for an enhanced Medicaid payment rate. (Because it is not an opioid treatment provider, Vitality contracts with the Center for Behavioral Health to provide methadone medication assisted treatment virtually through its Reno clinic.)
Vitality's goal under the grant was to offer opioid treatment and recovery services alongside its CCBHC services, including primary care screening, crisis mental health services and psychiatric rehabilitation, so that there was a "seamless" transition between the two, said Coleen Lawrence, a health-care consultant who works with Vitality.
"Even though they have different funding sources, the consumers aren't supposed to know that," Lawrence said. "It's supposed to be a continuum of care."
Part of that continuum involves peer recovery support services, where specialists who have themselves struggled with substance abuse treatment and recovery help guide others along the path to recovery.
At the Life Change Center, peer recovery support specialists are not only mentors for patients but they also oversee a volunteer program that patients participate in, doing work for seniors and disabled veterans, such as cleaning up yards or painting houses, Firestone said.
Massman said that at the Center for Behavioral Health, peer support specialists are there from the first day that a patient shows up for treatment to three or six months later when the patient is coming to treatment on a routine basis. The center's peer support specialists are contracted out through the Foundation for Recovery.
"The peer support specialist acts sort of like an AA sponsor, the guy or gal that helps you kind of get through some of the beginning of it before you become a sponsor for somebody," Massman said.
All of the opioid treatment and recovery centers also focus on holistically helping patients, whether that's getting them connected with housing, transportation, food, medical treatment or dental care. Sometimes it's not immediately apparent what all of those needs are, Firestone said.
"The immediate need stuff will be housing and anything that deals with safety. If you have a person who is in a relationship with abuse, that person may not be able to verbalize, 'I need out of this relationship.' That may be the most stable and safe thing in their world," Firestone said. "But a counselor can help them to see that differently and get people safe."
Firestone said that the Life Change Center has an electrocardiogram (EKG) on site that they can use to check for heart conditions or infections associated with needle use and then refer people out for treatment. They'll even take people to dental or psychiatric appointments to make sure the patients are getting the care they need, he said.
"What we're doing now is when a person says, 'I've got this dental problem or psychiatric need,' we say, that's great, except we put them in the van, we drive them over, introduce them to the people, wait for them, give them a ride back, interface with the doctor because some of the folks we deal with have a difficulty asserting themselves in some of these situations," Firestone said. "This is why we call it a warm handoff."
Out in the community
All three of the organizations also are required to provide mobile outreach teams as part of their responsibilities under the grant. For instance, the Center for Behavioral Health's mobile outreach team is focused on diverting patients who have overdosed from the emergency rooms. The teams are supposed to respond to hospitals to meet with patients when they are discharged and connect them with treatment and whatever other community services they need with the goal of reducing emergency room readmissions.
However, Massman said the uptake has been slow on the hospital side because emergency rooms have so many other tasks and responsibilities while patients are in their care. He said the center is trying to work with hospitals to figure out where best in the emergency room process the mobile outreach team could interact with patients
"Everybody loves the idea and it's going to go, it just needs time," Massman said.
Another responsibility the integrated opioid treatment and recovery centers have is to distribute naloxone, a drug to reverse drug overdoses, and offer overdose education. The three organizations have distributed 880 units of naloxone so far, with the Center for Behavioral Health distributing the most among its five locations, according to state officials.
Massman said that the center is proactive about distributing the drug overdose reversal kits, which include naloxone in a nasal spray form known as Narcan, to every patient that comes in for treatment. He said that even if patients don't relapse and need it for themselves, they may have a friend or a family member who will.
"I agree, yeah you're in treatment now, you shouldn't need it but there's always a chance of relapse," Massman said. "The other thing is you've got friends and people that you know that may still be using it, and you may be in recovery and around them or with them and they overdose and now you've got the kit, and so the hope is to really get those kits out there where they will be used."
The Life Change Center has been participating in a lot of community outreach events about overdoses and naloxone, traveling to Silver Springs, Yerington, Fallon, Dayton, Gardnerville, Fernley and Wadsworth, Firestone said.
"But most of it is just cold calling, networking, getting folks out there to invite us into their camp to tell a story," Firestone said. "We're finding a very good response rate which isn't a surprise."
In Elko, Vitality has focused on distributing pocket cards to law enforcement to hand out to people who are either using opioids, at risk of using opioids or have a family member who is to connect them with the clinic. At the clinic itself, Vitality offers education classes and distributes naloxone to patients, friends and family.
Looking ahead
Perez, the regional Substance Abuse and Mental Health Services Administration director, says that opioid addiction isn't a moral failure, it's a failure of the system as a whole to appropriately treat individuals struggling with addiction.
"You look at opioid dependency is not a life sentence but a chronic disorder for which people need to be supported, helped and treated for long periods of time," Perez said. "Absence of symptoms is not a cure."
"It is incumbent upon us, the entire medical community, to say we have to do this differently," Perez said.
Nevada officially received its second year of opioid state targeted response grant funding, roughly $5.7 million, in April. Some of that funding will go toward continuing to support the three first-year grantees as they build toward becoming sustainable, while other dollars will flow toward new opioid-related projects, Dr. Stephanie Woodard, the state's senior advisor on behavioral health, said.
Woodard said that the state will cast a "broad net" when it puts out its request for grant applications and is hoping to receive proposals in five categories: clinical and treatment services, community paramedicine, neonatal abstinence syndrome prevention programs, public health and emergency preparedness and the expansion of peer recovery support services. The goal of year one was to develop the opioid treatment "hubs," while year two is developed more on building out the "spokes," she said.
She noted that the three organizations only cover Northern Nevada, Southern Nevada and Elko and said that the state is hoping to support treatment infrastructure in rural Nevada in this second round of grant funding. (The Life Change Center is actually in the process of opening a methadone clinic in Fernley, which would be the first of its kind in rural Nevada.)
"Medication units in Nye County are of particular interest to us. We do have some treatment providers in Nye County and in Pahrump and in Mesquite, it's just woefully underserved," Woodard said. "We want to make sure we have treatment providers out there."
The state is also interested in funding prevention efforts in the second year of the grant including mitigating neonatal abstinence syndrome, which is when a baby is exposed to drugs in the womb before birth, and boosting overall public health preparedness to identify new opioid trends when they emerge, such as the rise of fentanyl. The request for applications will likely go out in the next month or so, with the goal of announcing awards by late summer or early fall, Woodard said.
As far as the first-year grantees go, Woodard said that the state is looking to continue to fund them with the ultimate goal of weaning them off of the grant dollars and helping them bill Medicaid to sustain their services long term.
"The goal ultimately is these dollars are building infrastructure so when the dollars are gone these programs are sustainable," Woodard said. "We're working closely with our state Medicaid agency to ensure providers have enough technical assistance to ensure they're maximizing the reimbursement that they can obtain from the services they're providing."
Firestone said that he's hopeful that all the expansion that they've been able to do under the grant will only give them further stability and capacity to increase services in the future. He added that the Life Change Center would not have been able to expand as rapidly as it has without the grant funds.
"Yes. Absolutely. One-hundred percent confidence," Firestone said. "This would not have happened at least within this time frame because there's so much risk involved."