Rapphine "Speedy Boy" Murillo, left, moves items for an Hawaiian student moving into Dayton Complex dorms at UNLV on Wednesday, Aug. 21, 2019. (Jeff Scheid/Nevada Independent)
As the college school year kicks off, housing top of mind for some Nevada students
August 28th, 2019 - 2:00am
As tens of thousands of students flooded college and university campuses across the state Monday for the first day of the new school year, many had yet to reckon with a new reality of college living — one that is defined in part by rapidly inflating costs that have fueled a national crisis of student debt. 
But the crisis is not born just of tuition and fees. A 2015 study from the Department of Housing and Urban Development found that room-and-board comprised more than half the yearly cost of college on average — about $9,800 of an $18,000 total — and further found that on-campus housing costs spiked more than 44 percent over a 20 year period, adjusted for inflation. 
In Nevada, that housing equation has become a tale of two cities. In Reno, where rents have been climbing for years, on-campus housing at the University of Nevada, Reno has remained center-stage for students looking to keep costs down across an undergraduate career that can last anywhere from four to six years. 
"I think they think about it a lot more critically," Jerome Maese, director of Residential Life at UNR, said. "In my 20, 25 years of working in the university housing industry, students kind of used to count financial aid and assume it would be part of the cost. Now, they're a lot more aware and a lot more concerned consumers in looking at what the total price is."
Part of the increased costs can be tied in part to a period of rapid growth for UNR in the last six years, as enrollment surged past 21,000 in 2018 — up from just 16,000 a decade ago. That increase came just as economic developments in and around the Biggest Little City fed skyrocketing housing demand, pushing supply down and prices up near pre-recession peaks. 
But on-campus residences to this day remain limited to around 3,000 students, and the enrollment spike hit just as the university lost access to some of its available beds because of a number of dorm closures, some planned and others unplanned. 
Filling the rest of the demand for student housing has been left to a number of private developers, who've spent millions erecting nearly a dozen luxury-branded student living complexes a stone's throw away from the UNR campus. Those complexes are part of a broader, nationwide growth of trendy, luxury accommodations for students with an eye for the finer things — from quartz countertops to lazy rivers. 
Maese touted university living as an affordable answer to the market, devoid of the year-long leases and utility costs that come un-bundled from the apartment lifestyle.
"Living off campus, even at places, for-profit, that claim to be student housing, they don't offer that level of support that university housing does, particularly for the first year students," Maese said. "I think it's very critical in recruiting students to campus, I think it's very critical in helping students be successful when they come to a university college setting."
That view is supported in part by a wide body of research that shows living on-campus living can boost graduation rates, as well as providing a cost-effective alternative to private housing. 
Even so, though university housing is often less expensive than the open market by way of baked-in costs for utilities, wifi and other amenities, the system is often no less vulnerable to market pressures than private complexes. 
"What we're not insulated from is what we have to pay people, and what their cost of living goes up by, particularly our custodial, our food service workers, our staff — what they're going to have to pay to live in Reno to come and work at the university," Maese said. "So even though we might have some insulation from those costs, all of the rental rates and housing costs in Northern Nevada do impact our bottom line as well."
In Las Vegas, despite rising rents, the student housing equation is radically different. About 3,000 of UNLV's 30,000 students call campus home, but the vast majority of the school's undergraduates — about 80 percent — hail from Southern Nevada. Among those Southern Nevadans, many have chosen the cheapest option of all: live at home.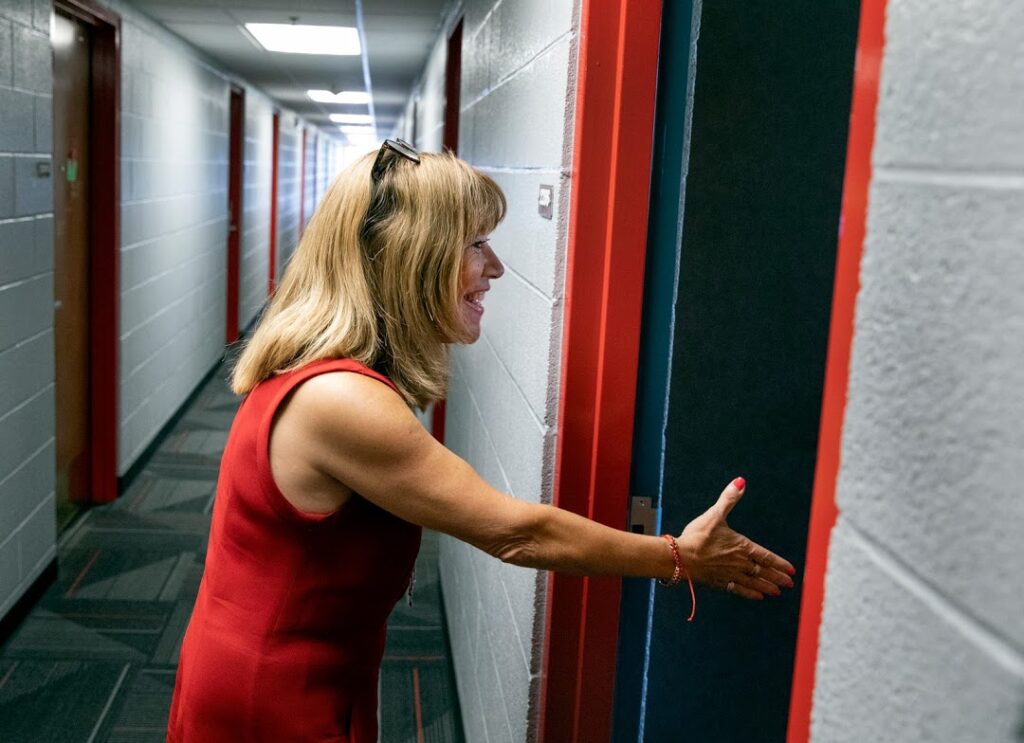 On UNLV's move-in-day, university President Marta Meana wandered the halls of the Dayton Building, greeting students from across the American west, all eager to unpack their boxes and escape the unyielding Las Vegas sun. 
But the students Meana met that day represent just a small minority of UNLV's student body. 
"Most of our [on-campus] students are first generation, out of state, under the age of 25 and living away from home for the first time," Orlando White, Assistant Director of Residential Education, said. "We do have transfer students as well, so not everyone fits into that category, but we are primarily a first-year operation."
Still, the university's on-campus housing has continued to grow, even as enrollment has stayed steady. In 2019, roughly 10 percent of students will live on campus compared to just 6 to 7 percent last year. 
White says that's largely because of the opening of a new privately owned complex on the north end of campus that nearly doubled the university's housing capacity, but he, like Maese, touted the intangible benefits of the on-campus experience. 
"What we've shown here, since 2015, is that students who live on campus actually have a higher GPA," White said. "They're closer to the amenities and the different resources that are offered by the entire university, so by being involved on campus and living on campus, they have greater access to things like tutoring, involvement opportunities — there's a greater network of support students get when they're on campus that they don't get when they're off campus."
Even so, on-campus living comes with a price-tag in the thousands, inflated somewhat by attached meal plans and utilities costs, that must be paid up front or in a short series of installments. It's a cost that is sometimes paid through scholarships or, more often, through student loans. 
And as of the second quarter of 2019, data from the New York Fed show the cumulative American student debt nearing $1.5 trillion. 
Stories
Candidate Trackers
Endorsements, Ads, Policies, Visits
& More
visit now
Comment Policy (updated 10/4/19): Please keep your comments civil. We reserve the right to delete comments or ban users who engage in personal attacks, use an excess of profanity, make verifiably false statements or are otherwise nasty.