At gun safety forum, Democratic presidential hopefuls largely agree on solutions, carve out minor differences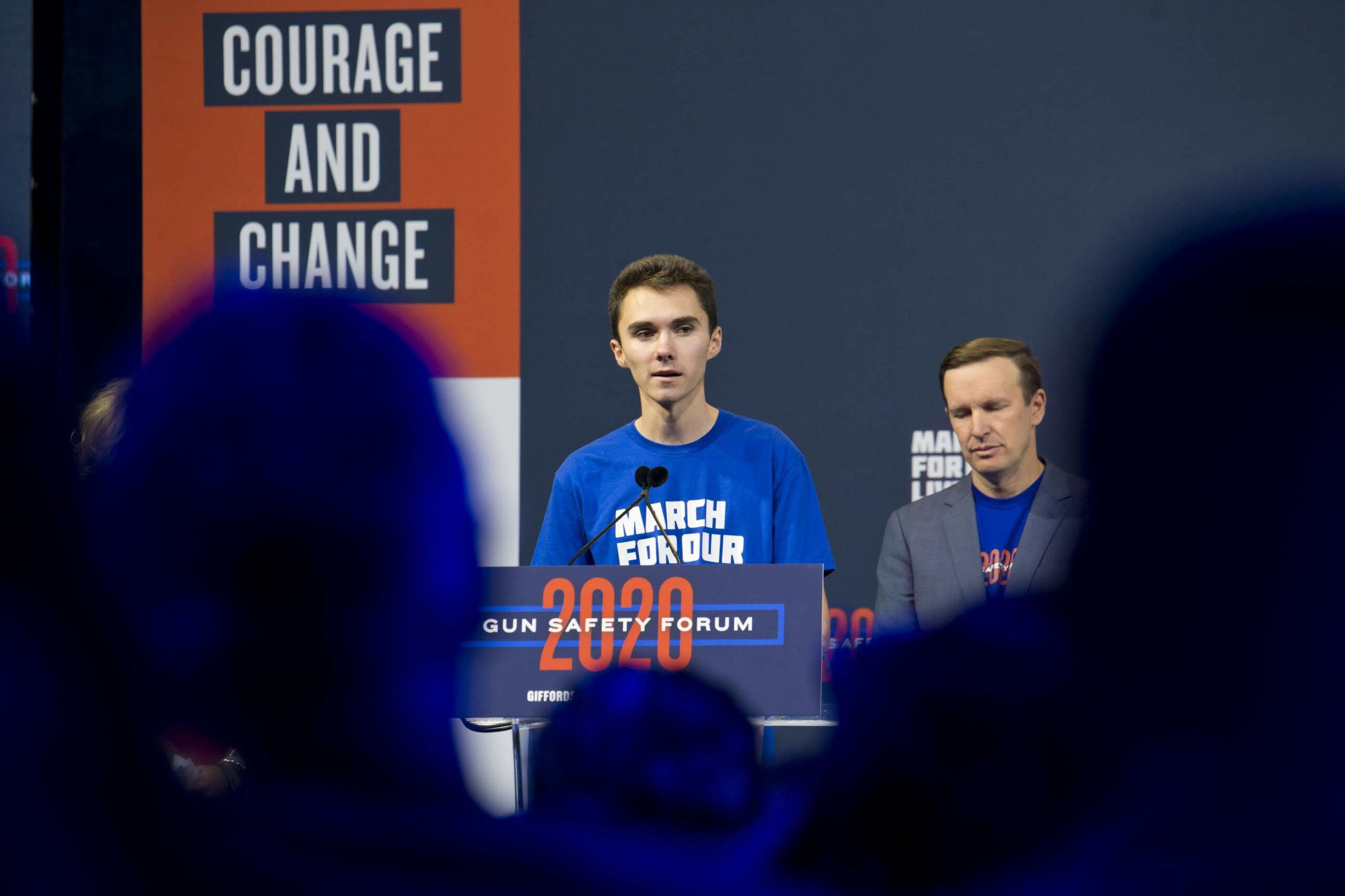 Nine top Democratic presidential hopefuls descended on Las Vegas on Wednesday to pitch their plans on preventing everyday gun violence and mass shootings, including the one that claimed the lives of 58 people and injured more than 800 here two years ago this week.
In a situation like this, candidates normally try to distinguish themselves in an effort to woo voters to their camp. But on Wednesday, they agreed on almost everything.
"I'm guessing that pretty much everybody in the parade of candidates you're about to see is going to call for universal background checks, closing the hate loophole, the Charleston loophole, the boyfriend loophole, disarming domestic abusers, enacting red flag laws, extreme risk protection orders, banning the sale of assault weapons like I carried in Afghanistan," said South Bend Mayor Pete Buttigieg, the first candidate to speak at the all-day gun safety forum hosted by Giffords and March for Our Lives. "So this is not just a question about policy. This is a question about power."
But the candidates agreeing on almost everything wasn't actually an issue for attendees — or for some of the candidates themselves. Rather, they said it's a sign of how far the debate on gun safety has come since the last presidential election, buoyed by high-profile tragedies in Las Vegas, Parkland and El Paso and a more widespread dialogue about the day-to-day gun violence that claims the lives of countless more, particularly in communities of color.
"I've never seen candidates compete on this issue before. It's usually a race to the bottom when we talk about guns," said Annette Magnus, executive director of Battle Born Progress. "I want to see them push themselves to really stretch to have good gun laws in this country."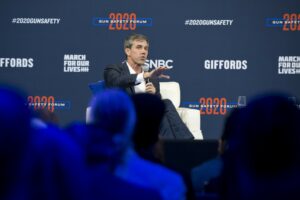 Former Texas Rep. Beto O'Rourke, who has recently become outspoken on issues of gun safety, said the rules of the game have long been set by the gun lobby but are now changing.
"We have allowed the NRA to dictate the terms of this debate, what we're allowed to talk about," O'Rourke said. "The terms have been set long before we arrived. The game was rigged. It's time to move outside those of those rules that were paid for by the gun lobby."
Massachusetts Sen. Elizabeth Warren, who has made a name for herself in the race by talking about systemic corruption, said it comes down to money and politics.
"As I see it, this is all about politics. This is not ultimately about guns," Warren said. "This is about money and it's about who makes money off the system as it is."
Democrats once commonly received A-ratings from the NRA, but the nine Democratic presidential hopefuls spent much of the forum decrying the powerful gun lobby and trying to out-do each other with their progressiveness on gun policy. The most prominent example of that was the issue of buybacks of semi-automatic assault weapons. Democratic presidential hopefuls generally agree on banning the weapons, but they differ on whether the government should buy them back and, if so, how.
The candidates were more than eager to dive into that question in an attempt to draw daylight between themselves and their competitors. Buttigieg, for instance, supports a voluntary gun buyback program, but said the buyback debate is distracting from more pressing issues with majority popular support, such as universal background checks, red flag laws and bans on the sale of semi-automatic assault weapons.
A PBS NewsHour, NPR and Marist poll in September found 83 percent support for universal background checks, 72 percent support for red flag laws and 57 support for banning the sale of semi-automatic assault weapons. Only 45 percent in the same poll supported a mandatory buyback program.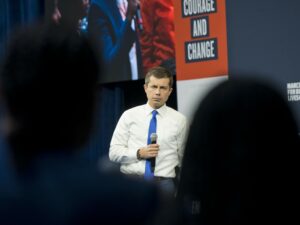 "I think when we think about that part of the debate, it's fine. It's a healthy debate to have," Buttigieg said. "But we've got to do something now, and we have a way sometimes as a party, in my party, of getting caught just when we've amassed the discipline and the force to get something done right away, a shiny object makes it harder for us to focus."
But O'Rourke, who came out in favor of mandatory buybacks in the wake of the August shooting in his hometown of El Paso, accused Buttigieg of genuflecting to the polls.
"Those who are worried about the polls and want to triangulate or talk to the consultants or listen to the focus groups — and I'm thinking about Mayor Pete on this one, who I think probably wants to get to the right place but is afraid of doing the right thing right now," O'Rourke said. "To those who need a weatherman, let me tell you that in this country mandatory buybacks are supported by a majority of Americans."
As evidence, O'Rourke pointed to a recent poll by the University of Texas at Tyler that found 49 percent of Texans support a mandatory buyback program.
But even that debate underscored how quickly candidate positions have changed on guns in light of recent tragedies and increased mobilization by gun safety advocacy groups. O'Rourke in an interview last year while running for the U.S. Senate said that anyone who purchased an AR-15 should be able to keep it and "continue to use it responsibly."
There also isn't as widespread agreement among gun safety advocates on gun buybacks as there is on gun licensing, which some states have already enacted.
"I wouldn't put licensing and mandatory buybacks in the same bucket," Peter Ambler, executive director of Giffords told NBC News in August.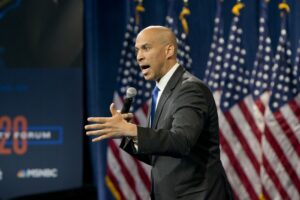 It was on the issue of gun licensing that New Jersey Sen. Cory Booker zeroed in on with O'Rourke, who only recently came out in support of federal gun licensure when Booker called for such a program as part of his gun policy rollout in May.
"Beto O'Rourke was not for gun licensing, criticized me when I came out for it," Booker said. "He saw the horrors visiting his community. Are we going to have to wait until hell's lottery comes to your community?"
O'Rourke, asked about that comment later in the forum, credited Booker with "being a leader on the issue." But he said "no me importa" — I don't care — "how soon you get to a position as long as you're in the right place."
The rest of the candidates — including those polling at the top — largely kept their powder dry during the forum even as they sought to draw distinctions between themselves and their opponents.
(Vermont Sen. Bernie Sanders was the tenth candidate scheduled to appear at the forum but canceled all campaign events after having two stents inserted in an artery overnight after experiencing chest discomfort at a campaign event. His campaign said in a statement that he is "conversing and in good spirits.")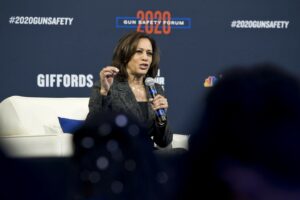 California Sen. Kamala Harris, for instance, was to the point in her support for mandatory gun buybacks.
"It's got to be smart, and we've got to do it the right way," Harris said.
Former Housing and Urban Development Secretary Julian Castro favors a voluntary buyback program but said he's willing to hear the arguments on a mandatory program, while Minnesota Sen. Amy Klobuchar said she wants to start with a voluntary buyback program.
Besides the tiff between O'Rourke and Booker on gun licensing, there was also a substantive policy discussion on whether the issue ought to be handled at the federal or state level. Biden, who released a gun policy on Wednesday, touted his proposal to encourage state and local governments to run gun licensing programs by offering them federal government funding.
"The idea of getting a federal registration down the line, possible," Biden said. "But I don't want to hold things up and get into false fights in the meantime. Let's get serious things done quickly."
Buttigieg said that he "doesn't mind" gun licenses being overseen by the states in the way that driver's licenses are, while former tech executive Andrew Yang pitched his plan for a tiered gun license system, also akin to driver's license systems that have different requirements for commercial and personal licenses.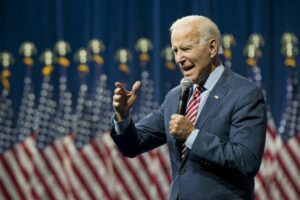 Warren explained her plan to tax guns and ammunition and use the revenue to fund gun safety and gun prevention programs across the country, while Castro pitched his plan for doubling excise taxes on ammunition to 20 percent. Castro also reiterated his plans to implement an ammunition tracking system that he said would make it easier to solve gun-related crime.
The candidates also honed in on solutions that would mitigate everyday gun violence. Biden discussed his plan to spend $900 million over eight years on anti-gun programs in the 40 cities hardest hit by gun violence, while Harris talked about giving children the resources needed to escape the "trauma-inducing" cycle of poverty that causes them to act out in "predictable ways."
They also expressed broad support for red-flag laws that generally allow family members or law enforcement to petition courts for temporary confiscation of firearms from anyone who presents a danger to themselves or others. Harris lauded Nevada's Legislature for passing and Gov. Steve Sisolak for signing such a proposal into law earlier this year.
"Nevada has done some extraordinary work and I applaud the Legislature here and Governor Sisolak on what they've done," Harris said.
Democratic Assemblywoman Sandra Jauregui, who survived the Las Vegas shooting two years ago, talked to forum attendees about turning her memories into action and pushing for gun safety legislation when the Legislature met earlier this year.
"I can still vividly remember the events of that night — hitting the ground and having my husband crawl on top of me to shield me from the raining bullets," Jauregui said. "But I refuse to let those emotions define me. As a survivor that is also a legislator, I strongly believe it is the responsibility of every single elected official to address this epidemic."
Sisolak, who was chair of the Clark County Commission at the time of the shooting, recalled walking the festival site two years ago to the day after the shooting.
"I saw the bodies, some blood, and there was an eerie silence and you would hear a cell phone ring — someone hoping their loved one would pick up the phone," Sisolak said at the forum. "I've never forgotten the sound of those cell phones ringing."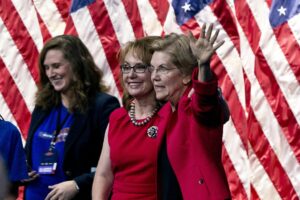 Milton Adams, a 16-year-old student in March for Our Lives' Las Vegas chapter who attended the forum, singled out Yang and Warren as the top performers but couched the event overall as enlightening.
"It cleared up some things for me with various people's policies and how they actually felt about the issue," Adams said. "I think that happened in a lot of other people's minds and promoted something we really wanted this event to promote."
Heather Gooze, who was working as a bartender the night of the Las Vegas shooting and held the hand of a young man as he died, said that Harris, Yang and O'Rourke stood out to her at the forum, but described the candidates overall as "phenomenal."
"I think they really truly believe it. I actually really feel like they weren't just saying what they were saying because they knew it was what we wanted to hear," Gooze said. "I feel like they were saying it because it was really important."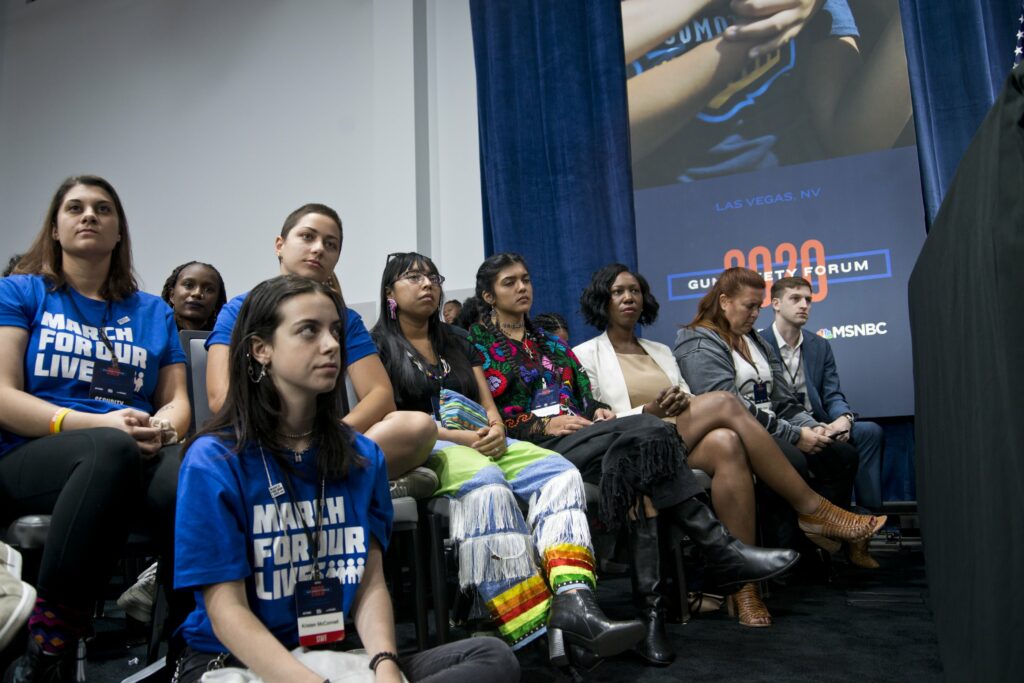 Comment Policy (updated 4/20/2021): Please keep your comments civil. We reserve the right to delete comments or ban users who engage in personal attacks, use an excess of profanity, make verifiably false statements or are otherwise nasty. Comments that contain links must be approved by admin.