Atlantis Casino becomes latest business filing to leave NV Energy as a customer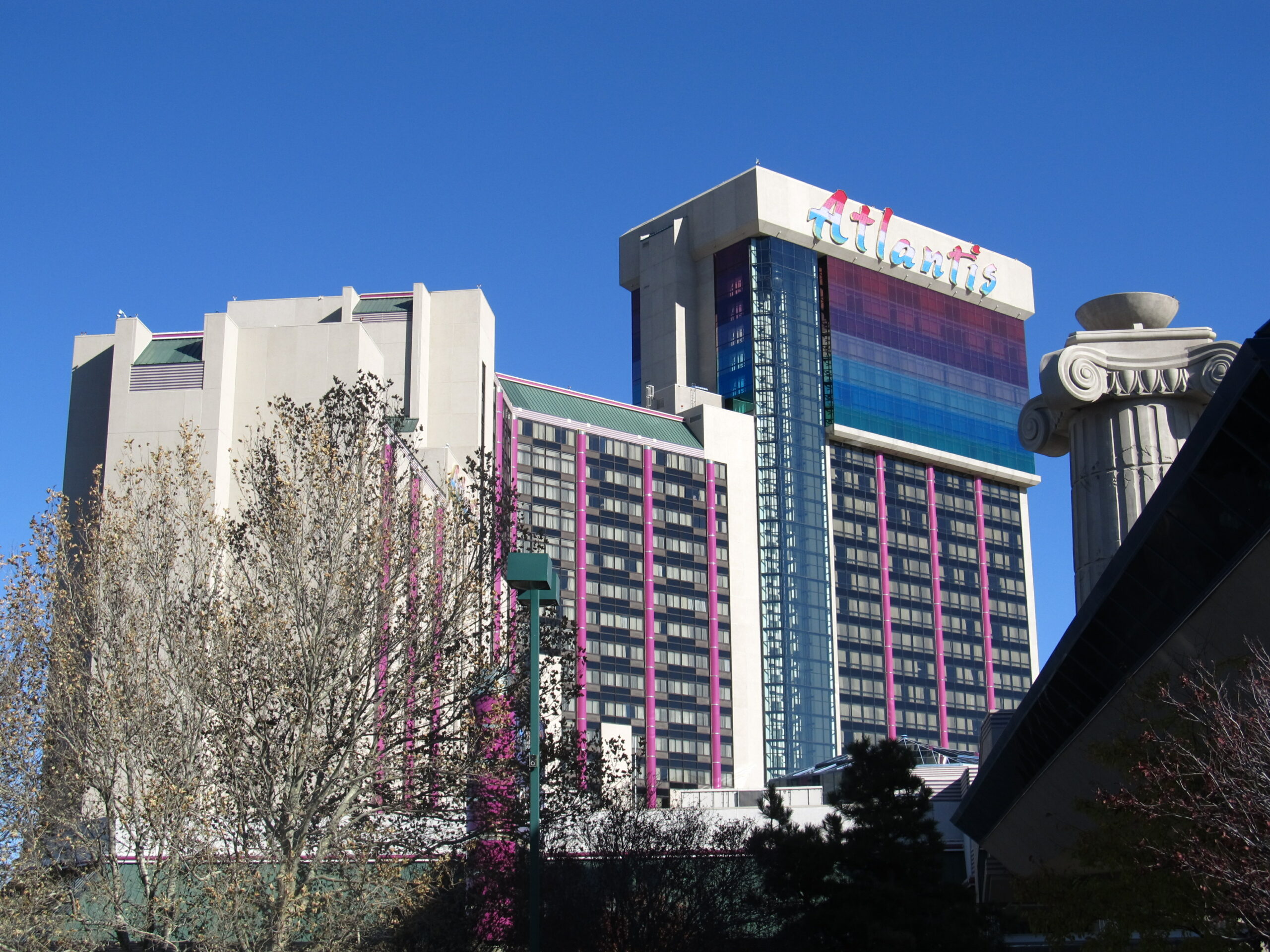 Yet another major casino has filed to leave NV Energy, the state's primary electric utility, and purchase power on the open market.
According to a filing made with Public Utilities Commission of Nevada last month, Reno-based Atlantis Casino Resort Spa is seeking to become the latest in a growing line of major electric customers to leave NV Energy over the last three years and ahead of a contentious 2018 ballot question that could end the company's electric monopoly and allow any business to independently purchase power.
In the filings, Atlantis said its properties consume more than the state-required 8,760,000 kilowatt hours annually, but declined to publicize any additional information on their consumption or meter information under regulations that allow for commercially sensitive information to be kept confidential. Kilowatt hours are used as standard measurements for electricity production and measure the amount of energy used over time — a 100-watt light bulb would generate one kilowatt-hour after 10 hours of use, for example.
In its initial filing, the company said it was still negotiating with several potential new electric providers and was seeking to leave the utility by April 2019.
David Farahi, the chief operating officer of Atlantis's parent company Monarch Casinos, said in an interview that the company thought it could save a significant amount of money by leaving NV Energy's service.
"It's not super-complicated. Whenever you can have competition for anything that you're buying, it's a good thing. Competition is good, monopolies are not," he said.
In a statement, NV Energy spokeswoman Andrea Smith said the company was proud that it offered lower prices than the national average and below what they were a decade ago, and that the company would take steps to protect its other customers from any "significant consequences."
"NV Energy values every one of our customers," she said in an email. "However, as the Atlantis has in this case, certain customers may apply to the Public Utilities Commission of Nevada for approval of a transaction with an alternative energy supplier. These transactions can have significant consequences for remaining customers, and NV Energy will participate in the regulatory process to ensure they are not financially impacted."
The path to leave NV Energy has become well-trodden in the past three years, with major companies including MGM Resorts, Switch, Wynn Resorts, Caesars Entertainment, Station Casinos and California-based company Fulcrum Sierra Biofuels all filing exit applications to buy power independently. And just last year, neighboring Reno casino Peppermill Resorts successfully left the utility.
Departure from the utility still requires approval from the PUC, which has in the past required companies to pay steep "exit fees" designed to protect costs from rising on other customers of the utility. Farahi said the company was prepared to pay whatever "exit fee" the commission levied on the company.
He also said the casino didn't want to wait for the possible results and implementation of the Energy Choice Initiative, a proposed 2018 ballot question that would amend Nevada's Constitution to require an open and competitive electric market — where companies such as Atlantis could just pick a new electric provider without paying an exit fee — by 2023.
"2023 is a long time from now," he said.
But already, Atlantis has chafed under a decision by regulators to not grant full confidentiality to its filed documents as part of the exit application.
In an August 27 order, the commission wrote that only a "small portion" of the requested confidential information could be kept private under existing state laws, and ordered all portions of the documents be made public excluding information on the company's load data, meter information and specific billing data. Other information, including the company's new provider and what kind of fuel sources it plans to use, would then need to be made public.
"The public has an interest in knowing whether the proposed provider sources energy, capacity, and ancillary services from generating assets powered by nuclear, coal, gas, or renewable energy," commissioner Bruce Breslow wrote in the order. "Without access to such information, members of the public, including environmental groups, ratepayer advocacy groups, and others, would not be able to meaningfully participate in this proceeding."
In a response, McDonald Carano attorney Lucas Foletta replied on behalf of Atlantis that the commission had typically not required such information to be made public in other exit applications filed by the commission, and that any "interested parties" could access the confidential information if they filed to become a party to the case.
"That the information remains confidential does not undermine the public's interest in these proceedings," he wrote. "The Commission and all parties to the case have access to the information under protective agreements, and any party that wants to intervene may execute a protect agreement and have access to the same information."
Disclosure: Many companies mentioned in this story have donated to The Nevada Independent. You can see a full list of donors here.
The Nevada Independent is raising $200,000 by Dec. 31 to support coverage of the 2024 election.
Tax-deductible donations from readers like you fund this critical work.
If you give today,your donation will be matched dollar-for-dollar.
Give + Get Matched
Featured Videos