Democratic presidential candidate Sen. Cory Booker speaks during a Breakfast with Cory at True Love Missionary Baptist Church, in Las Vegas on Saturday, April 20, 2019. (Jeff Scheid-Nevada Independent)
Bagels, church and campaigning: Community members bring focus back to everyday issues during Booker visit
April 20th, 2019 - 2:26pm
The questions came amid sips of orange juice and coffee as community members conversed with New Jersey Sen. Cory Booker inside a West Las Vegas church on Saturday morning.
What's your plan for fixing health care?
Would Medicare expansion end Social Security?
How do we ensure children learn how to read, write and do math?
The presidential hopeful had already delivered a version of his stump speech at this breakfast meeting in the city where his 80-year-old mother now resides. Booker talked about expanding earned income tax credits, creating portable benefits, tweaking the tax code to benefit small businesses and providing "baby bonds" to give younger generations a leg up in the American economy.
"All of these things are really important and what I'm going to do to make this a culture that favors entrepreneurialism and supports our young people and allows more people to take the risk to start businesses," he said.
Then the senator stood up, grabbed a box full of Panera muffins and started handing them out as he listened to a health care-related question.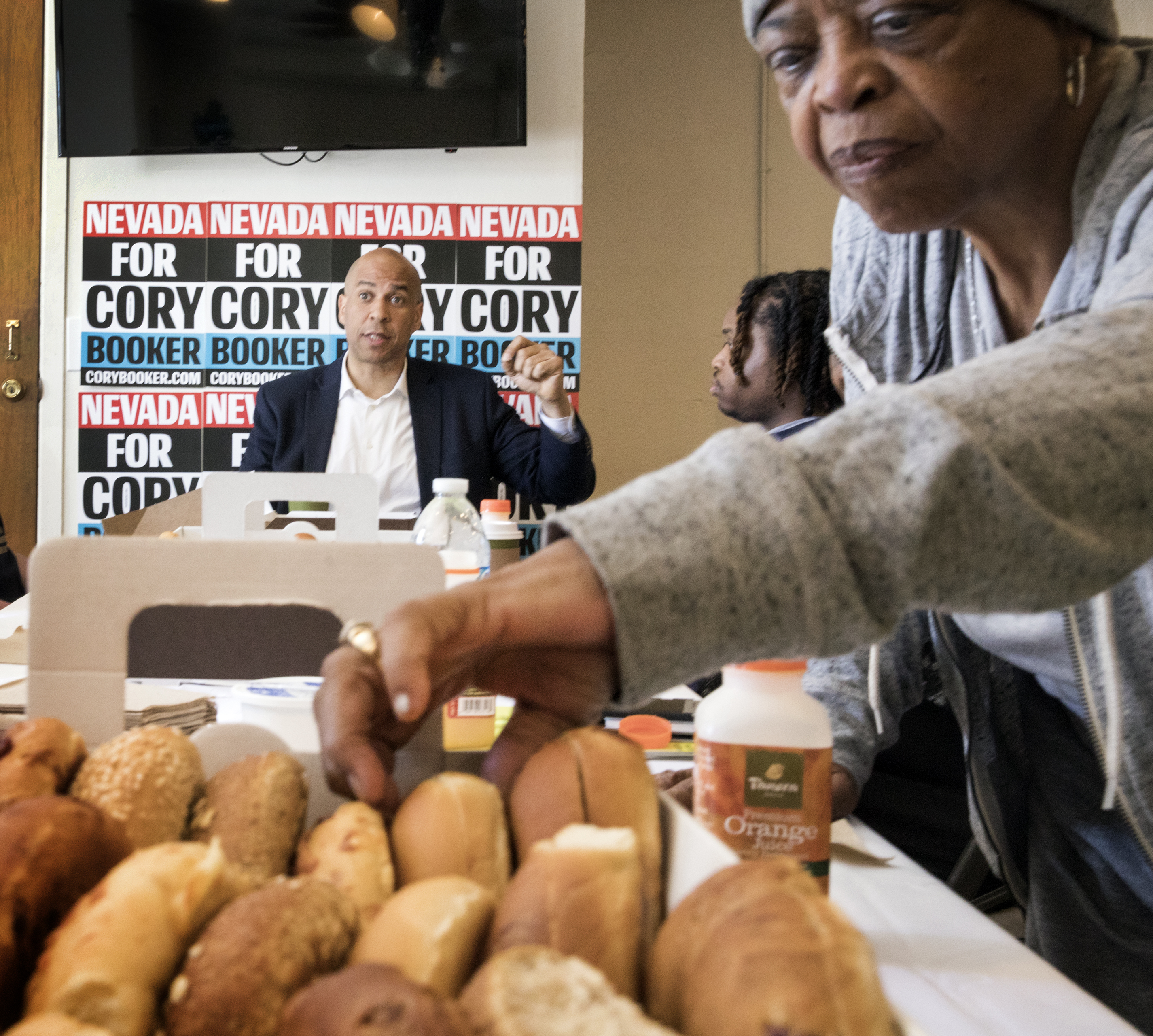 "Let me just start with the value: Health care is a right," he said while a woman plucked a breakfast goodie from the box. "It's a right in this country. We cannot have a nation where thousands of folks are finding it very hard to get health care."
Booker then segued to his actual answer, saying he supports a pathway to "Medicare for All" by making it a public option. He also wants to drive down prescription drug costs by leveraging the purchasing power of Medicare and holding companies accountable that unnecessarily inflate prices.
It's an answer he likely has well-rehearsed by now as he traverses the country, drumming up enthusiasm for his presidential bid. The breakfast conversation in West Las Vegas, a predominantly black community, was the first of four planned stops Saturday in Las Vegas as part of his two-week "Justice for All" tour. Booker spent Friday in Northern Nevada, visiting Democrats in Minden and Sparks.
Maybe it was the setting — a church kitchen — or maybe it was the timing — the day before Easter — but the questions Saturday veered more toward hopes for this election cycle, which has brought forward a crowded field of Democrats wanting to defeat President Donald Trump. At least 20 Democrats have announced their candidacy so far.
Katie Vaugh, a member of the True Love Missionary Baptist Church, implored Booker to focus on the issues that matter to everyday Americans — such as ensuring teachers in classrooms and access to health care — rather than useless bickering among candidates or political parties.
"We don't want you all to be fighting," she said. "We want the issues out there that are going to benefit us."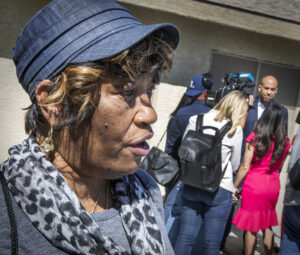 Booker's Nevada visit comes two days after the Department of Justice released Special Counsel Robert Mueller's exhaustive investigation into Russian interference in the 2016 election — a controversy that's sucked up political oxygen and flamed partisan tensions over the past two years. In the report, Mueller laid out a pathway for Congress to review evidence that Trump obstructed justice during the investigation, raising the spectre of impeachment proceedings.
Massachusetts Sen. Elizabeth Warren on Friday said Congress should initiate impeachment proceedings. In Sparks, Booker said impeachment was the wrong question at this point.
Instead, Booker said Democrats should be asking the question: "When are we going to get the resources we need to do our constitutional duty of oversight and accountability?"
"So, this is not the time to be asking about impeachment when we haven't seen the report without the redactions," he added. "We haven't seen the underlying documentation. And we haven't had the chance to have Mueller come before the judiciary committees in the Senate and the House. And so, before we get to those conversations, let's get all this investigation done."
Booker told The Nevada Independent on Friday that he believed economic insecurity was top of mind for most voters. He said Nevadans have voiced concerns about being unable to pay for their diabetes medication, afford a home with rising real-estate prices in Reno or be secure in the profession they love, like working as a school teacher.
The presidential hopeful circled back to those type of issues Saturday morning after hearing Vaughn's feedback. He condemned the "disrespect" Americans show each other based on party labels or other issues.
"It's a moral moment," Booker said inside the church kitchen. "Are we going to choose the low road and more hate and division and tribalism? Or are we going to choose love?"
The comments hearkened back to his campaign promise of winning the White House through love and unity. Booker, who's trailing other Democratic presidential candidates in polls and fundraising, described patriotism as loving fellow Americans despite not always agreeing with them.
"A lot of people say love is a weak word, but I think from our community, this church, we know it's the strongest force there is," he said.
His pre-Easter message resonated with some of the community members. Minnette Griffin, 78, said Booker seems like someone who would keep his word.
"I think he's sincere in his speech," she said.
Vaughn, 73, agreed and said Booker has her vote during the Nevada caucus. It's unclear how big the Democratic pool of candidates will be by that time — Feb. 22 — but in Vaughn's opinion, it's already too crowded.
"It seems like we are joking when we put that many (candidates) out," she said. "What a waste of time."
For more information about campaign visits in Nevada, visit our candidate tracker.
Stories
Candidate Trackers
Endorsements, Ads, Policies, Visits
& More
visit now
Comment Policy (updated 10/4/19): Please keep your comments civil. We reserve the right to delete comments or ban users who engage in personal attacks, use an excess of profanity, make verifiably false statements or are otherwise nasty.