Beers out, Fiore in on Las Vegas City Council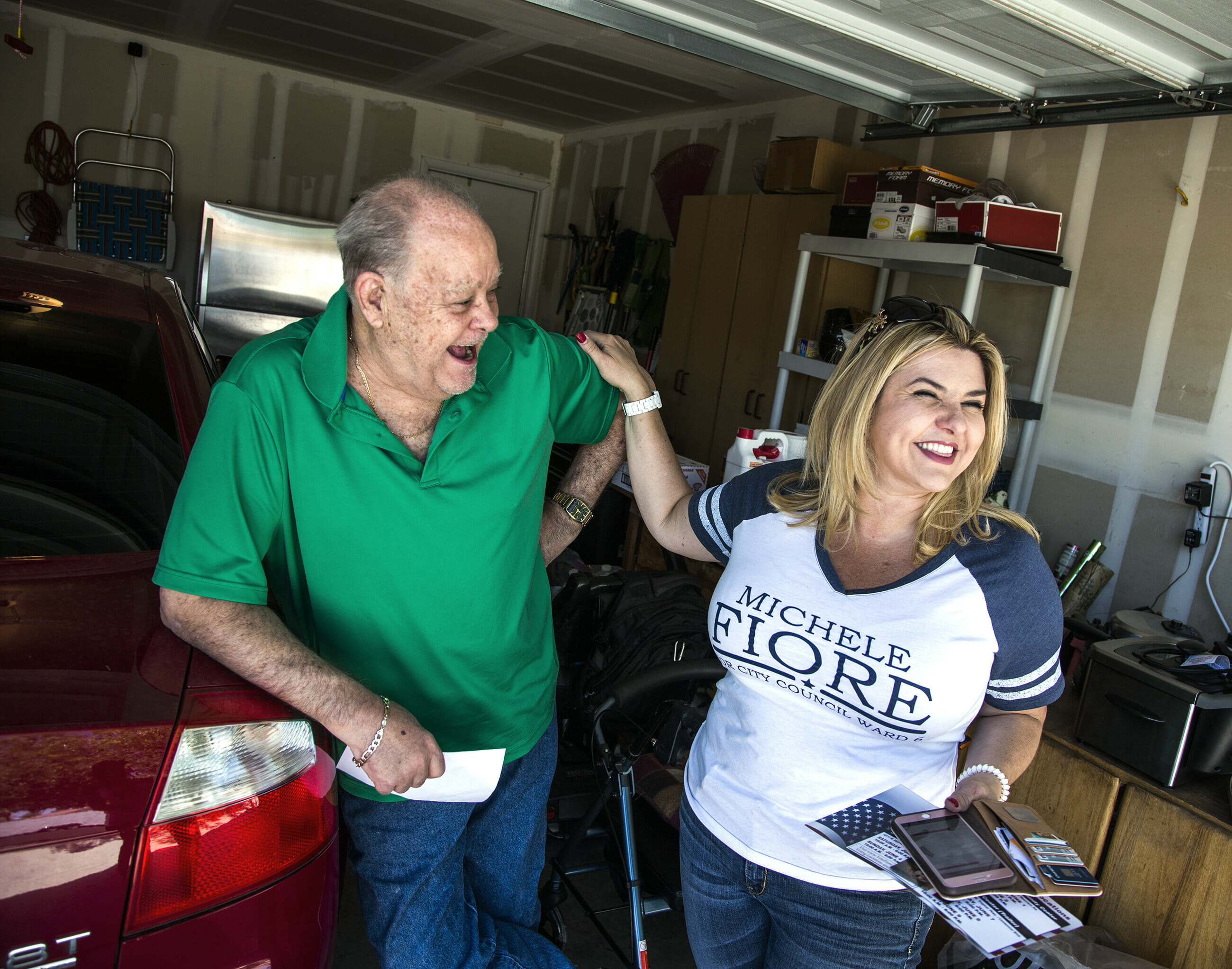 Las Vegas voters disrupted the status quo and elected two new faces to the City Council, ousting incumbent Bob Beers in the process.
Steve Seroka, who was challenging Beers for the Ward 2 council seat in Las Vegas, captured 54 percent of the vote. Meanwhile, former state lawmaker Michele Fiore received 51 percent of the vote for the city's Ward 6 council seat, defeating opponent Kelli Ross, whose term-limited husband currently holds that position.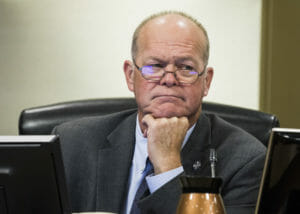 Voters defeated another incumbent in the Las Vegas judicial race. Cara Campbell, a chief deputy district attorney, snagged nearly 53 percent of the vote in the contest for the Las Vegas Municipal Court judge position in department 3, sailing to victory over Heidi Almase, who was seeking re-election. Almase's defeat comes days after she issued a public apology for advertising-related materials released by her campaign that encountered sharp criticism.
The shakeup of the Las Vegas City Council followed a relatively quiet campaign season, aside from an abundance of mailers promoting candidates that filled constituents' mail boxes. But the election wasn't without some heated issues — specifically, a contentious development plan for the shuttered Badlands Golf Club in Ward 2, which irked residents of the nearby Queensridge neighborhood.
Beers had come under fire for his stance on the issue. He's maintained that the city gave the landowner the right to develop the acreage decades ago. But Seroka ran a campaign capitalizing on residents' anger over the development plan. Ultimately, it appears the issue drove residents to the polls in support of Seroka, despite Beers' many campaign posters near the land in question.
Beers and Seroka could not immediately be reached for comment. Fiore sent a message to her supporters Tuesday night thanking them for their dedication and vowing to improve the city's quality of life.
"I have never taken your vote for granted and I never will," her message stated. "You can count on me to continue to work tirelessly to ensure that you have the best representation of any community in the state."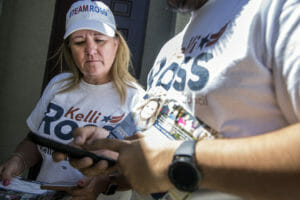 When reached by phone Tuesday night, Ross said she was disappointed in the election outcome, which she blamed on low voter turnout, but proud of her campaign.
"At the end of the day, I wish my opponent the best of luck," Ross said. "I, of course, want anybody and everybody that was involved in my campaign to know how much I appreciated them. Tomorrow is another day."
A total of 44,835 people — or nearly 9 percent of registered voters — participated in the local municipal elections, according to the Clark County Election Department. The Ward 6 race in Las Vegas drew 7,605 residents to the polls, while the Ward 2 race brought 7,366 voters.
Overall, Tuesday proved to be a fairly calm Election Day, aside from one hiccup: Seven voting centers across Clark County started after 7 a.m. Tuesday because of trouble with the electronic poll books.
The Clark County registrar of voters, Joe Gloria, said voters at those locations were informed of other places they could cast their ballots if they didn't want to wait for the problem to be fixed.
Current council members weigh in on changes
As city residents cast their ballots, existing Las Vegas City Council members said they were eagerly anticipating the results to see who would be joining them behind the podium. Council members Lois Tarkanian, Bob Coffin, Stavros Anthony and Ricki Barlow expressed optimism that the collegiality among the city's elected representatives would continue regardless of whom won the races in Wards 2 and 6.
"It will be OK any way because they're all good people," Tarkanian said, referring to the candidates vying for the open council seats.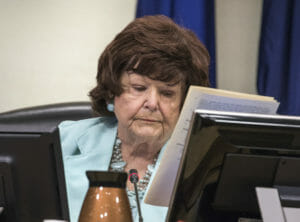 The council members, however, did lavish praise on their colleague, Beers. Tarkanian called him an honest person who's good with finances. Coffin said he's level-headed and a hard worker. And Anthony appreciated Beers' tendency to lean more conservative on issues.
"Bob Beers has been a very good addition to the City Council," Anthony said. "I'd like to see Bob Beers remain on there."
But in the end, Beers didn't muster enough votes to keep his City Council seat. Beers has represented Ward 2, which includes parts of Summerlin, since March 2012 when he won a special election.
The council members were more guarded about discussing the Ward 6 race, which pit Mayor Pro Tem Steve Ross' wife, Kelli, against former Assemblywoman Michele Fiore. The contest for the nonpartisan council seat appeared to be run more along party lines at times, with Fiore touting her conservative values and Ross acknowledging that she's a registered Democrat.
"Literally both of them, as far as a council position, are going to be unknown quantities," Coffin said. "They'll just have to make their way."
Barlow said he expects the council atmosphere to remain collegial, even if members disagree on various issues. Whatever the election outcome, Barlow said he hopes the newly elected leaders simply make deliberate decisions that help their respective wards shine, which, in turn, stands to benefit the entire city.
"My hope is that they really bring diversity to the conversation as far as how, in fact, we can represent our constituency at a higher, in-tune level," he said.
The Las Vegas City Council plans to canvass the election results at its June 21 meeting, followed by a swearing-in of the newly elected candidates on July 19.
Election results elsewhere in Clark County:
Henderson: Incumbent John Marz defeated opponent Carrie Cox to win the Ward 3 Henderson City Council seat after receiving 51 percent of the vote.
North Las Vegas: Small-business owner Scott Black — who was backed by Mayor John Lee — ousted incumbent Anita Wood from her Ward 3 City Council seat in North Las Vegas. He received 54 percent of the vote.
Boulder City: Warren Harhay and Kiernan McManus will serve as the next at-large City Council members for Boulder City. They received 28 percent and 26 percent of the vote, respectively, beating John Milburn and Cam Walker.
Boulder City voters also rejected two ballot questions. The first ballot question involved a possible amendment to the city's Controlled Growth Management Plan; the second ballot question, which was advisory only in nature, asked voters whether they would like a public-access interchange at the intersection of Buchanan Boulevard and Interstate 11.
Updated 10:22 a.m. 6/14/17: This story has been corrected to reflect that Boulder City elected two at-large City Council members.
Feature photo: Michele Fiore, right, candidate for Las Vegas City Council Ward 6, shares a laugh with supporter Robert Gunther on Friday, June 9, 2017. Photo by Jeff Scheid.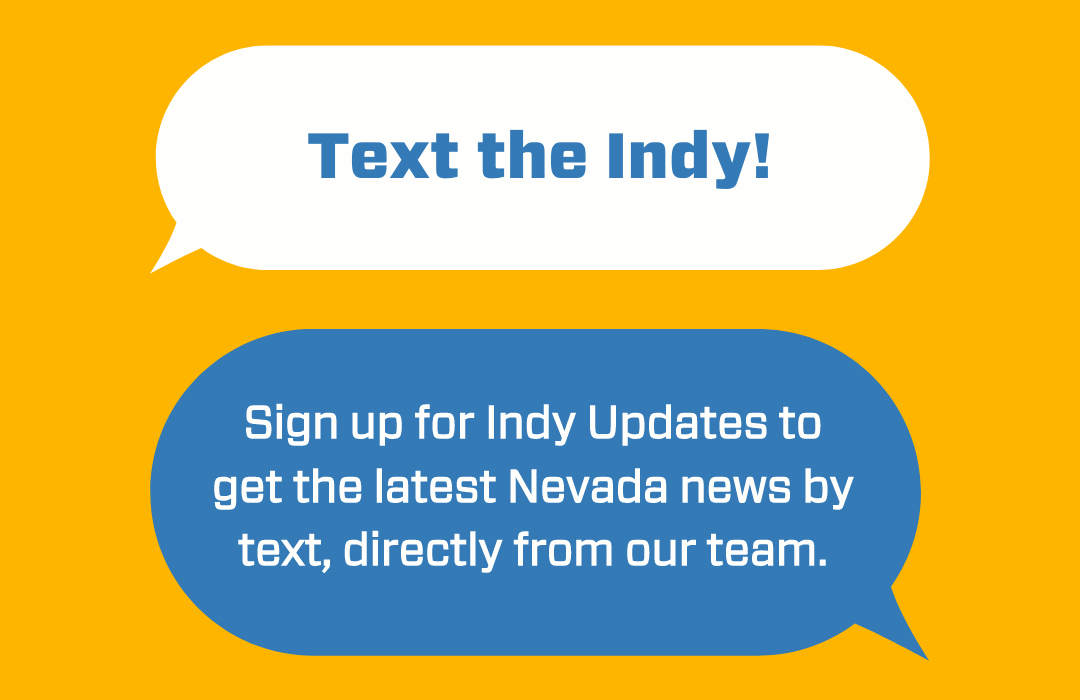 Featured Videos
Comment Policy (updated 4/20/2021): Please keep your comments civil. We reserve the right to delete comments or ban users who engage in personal attacks, use an excess of profanity, make verifiably false statements or are otherwise nasty. Comments that contain links must be approved by admin.