Biden brings in biggest total from itemized donors in Nevada, Sanders pockets most individual donations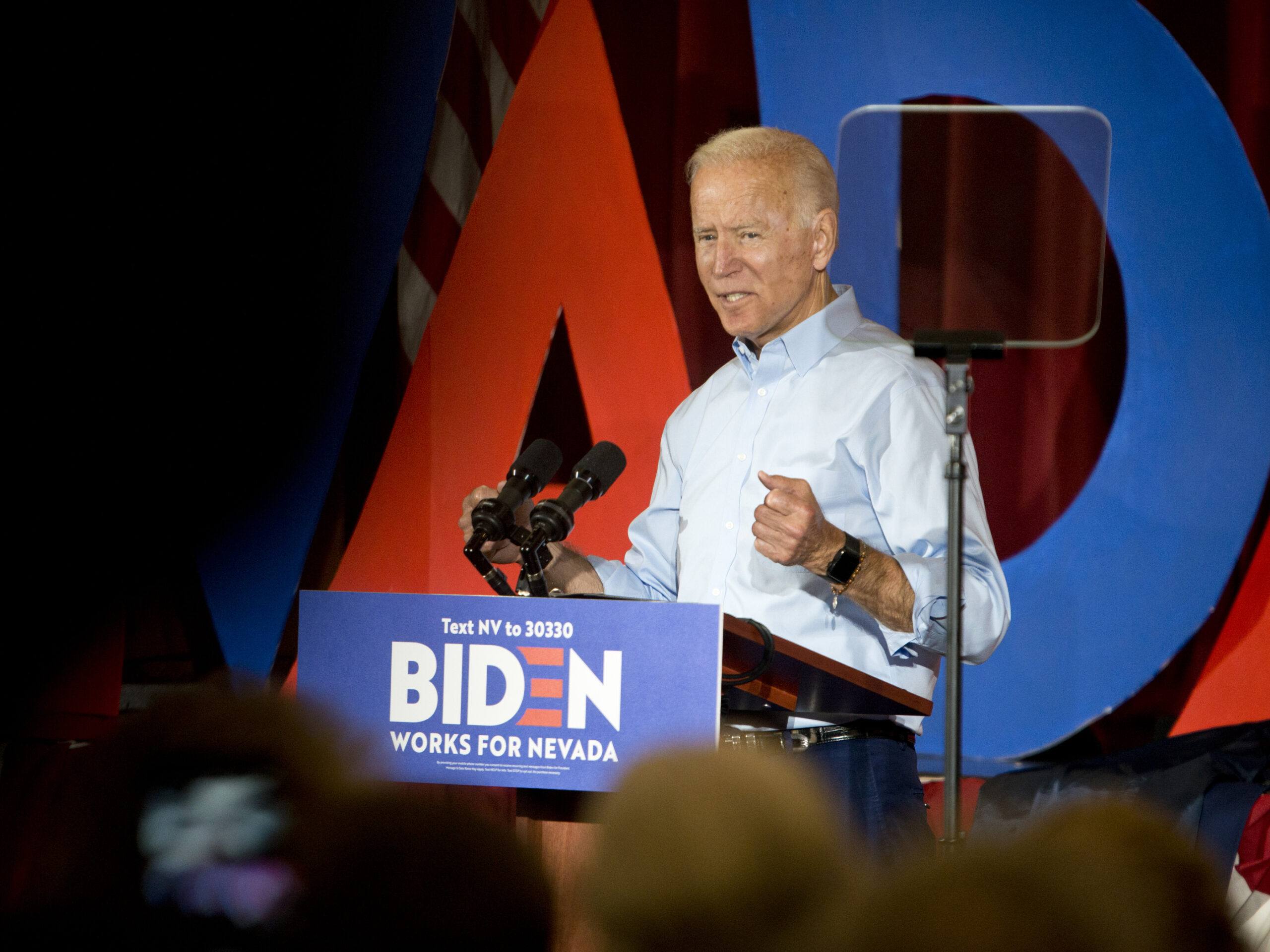 Democratic presidential hopefuls pocketed more than half a million dollars in itemized contributions from Nevadans in the third quarter of the year as they prepare for a final push ahead of the early nominating contests in February.
Former Vice President Joe Biden raised the largest total sum, while Vermont Sen. Bernie Sanders received the most individual itemized donations, according to campaign finance reports filed with the Federal Election Commission last week. Other candidates who raised significant sums from Nevadans include Massachusetts Sen. Elizabeth Warren, South Bend Mayor Pete Buttigieg and tech entrepreneur Andrew Yang.
Federal campaign finance reports only list itemized contributions — those that are more than $200 or, when combined with other contributions over the election cycle, exceed $200 — meaning that the analysis does not take into consideration smaller sums that the candidates may have raised from Nevadans. For instance, Sanders' campaign said that they received more than 30,000 individual donations, both itemized and not, from nearly 10,000 Nevadans, but other campaigns were not able to readily share similar data with The Nevada Independent.
The campaign finance reports hint at the kind of support the campaigns have here on the ground in Nevada, with Biden raising significant sums from well-known casino executives and former elected officials while Sanders and Warren tended to bring in generally smaller amounts from everyday donors. They also reveal how candidates may or may not be gaining traction here: Self-help author Marianne Williamson has been to Nevada eight times since launching her campaign and raised about $15,000 here this quarter, while former Housing and Urban Development Secretary Julian Castro, who has been here 10 times, only raised $2,800.
Some in Nevada also aren't willing to choose a side yet. The reports show that Democratic donor Stephen Cloobeck donated the maximum $2,800 primary contribution to four candidates — Biden, California Sen. Kamala Harris, New Jersey Sen. Cory Booker, and Minnesota Sen. Amy Klobuchar — and $1,000 to Buttigieg, while former Regent Jill Derby has spread $4,660 among seven Democratic hopefuls.
At the same time, the sums they are raising individually are dwarfed by what President Donald Trump raised in the state in the third quarter — about $320,000 across roughly 5,000 individual donations.
Below, The Nevada Independent takes a look at which corners of the state the candidates are raising the most from and breaks down each individual candidate's Nevada donations.
Joe Biden
The former vice president brought in the biggest haul of any Democratic presidential hopeful — about $206,000 once refunds were taken into account — from itemized donors in Nevada in the third quarter. He was the fifth top fundraiser overall among the Democratic field this quarter, bringing in $15.7 million in donations.
His list of Nevada donors this quarter includes many of the who's who in Las Vegas, from gaming executives to members of prominent families, and is largely made up of big money donors, with $191,902 of his total coming from contributions of $1,000 or more.
Two of his biggest contributions came from Bob Boughner, who sits on the board of directors for Boyd Gaming and donated $5,600 to Biden's campaign, and UNLV President Marta Meana, who contributed $5,000.
He received the maximum $2,800 contribution to a primary campaign from several notable Nevadans, including MGM Resorts Chief Hospitality Officer Ari Kastrati; Diana Bennet, co-founder of Paragon Gaming, Dr. Larry Lehrner, a nephrologist and husband of former Rep. Shelley Berkley; Marilynn Mack, daughter of the late real estate investor Jerry Mack; Amy Greenspun Arenson, daughter of Las Vegas Sun publisher Brian Greenspun; and Billy Vassiliadis, CEO of R&R Partners.
Other notable contributions: Biden received a $500 sum from Tina Quigley, the head of the Regional Transportation Commission of Southern Nevada, and several installments totaling $500 from former Rep. James Bilbray and his wife, Michaelene Bilbray.
Both Bilbray and Berkley have endorsed Biden in his presidential bid.
In total, Biden received about 570 individual itemized contributions in Nevada.
Bernie Sanders
The Vermont senator raised the second most among the Democratic field in Nevada, about $104,000 after refunds, but had the most individual itemized donations. Still, the 2,900 individual itemized donations Sanders received is eclipsed by the 30,000 total individual donations — including unitemized donations — his campaign says he received in the Silver State.
Sanders was technically the second highest fundraiser this quarter nationally, at $28 million, but only behind billionaire Tom Steyer who spent $47.6 million of his own money on his campaign this quarter for a total of $49.6 million raised.
There are a lot fewer familiar names on Sanders' list of Nevada donors, which includes a maintenance worker at Walmart, a bartender at Caesars Palace and a busser at the Cosmopolitan. (It also includes lawyers, nurses, dentists, and teachers, among others.)
His top donations this quarter came from Levi Blaney, an engineer at the tech company Flux7 ($2,000) and investment banker Pranav Merchant ($1,694). He also received nine $1,000 donations from some doctors, a medical social worker and an accountant. One notable donor — health care advocate and former congressional candidate Amy Vilela, who has endorsed Sanders, contributed $1,449.38
Elizabeth Warren
The Massachusetts senator raised far less in itemized contributions from Nevadans than either Biden or Sanders, bringing in a total of about $48,000 in the third quarter over nearly 650 individual donations. She was the third top Democratic fundraiser overall this quarter, raising $24.7 million.
Like Sanders, Warren has sworn off high-dollar fundraisers in exchange for spending more time on the selfie line after her rallies. As such, her list is also filled with many unfamiliar names and small dollar donations.
Her top contributions include $2,500 from Dr. Osama Haikal, a gastroenterologist, $1,500 from a retiree named Carson Miller, and $1,300 from Reno-based MS advocate Vivian Leal. Her top donors also include several UNLV professors, lawyers and consultants. Only five of her donations were sums of $1,000 or more.
Two interesting donors — Assemblywoman Connie Munk, who has not yet endorsed in the race but donated $525 to Warren's campaign this quarter in small installments, and Clark County Democratic Party Chair Donna West donated $85.03. (Munk also donated $160 to Booker's campaign.)
Pete Buttigieg
The South Bend Mayor brought in the fourth biggest haul in itemized donations from Nevadans this quarter at about $35,000 after refunds through a little more than 500 individual donations. He received nine $1,000 contributions, including from Cloobeck, a physician assistant, a lawyer and a broadband planner. He also received $500 from Patrick Duffy, president and CEO of Nevada School of the Arts.
He was the fourth top Democratic fundraiser overall, raising $19.2 million over the quarter.
Andrew Yang
This tech entrepreneur who has slowly inched up in the polls over the last few months raised the fifth most in itemized donations from Nevadans, totaling about $27,000 after refunds. Yang's top contributors include several professional gamblers and poker players, consultants and a cocktail server at the Bellagio.
He raised $9.9 million overall this quarter.
Kamala Harris
The California senator came in just shy of Yang's total itemized donations in Nevada by $13.70 after accounting for refunds, placing her at the sixth highest for itemized contributions in the state. Like Yang, she also raised just about $27,000, but came out ahead of the tech entrepreneur in total fundraising nationally this quarter at $11.8 million.
Her top donor was Cloobeck, but she received several $1,000 sums including from a nurse, a lawyer and an environmental biologist.
Marianne Williamson
The self-help author, who didn't qualify for the October debate stage, actually managed to raise the seventh most in itemized donations from Nevadans in the third quarter at about $14,000 after refunds. Her top donor in Nevada was Aileen Getty, a philanthropist and the granddaughter of J. Paul Getty, who donated $2,500 tied to an address at a Reno office park associated with her foundation. Other contributors include two atmospheric scientists, an ecclesiastical assistant and a yoga instructor.
Others who made the debate stage
Several other Democratic hopefuls who raised enough money and scored high enough in the polls to qualify for the October debate stage raised far smaller sums. Klobuchar and Booker each brought in a little north of $10,000, while former Texas Rep. Beto O'Rourke raised just a little less than that sum.
Two notable Klobuchar donors — Las Vegas Sun publisher Brian Greenspun and his wife, Myra Greenspun, who collectively donated $3,800. His sister-in-law, Robin Greenspun, donated $500 to Booker.
Dan Lee, CEO of Full House Resorts and husband of Rep. Susie Lee, donated $275 to O'Rourke.
Steyer raised a little less than $6,000 in the state, while Hawaii Rep. Tulsi Gabbard raised about $4,500 and Castro raised just a little less than $2,800 after refunds.
Bottom of the pack
Two candidates who didn't qualify for the debate stage outraised Castro, who did. Colorado Sen. Michael Bennet raised about $4,800 from just seven donors in the state, while Ohio Rep. Tim Ryan raised about $4,300 — with almost all of that coming from three employees affiliated with singer and songwriter Jewel and her company, Jewel Inc.
Montana Gov. Steve Bullock raised about $2,700, while former Pennsylvania Rep. Joe Sestak raised about $1,500 and former Maryland Rep. John Delaney raised $290.
Featured Videos
Comment Policy (updated 4/20/2021): Please keep your comments civil. We reserve the right to delete comments or ban users who engage in personal attacks, use an excess of profanity, make verifiably false statements or are otherwise nasty. Comments that contain links must be approved by admin.