Biden targets Trump presidency in Henderson campaign stop
Former Vice President Joe Biden made a bid for "decency, honor and dignity" Tuesday as he pitched his nascent campaign to a crowd at the International Union of Painters and Allied Trades in Henderson.
While moving through the policy beats and pumping up the union crowd on labor issues, Biden repeatedly fell back to a single talking point: Trump.
"The threat that this president poses is unlike any that I've seen in my lifetime, and that's not an exaggeration," Biden said.
Throughout nearly 40 minutes of his speech, Biden cast the Trump presidency as destructive both domestically and internationally and warned of a future where Democrats allow Trump to be re-elected in 2020.
"Limit it to four years and this administration will go down as an aberrant moment in American history," Biden said. "But given eight years in the White House, I believe this president can fundamentally alter the character of the country and our place in the world."
It proved a key point for the crowd of about 200 — largely made up of members of IUPAT and the local carpenter's union. They cheered Biden's assertions that no country could match the U.S. if only "we just remember who we are."
Even as Biden's speech drew to a close, some wanted more. One man near the stage called out to Biden, yelling, "Trump is Hitler, get rid of him. He is Hitler, come on, Joe."
Amid some scattered laughter and a few bouts of applause for the sentiment, Biden had a simple response.
"I'm not going to stoop down to his level," he said.
In criticizing Trump, Biden also took aim at White House immigration policy, decrying the administration's use of the issue to "demonize people" migrating from Mexico or Central America.
At another point, Biden was interrupted by a member of the crowd, Cesar Lopez. A former marine who attended the rally in uniform, Lopez asked Biden about someone putting a stop to the Trump Administration's deportation of veterans, querying, "Will that be you?"
"Yes it will, by the way," Biden said, his voice rising. "Anybody who's fought for the United States of America should not be in a position to be deported."
On his other policy priorities, Biden touted a number of Democratic positions, calling for a $15 per hour minimum wage, slamming the GOP-led tax cuts passed last year, and praising President Barack Obama and the Affordable Care Act while calling for some kind of public health-care option, stopping short of phrasing it as Medicare for All.
"I believe, whether you have health insurance through your employer, on your own or not at all, you should have a choice to be able to buy into a public option health-care plan like Medicare," he said.
Biden also took time to criticize Wall Street and the corporate tax breaks bundled into those GOP tax cuts, calling instead for the U.S. — and unions in particular — to rebuild the middle class.
"Let's get something straight. Wall Street, bankers, hedge fund managers, they did not build this country, you built this country — ordinary people," Biden said. "And by the way, let's get something else straight, the middle class was built by labor."
Biden has been criticized from the left over his connections to big-money donors, especially in the wake of a campaign launch day that raised $6.3 million. In the days after, his campaign touted internal data showing that 97 percent of online donations were under $200, but did not disclose what share of the total raised came from small-dollar contributions.
Biden is set to attend a fundraiser Tuesday night in Las Vegas hosted by MGM CEO Jim Murren and his wife, Heather — the latest in a series of donor-centric events that have drawn attention to Biden in a field of candidates who have loudly championed grassroots fundraising.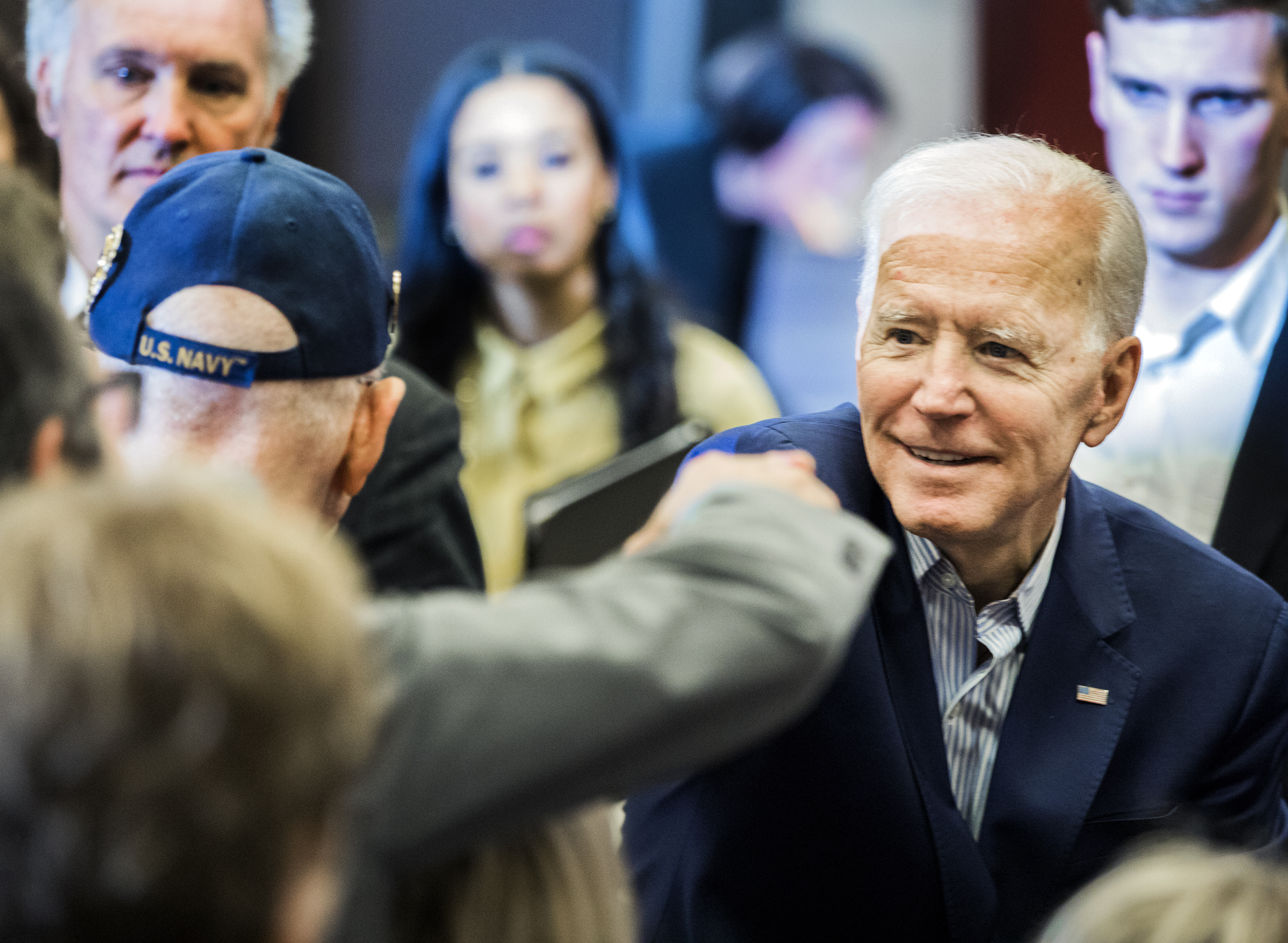 As he's surged to the top of many early polls, Biden's high-profile has drawn ample attention from the right; a handful of protestors showed up early, posting up outside the union headquarters with a game of "gaffes" — a craps game with giant dice emblazoned with campaign blunders of Biden's past and present.
When attendees filtered in, they passed signs decorated with quotes of those Biden gaffes, held aloft by protesters in MAGA-hats and Trump shirts. Another sign was a neon-yellow screed, bearing President Donald Trump's newly-minted nickname for the vice president: "Sleepy Joe running on race to divide USA"
Among Democrats, Biden has seen a groundswell of support that has pushed him to be the frontrunner, leading the next closest Democratic candidate — Vermont Sen. Bernie Sanders — by more than 23 percentage points in an average of early polls.
But that boost came despite increased scrutiny this year of Biden's behavior with women, amid accusations he had crossed boundaries through body language and touching that, though not sexual, had crossed personal or professional boundaries.
That includes an accusation from March by former Nevada legislator Lucy Flores, who in an essay for New York Magazine alleged Biden laid his hands on her shoulders, smelled her hair and kissed the back of her head during a campaign event in 2014. 
Biden has denied wrongdoing, insisting that "not once" did he believe his actions to be inappropriate. Still, Flores' story and those that followed spurred internal turmoil among Democrats, caught between a popular vice president and the ripple effects of a #MeToo movement that had in many ways come to define the party through 2018.
Even so, many Biden supporters remain nonplussed. Early in Biden's speech, a woman yelled out to him, "you can come and kiss me anytime" — a remark Biden laughed off before returning to the stump.
Outside the latest controversy, the 76-year-old Biden has been a mainstay in American politics for roughly 40 years, all the while accruing political baggage. He was famously at the head of Senate confirmation hearings for Supreme Court Justice Clarence Thomas, who was accused by Anita Hill of long-running workplace harassment during their time at the Equal Employment Opportunity Commission — hearings that have since become a #MeToo flashpoint, a flagrant example of the way claims of harassment had been minimized and dismissed even at the highest levels. 
Combined with his age and moderate politics, progressive activists on the left have seized on Biden as an emblem of a bygone Democratic party, especially in a race with a wide array of progressive candidates like Sanders and Massachusetts Sen. Elizabeth Warren.
For his part, Biden called Hill just before launching his campaign — though Hill later said she "did not consider the call an apology." In the weeks since, Biden's wife, Jill, has sought to put the matter to rest, telling NPR Tuesday "It's time to move on."
Biden's rally marked his first visit to Las Vegas as a candidate for the 2020 Democratic presidential nomination, and the Vice President is set to host a fundraiser later Tuesday night.
His campaign swing as part of a number of presidential stops this week; Monday saw New York Sen. Kirsten Gillibrand and California Rep. Eric Swalwell visit Las Vegas and Reno, respectively, while South Bend, Indiana Mayor Pete Buttigieg is set to speak at a Human Rights Campaign dinner this weekend.
For a full accounting of presidential visits, including who visited, when and where, see our 2020 presidential candidate tracker.