Biden tells Nevadans to 'vote early' during drive-in Las Vegas campaign event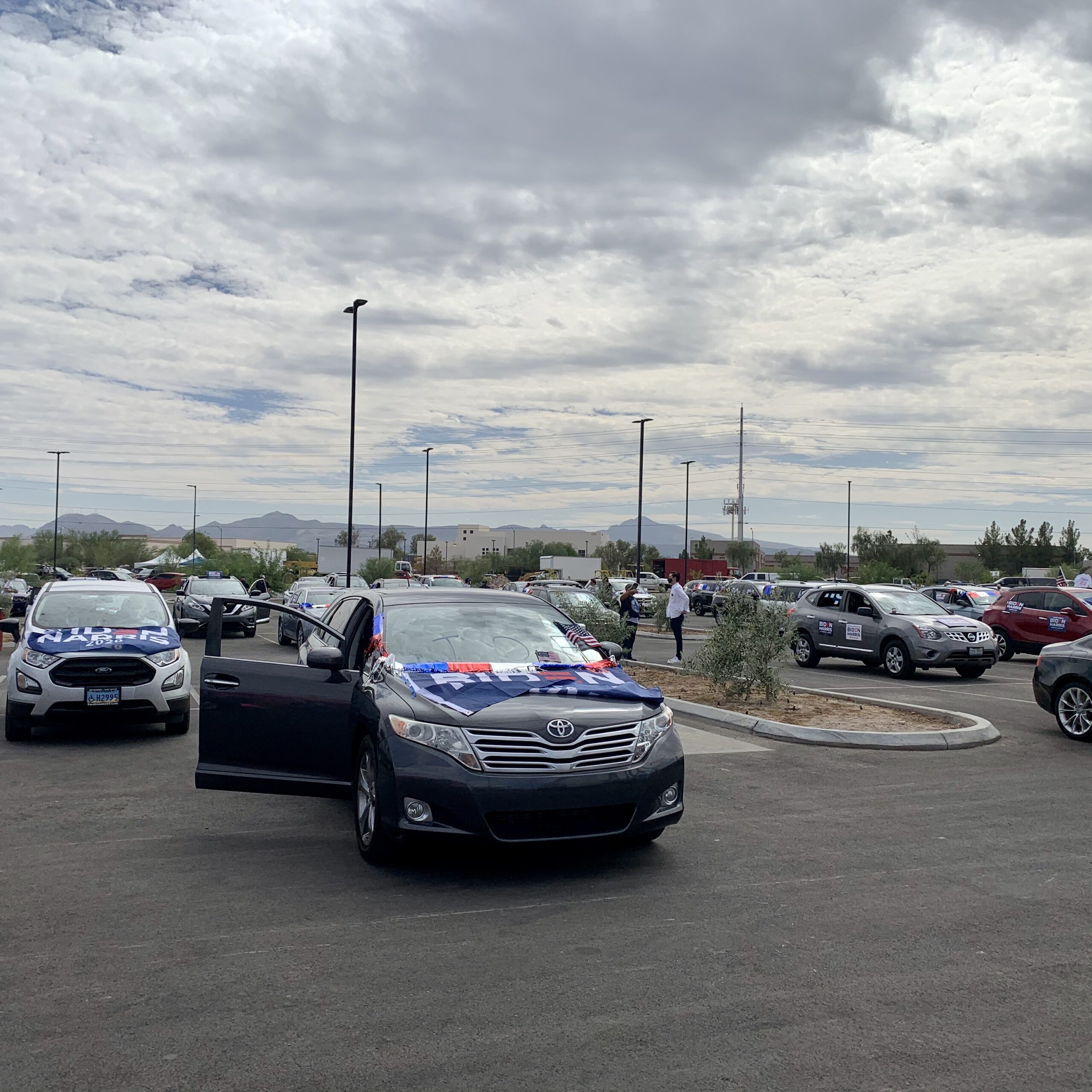 With ballots landing in mailboxes and in-person early voting just around the corner, Democratic nominee Joe Biden urged Nevada voters to participate in the election as soon as possible.
"Here in Nevada, the best thing you can do is vote early and return your ballot quickly," Biden said Friday in Las Vegas.
The former vice president's comments came during a drive-up voter mobilization event that brought 105 vehicles — some decked out in Biden-Harris signs, American flags and patriotic streamers — to the Southeast Career Technical Academy parking lot. It was his second Las Vegas stop of the day. In the morning, Biden met with Latino leaders at the East Las Vegas Community Center and courted their coveted vote by saying they could determine the outcome of the election.
About 20 percent of eligible voters in Nevada are Hispanic, making their support crucial in this battleground state that went blue in the 2018 midterm elections. A sweeping victory, Biden said, would topple President Donald's Trump's efforts to cast doubt on the election.
"He's trying to scare us. He tried to continue to convince everybody there's ways they can play with the vote and undermine the vote," Biden said at the community center. "They can't. If we show up, we win. And look what's happening in early voting all across America — long lines, long lines. We can't just win, we have to win overwhelmingly, so he can't be in a position where he can put the phony challenges that he's talking about."
During the drive-in event, the Democratic nominee walked through his typical campaign talking points — blasting Trump for giving tax cuts to the wealthy and jeopardizing the Affordable Care Act, which Biden and former President Barack Obama ushered into existence. Biden also warned that Trump could put funding for Social Security at risk.
But Biden tore into Trump, who last week was diagnosed with COVID-19, for failing to control the pandemic, leading to lives lost and widespread job losses, especially in tourism meccas such as Las Vegas.
"His reckless personal conduct since his diagnosis, the destabilizing effect it's having on our government, is unconscionable," Biden said. "He didn't take necessary precautions to protect himself or others. And the longer Donald Trump is president, the more reckless he gets."
Republics and Democrats alike have accused the other party of using the development of a coronavirus vaccine for political purposes. On Friday, Biden continued that trend.
"Don't politicize the race for a vaccine, Mr. President," he said. "Just have a plan for safe and equitable distribution."
Turning to the economy, Biden touted his work with the Obama administration to steer the nation out of the 2008 financial crisis — and vowed that he could do so again. The presidential contender said he would not raise taxes on anyone who makes less than $400,000 a year but would make sure corporations and the wealthy "pay their fair share."
Biden said he intends to create well-paying union jobs and make investments in manufacturing, technology, infrastructure and clean energy.
"We're going to invest in working people," he said. "We are going to grow the middle class to make sure everyone's included on the deal."
But Biden also framed himself as the candidate who could bring the divided nation back together by governing as an American president despite running as a Democrat.
"I'm going to work as hard for those who don't support me as those who do," he said.
Biden closed his roughly half-hour speech by encouraging his supporters to make a voting plan. Stephen Marino, a Rio Hotel and Casino employee who has been out of work, has already done so.
"I got my ballot," said Marino, who attended the drive-up campaign event. "I am going to fill it out and I am going to return it to the registrar as soon as possible."
Biden departed Las Vegas by late afternoon and was headed back to Wilmington, Delaware. His visit capped off two days of major campaign events in Nevada. On Thursday, Vice President Mike Pence campaigned in Boulder City for Trump.
The Nevada Independent is raising $200,000 by Dec. 31 to support coverage of the 2024 election.
Tax-deductible donations from readers like you fund this critical work.
If you give today,your donation will be matched dollar-for-dollar.
Give + Get Matched
Featured Videos