Former Nevada Assemblyman Harvey Munford greets former Vice President Joe Biden outside of Doolittle Community Center in Las Vegas on Saturday, Feb. 15, 2020. Biden's campaign bused supporters over to the early voting site. (Jackie Valley/The Nevada Independent)
Black voters in Nevada seek candidates who understand, are likely to act on their top issues
February 26th, 2020 - 2:00am
Although Vermont Sen. Bernie Sanders emerged as the definitive frontrunner after Nevada's first-in-the-West caucus, he's not leading with black voters — a pattern that showed in Nevada and could have implications in the coming South Carolina primary and beyond.
Thirty-nine percent of black voters who caucused opted for former Vice President Joe Biden compared to 27 percent for Sanders, according to entrance polls of the Nevada Caucus from The Washington Post. Biden's lead is partly explained by his long history in the Democratic Party and well-established relationships with African American leaders and voters, especially during Barack Obama's presidency.
About 84 percent of black voters identify as Democrats, with 8 percent identifying as Republicans. Regardless of who emerges as the Democratic nominee to face off against Donald Trump, black voters who spoke with The Nevada Independent said they hope that candidate follows through on the promises made along the campaign trail.
"Historically, we are the most staunch supporters of the Democratic Party; yet, when you look at the issues and the discussions, there seems to be a reluctance to talk about the issues in our community," said Brian Harris, a Clark County resident and the creator of the 1,400-member Facebook group Independent Black Voters.
Harris, 59, said he's registered nonpartisan but leans to the left. During a "Black Men's Roundtable" hosted by California billionaire Tom Steyer's campaign in Las Vegas earlier this month, Harris said that the Democratic Party as a whole "is not doing a good job with the black vote," specifically when it comes to translating talking points and policies into action and meaningful investment in the black community.
After placing fourth and fifth in the Iowa and New Hampshire caucuses and taking second in Nevada, where about 10 percent of the population is black, Biden's campaign is leaning into black voters for the South Carolina primary on Saturday in hopes of scoring a comeback. Black voters comprise 60 percent of South Carolina's Democratic electorate, and a Feb. 21 poll shows 31 percent of those voters support Biden, compared to 18 percent for Sanders and 15 percent for Steyer.
However, a February Morning Consult poll shows that Biden's support among black voters dropped 2 points after the New Hampshire primary, down from 33 to 31 percent, while Sanders and Bloomberg gained support as they gained traction in the presidential race at large.
The former vice president tied much of his electoral hopes in Nevada to black voters — at a rally in North Las Vegas, Biden cut his remarks short and surprised the crowd with several silver shuttles to Doolittle Community Center, a nearby early voting site in the city's historically black neighborhood, where he and his wife chatted with local politicians and voters waiting to cast their ballots.
In the days leading up to the caucus, Democratic presidential candidates hosted or attended other events in Nevada geared toward the African American voting base — Minnesota Sen. Amy Klobuchar spoke at a Black History Month festival, former South Bend Mayor Pete Buttigieg spoke to the UNLV Black Law Students Association on Tuesday, and Biden and Buttigieg both spoke at Nevada Black Legislative Caucus' Black History Month brunch.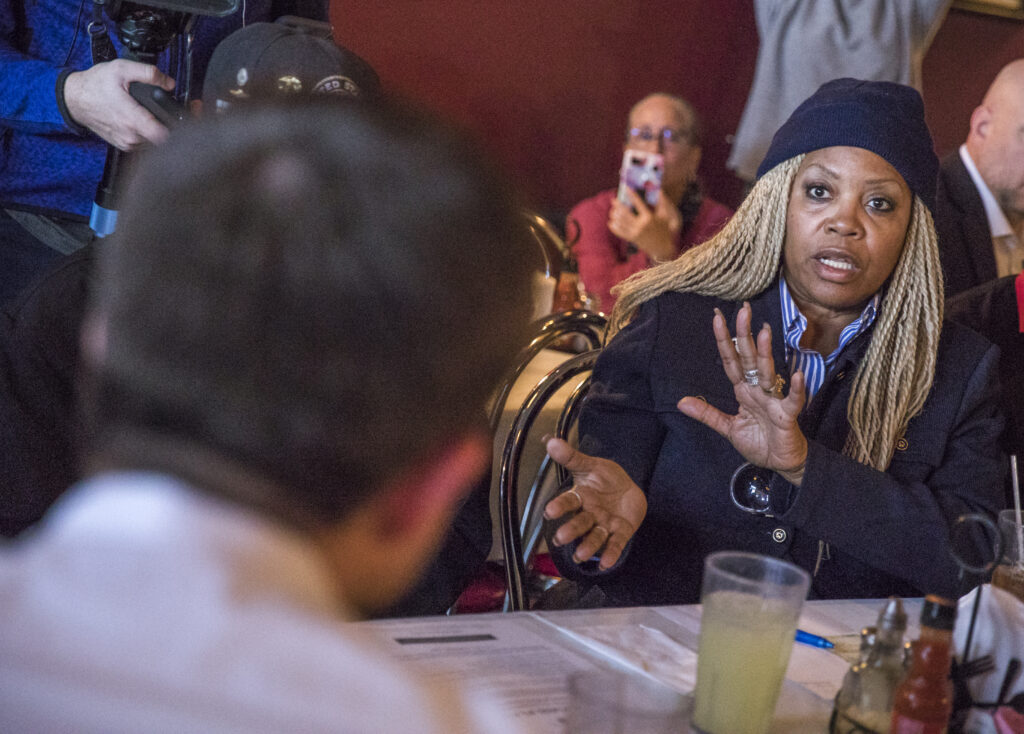 But black voters say that brief appearances and promises by candidates don't mean much unless they amount to real change. A Black Census conducted in 2018 by Black Futures Lab, a left-leaning think tank, found 52 percent of black respondents believed that politicians do not care about black people.
For Harris, that means more than a one-time reparations check — it means policies that will help black businesses make more money and allow the community to accumulate "generational wealth."
"The amount of money that is spent in these political times is astronomical. But when you ask how much is spent in the black community … there's very little," Harris said during the roundtable.
Ensuring equal opportunity
Ensuring that black communities both hold onto existing wealth and grow that wealth is a priority for Harris, who was one of the panelists during Steyer's February roundtable. Harris pointed to a 2017 study that found that black households with advanced degrees have middle-class wealth or higher, compared to white households that can attain that same level with just a high school diploma.
The report also concluded that median wealth for black Americans is on a downward slope and threatens to reach zero by 2053 if the racial wealth divide is not addressed. It predicted that by 2020, black households have lost 18 percent of the wealth they had in 2013.
"Economically, there's some things that can be changed, fixed, that would change that direction to zero [wealth]," Harris said. "While African Americans are owed a debt called 'reparations,' there's more than just that that's going on."
Candidates in this presidential cycle have more frequently brought up the topic of reparations — financial compensation for African Americans whose ancestors were enslaved. Rep. Sheila Jackson Lee, D-Texas, introduced the first reparations bill in January 2019 and New Jersey Sen. Cory Booker introduced a similar measure in the Senate — Sanders, Massachusetts Sen. Elizabeth Warren and Klobuchar have co-sponsored that bill.
All Democratic candidates have said that they would support further studying what form reparations would take and how compensation would be distributed, which would be determined by a commission laid out in Lee's bill.
When Booker announced in January that he was suspending his campaign — in close proximity to the withdrawals of the only other black candidates, California Sen. Kamala Harris and former Massachusetts Gov. Deval Patrick — many Democrats took it as a sign that the party was not doing enough to recruit and keep candidates of color for higher offices.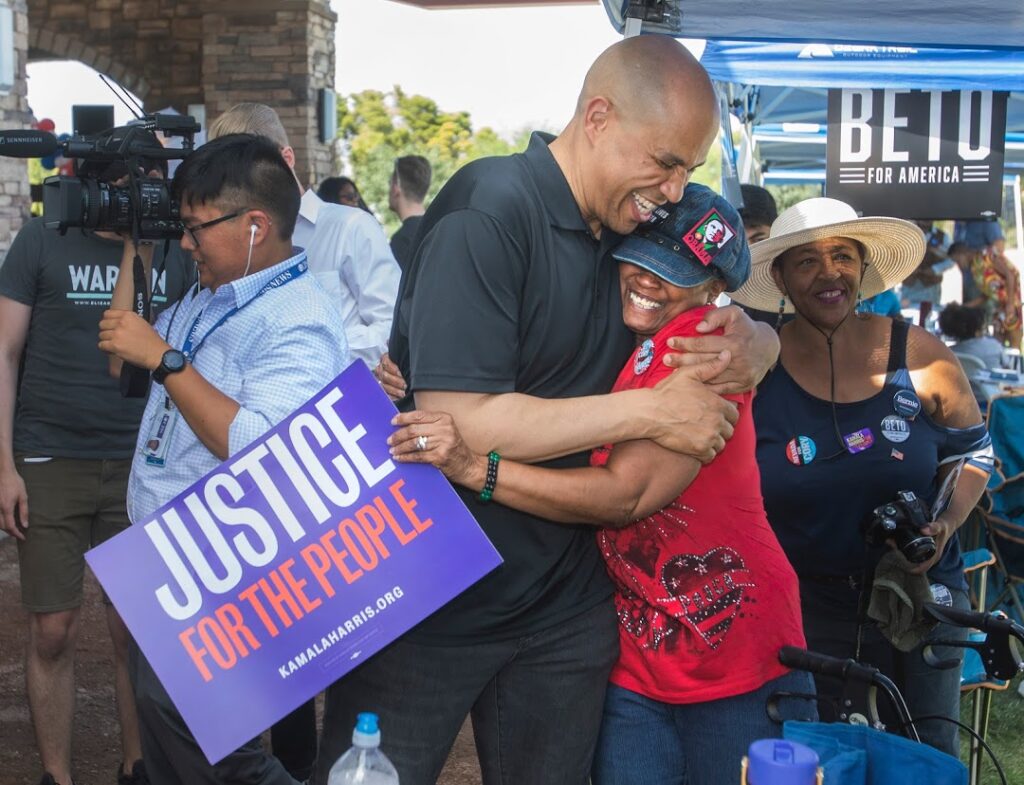 Harris says that the pattern plays out in the workplace and with black businesses, too.
Diversity quotas or affirmative action initiatives such as those used in the 1960s throughout the '90s, might need to make a comeback to prevent discriminatory hiring, he said. The practice diminished when the Supreme Court ruled in 2003 that racial quotas are unconstitutional for university admissions, but that race may be one factor to be considered.
"A lot of the set-asides, diversity plans, the minority plans that are in place … statistically, [these plans] have actually accelerated the demise of black business opportunities," he said. "Things like quotas — yes, I said quotas — where 10 or 12 percent redistribution of wealth came back to the black community would change fundamentally that drive to zero [wealth] and get us to the point of being economically stable."
None of the Democratic candidates have proposed implementing such quotas, but they have announced plans to increase diversity among American teachers, including expanding teacher training programs to more people of color and making higher education more affordable for low-income adults.
Policing and mass incarceration of black Americans
The Black Lives Matter movement has prioritized systemic changes in the policing of black Americans, who are policed at a higher rate than any other group.
Leaders of the movement, which the Black Census says is supported by a majority of black voters, put forth a policy agenda that emphasizes police accountability, decarceration, reparations, economic justice and decreasing barriers to political representation.
Democrat Jagada Chambers, a fellow with the Progressive Leadership Alliance of Nevada's Mass Liberation Project who has lobbied lawmakers on policies aimed at reducing incarceration, says that he is optimistic that some candidates have promised actions to address these priorities.
Sanders and Warren, for example, have both said they would like to create a federal database of police use of force, which did not exist until 2019. The lack of information has posed an obstacle for activists and reformers to be able to quantify the extent of the impact of use of force.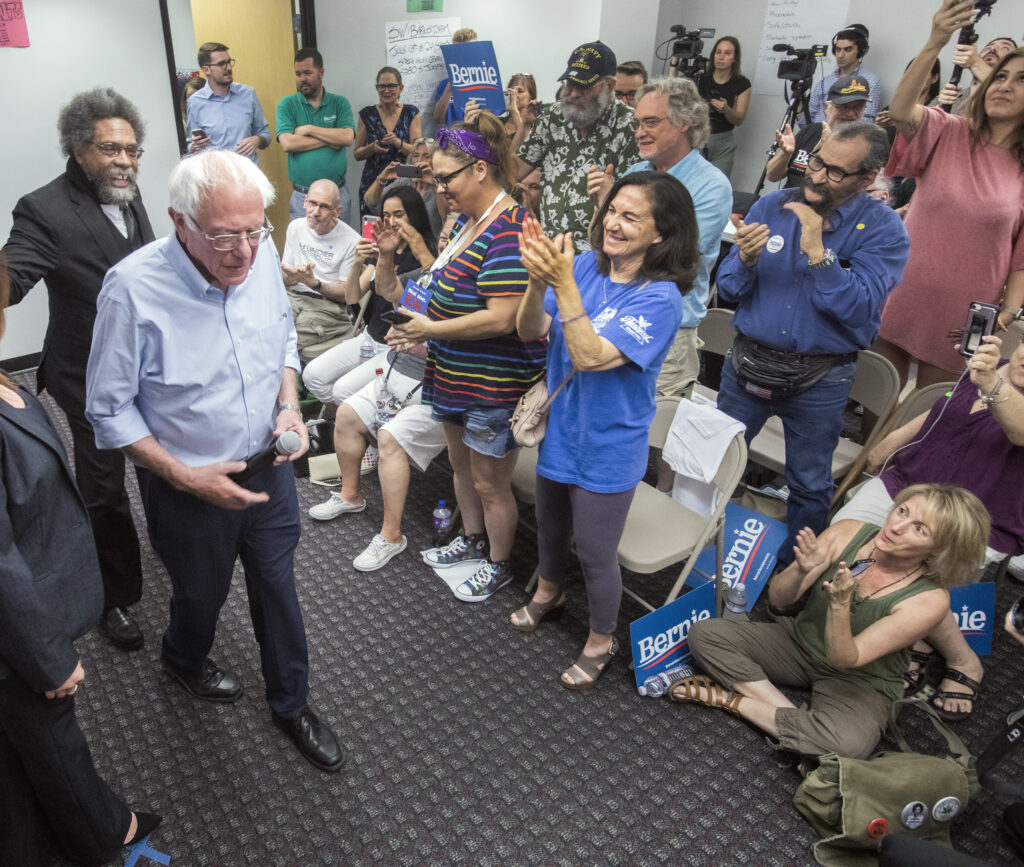 Chambers said he is concerned about the rising candidacy of former New York City Mayor Michael Bloomberg, who has spent an unprecedented $400 million plus on television ads to boost his candidacy. A Morning Consult poll from Wednesday found that the former mayor's nationwide approval rate had increased since the Iowa caucus and now includes 20 percent of black Democratic primary voters.
Bloomberg has been criticized for "stop-and-frisk" policies that were sanctioned and expanded while he was in office, but Chambers said he was still hesitant about supporting the billionaire.
"He's said the right thing, but his history brings up a completely different story," Chambers said in an interview ahead of the caucus. "There are definitely some people in this country who are flocking to Mr. Bloomberg and personally, I'm not. But I think now he's the candidate that definitely can shake this thing up."
Historically, black Americans have been incarcerated in state prisons at rates five to ten times higher than white Americans. Chambers said that he's still waiting for candidates to address the issue head on, and said one of his most important issues in the 2020 election was youth incarceration.
"No one wants to take that tangible step of making it constitutionally illegal to send a youth to adult court. That's something that I think is going to come out of our nomination," Chambers said.
Improving education opportunities
Education is a major concern for black voters, with 77 percent of Black Census respondents identifying the rising cost of college as a major problem. Candidates have responded to these concerns with promises of tuition- and debt-free college and funding Historically Black College and Universities.
While they differ over what types of institutions and degrees should be tuition- or debt-free, all Democratic candidates have said that they would increase funding to low-income "Title I" K-12 schools and to HBCUs. Moderate candidates including Biden, Buttigieg and Klobuchar have promised to increase the maximum Pell Grant, a need-based award to defray the cost of college.
Several candidates have proposed policies that they say would diversify teachers to better reflect the student body — an issue in Clark County where the black student population is roughly 14 percent but black teachers make up just 7.6 percent of the staff.
Buttigieg's "Douglass Plan" — a policy agenda focused on black Americans — called for mandatory diversity initiatives in education. Several other candidates have approached the diversity issue under the wider umbrella of funding HBCUs and minority-serving institutions to turn out more teachers of color.
Those priorities resonate with Akiko Cooks and J'Shauntae Marshall, whose children attend school in Clark County and say that the lack of diversity affects black students' ability to learn.
"There needs to be a certain number of administrators of color as well as teachers, ongoing diversity programs and training that are mandated," said Cooks, who co-founded the group No Racism in Schools.
Cooks and Marshall co-founded the group in 2019 after two white students targeted their children and other black students on social media and mentioned "Columbine part 2," causing students and parents to panic that there would be a school shooting. No shooting occurred, and the two students responsible for racist comments were arrested.
"Teachers have to take a diversity course online, but they just click through it and there's no accountability. There's no one to say whether they received the information and whether they're implementing it in the classroom," Cooks said.
Cooks acknowledged that her priorities might be more in the purview of state and local government, but they have been looking at candidates whose policies would create a pathway for equity on campuses. She and Marshall said Biden, Sanders and Warren were among their top choices.
"They need to take a closer look at things that impact the day-to-day life of the common people … child care, housing," Marshall said in an interview.
Stories
Candidate Trackers
Endorsements, Ads, Policies, Visits
& More
visit now
Comment Policy (updated 10/4/19): Please keep your comments civil. We reserve the right to delete comments or ban users who engage in personal attacks, use an excess of profanity, make verifiably false statements or are otherwise nasty.