Candidates headline events prodding people to the polls on first day of Nevada early voting
The action on the first day of early voting in the Nevada caucuses wasn't just at vote centers — it also came at a series of events featuring the presidential candidates themselves trying to push people to the polls.
Here are a few highlights from Saturday.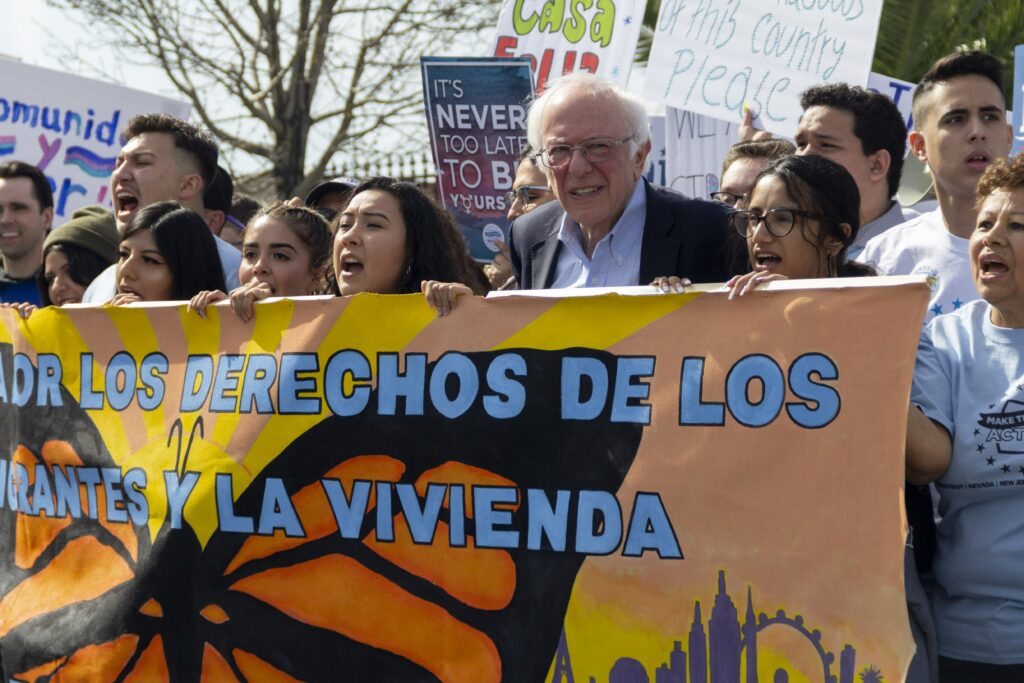 Bernie Sanders hosts Latino-focused rally, march to early vote site
A morning rally for Vermont Sen. Bernie Sanders quickly became standing-room only as more than 1,200 Sanders supporters crowded into the Desert Pines High School cafeteria for a get-out-the-caucus rally in Las Vegas Saturday, just as the first polls opened across the state for the first ever early-caucus process.
The campaign's focus Saturday was clear: mobilize Latino voters. The rally, held in partnership with the immigrant advocacy group Make the Road Action, brought chants and speeches in Spanish, pumping up the crowd with Latin music from a live band and energetic speeches from Latino lawmakers and activists from across the country. 
And though Sanders veered little from his usual stump speech during his short, 15-minute remarks, he did take time to take a swing at his moderate rivals.
"This is what democracy looks like," Sanders said, referring to the crowd. "Democracy is not presidential candidates going to the homes of millionaires raising money, democracy is not billionaires spending hundreds of millions of dollars trying to be elected. Democracy is when working people stand up and fight for justice."
Those remarks referred obliquely to two candidates, the first of which, former Vice President Joe Biden, announced an upcoming New York fundraiser that will play host to hundreds of Wall Street or corporate-linked donors.
The other candidate, former New York mayor and billionaire Mike Bloomberg, has flooded upcoming primary states with cash as he seeks to blunt Sanders' momentum and emerge as a moderate alternative in the upcoming Super Tuesday primary states.
The rally eventually wound down with a march to nearby polls. With Sanders out in front, the marchers rolled through a series of chants, from "si se puede," to "no justice, no peace" to simple chants of "Bernie, Bernie, Bernie."
—- Jacob Solis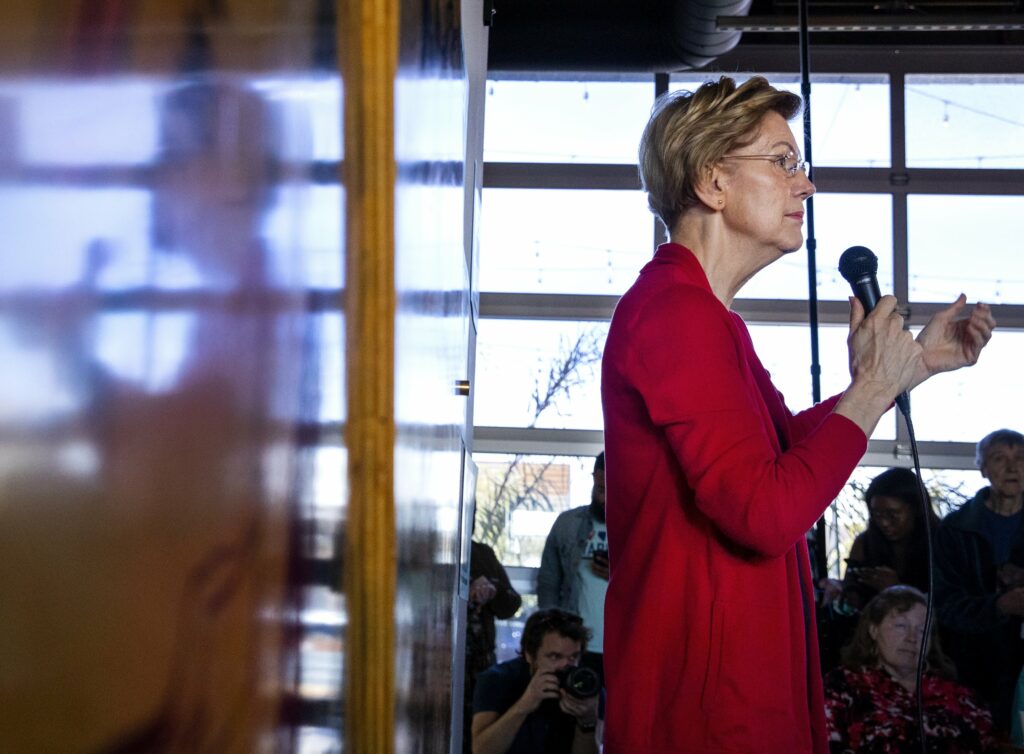 Elizabeth Warren vows a 'separate and strong' VA
With a story, Yvette Nicole Brown, popularly known for her role on the NBC show "Community," introduced Massachusetts Sen. Elizabeth Warren to a crowd of about 400 at a Get Out the Caucus town hall at Centennial Hills High School in Las Vegas.
Brown told a personal anecdote about signing up for a credit card as a college student and being unable to pay off the debt until years later.
"There were so many nooks and crannies and little tricks and traps in the credit card application that I was ill-equipped to understand," Brown said. "Elizabeth understood that and she created the Consumer Financial Protection Bureau … to make sure that we all know what we're signing."
Warren said later during the town hall that the bureau, which was authorized in 2010, has forced the banks to return more than $12 billion to people who have been hurt by predatory financial institutions.
Warren got a question from a woman who gave her name as Jennifer, an Army veteran, about receiving health care through Veterans Affairs (VA). Jennifer wanted to know how Warren's Medicare for all plan, which includes a transition period in which the government would first establish a public health insurance option, would affect her services.
"When you're president and you work on transitioning to where everybody has access to health care, where does the VA fit in that?" Jennifer asked.
Warren compared Jennifer's situation to that of her brothers who were service members.
"I get an earful about the VA pretty much every time I'm on the phone with one or the other of them, and it almost always goes both ways — they're either mad at the VA or they love the VA," she said, rousing laughter from the crowd.
Warren promised that the VA would "stay separate and strong" under her presidency.
— Shannon Miller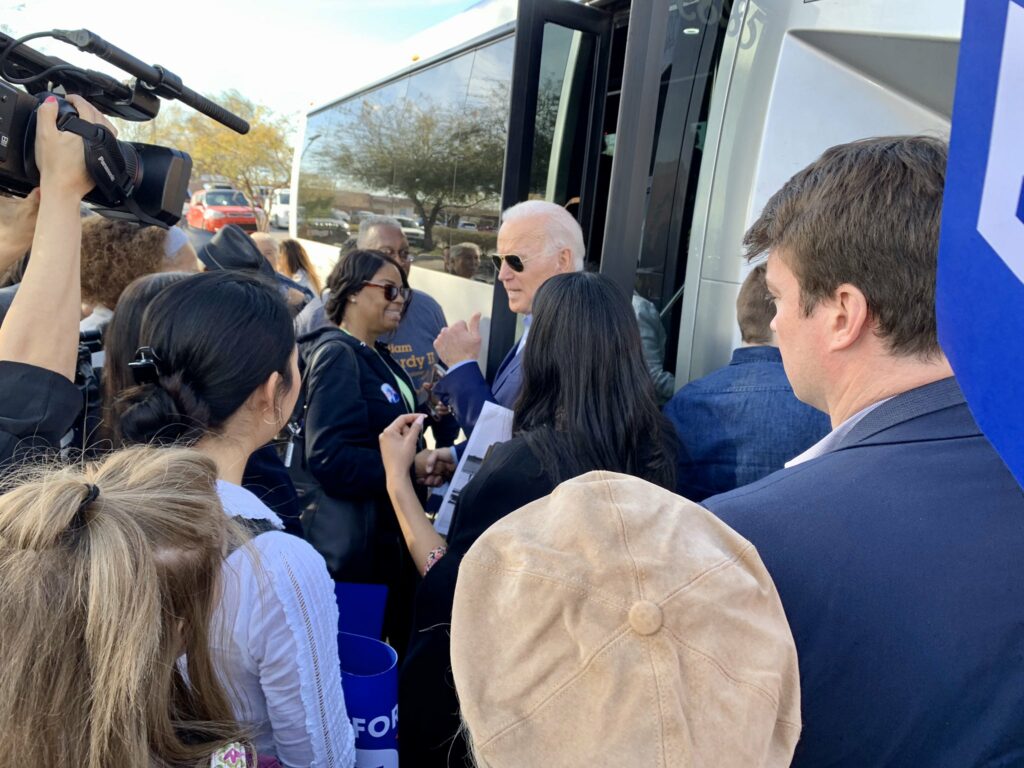 Biden brings supporters directly to an early voting site
Former Vice President Joe Biden kept his remarks Saturday afternoon in North Las Vegas to a minimum — fewer than 20 minutes — but his brevity was purposeful: Several silver minibuses waited outside to shuttle supporters to an early voting site.
Donning sunglasses and a smile, Biden shook hands with people who boarded the first bus headed to Doolittle Community Center, which sits in a predominantly black neighborhood.
Just minutes earlier, inside the Culinary Academy of Las Vegas, Biden had made his case for the presidency, echoing familiar campaign talking points. He touted his public option for health care rather than Medicare for all, vowed to end litigation exemptions for gun manufacturers and bring back an air of civility to the nation.
"Our children are listening," he said.
After his brief speech, this campaign stop was all about voter mobilization — literally. As a line of Democratic voters waited inside the Doolittle Community Center, Biden arrived with more people in tow. He chatted with voters and local politicians outside in the sunny, 65-degree weather, drawing cheers and occasional honks from passing motorists. His wife, Jill Biden, joined a short time later.
The personal gesture didn't necessarily win over every prospective voter, though.
Tanya Flanagan, a Clark County Commission candidate for District D, said she appreciates Biden taking the time to visit her neighborhood, but she hasn't decided which Democratic presidential hopeful will get her caucus vote. She had supported California Sen. Kamala Harris, who dropped out of the race in December.
Flanagan said Biden's losses in the Iowa caucus and New Hampshire primary concern her.
"I think it sends a message that no vote can be taken for granted," she said. "No support can be taken for granted. It's just about boots to the ground and getting out and really doing the work and connecting with the people."
The former vice president, however, can count on support from Jo Cato, a North Las Vegas resident who attended his campaign event and followed him to Doolittle Community Center. As a small-business owner who moved here from Jamaica, Cato said she appreciates Biden's stances on the economy and immigration.
Cato said she was surprised but not disheartened by Biden's performance in the first two nominating contests.
"The makeup of our entire nation is here in Nevada," she said, "and so this is the litmus test for the rest of the country."
But Biden will have to wait to receive her vote. Cato said she wants to participate in the caucus — not early voting.
"Participating in the caucus gives me the opportunity to talk to people that are potentially not supporting him at the time," she said. "That gives me the opportunity to convince those people as to why he's the best candidate for the job."
— Jackie Valley