Sen. Cory Booker (D-New Jersey), Democratic candidate for president, speaks during a campaign event at Cheyenne High School on Monday, May 28, 2019. (Jeff Scheid/Nevada Independent)
Booker hypes the importance of caucus participation during North Las Vegas campaign stop
The way New Jersey Sen. Cory Booker sees it, a handful of Nevada voters could seal his fate come February.
And some of those people — including soon-to-be graduates Trinity Beamon and Jeremiah Wright — were sitting just feet away from the presidential hopeful Tuesday morning inside a North Las Vegas high school. Both are 18 years old, meaning this is the first presidential election cycle in which they can participate.
The reality wasn't lost on Booker, one of 20-some Democrats courting votes ahead of Nevada's first-in-the-West caucus on Feb. 22.
"These caucuses are going to be determined in precincts by just a handful of votes," he said. "Each and every one of us here can determine what happens in our precinct. You all are powerful. The person who wins coming out of Nevada is most likely going to get the nomination."
Then he turned his attention to the younger prospective voters in the room. He asked whether they had ever caucused. Heads shook sideways.
"This is one of those times when your voice, your organizing, your volunteering could make a big difference," Booker told them.
The Clark County Black Caucus and the Black Student Union Network hosted the conversation with students and community members Tuesday morning at Cheyenne High School. It marked Booker's third visit to the Silver State, where his mother and some other family members live, since announcing his presidential candidacy earlier this year.
Booker talked about moving to a poverty-stricken neighborhood in Newark, New Jersey, the place where he got his start in politics and also heard gunshots outside his windows. These are the biographical details the senator often peppers throughout his stump speeches — the anecdotes that may tell voters more about him than the Ivy League degrees he has accumulated.
But the tone of Tuesday's campaign stop was less about introductions and more about mobilization. He pointed out his campaign staff standing in the room, a not-so-subtle cue to any aspiring volunteers. And his answers to attendees' questions often ended with a question of his own:
"Can I get your support, Trinity?" Booker asked after tackling her climate change-related inquiry.
"I got you, I got you," Beamon responded.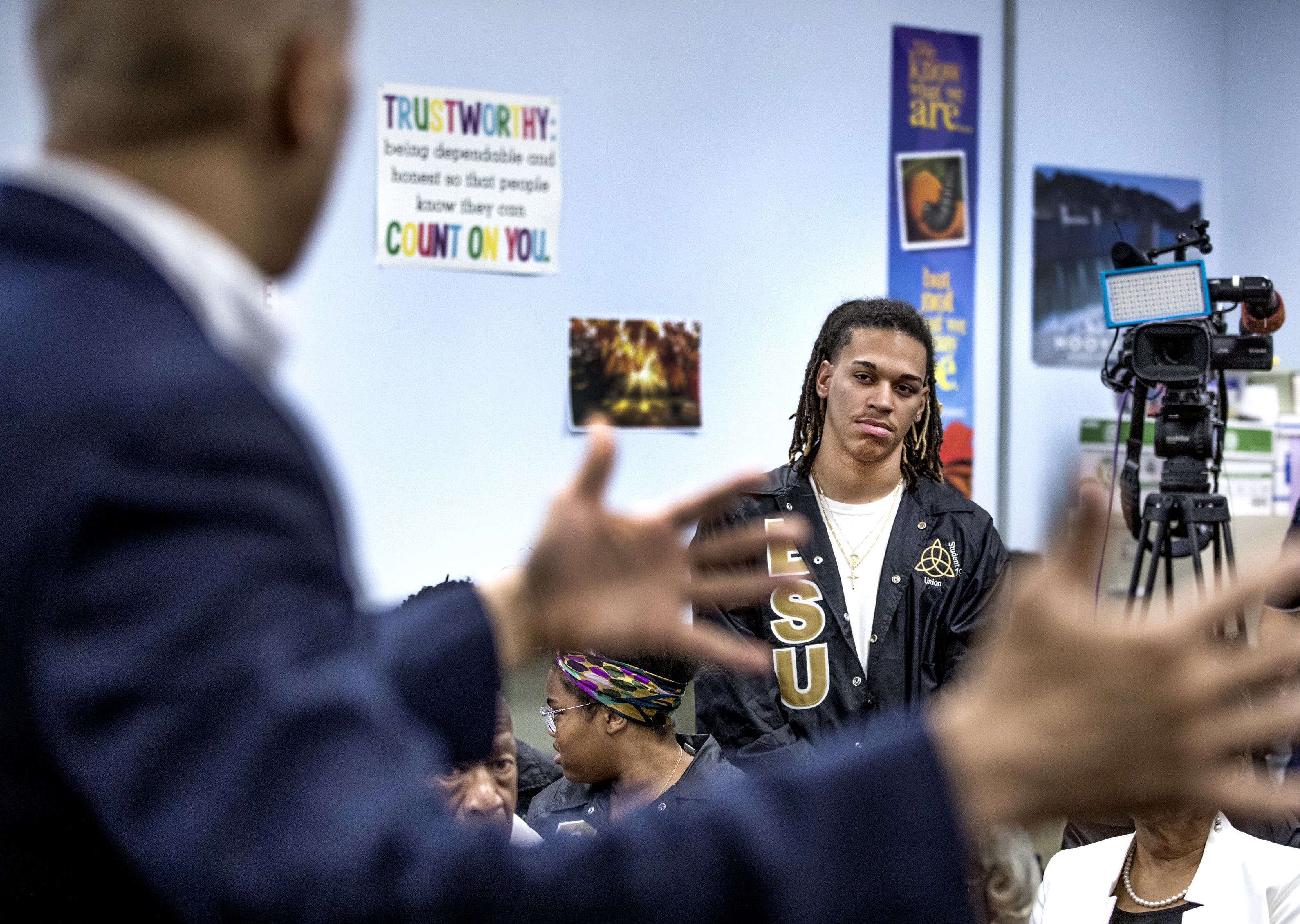 His genial nature — at points cracking jokes, congratulating students or asking about their post-high school plans — didn't erase all skepticism among the potential voters. Wright, 18, asked Booker why a vote cast for him would benefit young black men.
The senator, a 50-year-old black man, offered a multi-part explanation: As president, Booker said he would boost education funding to ensure quality public schools and reform the nation's criminal-justice system so it stops "gobbling up more and more African-American men."
He also vowed to go after the corporate gun lobby, enact common-sense gun legislation, improve career pathways, lift the wages of working Americans and encourage more minority groups to be politically engaged.
Wright, who lost a friend to gun violence, gave a measured assessment of Booker's reply to his question. Speaking with a reporter, he said it was "overall satisfying" but then paused.
"Some stuff sounds too good to be true," he said.
But the teen will have another chance to pick the presidential contender's brain.
Booker made a beeline to him after the event and shook his hand.
"So are you going to stay in touch?" the senator asked.
"It's up to you," Wright said.
Challenge accepted. Booker offered the young man his cell phone number. Wright obliged and handed over his phone. A few taps later, the senator's number was saved in his contacts.
From there, Booker headed to an event with the Sun City Anthem Democrats Club and a private house party in the Spring Valley area.
The meet and greet drew a contrast to the student conversation. About 200 retirees filled the room. Booker chuckled as he remembered a conversation with a high school student earlier that day.
"Some of our young kids don't remember the days when we had three channels," he said. "She was like, 'What did people do?' and I'm like, 'We found something to do. We had higher birth rates back then.'"
The crowd laughed in return. Booker spoke about the opportunity those gathered in the room have to make a change. They have more history than some of these young folks, he said, and know the reality of people fighting together to see progress in their communities.
Vivian and Lloyd Curtis waited to get pictures with Booker. Lloyd Curtis, a lifelong Democrat, said he is supporting Booker because during his career as a senator and mayor, he saw someone who had the qualifications to serve America. Vivian Curtis, who plans to see as many candidates as possible, liked the message Booker carried.
"I like that he's not out for Trump. He's out for the country, and we got to improve the country," she said.
When Booker was asked if he would support whomever the Democratic nominee is, he said that was the best question yet.
"Absolutely, yes," he said. "Ask that question to every candidate."  
At one point, attendee Barbara Fogelman stood up from her seat and told a story about looking through a box of her father's and holding letters from the state department saying her family members could not come to the United States. When she heard about the Muslim ban that Trump enacted, she felt compelled to do something. Another woman, a Californian teacher for 38 years, said she is terrified about her 11-year-old grandson entering middle school in the fall because of gun violence.
"I am the only person in this presidential race that has shootings on their block because I live in an inner-city," said Booker. "You have to understand this is personal to me."
The house party in Spring Valley was hosted by Miracle Workers, an organization originally made up of Clark County School District teachers during former President Barack Obama's campaign season in 2008. Pat Stevens, one of the Miracle Workers and a special-education teacher at Mendoza Elementary School, said the group decided to support Booker because "he is for us. He has proven through his efforts in Jersey that he is for the people, all the people."
Edward Gholson, who worked on both the Obama and Hillary Clinton campaigns, said he came to learn more about Booker. While he likes Booker's determination and honesty, Gholson said he is still waiting to hear from the other candidates.
This story was updated at 11:07 p.m. to include information from Booker's afternoon campaign events.
Stories
Candidate Trackers
Endorsements, Ads, Policies, Visits
& More
visit now
Comment Policy (updated 10/4/19): Please keep your comments civil. We reserve the right to delete comments or ban users who engage in personal attacks, use an excess of profanity, make verifiably false statements or are otherwise nasty.