Breaking down nearly $2 million of congressional campaign cash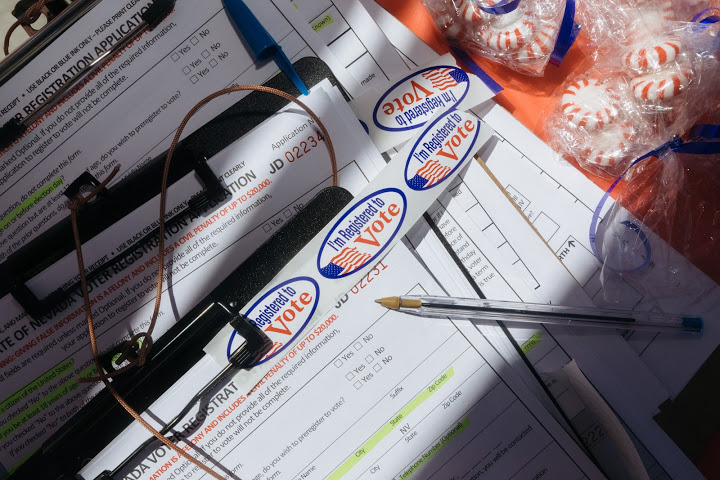 Through the third quarter of 2019, more than $1.9 million filled the campaign coffers of nearly a dozen candidates across Nevada's four congressional districts, according to filings made this week with the Federal Election Commission.
Roughly $800,000 stayed among the incumbent Democrats looking to defend their competitive seats in the South, with much of the rest flowing to the fractured Republican primary field in those same districts — District 3, represented by Rep. Susie Lee, and District 4, represented by Rep. Steven Horsford.
Just 10 percent, roughly $200,000, was raised by the other two incumbents in safe districts, Democratic Rep. Dina Titus in Las Vegas' District 1, and Republican Rep. Mark Amodei in the sprawling District 2 in Northern Nevada.
But with the 2020 race to control the House of Representatives still distant — Nevada's filing deadline doesn't come until next March and primary voters won't hit the polls until June — early fundraising through 2019 may prove key in deciding which congressional campaigns, challengers or otherwise, make it over the finish line.
Below is a breakdown of third-quarter fundraising data by congressional district, in order by the total money raised by declared candidates in that district.
District 3
Lee led the congressional candidates in third-quarter fundraising, bringing in more than $490,000. Most of that money, about $304,000, came in the form of individual donations. That includes dozens of donations which hit $2,800 individual maximum, including contributions from Wynn Resorts co-founder Elaine Wynn and Walt Disney Studios co-chairman and chief creative officer Alan Horn.
There were also a number of smaller — though still large — donations from a handful of Las Vegas regulars, including William Hill CEO Joseph Asher ($1,000) and Boyd Group President William S. Boyd II ($500).
And though the vast majority of Lee's fundraising was comprised of small-dollar contributions — including nearly $170,000 brought in through the Democratic fundraising platform ActBlue and another $10,000 from a similar platform called Democracy Engine — she also received a number of large donations from political action committees.
That includes contributions by pro-choice group Emily's List ($11,300 bundled together, including earmarked donations funneled through Emily's List), the New Democrat Coalition, a coalition of House Democrats billing itself as pro-fiscal responsibility ($10,000 total) and the Nancy Pelosi-affiliated "PAC to the Future" ($10,000 total).
Also among those group-donations was an eclectic collection of corporate, industry and issue-based PACs ranging from Walmart ($5,500) to Exxon-Mobil ($1,500) to the League of Conservation Voters ($2,000) to the national arm of the plumbers and pipefitters union ($5,000).
On the spending side of Lee's report, tens of thousands went to online ads and digital consulting, including nearly $40,000 to the Colorado firm 4Degrees, Inc. Another $9,000 went to fundraising consulting from Virginia-based Fiorello Consulting, and $6,000 went to Seattle-based Blue Wave Political Partners for compliance consulting.
Among Republicans vying for Lee's seat, former Treasurer Dan Schwartz — who also launched an unsuccessful bid for governor in 2018 — held a narrow fundraising edge, bringing in $264,000 in Q3. Only $84,000 of that sum came from individual donations, however, with the bulk coming from $180,000 in personal loans to his campaign. Of those individual donors, 22 gave him the $2,800 maximum.
The other Republican contender, former pro-wrestler and Fox News regular Dan Rodimer, followed closely behind Schwartz, raising $251,000, of which $65,000 came through loans.
Among those who maxed their contributions to Rodimer, a significant chunk — seven of 23 — came from his one-time home of Florida. Many of those donors also donated additional funds to Rodimer's hoped-for general election campaign, doubling their contributions from $2,800 to $5,600 — standard practice among large congressional campaigns and something no donor did for Schwartz.
Two other Republican challengers in District 3, real estate agents Tiger Helgelien and Zach WalkerLieb, both quit their congressional bids during the third quarter, filing termination paperwork in October and August, respectively. WalkerLieb had managed to raise nearly $40,000 early in the year, including a $10,000 loan, while Helgelien reported raising roughly $12,000 before ending his campaign.
District 4
Like Lee, Horsford far outpaced individual Republicans in his district, raising roughly $300,000, or more than double the next-closest Republican fundraiser. Unlike Lee, however, much of Horsford's fundraising has come from PAC spending, including about $142,000 in Q3 2019 and more than $637,000 through the election so far — good for roughly 57 percent of Horsford's total fundraising for the 2020 cycle.
And much like his fellow Democrats across the country, Horsford raised a sizable chunk of his individual contributions through ActBlue, totaling nearly $112,000 in the aggregate.
Separately, among his big-money third-quarter donors are the Credit Union Legislative Action Council ($6,500 in Q3 with $10,000 given overall), cable-giant Comcast ($5,000 in Q3 with $7,500 overall) and U.S. Anesthesia Partners Inc. ($5,000)
The largest single chunk of Horsford's spending was focused on digital consultant Mothership Strategies, which received more than $38,000 between July and September. Horsford also spent an additional $15,000 on the Strathdee Group and more than $12,000 on Woods Strategies, both for fundraising consulting.
Former Miss Nevada and Las Vegas business-owner Lisa Song Sutton led the increasingly-crowded pack of Republicans jockeying for Horsford's seat, hauling in $127,000, with $108,000 individual contributions — the most of any Republican candidate. No PAC money or loans were necessary for Sutton to end the quarter with $99,000 cash on hand.
She was closely followed by veteran and Las Vegas businessman Sam Peters, who brought roughly $112,000, with $42,000 coming from individual donors and an additional $69,000 from candidate loans for the campaign. And though Peters' filing reported more than $135,000 cash on hand to end the quarter, his actual remaining cash is likely closer to $73,000. That accounts for roughly $49,000 in spending subtracted from about $123,000 in total funds, leaving Peters with the fourth-most cash on hand in the field.
Another veteran, ex-congressional staffer Charles Navarro, raised $80,000, including almost $23,000 in individual contributions. Navarro took out $75,000 in loans for his campaign and currently has close to $77,000 cash on hand.
Former Summerlin-area Assemblyman Jim Marchant — the top fundraiser among Republicans in Q2 — fell to $58,000 raised, just about half the $118,000 he raised through July. Though he has still raised the most of any Republican so far this cycle, his $92,000 cash on hand now puts him behind both Song Sutton and Peters in the fundraising race.
Among Republicans, Marchant has become the biggest spender, doling out more than $51,000 through September. Almost half of that money — nearly $21,000 — went to local political consulting firm McShane LLC, while another $16,500 went to North Carolina-based fundraising consultant Saligram and Associates
Northern Nevada business woman Randi Reed brought in a total of $47,000 from individual donors, without any PAC contributions or loans. As of now, her cash on hand is almost $41,000 with many contributions coming from construction companies.
Nye County Commissioner Leo Blundo, the only candidate hailing from outside populous Clark County, raised a total of $45,000, almost exclusively with Nevada-based contributions and without any PAC support or loans. His cash on hand now sits at $28,000.
And Nurse Catherine Prato, a late addition to the primary field, raised $29,000, spent $1,000 and was left with $28,000 cash on hand. More than $8,000 has come from one donor, Todd Lefkowitz, who donated to both the primary and general campaigns.
District 2
In ruby-red District 2, Amodei has fundraised in the absence of a hard push from either his right or left to unseat him, ultimately pulling in more than $91,000 in the third quarter.
More than half of his contributions, almost $54,000, were made by individuals, while the remaining $37,000 came from PACs. Notable contributors to Amodei included Dollar Shave Club CEO Michael Dubin ($2,700), Washoe County Commissioner Jeanne Herman ($1,000) and PACs connected to Amazon ($1,000), AT&T ($4,000), Comcast ($2,000), General Motors ($5,000) and Exxon Mobil ($2,500).
Amodei reported expenditures on a variety of typical campaign and fundraising expenses, but he also contributed $500 to Republian state Sen. Heidi Gansert's re-election campaign, $3,000 to the Douglas County Republican Party to sponsor a BBQ, $214 to former Attorney General Adam Laxalt's Morning in Nevada PAC for tickets to the annual Basque Fry and nearly $32,000 to a Carson City marketing company for radio advertising.
Still, the congressman maintains the notable distinction of having spent more than he's raised through 2019, bringing in roughly $288,000, but spending more than $334,000.
The biggest third-quarter beneficiaries of that spending: consultants. Amodei paid $17,000 to Reno consultant Danielle Cherry, another $32,000 to the Carson City marketing firm Wyman and Associates for radio ads, more than $10,000 to the M Group for fundraising consulting and another $10,000 in accounting fees.
Amodei still substantially outraised likely Democratic opponents, including his 2018 general election opponent Clint Koble. Koble, who is mounting another bid, reported raising more than $23,000 and spending $21,600 during the October fundraising period, and has just $403 in available cash on hand at the end of the reporting period.
District 1
Titus, whose district encompasses the deep-blue urban core of metropolitan Las Vegas, fundraised through the third quarter with no declared challengers, bringing in nearly $99,000 through the end of September.
About 49 percent of the contributions to her campaign, or $48,250, came from PACs. The largest donation was $10,000 from UNITE HERE Tip Campaign Committee — affiliated with the umbrella organization of the Culinary Union — while the second-largest donation this quarter was $3,000 from Credit Union National Association PAC. Three other PACs including National Elevator Constructors, SABRE Holdings Corp. (whose subsidiaries provide travel technology and booking services) and U.S. Travel Association gave $2,500 each.
Contributions from individuals amounted to $50,733. The president and CEO of Arcata Associates, a Nevada-based company that supports federal government agencies and commercial aviation companies, gave the largest individual donation of $2,800. The American Association for Justice Politics, the American Hotel and Lodging Association and the Asian American Hotel Owner Association gave contributions of $2,500 each. Former Las Vegas Councilman Bob Coffin contributed $1,000.
Her campaign committee spent $6,585 each month of the quarter on a fundraising consultant, as well as $6,400 in digital consulting fees over that period. Her campaign also spent more than $400 on event tickets for the Las Vegas Greek Food Festival hosted by St. John the Baptist Greek Orthodox Church.
Correction - 8:30 p.m. - An original version of this story included fundraising figures for candidate Sam Peters for all of 2019 and not fundraising in the third quarter. It has been updated to reflect Peters' third-quarter fundraising only.
Correction - 10/22, 8:30 a.m. - An earlier version of this story did not identify a misfiling for candidate Sam Peters, who, though he reported $135,000 cash on hand, actually maintains $73,000 cash on hand.
Comment Policy (updated 4/20/2021): Please keep your comments civil. We reserve the right to delete comments or ban users who engage in personal attacks, use an excess of profanity, make verifiably false statements or are otherwise nasty. Comments that contain links must be approved by admin.