Buttigieg: 'Meaning' of Medicare for all has changed; 'good chance' Facebook, other tech companies broken up if he becomes president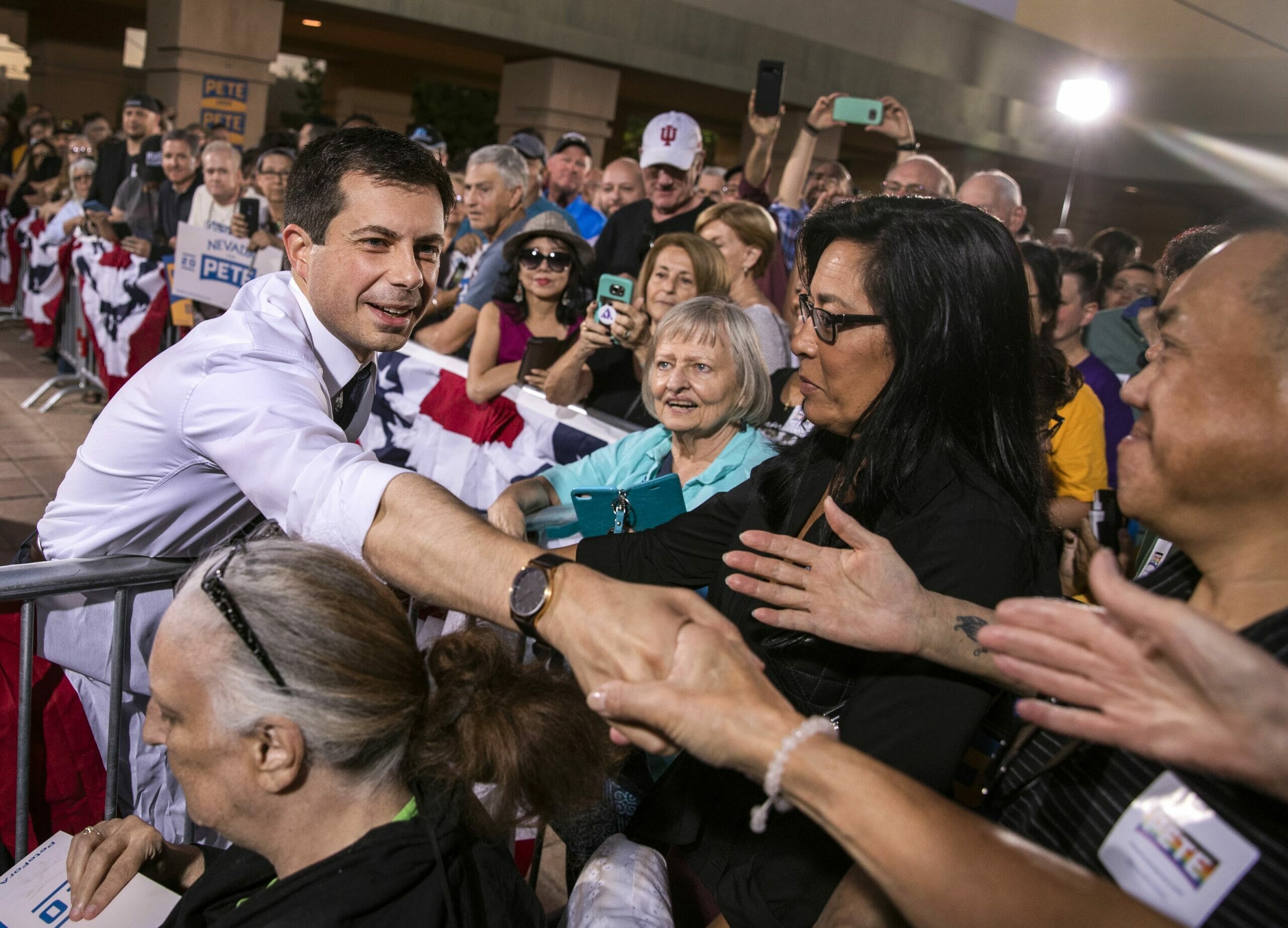 South Bend Mayor Pete Buttigieg, in a tweet last year long before he announced his bid for president, declared in flowery and grandiose language his support for Medicare for all.
"I, Pete Buttigieg, politician, do henceforth and forthwith declare, most affirmatively and indubitably, unto the ages, that I do favor Medicare for All, as I do favor any measure that would help get all Americans covered," Buttigieg tweeted in February 2018. "Now if you'll excuse me, potholes await."
The tweet recently resurfaced after this month's Democratic presidential debate, during which Buttigieg prodded fellow competitor Massachusetts Sen. Elizabeth Warren on how she plans to pay to implement a single-payer, Medicare for all health care system. Buttigieg now favors a so-called "Medicare for all who want it" system, which is, in effect, a public option Americans could choose instead of their employer-sponsored insurance.
Buttigieg, in an interview with The Nevada Independent for the IndyMatters podcast this week, couched that tweet as a "fun exchange with somebody on Twitter" — noting the tone of his remarks — and then argued that the meaning of Medicare for all has since changed.
"Only in the last few months did it become the case that Medicare for all was defined by politicians to mean ending private insurance, and I've never believed that that's the right pathway," Buttigieg said. "I still think that we should move toward an environment of Medicare for all."
In other countries, universal government health insurance plans coexist with other forms of private insurance. Two-thirds of Canadians have private health plans — some provided by unions — that pay for benefits not covered by the country's publicly funded health care system, also called Medicare, including dental, prescription drug and vision coverage. In the United Kingdom, just a little more than 10 percent of the population has voluntary private health insurance on top of the care they receive through the National Health System.
But Buttigieg — asked if a similar system could work in the United States, if one of his concerns is that Medicare for all has come to mean ending private insurance — was unwilling to go that far.
"Well, I think different countries have different systems and what we know about our system is it's got to change. It doesn't mean that a Canadian or British or German approach is going to work in the United States," Buttigieg said. "It does mean we have to insist that the public sector step up and deliver more, and that's the idea of Medicare for all who want it."
Under Buttigieg's plan, people would have the choice to buy into the government-run Medicare system on a premium basis. Those who currently receive subsidies to purchase plans through the health insurance exchanges created by the Affordable Care Act would be able to use them to subsidize their Medicare premiums, and Buttigieg has promised to both expand those subsidies and cap premiums at 8.5 percent of income.
Buttigieg's idea is that if his plan is as attractive as he hopes it will be, eventually everyone will end up on Medicare. The plan also leaves room for those who like their existing plans, such as the members of the Culinary Union here in Nevada, to keep them if the coverage is better.
"I think the best approach is to make this Medicare option available to everybody, but not command everybody to adopt it, especially I'm thinking of folks like the Culinary workers right here in Nevada," Buttigieg said. "There are a lot of labor union members who have negotiated very good health plans that are part of their compensation, and I don't think they want to be forced into a plan they don't know."
Besides choice, his other concern with Medicare for all is the cost. He acknowledges that the goal of the proposal is that, even if taxes do go up, Americans will be paying less for their health insurance on balance than they were previously once you take all of their premiums, deductibles, copayments and coinsurance into account. But he doesn't believe the math adds up.
"The problem is if you actually run the numbers ... even by the most generous estimates, there is still an unexplained gap of trillions of dollars, and we haven't heard how that's supposed to be filled," Buttigieg said. "These taxes that are being proposed seem like they're being spent over and over again on different proposals at different moments."
Buttigieg also briefly acknowledged that where the plans backed by Warren and Vermont Sen. Bernie Sanders will likely ask Americans to pay additional money in taxes, his will ask Americans to pay additional money to the government in the form of a premium. Asked whether people will be paying the government money either way, Buttigieg said "yeah" before pivoting to talking more broadly about his plan.
"I think in the end, the real question here is how do we make sure that you get covered and how do we make sure that you get covered in a way that is affordable? And if you're low income that that's no barrier. There are a lot of different ways to do it," Buttigieg said. "My approach is just one that also makes sure that you have choice, and that's what most Americans, including most Democrats, want."
Buttigieg also touched on concerns over the news this week from Bloomberg that Facebook CEO Mark Zuckerberg personally recommended hires to Buttigieg's campaign and whether that's a sign that the South Bend mayor is too cozy with Big Tech.
"We got thousands of resumes from hundreds of people who were sending along names of Democrats that they knew who were interested in being on my campaign. It doesn't exactly amount to a close relationship, and we're proud of the staff that we have," Buttigieg said. "The fact that one or two of those resumes came from somebody who's high profile in the tech industry doesn't really tell you nearly as much about what I'm going to do on tech as my actual tech policy does, which I'm happy to describe to anybody."
The revelation prompted several think pieces scrutinizing Buttigieg's relationship with Big Tech, and wondering how companies such as Facebook would fare under a Buttigieg presidency compared to, say, a Warren one, with the Massachusetts senator calling for Facebook to be broken up.
Buttigieg has previously called for a "spectrum" of regulations on the industry over outright calling to break up Facebook like Warren has, but in his interview with the Independent indicated that big tech companies like Facebook would likely be broken up if he becomes president.
"There's a good chance that they will be broken up under my administration. What I don't support is as a candidate, as a politician, choosing a company and saying, 'I declare this company is going to be broken up' because there are there's due process here, there are investigative and legal processes going on right now," Buttigieg said. "But I do believe that regulators and certainly at the [Federal Trade Commission] should be empowered to block and if necessary, reverse some of these acquisitions that went on."
He added that Facebook made a "terrible decision" when Zuckerberg announced that it would not ban politicians from lying in political ads on the social media platform.
"We wouldn't accept that from a TV station. We wouldn't accept that from a radio station," Buttigieg said. "We shouldn't accept that from an online platform either."
TV stations are, however, barred by the Federal Communications Act from censoring any material broadcast by any qualified candidate for public office, meaning that they can't reject an ad because it contains false information.
As for what the next few months look like, Buttigieg is optimistic. A new Suffolk University/USA Today poll released this week showed Buttigieg surging in Iowa with 13 percent support, almost neck-and-neck with Warren (17 percent) and former Vice President Joe Biden (18 percent), while an Iowa State University/Civiqs poll puts him at second (20 percent), just behind Warren at 28 percent. He's also unconcerned about the fretting from the Democratic establishment about whether another candidate — such as a Hillary Clinton or a Michael Bloomberg — needs to be wooed into the race.
"There's a certain season where people get anxious in this way, but I would just say that whatever problems there are in the Democratic party right now, a shortage of people running for president on the Democratic side is not our problem," Buttigieg said. "We've got more than enough candidates."
"The proposition I'm laying out there is, if you want the left most possible candidate, you've got your choice, and if you want the candidate who spent the most years in Washington under their belt, you've got your choice," he continued. "I think most people are looking for something else and that's where I come in. I could be your candidate if you're looking for something else."
Asked about the perception that he has work to do to broaden his appeal beyond white voters, Buttigieg said that's why his campaign is investing extra time and effort in Nevada and South Carolina and has proposed a so-called Douglass Plan to empower black Americans.
"It's one of the reasons you see us engaging so much in states with more diverse voting basis. So we'll be here in Nevada a lot, we'll be in South Carolina a lot," Buttigieg said. "This is a really important time to make sure that we're conveying what it is that we have to offer, how people's lives would be different if I'm president versus my competitors. We get a fantastic response everywhere I go with this message, but my job is to take it to as many places as possible and that's exactly what we're going to be doing and the weeks and months ahead."
With 35 staff members on the ground here and 10 field offices opened across the state, Buttigieg is also counting on Nevada to propel him to the nomination.
"This first in the West caucus is a great place to capture what we hope will already be good momentum coming out of other early states and catapult us to be in a great position for the contest ahead," Buttigieg said.

The Nevada Independent is raising $200,000 by Dec. 31 to support coverage of the 2024 election.
Tax-deductible donations from readers like you fund this critical work.
If you give today,your donation will be matched dollar-for-dollar.
Give + Get Matched
Featured Videos