Can mining education data help students succeed? Two former school district employees think so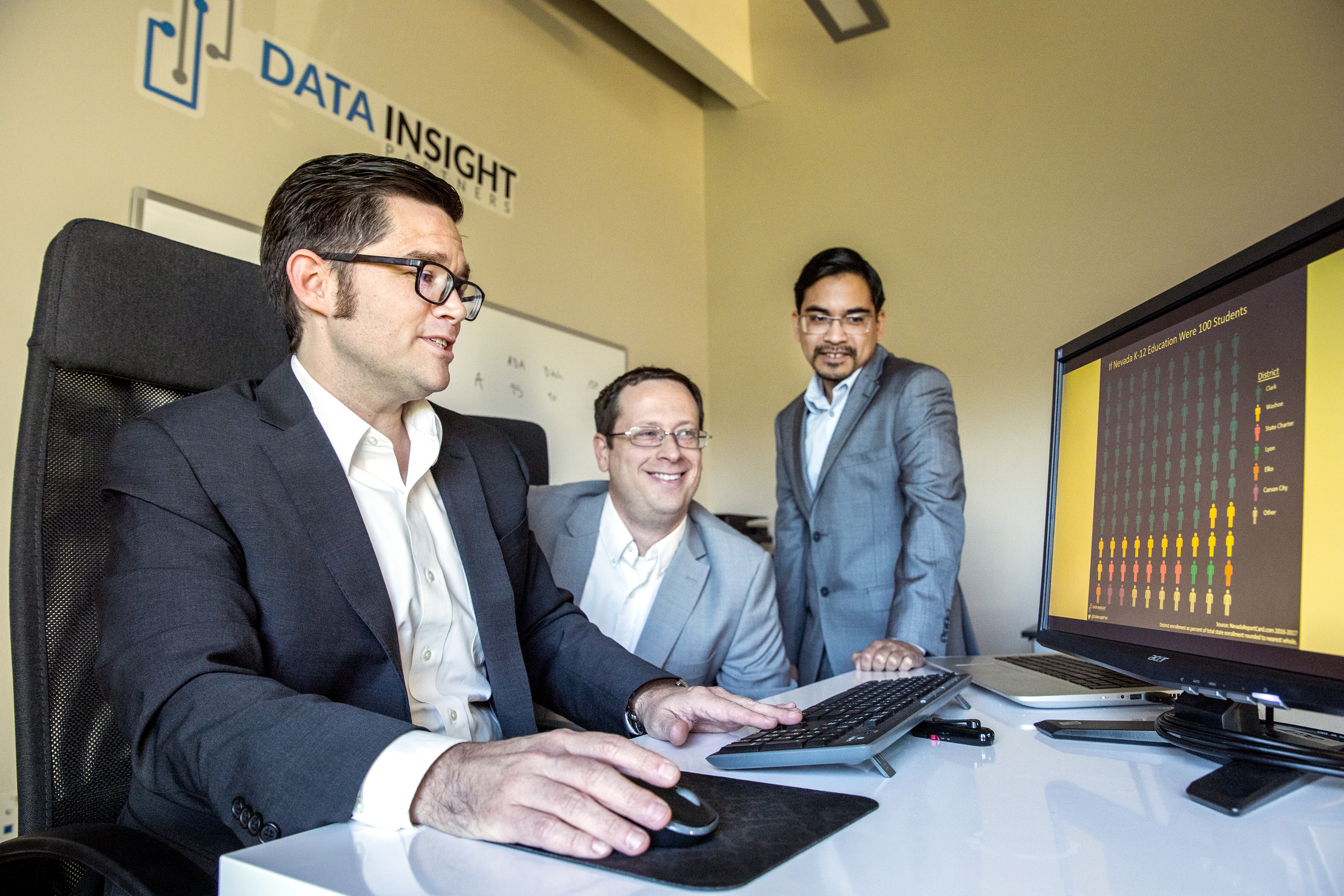 A former comedian and an elementary school teacher have traded the allure of making their audiences laugh or learn for a world filled with spreadsheets and numbers.
This isn't a joke. It's serious business for Nathan Trenholm, once a guest on "Jimmy Kimmel Live!," and Justin White, who wound up in a Las Vegas classroom via the Teach For America program. They're co-founders of Data Insight Partners, a company committed to producing education-related data.
"I didn't start a business because I wanted to start a business," Trenholm said. "I started a business because I wanted to help people with data, and I didn't feel like I was in a situation where that was happening in the district."
Before launching their own company, Trenholm and White most recently worked for the Clark County School District in an office dedicated to assessment, accountability and research. It was their landing spot after Trenholm gave up a touring comedy gig when he got married and had a child. He studied management information systems at UNLV — admittedly a sharp turn from comedy but one that satisfied the numbers-oriented side of his brain.
Meanwhile, White in his spare time created a website where teachers could share resources and lesson plans, which led to a web programming-type job within the district.
"The reason I worked so hard was this belief that good data in the hands of decision-makers at the school level could lead to just way better outcomes for kids," White said.
Ultimately, the data gurus realized they'd have more freedom if they struck out on their own — hence the birth of Data Insight Partners one year ago. Their goal: Work with schools, principals, teachers and education advocacy groups to drill down into data that could provide insights into students and help inform action plans.
They're already working with Orr Middle School, which sits just behind the Boulevard Mall in central Las Vegas. Anthony Nunez took over as principal in the spring, shortly after Orr Middle School was designated a turnaround school, meaning it receives extra resources designed to push struggling schools toward rapid academic improvement.
Nunez reached out to Data Insight Partners because he realized he needed data — and quickly.
"I wanted to better understand the needs of my students," he said. "There is not a prescriptive turnaround plan. Step one is always understanding the needs of the school and starting from there."
Trenholm, White and their employee, Erik Gomez, who works as a senior data analyst, started sorting through the middle school's data and made a discovery: Students were enrolling in the school late and, as a result, missing the first few days or weeks of the academic year.
The data finding triggered a summertime effort to raise awareness in the community, Nunez said. The school's dean and other staff members visited nearby businesses and apartment complexes, where they talked to residents and dropped of flyers alerting them to the school year's start date.
It worked. "We were able to get more students here earlier than as compared to last year," Nunez said.
Orr Middle School achieved full enrollment three days earlier than the 2016-2017 academic year and, in the process, saved 1,200 student instructional hours, Nunez said.
Now, the school is embarking on a loftier goal with the help of Data Insight Partners, which it has contracted with to perform the data work, Nunez said. During a parent meeting next week, the school will unveil a comprehensive report card that includes letter grades for each subject but also information about students' attendance patterns, interactions with the dean's office and proficiency level on various assessments used by the school.
"It's really going to change the opportunity parents have to understand what their child knows and is able to do," Nunez said.
Harnessing data to improve students' academic performance isn't necessarily new, but it has been gaining steam in the last decade or so, said Dakarai Aarons, vice president of strategic communications for the Data Quality Campaign, a nonpartisan organization that advocates for more data- and evidence-based decision-making in education.
"The sophistication of the technology paired with a growing understanding and culture that values and relies on data and evidence to make decisions has come together in a really nice way," he said.
Aarons said he expects states, districts and individual schools to increasingly rely on data as they work toward goals associated with the Every Student Succeeds Act, the Obama-era education law being implemented across the country.
As for Trenholm and White, they hope to use their data wizardry for good in the community. Last month, they started a social media campaign that encouraged local high school students to complete the FAFSA (free application for federal student aid) over Thanksgiving break.
Their tweets included — you guessed it — data highlighting the importance of the 90-minute task: Qualified Nevada students, on average, received $3,4000 worth of federal Pell Grants, which typically don't need to be repaid.
"There are very good things happening in Nevada education," White said. "I think a lot of things are moving in the right direction ... We want to be a part of the next steps for the state of Nevada."
Comment Policy (updated 4/20/2021): Please keep your comments civil. We reserve the right to delete comments or ban users who engage in personal attacks, use an excess of profanity, make verifiably false statements or are otherwise nasty. Comments that contain links must be approved by admin.