Cash bail, overzealous prosecution and traffic tickets come under fire in panel on ending mass incarceration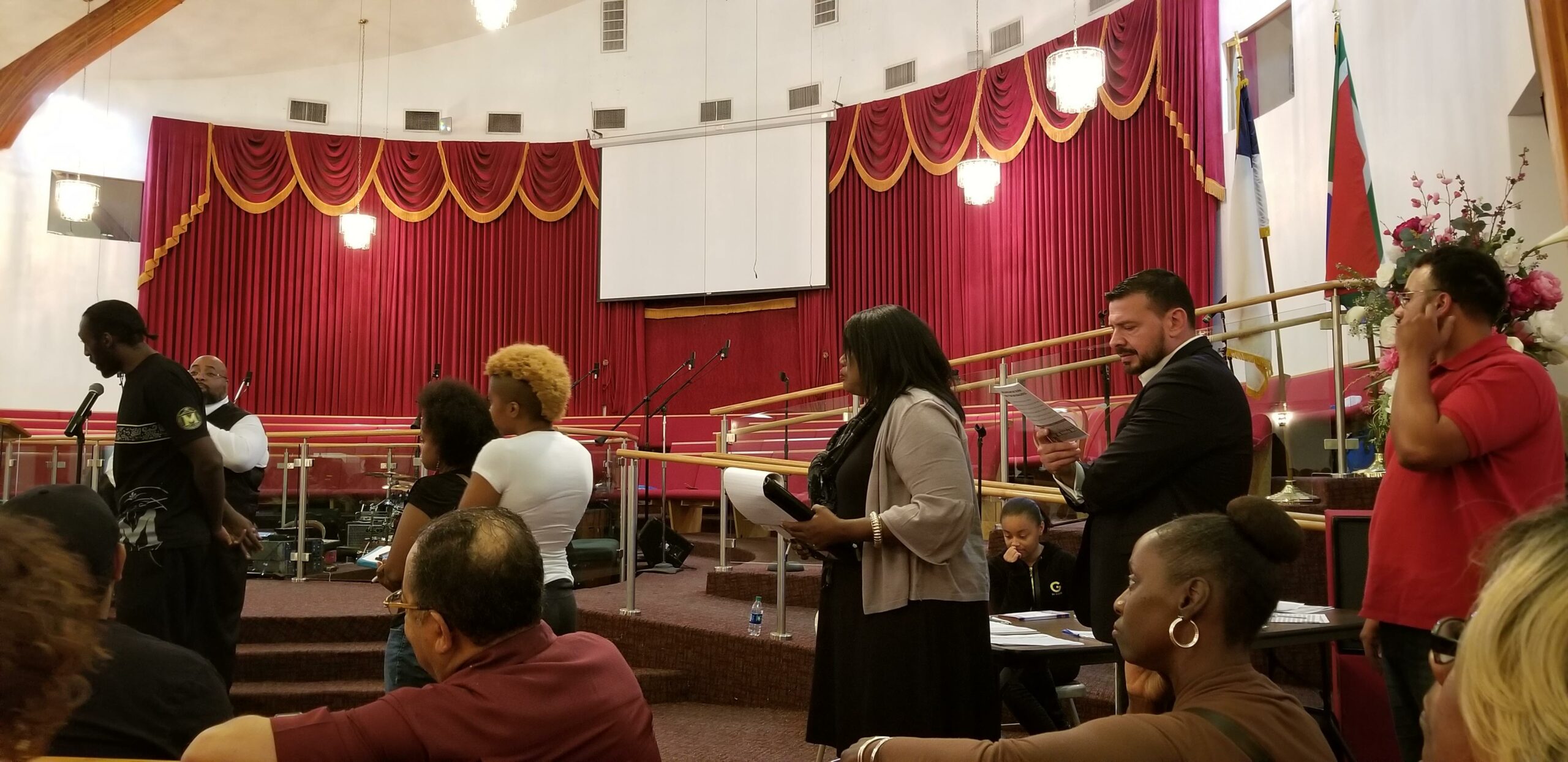 There was Cassandra Little, a former foster agency operator who said she was compelled by aggressive prosecutors to plead guilty to a lengthy list of federal Medicaid fraud charges and spent 23 months in a work camp in Victorville, California.
There was Tiara Howlett, a mother of five who said she was rushed into a plea deal at age 20 that's left her, for the past 14 years, largely unable to get a job and dependent on men to provide for her.
And there was John Witherow, who spent 40 years in prison and is now heading up a prisoner advocacy group called Nevada Cure to fix what he sees as injustices in the system.
All shared their stories on Monday at The Power of Justice, a panel discussion held at Victory Missionary Baptist Church in historic West Las Vegas with the stated goal of ending mass incarceration. Panelists included Democratic lawmakers, Clark County Public Defender Phil Kohn and Clark County district attorney candidate Robert Langford, who offered different takes on the next steps to change.
"The first thing you have to do is admit, not deny, that there is institutional racism in your agency," Langford said about prosecutors. (Organizers said current Clark County District Attorney Steve Wolfson was invited to the panel, but did not attend because of a prior commitment.)
Others at the forum took a more radical approach.
"People of color, black and brown, cannot afford to deal with any more reform," Little said. "I've seen women sit in prison waiting for a reform bill to come through that ends before it even makes it to the House. So I'm on the extreme end — it's something that has to be abolished and dismantled and the money has to be taken out of it."
Assembly Speaker Jason Frierson said the key to change is getting a critical mass of voters and lawmakers on board with criminal justice reform.
"We're all here because we're like-minded. We all believe in this cause. Our challenge is convincing other people to join the fight," he said. "We need the people over in Henderson, Summerlin, Mountain's Edge to get on board with us so that we can make some decent progress, and until we do that, we're just talking to each other."
And if the cause itself doesn't inspire people, Frierson said, an appeal to their pocketbooks should help.
"That's the only way we're going to get the attention of folks who don't believe it impacts them — is for them to see it costs them money to be short-sighted in how we deal with this, and it saves them money to be progressive and think about the long term," he said.
Here are some of the takeaways from the discussion:
Pitfalls of requiring cash bail
Panelists railed against the practice of setting cash bail, which they say ensures that poor clients are kept behind bars at a disproportionate rate. Kohn said that for more than three years, he has been working with a task force that's trying to replace such a system with a risk assessment that weighs how dangerous a defendant might be to the community and how likely it is that they don't show up to court.
"Getting the courts and the DA to use this system has been a real challenge, and a challenge that we're failing at," he said. "Cash bail is such an integral part of our system. It is just the culture of our community."
Kohn said that the Clark County Detention Center currently has 514 people incarcerated who have bail set at $5,000 or less.
"If their bail is $5,000 or less, how much of a danger can they possibly be to our community?" he said. "Why are they there? If they had money, they'd be out."
Langford, who is challenging Wolfson, described the cash bail system as "a hidden fine on poor people." He said studies going back decades suggest whether or not someone is able to post bail is a poor indicator of whether they'll show up for court.
"It's ridiculously bad," said Langford, who vowed to end cash bail on the first or second day in office should he win his long-shot bid. "Does it make us feel better? Some people. But does it really make people more likely to come to court?"
Decriminalizing traffic violations
Panelists agreed that Nevada's system, where a traffic violation can escalate into an arrest-worthy offense, is overly harsh.
"The time is right for turning traffic tickets into a civil infraction," said Langford. "It's a traffic ticket today, but we're setting up a poor person to have a felony conviction down the road. So we've got to get rid of traffic tickets as a criminal offense."
Frierson pointed out that he proposed a bill in 2014 that would have decriminalized traffic tickets, but it never saw the light of day because he lost his election by 40 votes that cycle before returning to the Legislature in the 2017 session.
"You wouldn't believe the amount of opposition we had," he said about the concept. "But that does nothing to protect your community. We're talking about a broken taillight."
Michael Kagan, an immigration law expert and director of UNLV's Immigration Clinic, said his office has noticed an uptick in the last two months of immigrants being arrested on bench warrants for unpaid traffic tickets. When his staff looks up the defendants, they see no other charges against them aside from the traffic issues.
Many are coming from the Las Vegas City Jail and the Clark County Detention Center. Kagan advised the audience to ask the sheriff about the trend.
"Regardless of what you think about bench warrants and traffic tickets, and whether that should be criminalized or not, should someone whose greatest offense in life is unpaid traffic ticket be deported?" he asked. "That's a choice that local governments and state governments can make."
The power of the district attorney
Kohn underscored the power that prosecutors such as the district attorney have in deciding how many charges to levy on a defendant. The burden can be so heavy that the person feels he or she has no choice but to plead guilty to a reduced slate of charges because being convicted at trial of the dozens of counts they're charged with would mean a massive prison term.
"You want to know how you change the system? You've got to vote for and elect a DA who promises they're not going to do that," he said. "The power in the system is not with the bench. The power in the system is with the prosecutor. They're the ones who decide what to file and what they're going to seek as a punishment."
Most cases don't go to the trial phase and instead end in a plea bargain. Kohn said it's possible to put up a fight against the plea deal-heavy system, but it's risky.
"If we got every one of our clients to say 'screw this, we're going to trial,' it'll stop the system. Everyone in my office knows that," he said. "The question is, who among you wants to be the sacrificial lamb that does want to do 30, 40, 50 years in custody, because you're the one that went out first and said, 'I'll be the one to try my case,' when they're offering you a chance to go home if you take their deal?"
Little spoke about why she ultimately decided to plead guilty to 28 counts of health-care fraud and 10 counts of money laundering. She said prosecutors who were irked she didn't take their initial deals were making her an offer that would have carried a much heftier prison term.
"In general terms, it's bullying," she said. "A lot of my family wanted me to go to trial, and I didn't see any way of winning."
One woman she met at a prison camp in California had rejected a plea deal that would have given her an 18-month sentence. Instead, she was convicted at trial and sentenced to 12 years.
Langford said one way to curb overzealous prosecution is to do what progressive Philadelphia District Attorney Larry Krasner is doing — requiring prosecutors who want to cut a plea deal with a defendant to calculate how much it will cost taxpayers to incarcerate them, including the opportunity cost of that person having a criminal record when they leave jail and justify the expense.
He said prosecutors who overcharge a person should be subject to disciplinary action.
"I'll tell you how you sell this to the taxpayers — you tell them it's expensive to keep people in prison and in jail," he said.
IndyFest is proudly sponsored by:
Comment Policy (updated 4/20/2021): Please keep your comments civil. We reserve the right to delete comments or ban users who engage in personal attacks, use an excess of profanity, make verifiably false statements or are otherwise nasty. Comments that contain links must be approved by admin.