Preparations continue on a new outdoor cafeteria and day shelter at Catholic Charities of Southern Nevada in Las Vegas on Thursday, Nov. 19, 2020. (Daniel Clark/The Nevada Independent)
Catholic Charities opens new dining pavilion in time for Thanksgiving meals and to provide shelter from cold weather
November 25th, 2020 - 2:00am
On Thursday at 10 a.m., Catholic Charities of Southern Nevada will open the gate to its brand new dining pavilion and welcome hundreds of Nevada's homeless people to check their belongings for safekeeping, wash their hands, and sit down to enjoy a Thanksgiving meal.
Just across the street from the Courtyard Homeless Resource Center, the new pavilion is on Catholic Charities' campus wedged between Main St. and Las Vegas Blvd. The pavilion, which was funded through the CARES Act, served its first meal on Monday in what Leslie Carmine, the organization's media and communications director, called a "trial run" to figure out how to serve the most people in the safest way before Thursday.
The project has been in the works since spring and under construction since September as a replacement for Catholic Charities' old dining room, which was forced to close until it can be renovated as a result of the COVID-19 pandemic.
"It will be an environment where people can come every day to take advantage of the free community meal that we've always served and do it in kind of a climate controlled environment," said Deacon Tom Roberts, president of Catholic Charities. "And the great thing is that the pavilion will also serve as a day shelter."
Catholic Charities hosts a daily meal from 10 a.m. to 11 a.m. for the homeless population in the area. This new pavilion will allow the organization to host 280 individuals at a time and serve around 1,000 during the meal period.
The 14,000 square-foot, open-air pavilion is made up of two large tents and sits on what used to be the parking lot next to the organization's administrative building. Guests will check in at the front gate and wait in a queue to be seated at one of 280 socially-distanced seats at tables arranged in the tents.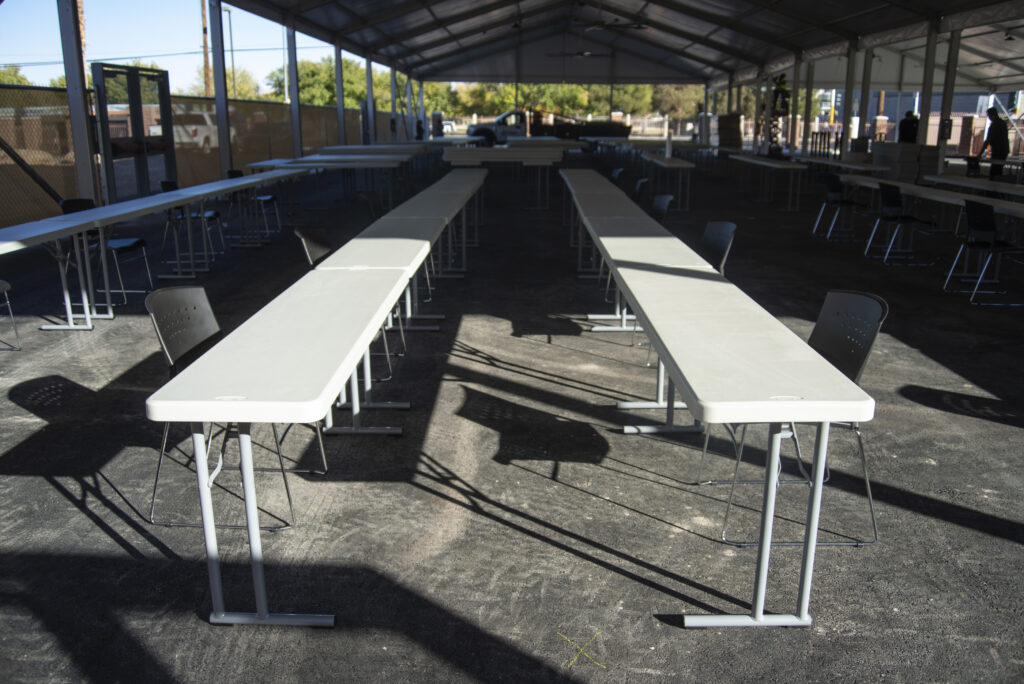 After the daily meal, staff will sanitize the area and then open the facility again to function as a day shelter until the overnight shelters open at 3 p.m. Previously, these services were provided through a dining room on the Catholic Charities campus.
The old dining room has been closed since March to help ensure the safety of the organization's kitchen staff and allow them to continue preparing food for Catholic Charities' Meals on Wheels program, which provides meals to 2,400 seniors each day in Southern Nevada.
"To protect those assets and protect those services, we had to shut down the dining room," Roberts said. "And when we went back to look at opening it, the capacity with social distancing was just de minimis."
In order to open the original dining room in a safe way, the organization will be forced to renovate, and even with those renovations they will be looking at a maximum capacity of 60 individuals for each meal. To solve the problem and reopen its facilities, the team decided it had to get creative.
"And so we said, 'what can we do to address the long-term issues of COVID?'" Roberts said. "So, we came up with this idea, I would call it sort of a tent on steroids."
Originally, the organization planned for the pavilion to be completed in December, but hoping to offer more services during cold winter months and also to be able to resume the annual Thanksgiving meal, leaders worked with the construction team to speed up the project.
"We asked them what they could do to get it done, so they did," Carmine said. "The weather is nice right now, but it's not going to be for too much longer."
The project has been primarily funded through a $2.1 million grant distributed to the organization by the City of Las Vegas from its CARES Act funds.
Regional funding shifts
The City of Las Vegas came under fire in October for its use of federal relief funds allocated through the CARES Act after it was found that more than 90 percent of funds had gone toward public safety payroll costs. Although Catholic Charities' new pavilion was funded through the project, the city did not utilize funding to assist organizations operating day shelters throughout the summer when temperatures were at their highest.
Seasonal day shelters and cooling stations are vital for homeless people in Las Vegas because of the danger posed by high summer temperatures. Heat is the deadliest weather event in the region, and the homeless population heavily falls into the demographic most vulnerable to it.
Older individuals and those with chronic health conditions are most at risk of heat-related health dangers and, according to a 2019 survey by Help Hope Home, more than 40 percent of homeless adults in Southern Nevada are more than 51 years of age and 41 percent reported having a physical disabling condition.
The population is also at risk as a result of increased exposure compared to individuals with homes and limited access to water and shade. Coroner data has indicated homelessness in multiple cases of heat-related deaths this year.
Most homeless shelters in the region operate at night, allowing individuals access in the evening to shower and sleep but requiring them to leave early in the morning. In order to help shelters provide day services to homeless individuals, Clark County has previously offered an Inclement Weather Grant, which provides additional funding to service providers to cover the costs of summer day shelters and winter night shelters. However, this year, the funding program changed.
The county advertised a request for qualifications in October 2019 which invited service providers to apply for a new funding system — one which would provide organizations with year-round funding and training that would help shelters align with a "regional goal of ending homelessness."
A county representative said that these changes were made to the funding system so that county funded providers could offer more on-site case management services.
"Our aim is to partner with service providers to wrap people in services that address the root causes of homelessness so we can help them transition to permanent housing and stabilization," Stacey Welling, a spokesperson for the county, said in an email to The Nevada Independent.
The previous funding system, which included the inclement weather program, was absorbed into this new funding method, which supported year-round programs providing "emergency shelter." Contracts for these shelters required staff to be available 24/7 but made no specifications about hours of shelter operations, operation of seasonal shelters, or even whether a physical shelter was required by the service provider.
HopeLink, for example, was funded through the program but does not have a shelter on site. Instead, their emergency shelter program provides hotel and motel vouchers to families who cannot stay in mass shelters.
Four providers were selected for the program in February 2020 — HopeLink, Catholic Charities, Las Vegas Rescue Mission and Well Care Foundations. Of those, only two — Catholic Charities and Las Vegas Rescue mission — operate on-site, low-barrier shelters. Well Care provides temporary housing for those admitted for substance and behavioral health issues and also transports individuals to other service providers with shelter facilities.
At the time of selection, only one of these providers, Catholic Charities, had plans to operate a seasonal day shelter through its dining room.
The Salvation Army of Southern Nevada applied for the program but was not approved. In prior years, the inclement weather grant is what allowed Salvation Army to operate both its summer day shelter and its winter night shelter. In a normal year, Salvation Army would operate the summer shelter from May 1 through Sept. 30, but without the weather specific grant available and without being approved for the region's new funding program, the organization was unable to open its facility in May.
Once the Salvation Army was able to re-open, the day shelter's capacity was still limited to comply with social distancing guidelines.
Looking toward winter
Roberts believes that Catholic Charities' new dining pavilion is the "beginning of the transformation" for the region that would enable it to better serve the homeless population, both because of the increase in capacity and because of the focus the city's new funding program has placed on transitional resources.
While heat is the most damaging weather event in the region, Roberts says not to discount the threat cooling weather poses to the city's homeless population.
"Even the wind can be devastating," he said. "And certainly when your homeless population gets wet. We know it doesn't rain a lot, but when it does rain that's like the worst thing because once you're wet, you're wet. There's nowhere to go."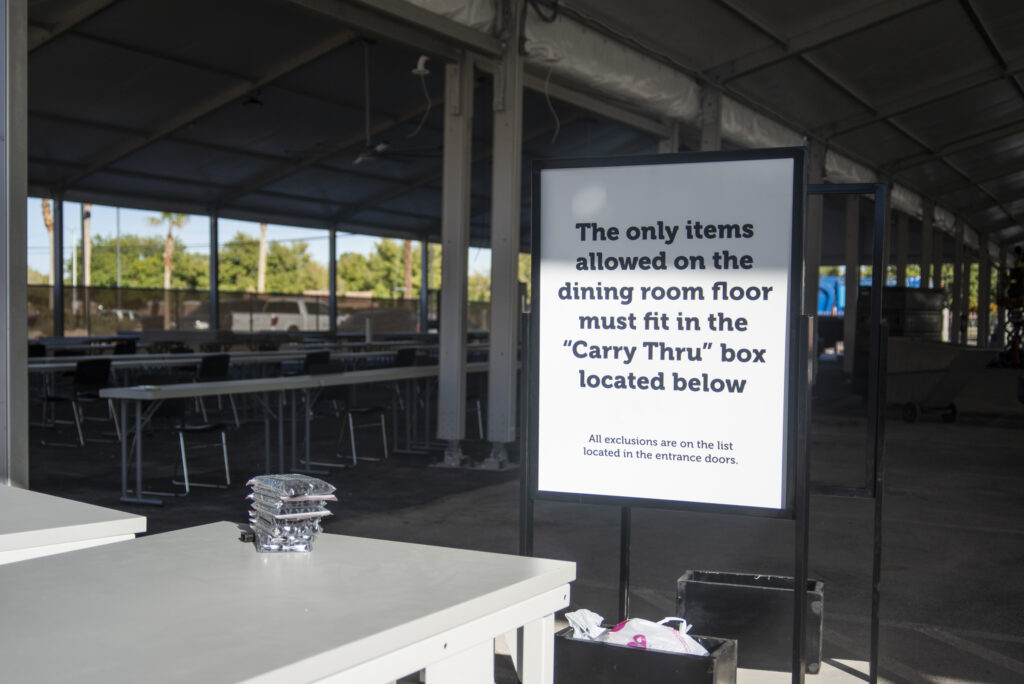 COVID cases have continued to rise in the state in the month since summer shelters closed their doors, and funding allocations have not been altered as service providers looked toward a cold — and socially distant — winter. The Salvation Army has been able to find alternate funding to enable the organization to run its winter shelter even without county grants, but will continue to operate at a lowered capacity, and Catholic Charities has opened its pavilion a month ahead of schedule
But with access to a daily shelter, even one partially open to the elements, where they can check baggage, receive a meal, and speak with staff about services, Roberts hopes that the area's homeless will be protected from the strain of the winter both physically and mentally.
"People deserve a chance to be able to be treated with respect and dignity, and that, often, is the first sign of hope," Roberts said. "The campus has to be an oasis of hope … We have this pavilion where people can get access to services. I think that brings the emotional and the anxiety level down."
Comment Policy (updated 4/20/2021): Please keep your comments civil. We reserve the right to delete comments or ban users who engage in personal attacks, use an excess of profanity, make verifiably false statements or are otherwise nasty. Comments that contain links must be approved by admin.