Clark County Commission candidate accused of campaign finance violations, says issues weren't 'on purpose'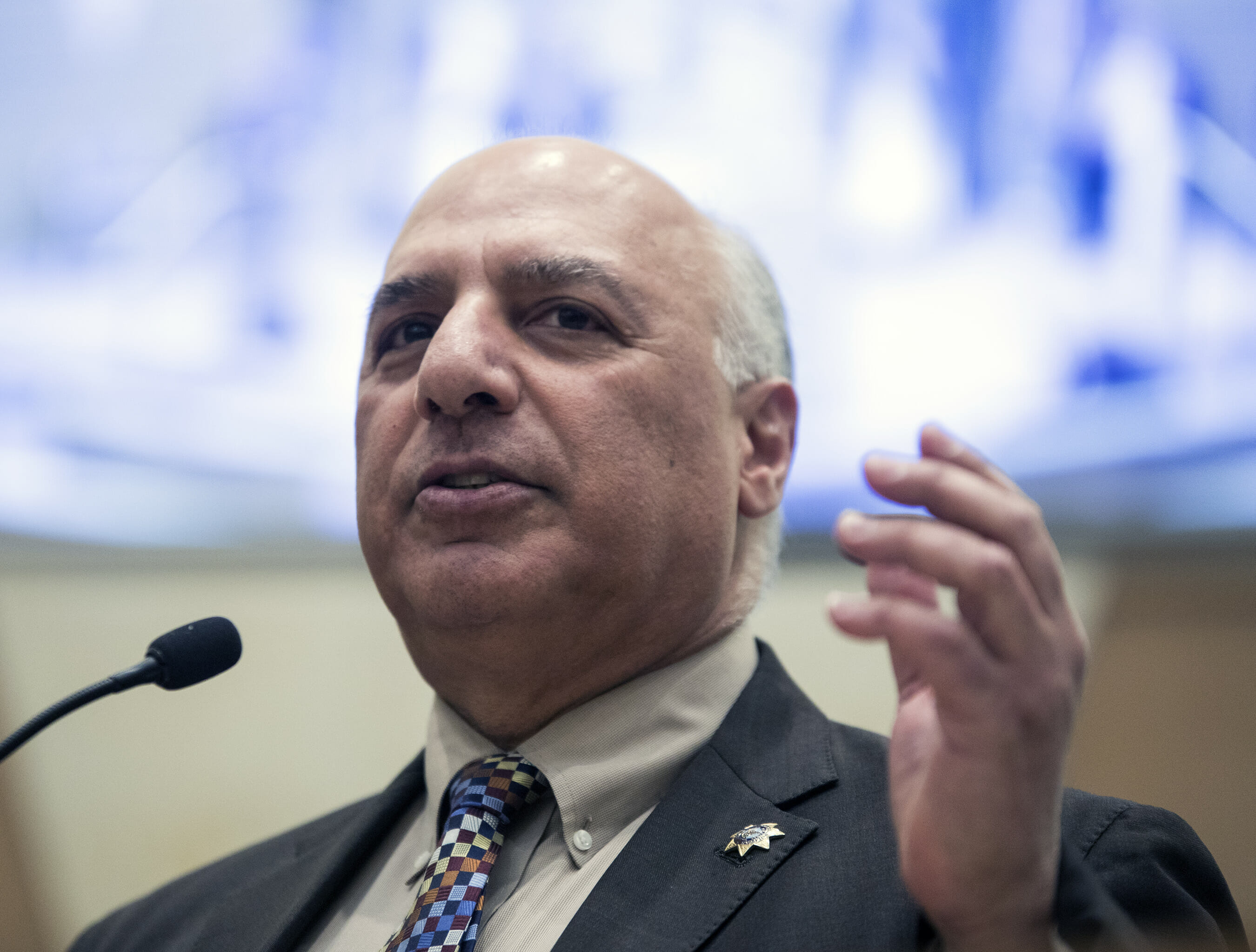 Democrat Ross Miller's Clark County Commission campaign has filed a complaint with the secretary of state's office accusing Republican opponent Stavros Anthony of "numerous campaign finance violations," but Anthony's campaign says they are correcting errors.
The complaint alleging illegal transfers and larger-than-allowed contributions comes a week before Election Day and brings a new twist to the race for the District C seat on the commission. Third quarter campaign finance reports were due for both candidates on Oct. 15, and Miller said his team noticed "issues" with his opponent's contributions when those came out.
"When I was secretary of state and chief elections officer, and I got those complaints, I would investigate them fully, and if we found violations, refer them to the attorney general's office for prosecution," Miller said on Tuesday. "And I think that's what any member of the public would expect to see."
Las Vegas City Councilman Anthony's campaign says that any violations that occurred in managing finances were just mistakes.
"None of [the issues in] Ross Miller's complaint, none of it's nefarious, none of it's on purpose, they're very simple things that we'll take care of immediately," said Lisa Mayo-DeRiso, Anthony's campaign manager.
The secretary of state's office declined to comment on the complaint, saying it was "under review."
The high-spending race is the only contest for the commission this year featuring well-funded candidates from both major parties. Both candidates have previously held high-profile office — Miller, son of former Gov. Bob Miller, was Nevada's secretary of state, and Anthony was chairman of the Board of Regents. Anthony was appointed mayor pro tem for the city of Las Vegas in July.
Miller's complaint pointed to two kinds of violations it said were made by Anthony's campaign: finance limits and transparency provisions.
The limit for contributions from a single donor to a campaign in a single election is $10,000, broken up into $5,000 for the primary election and $5,000 more if the candidate goes on to compete in the general election. A donor or candidate who knowingly violates this limit can be charged with a felony.
The first discrepancy the Miller complaint references involves two incidents of single donors contributing more than the $10,000 limit. A donor identified as "California Hope Trust" had three reported contributions to Anthony with two different addresses listed. The first donation was made in April 2019 under a Las Vegas address for $5,000. Two more contributions made using a California address occurred in July 2019 and August 2020, totaling $15,000.
The second donor was Ed Bozarth Nevada #1 Chevrolet, an auto dealer located in Las Vegas. Bozarth's first donation to Anthony was made in March 2019 for $10,000, and Bozarth made a second donation in September 2020 for $5,000.
Mayo-DeRiso says that Anthony's campaign will "correct that."
"Essentially, we'll have to return that money. And if the donors decide that they want to still support Stavros they would have to write checks from a different entity," she said. "And we're fine with that."
Miller's complaint said that returning the money wouldn't be enough as the campaign had already "reaped the benefits" of the excess funding.
"These funds were likely already utilized by his current campaign and Mr. Anthony and these contributors have already reaped the benefits of excess funds to illegally persuade voters. These offenses cannot therefore be simply corrected by simply requiring Mr. Anthony to return excess funds," Miller said in the complaint.
Another transaction that the Miller campaign submitted to the secretary of state for review was a $90,888 donation made by "Stavros Anthony for Congress c/o Battle Born Liberty PAC" in May 2019. The complaint claimed that the Stavros Anthony for Congress campaign fund "never existed," but Federal Elections Commission (FEC) filings show that Anthony's congressional campaign fund was converted into the Battle Born Liberty PAC after Anthony dropped out of the race for Nevada's Congressional District 4 seat in 2018.
The secretary of state determined in 2019 that candidates can legally bulk transfer campaign funds from federal accounts after former Rep. Ruben Kihuen transferred $160,000 from his former congressional campaign account to his Las Vegas City Council campaign account.
Kihuen's account had not converted into a PAC before the transfer, whereas Battle Born Liberty PAC is classified as a multicandidate PAC which would typically be subject to donation limitations.
Anthony's commission campaign also reported a $10,000 donation from Battle Born Liberty PAC in January 2019. Miller's complaint points out that multiple donors who made contributions to Anthony's campaign also made donations to the Battle Born Liberty PAC, which would, in total, put them beyond the $10,000 donation limit to Anthony's campaign.
Miller's complaint also accused the Republican candidate of "commingling" campaign funds based on a $100,000 transfer Anthony made from his "Stavros Anthony for City Council Account" in September 2020.
"He's obviously financed his campaign at this point with huge sums of money that are illegal, and the public should take that into account," Miller said. "Whatever remaining voters are left out there, this is the kind of activity they would want to look at."
The complaint also claimed Anthony was violating transparency procedures. Campaigns are required to list the name, address and date of donation for all donors who contribute more than $100. In Anthony's quarter three filing, 19 donors had addresses listed merely as "requested."
Anthony's campaign said that this was a "download error" and that they had already been in touch with the secretary of state's office to amend the filing to include those details.
This is not the first time Miller has openly criticized his opponent. After winning the Democratic primary in June, Miller referred to Anthony as a "Trump crony," and earlier this year he condemned the councilman on Twitter for saying that "violent rioters" should be held at Jean prison following a Black Lives Matter protest.
Mayo-DeRiso said that the complaint is a political move by the Miller campaign to get more attention in the final days before the election.
"It's seven days before the election. Ross Miller has had a pretty anemic campaign. We actually never see him out anywhere in the district while we're campaigning," she said. "And, you know, there's the old 'October surprise.'"
The Nevada Independent is raising $200,000 by Dec. 31 to support coverage of the 2024 election.
Tax-deductible donations from readers like you fund this critical work.
If you give today,your donation will be matched dollar-for-dollar.
Give + Get Matched
Featured Videos