Clark County School District unveils in-person learning dates for all grade levels, allows sports to resume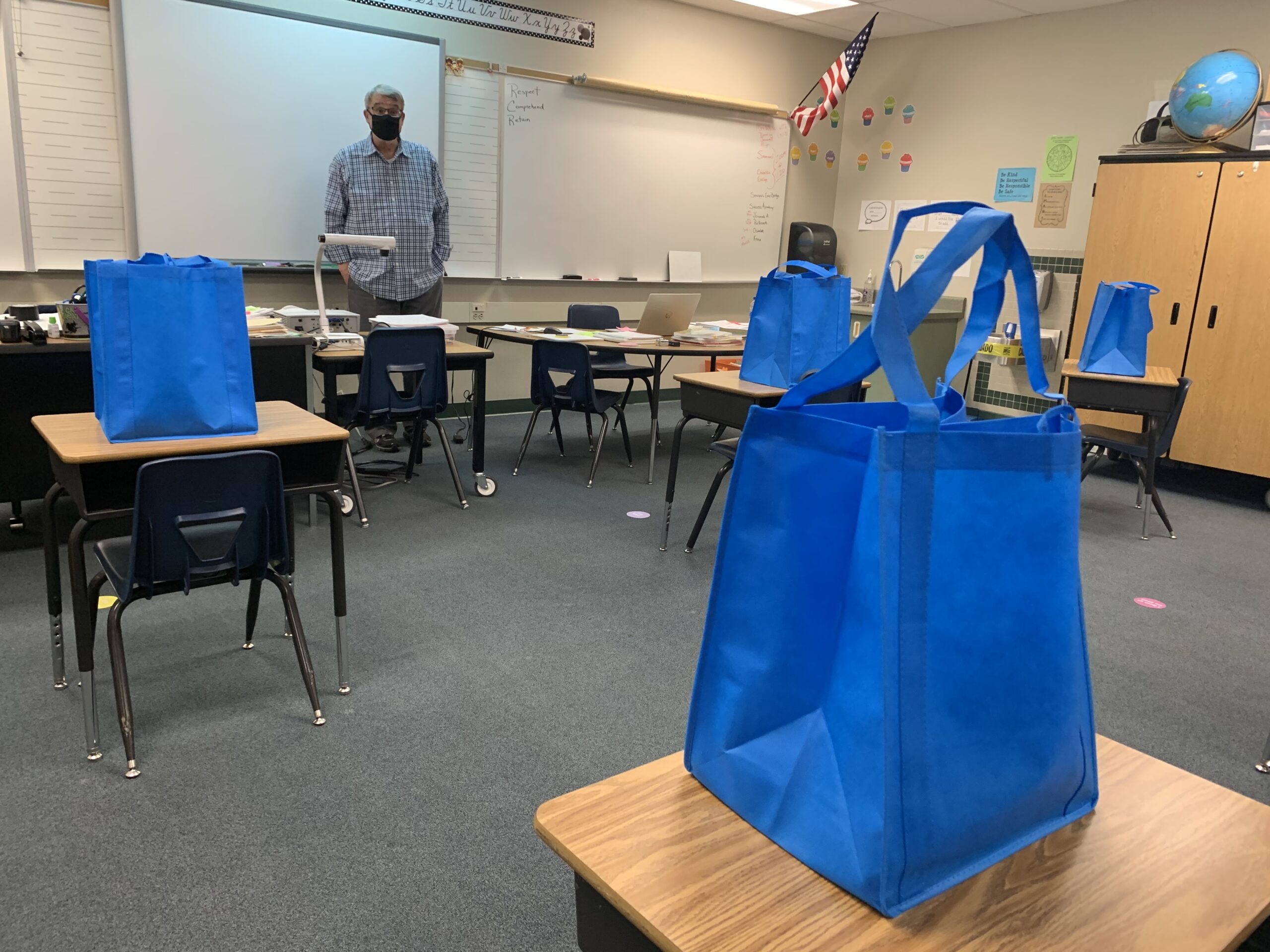 The Clark County School District has announced a staggered timeline for reopening schools that will provide some form of in-person instruction to all students by April 6.
Clark County Superintendent Jesus Jara, flanked by school board members and employee union representatives, delivered the news Wednesday afternoon outside Dean Petersen Elementary School, which is preparing for pre-kindergarten through third-grade students to return Monday. Jara credited Gov. Steve Sisolak's decision to ease restrictions — specifically allowing schools to increase capacity limits to 75 percent — with expediting the district's reopening schedule.
"Our kids are going to need this entire community to wrap their arms around them to get them to succeed," he said.
While school officials have been busy preparing to welcome back the youngest students on Monday, pressure has been mounting for the district to do the same for older children as well. Power2Parent, an advocacy organization, has planned a protest preceding the Clark County School Board meeting Thursday night.
The district's new plan, however, gives a light at the end of the tunnel for all students wishing to return to brick-and-mortar classrooms. Students attending the Clark County School District have remained in remote-learning mode since the emergence of COVID-19 abruptly shuttered schools statewide in mid-March last year.
The next eligible group will be students in grade 6, 9 and 12. Their start date under the hybrid model, which rotates between in-person and remote learning days, will be March 22.
Students in grades 7, 8, 10 and 11 will join them in the hybrid model on April 6. On that same day, all elementary students in pre-kindergarten through fifth grade will transition to in-person instruction five days a week.
Jara said the district chose the return order based on student needs. High school seniors have graduation fast approaching, he said, while grades 6 and 9 are critical transition years as students enter middle and high school.
Distance education will remain an option for all families. Based on family surveys and the number of pre-kindergarten through third-grade students enrolling in the hybrid model, district officials expect 60 percent of all students to return for in-person instruction, while 40 percent continue receiving their education virtually.
All district employees, meanwhile, will be back on campuses by March 15 unless they have an approved American with Disabilities Act (ADA) accommodation, Jara said.
District officials said they're ironing out memorandums of agreement with each employee bargaining group pertaining to the reopening plans. But Stephen Augspurger, executive director of the Clark County Association of School Administrators and Professional-Technical Employees, signaled support for the announced timeline on Thursday. He said principals have been working diligently, even before the timeline was established, to ensure a smooth transition for students.
"We think this is a good decision. It is well overdue. We're happy to see it," he said, before adding: "I think the problem is, of course, this whole year has been one of disruption and chaos through nobody's fault. It's just kind of what happened as COVID, the pandemic, unveiled itself and public employees tried to respond."
The superintendent also announced the return of student athletics and extracurricular activities. Practices for many spring sports — boys and girls track, boys and girls swimming, boys and girls diving, baseball, softball, boys golf and boys volleyball — can begin April 3. Competitions can resume April 16.
Additionally, the district has organized two time windows for intramural fall sports. The first, which runs from April 5 through May 1, is for football that will end with a one-hour intrasquad competition. The second, which runs from May 3-22, will include boys and girls tennis, boys and girls soccer, boys and girls cross country and girls volleyball.
No spectators will be allowed at any athletic events, district officials said. All coaches and adults involved must receive a negative COVID-19 test before activities begin.
Students in other extracurricular activities, such as marching band, theater and drill team, will be allowed to resume practices again as well.
As for graduation ceremonies and plans for the 2021-2022 school year, that remains a work in progress. Jara said his intent is to keep expanding in-person opportunities, not moving backward, as long as health conditions allow that to happen.
"My goal is we're in face-to-face instruction when we open school next year," he said.
This story was updated to include additional information from the press conference.
IndyFest is proudly sponsored by:
Comment Policy (updated 4/20/2021): Please keep your comments civil. We reserve the right to delete comments or ban users who engage in personal attacks, use an excess of profanity, make verifiably false statements or are otherwise nasty. Comments that contain links must be approved by admin.