Clark County school trustees remain lukewarm on district's reopening plan ahead of Thursday vote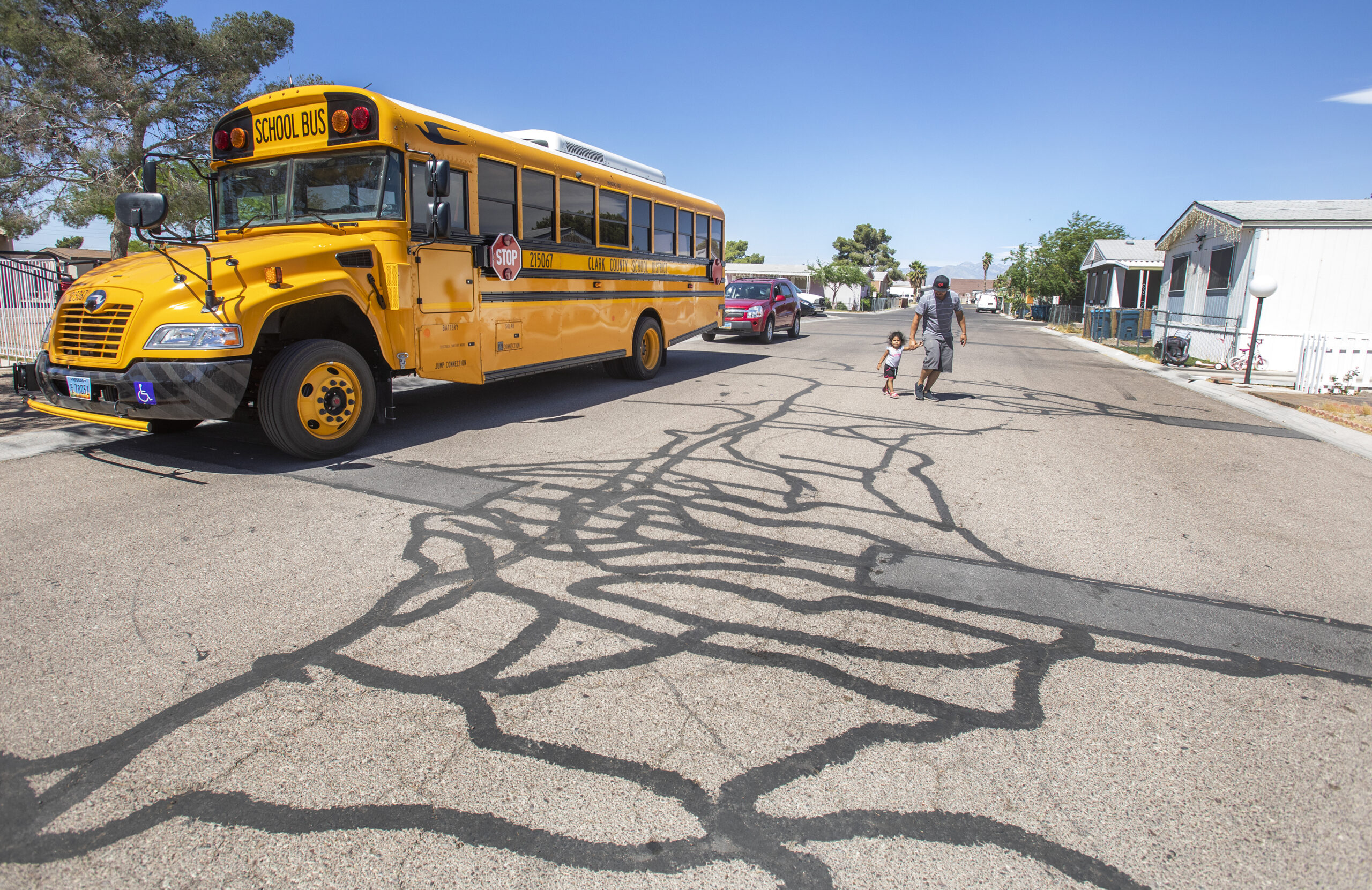 Trustees fired off question after question Monday night as they sought more answers about the Clark County School District's proposed reopening plan ahead of a vote later this week.
But a 96-page presentation and an hours-long discussion didn't seem to win over some members of the Clark County School Board of Trustees who have remained skeptical of its feasibility.
"A large majority of the important details in this have not been figured out," said Trustee Danielle Ford, who has been a vocal critic of the plan. "I don't think that it's responsible to approve it."
Trustee Irene Cepeda echoed that sentiment, saying she needs more information about everything from how face masks to teacher schedules would be handled. "The more we kind of dig into all these little things, again, the harder it is to feel comfortable approving something that still doesn't feel like it's fully there yet," she said.
The school board meeting came the same day Gov. Steve Sisolak revealed a proposal to shore up a $1.2 billion budget gap, which will affect K-12 education funding. A special legislative session is slated to begin Wednesday.
Many of the trustees' concerns revolved around child care, class schedules, safety protocols and children's social well-being under the reopening plan, which calls for students in class two days a week and working from home the other three days. Families also could opt to enroll their children in a distance education-only plan.
Clark County Superintendent Jesus Jara reiterated that the plan isn't ideal but is "sound" given the circumstances. The district must submit a learning plan to the Nevada Department of Education that complies with the state's social-distancing guidelines amid COVID-19. District officials touted the flexibility of the hybrid reopening model, emphasizing that it can pivot to full in-person instruction or distance education depending how the pandemic plays out.
Jara said a forthcoming parent survey will shed more light on how many families plan to send their children to school versus choose the distance-education option.
"This is part of a shell of a house that then we need to build individually once we know the specific school," he said.
For instance, if 20 percent of a school's students choose Cohort C — which is the distance-education option — then teachers could be designated for that purpose, said Deputy Superintendent Brenda Larsen-Mitchell. Those educators would provide remote instruction for students in Cohort C as well as virtual office hours for students in the other cohorts that attend school in person two days a week.
"I think Cohort C needs to be prioritized in a different manner and framed in a different manner because it seems in some of this that it's being treated as an afterthought," Board President Lola Brooks said. "And I think that we're going to heavily rely on a lot of students being in that cohort so we need to make sure that's a very high-quality education that we're providing — even if it's not a traditional model."
But even students who attend school in person two days a week will experience a very different routine. Playground equipment, for instance, will be off limits under the state's current reopening guidelines. Instead, district officials say recess would be retooled as "brain breaks" with activities such as yoga or outdoor excursions with social distancing.
Trustee Linda Cavazos expressed concern about limited social interactions for children. She asked whether students would be spaced 6 feet apart and not allowed to talk while eating out of fear the virus could spread.
"We don't have an answer for that at this point," Jara said, adding that school officials are discussing such issues with health authorities.
Child care — a primary concern among teachers and parents — remains a work in progress, too. District leaders have been meeting with city partners to discuss options, including new child care centers or allowing school facilities to be used for that purpose, but nothing has been formalized.
Trustee Deanna Wright suggested using convention space for child care during this time.
"I think our business partners with the convention center and the casinos need to step up and help out in this time of need," she said.
Trustee Linda Young, meanwhile, urged district staff to not forget about other essential employees, such as custodians and bus drivers, some of whom could be difficult to find before the pandemic hit.
"You can't do anything if we can't take care of the schools and we can't get the students on the buses," she said.
The school board has another virtual meeting Thursday evening, which is when trustees are scheduled to vote on the reopening plan. The start of the school year could be delayed if they do not approve a plan.
Under the district's proposed reopening plan, teachers would start Aug. 10 and receive 10 days of professional development before students begin instruction on Aug. 24.
The Nevada Independent is raising $200,000 by Dec. 31 to support coverage of the 2024 election.
Tax-deductible donations from readers like you fund this critical work.
If you give today,your donation will be matched dollar-for-dollar.
Give + Get Matched
Featured Videos