Clark County Superintendent Jesus Jara discusses his forthcoming strategic plan during a town hall meeting in Mesquite on Tuesday, Jan. 8, 2019. (Jeff Scheid-Nevada Independent)
Clark County superintendent offers first glimpse of strategic plan, says district won't deviate from it
January 9th, 2019 - 2:00am
Three percent of the Clark County School District's classroom teachers are not licensed.
More than 40 percentage points separate the highest- and lowest-performing student subgroups when it comes to English language arts, math and science.
Twenty percent of students surveyed recently say they don't feel safe in school. Another 20 percent are chronically absent. And roughly 5 percent of the district's buses are out of service.
These are some of the issues plaguing the nation's fifth-largest school district that Superintendent Jesus Jara seeks to fix. During a town hall Tuesday afternoon in Mesquite, he unveiled some goals and broad concepts that will appear in his forthcoming five-year strategic plan.
"What we all agree to is where we're going to go together," he said. "It's not my plan. It's not the board's plan. It's our plan."
The town hall marked Jara's second visit to Mesquite since he came aboard in June. But it was his first stop in a series of public meetings to gather community input about the strategic plan, which he will share Jan. 18 with the Clark County Board of Trustees. The board is expected to adopt a finalized version of the plan sometime next month.
Jara walked through four goals related to student success, two for teachers, principals and staffs, six for fiscal management and three for parent and community support that will be included in the strategic plan. The student success goals encompass efforts to boost achievement, close proficiency gaps among student groups, bolster academic access and equity and promote safe, student-centered learning environments.
The school district, he said, needs to pay special attention to graduating students who are ready to enter college as well as the workforce.
"If kids want to go to college, that is great," he said. "But we have a demanding workforce that right now we can't fill jobs in this community. It's OK for kids to graduate high school and go into the workforce. We need to help our students go into that workforce."
Jara didn't gloss over the more unsavory parts of his presentation. He paused for a second after describing the number of unlicensed teachers , who are either long-term substitutes or going through the alternative-route-to-licensure program. Teachers enrolled in the ARL program have a bachelor's degree in a non-education field and are working toward full licensure.
"The data is staggering, right?" he said.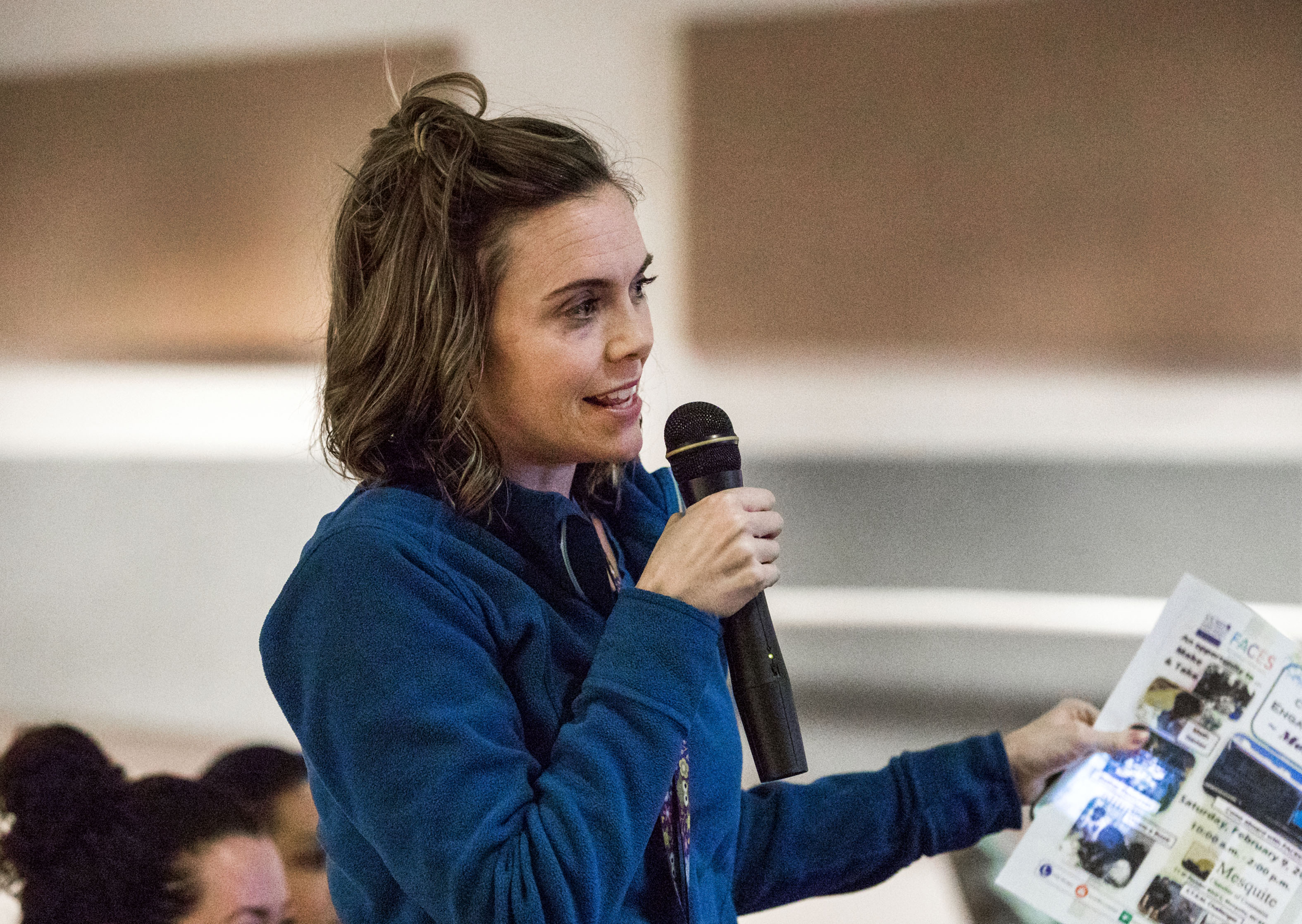 About 70 people, including teachers and parents, attended the Mesquite town hall. The growing city near the Utah border is home to 20,000-some residents, some of whom have complained about long-standing funding slights from the school district. The sentiment continued Tuesday afternoon.
Jacki Aughney, a first-grade teacher at Virgin Valley Elementary School, criticized a custom school district bus that's affiliated with the FACES (Family and Community Engagement Services) program. It was parked outside Hughes Middle School during Jara's visit.
"That's exactly the problem we have here with CCSD — funding programs like FACES," she told Jara during the meeting. "First time we have seen them in Mesquite, but yet we've been funding them all along … We need that money and we need that money to go into our classrooms."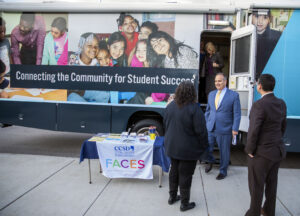 Larry Moses, a retired principal, bemoaned the loss of fine arts and vocational programs in Mesquite — a city once recognized nationally for the quality of its schools. He said funding for Mesquite schools was gradually reduced over time in a bid to help struggling urban schools in Las Vegas.
"What you're doing is taking your successful schools, destroying them and bringing your lower schools to mediocrity," he said after the meeting.
Jara didn't dispute some of the complaints. If Clark County's rural schools were grouped into their own district, he said it would be the fourth-largest rural district in the state. The superintendent said he would like to see Clark County's rural schools receive extra state funding because they deal with many of the same challenges facing schools in rural counties, which receive more per-pupil dollars from the state.
He doesn't expect the upcoming legislative session to end in a sudden financial windfall for the district, though.
"The Legislature is not going to give me the money I need this session," he said. "I can guarantee you."
Jara said his top priority is to see lawmakers implement a weighted funding formula, which would direct funding to students based on their needs. That funding issue needs to be solved ahead of any other requests, he said. Some estimates, however, have pegged full implementation of such a formula at $1.1 billion.
The goals mapped out in his strategic plan aren't reliant on new revenue streams, he said, noting the district needs to set lofty expectations and find a way to achieve them regardless of money.
Jara also said employees in every corner of the district — from teachers to maintenance workers — will be laser-focused on the strategic plan once it's finalized. He doesn't intend to deviate from it.
"If it's not in the plan, we are not going to do it," he said. "To me, it's noise and it wastes time and effort."
This story was updated to correct an incorrect number given by the Clark County School District. The number of unlicensed teachers is actually 3 percent.
Comment Policy (updated 3/21/19): We welcome reader comments on our stories. However, in keeping with our general policy of transparency, accuracy and accountability, we do not accept comments from anonymous accounts. Anonymous accounts are those without a valid first and last name. Any such comments will be deleted, and anonymous users will be blocked from commenting further. We also will block commenters who use offensive language, engage in personal attacks or state things that are verifiably false.
get our morning newsletter,
The Daily Indy
INDYMATTERS PODCAST
CAFECITO CON LUZ Y MICHELLE
@TheNVIndy ON TWITTER