Clark County teachers, families protest for changes to make schools safer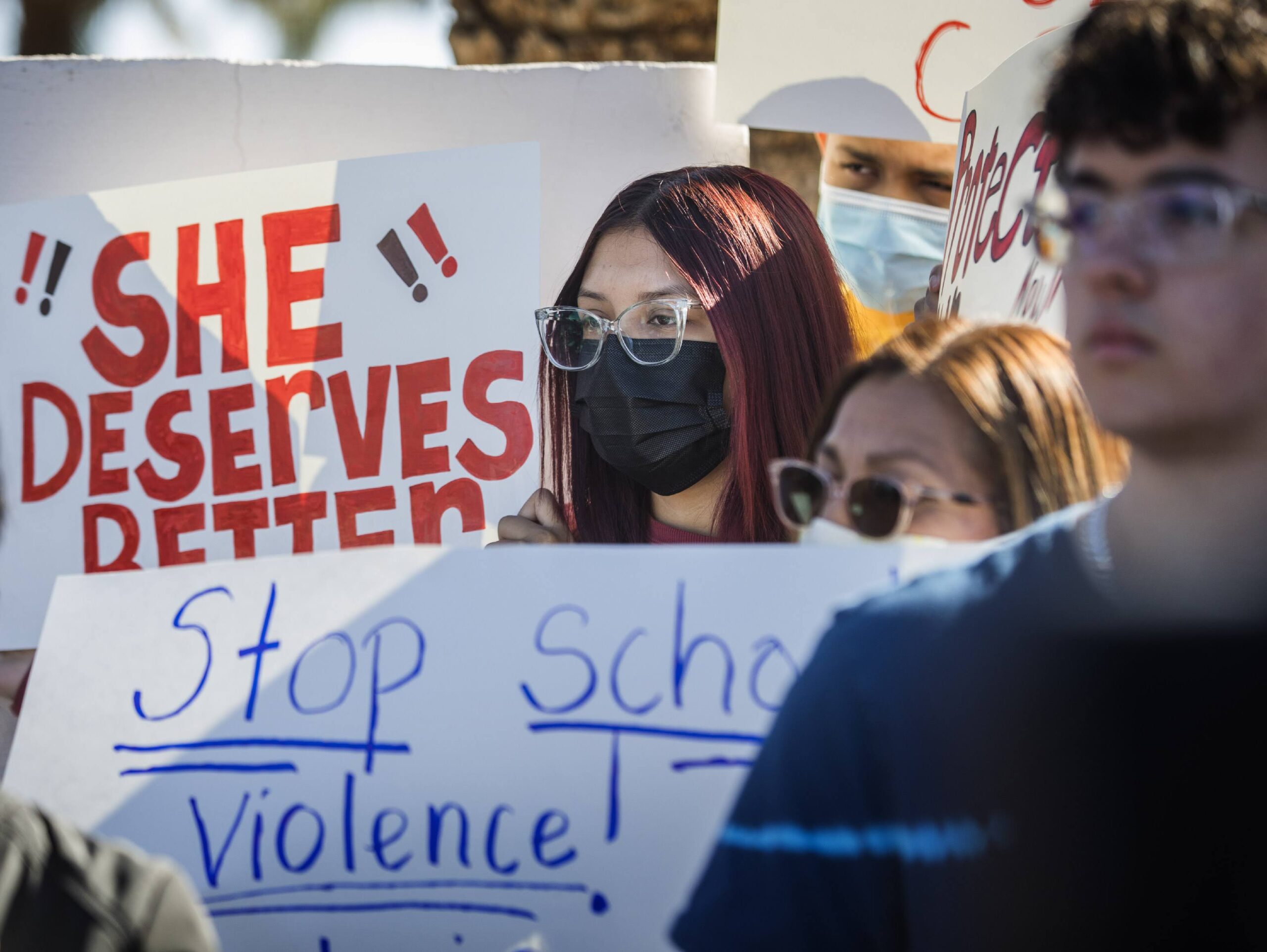 A violent attack on an Eldorado High School teacher by a student last week sent ripples of fear across Nevada's largest school district.
Nine miles away at Canyon Springs High School, teacher Jamie Tadrzynski said they saw colleagues crying at lunch and heard students say they're afraid of coming to school because they no longer feel it's safe.
"Our students, our staff, we all deserve better," they said Wednesday while participating in a protest. "Our campuses are not combat zones, and right now it feels like I wake up to go to a war I did not sign up for."
Tadrzynski was one of about 100 people who gathered Wednesday morning outside the Clark County School District headquarters to demand more be done to improve safety. The demonstration, which came a day after Clark County School District leaders announced measures they will take to increase security at school campuses, included a cross-section of teachers, parents, students and community members.
Their ideas for how this could be accomplished ranged from more discipline to improvements and training on the district's restorative justice practices that it adopted as part of a state push to offer non-punitive intervention and support to students and reducing reliance on expulsions.
The Wednesday protest was also meant to show solidarity with the Eldorado teacher who was brutally attacked last week by a student. The teacher is now recovering with family, and the student, who is facing more than a dozen felonies, was arrested shortly after the incident.
Eldorado sophomore Josie Ramirez is a student of the teacher who was attacked, and said she hopes more is done to keep teachers safe.
"They need more things to help them out quickly because what happened to her wasn't OK," Ramirez said.
Shadow Ridge High School teacher and Eldorado alumna Kalah Williams is one of those educators worried they could be the next district employee to be attacked. She said her campus of more than 3,000 students is understaffed, which leaves her feeling vulnerable.
"We need more people on site, we need more help," said Williams, who is also calling for more disciplinary actions and zero-tolerance approaches.
"The kids know that they can get away with everything and we need to go back to the zero tolerance because they're providing them so much grace that it's putting us in danger," she said.
Authorities have not said whether the Eldorado student has any previous juvenile criminal history.
Alandre Bass, parent of a Clark County student and husband to a Clark County teacher, is also in support of more discipline.
"Discipline is the foundation of education," he said. "If you don't have discipline in place, then … you don't have a structural education system in place."
The attack at Eldorado is just one example of the increased violence that has plagued Clark County schools since the start of the school year.
During a Tuesday press conference, Clark County School District Police Chief Mike Blackeye said this school year is shaping up to be the busiest in his department's 40-year history. So far, the department has received around 5,700 calls for service regarding fights, assaults, batteries and disturbances at Clark County school campuses.
Clark County Superintendent Jesus Jara on Tuesday announced steps he's taking to improve security on campuses, such as increased police presence at schools through the final six weeks of the academic year and updating and adding security cameras.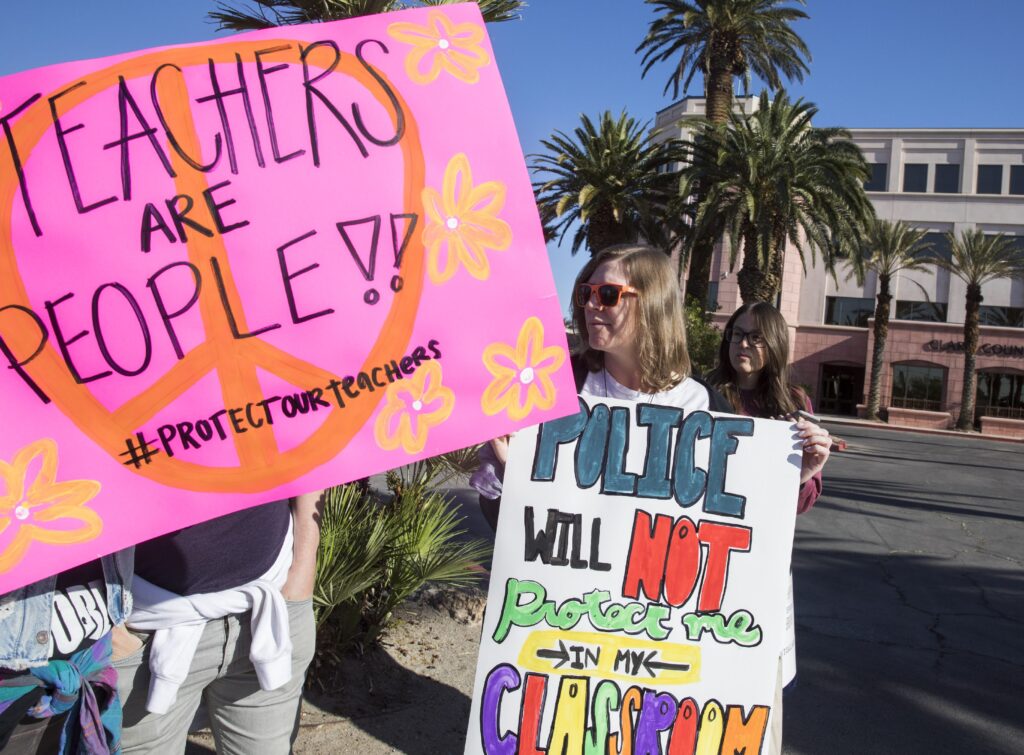 But Madelyn Sweet, a teacher at Northwest Career and Technical Academy, doesn't see increasing police presence as the right answer.
"Having police on campus means there's guns on campus … there's tasers on campus," she said. "So I just feel like violence on violence isn't going to solve the problem."
Sweet supports another idea Jara presented Tuesday to add a panic button-like feature to the microphone devices that teachers use. She would also like to see the district bring on more social workers and psychologists who can work with students.
Sarah Comroe, a Rancho High School teacher who spoke at the protest, presented several other ideas developed by dozens of parents, teachers and students. Their list includes short- and long-term efforts they would like the district to consider moving forward:
Ensure all intercoms, classroom phones and cameras are operational and monitored.
Immediately release a districtwide policy on what staff should do in case of an altercation or fight in a classroom.
Create a new restorative justice plan for the district with input from local organizations and experts on restorative justice.
Launch conflict resolution and restorative justice training for all students, staff, parents and community members.
Develop efforts to retain teachers and education staff such as pay increases for those who have worked through the pandemic.
Create or purchase and implement a social and emotional learning program.
"This list of goals might also be seen as a list of demands, and that's fine with me," Comroe said. "Society demands so much out of public education, and it is high time that public education demands a little too."
The Clark County School District declined to comment on Wednesday's protest and the list of ideas that attendees offered.
Regardless of what actions the district takes next, teacher and protest organizer Karlana Kulseth said it's too little, too late.
"We need the resources, like, yesterday," she said. "Short-term goals need to be met now. Long-term goals need to be met and talked about now."
The Clark County School District is on spring break this week. Students and staff return to school on Tuesday.
Correction: April 13, 2022 at 6:28 p.m.: This story was updated to correct the spelling of the name and pronouns for teacher Jamie Tadrzynski.
Correction: April 14, 2022 at 10:06 a.m.: This story was updated to correct the spelling of a teacher's name.
The Nevada Independent is raising $200,000 by Dec. 31 to support coverage of the 2024 election.
Tax-deductible donations from readers like you fund this critical work.
If you give today,your donation will be matched dollar-for-dollar.
Give + Get Matched
Featured Videos