Jara looking to improve school security, add 'panic button' after teacher attack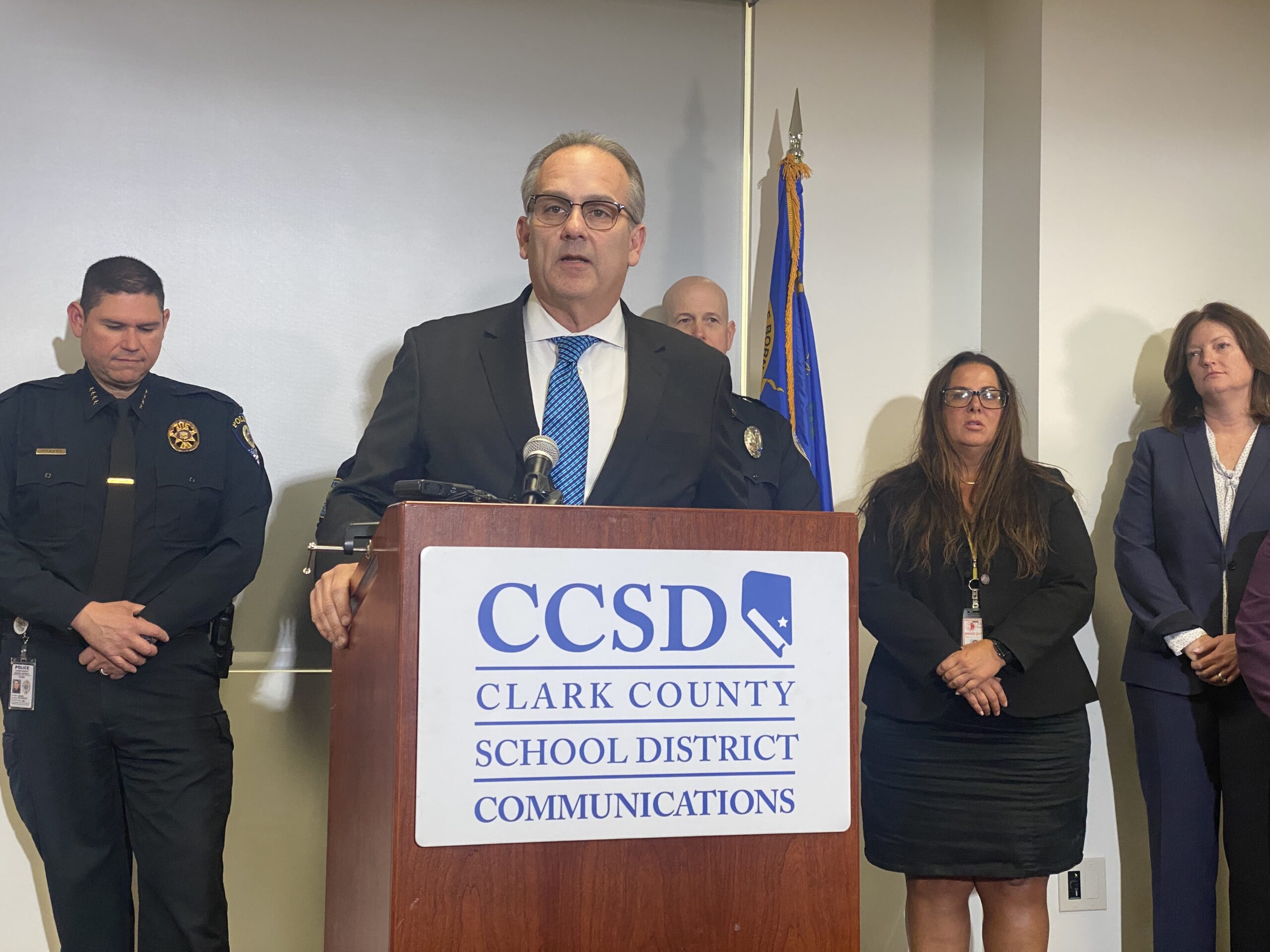 Days after a student was arrested and charged with attempted murder in connection with an attack of an Eldorado High School teacher, Clark County School District leaders announced technology upgrades to promote safety, including a panic button of sorts that will put classroom teachers more quickly in touch with administrators and first responders.
The district is also partnering with local law enforcement agencies to increase police presence at Clark County schools throughout the day.
The measures were announced Tuesday in a joint press conference by the district and the Clark County Education Association, the bargaining unit for the district's licensed educators.
The press conference comes a day before a planned Wednesday morning protest by the district's educators and community members in response to the recent incident at Eldorado as well as the rising violence seen at other Clark County schools.
Last week, a Cheyenne High School student was arrested after he was linked to a gun found on campus. In March, Desert Oasis High School was placed under lockdown for two days "due to a possible weapon on campus and fighting," the Las Vegas Review-Journal reported.
Exactly two weeks ago, Clark County Superintendent Jesus Jara held a similar press conference about school safety and announced that students involved in fights that cause major campus disruptions would be recommended for expulsion in effort to deter violent behaviors.
During Tuesday's press conference, Jara reiterated that violence won't be tolerated within Clark County schools.
"I'm going to do what I need to do to protect our educators and our students, and I'm taking the actions," he said.
Those steps include adding a panic button-like feature to the microphone device that teachers are already using in their classrooms. The safety feature will be rolled out in Eldorado and later expanded to other high schools, middle schools and, finally, elementary schools, Jara said.
CCEA President Marie Neisess also shared an update provided by the Eldorado teacher who was attacked. Neisess said the teacher — who has not been publicly identified — asked for privacy but wanted to correct the narrative of what occurred.
"There has been a narrative that this is a story of a distraught student coming in to discuss his grades and it escalated into an argument. Nothing could be further from the truth," Neisess said. "This was a brutal assault. The student came in with the intent to attack this educator, and did so from the word 'go.' There is only one victim here, and that is the educator."
Neisess and Jara have gone to visit the teacher multiple times since the night of the incident, and said she is now recovering with her family. The 16-year-old student is facing more than a dozen felonies, including attempted murder, and is being processed as an adult.
Neisess expressed her support for the measures the school district is taking in response to the incident, and called on the state to assist the district by funding all schools with the resources to improve mental health programs for their staff and students.
She also raised concerns about a 2019 law, AB168, which aims to provide alternative consequences for student misconduct rather than expulsion as part of an effort to reduce the school-to-prison pipeline. Neisess said that law prevents the district from swiftly expelling students for violent behavior or battery that caused bodily injury.
Instead, the law requires schools to provide a plan of action based on restorative justice before expelling a student and prohibits students age 10 and younger from being permanently expelled, with some exceptions.
Neisess called on lawmakers and Gov. Steve Sisolak to review that law and make appropriate changes.
"Let this day stand as the beginning of ending violence in schools," she said. "We know that this will not be a light switch, but we also know without these first steps, we will see more, and God forbid, worse stories like what happened last week in Eldorado."
The Nevada Independent is raising $200,000 by Dec. 31 to support coverage of the 2024 election.
Tax-deductible donations from readers like you fund this critical work.
If you give today,your donation will be matched dollar-for-dollar.
Give + Get Matched
Featured Videos