Kindergarten students at John W. Bonner Elementary School on Monday, Aug. 12, 2019.(Jeff Scheid/The Nevada Independent)
Class notes from the first day: new buildings, ongoing teacher shortages and a therapy dog named Ben
August 13th, 2019 - 2:00am
One school day down and 179 to go.
Students in Northern and Southern Nevada headed back to class Monday, kicking off another school year filled with hopes, dreams and inevitable challenges. In the Clark County School District, a perennial obstacle is simply finding enough teachers to fill classrooms.
The nation's fifth-largest school district hired roughly 1,400 licensed educators over the summer — bringing staffing up to 95 percent complete — but it still has more than 750 teaching vacancies. Clark County Superintendent Jesus Jara said 206 licensed educators who work in the district's central office have been deployed to help fill vacancies for the time being.
The district hasn't started a school year fully staffed since 1994, Jara said. Last year, the district had about 530 vacant teaching positions to begin the academic year.
"It's not an excuse, but it's an issue we need to address," Jara said, adding that the district is "working diligently" to fill the holes.
It's not just teachers who are in demand, though. The district has a shortage of 125 bus drivers, despite hiring 81 over the summer.
Even so, the superintendent said 97 percent of school buses were running on time Monday. The school district has enrolled about 322,000 students, although that number likely will fluctuate the first few weeks.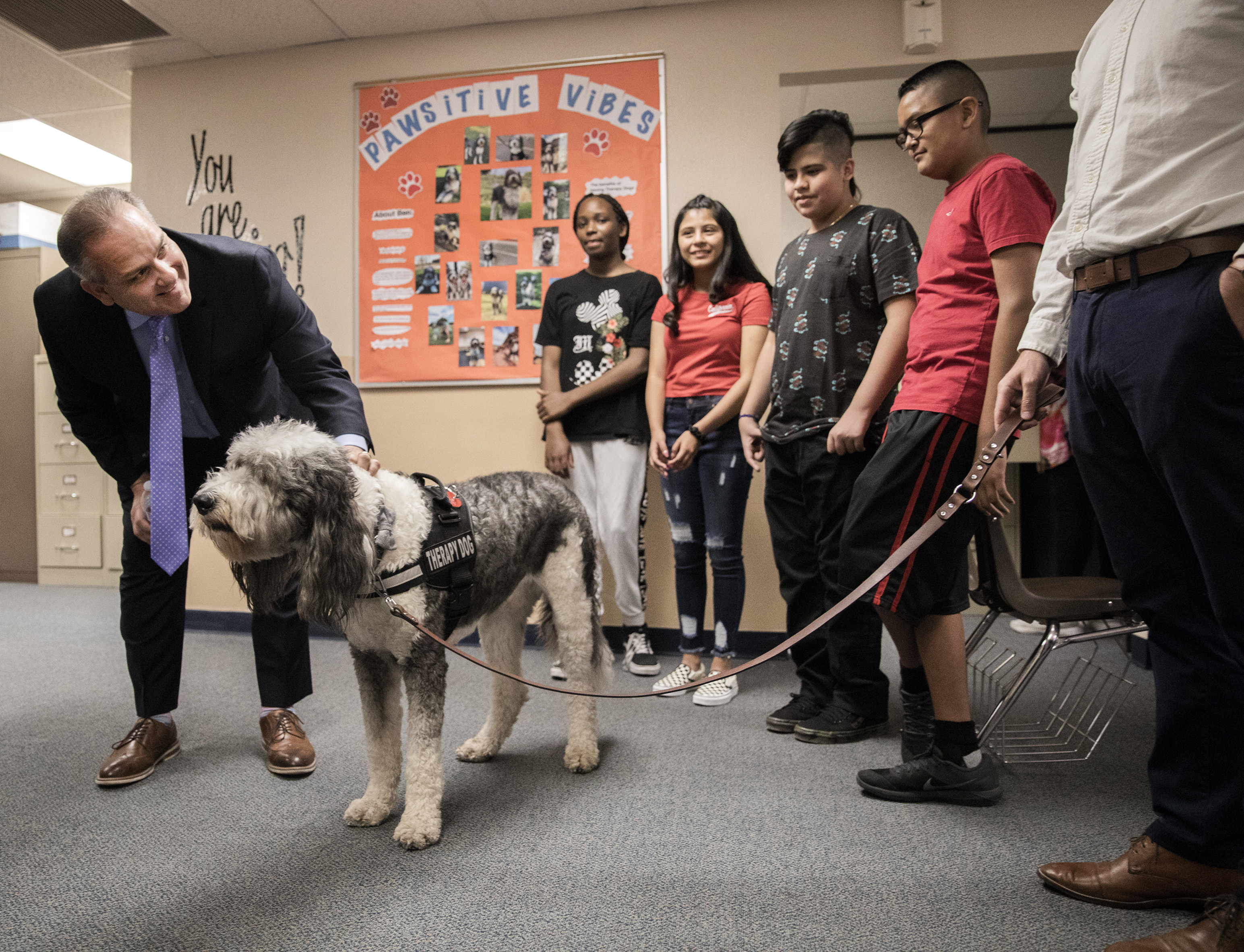 Meet Ben: As students filtered into a J.D. Smith Middle School classroom on Monday, a four-legged friend named Ben (short for Benjamin Franklin) greeted them. Wearing a vest announcing his role — therapy dog — the Sheepadoodle calmly accepted every pet and nosed around for any available treat.
James Freeman, a behavioral specialist, said he hopes Ben's campus presence will help students open up and share their feelings. The North Las Vegas School is transitioning to the restorative justice model, which keeps suspended students in school and held accountable via a peer group. 
"If you're not comfortable talking to me, talk directly to him," Freeman said, motioning to Ben.
Freeman said suspended students will receive instruction in the school's student support center, followed by restorative justice sessions in the afternoon. And Ben, the fuzzy-haired canine, will be in school at least once a week assisting.
Principal Henry Rodda said the on-campus support center is designed to praise students making positive choices and redirect those who have stumbled. 
New places and spaces: Kindergartners at Bonner Elementary School squatted on pillows or sat on tiny chairs as they embarked on a first project — drawing self portraits.
Their room, decorated out of their teacher Katie Rios' own pocketbook, features a cozy reading nook surrounded by plants, a tiny table topped with organized crayons, a couch facing an interactive whiteboard and other learning areas. The flexible seating options define the spacious kindergarten room, which sits in a new addition at Bonner Elementary School.
The 22-classroom addition is able to accommodate a little more than 400 students, easing overcrowding at this western valley school. Two other elementary schools — Goldfarb and Katz — also opened with classroom additions this year.
The Clark County School District also debuted two new elementary schools — Abston in the southwest valley and Jenkins in the eastern valley — and three replacement buildings for Ullom, Griffith and Twin Lakes elementary schools.
The Washoe County School District has grown, too. The Reno-area district opened three new schools this year — Desert Skies Middle School, Sky Ranch Middle School and Nick Poulakidas Elementary School.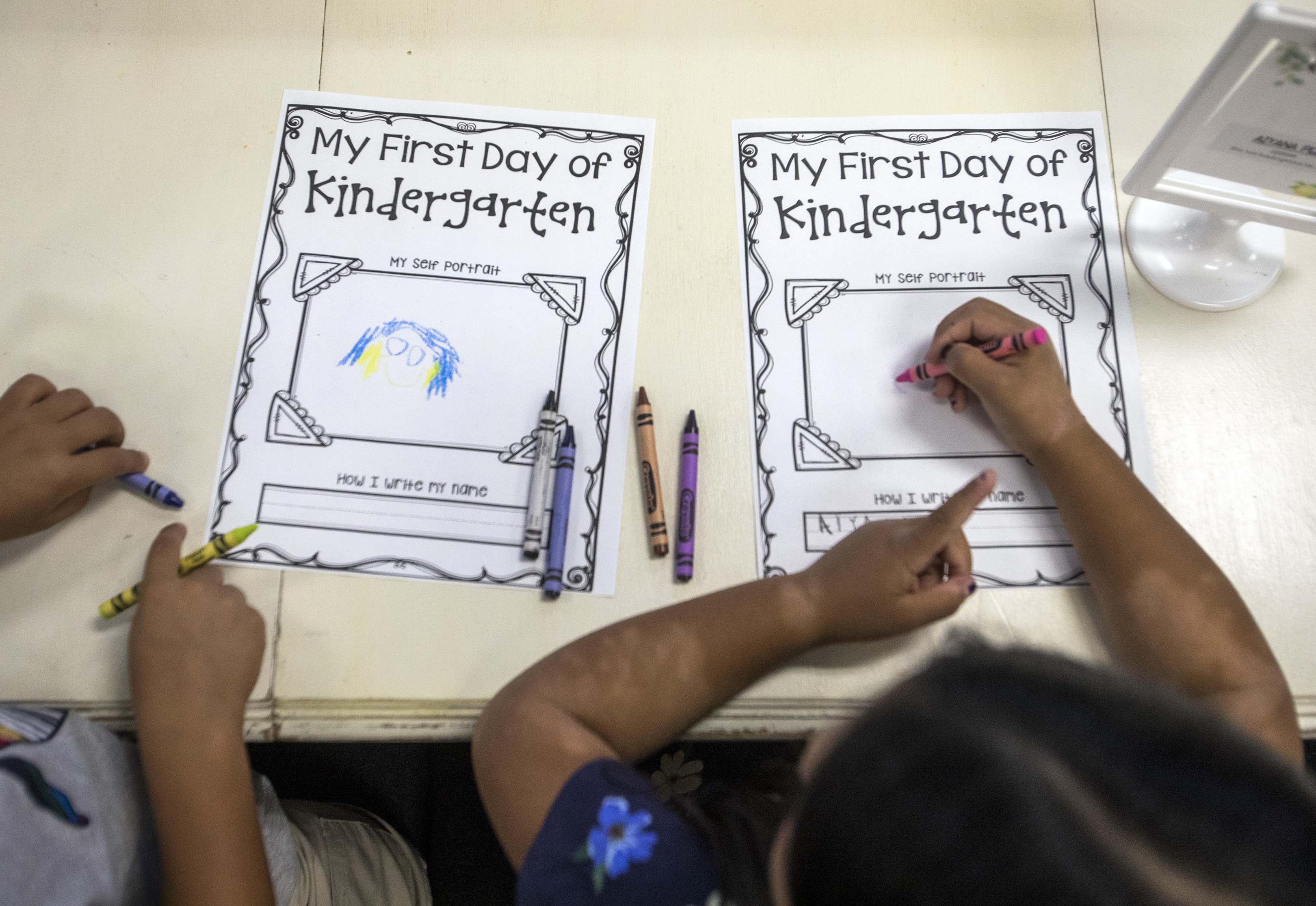 Principal on leave: David Wilson, principal of Eldorado High School, was placed on leave last week while the district conducts an administrative investigation.
District officials said Wilson, a 28-year veteran of the school district, was assigned to work at home, effective Thursday. A district spokeswoman declined to comment on what triggered the leave and investigation.
Wilson, who has been Eldorado's principal for four years, said he was notified by his supervisor but has no other information.
"I have no idea what it is," he said. 
During the summer, Wilson was one of the most vocal critics of Superintendent Jesus Jara's plan to remove deans from middle and high schools. Jara ultimately reversed his decision, reinstating the roughly 170 dean positions. But Wilson, the past president of the administrators' union, said repairing the eroded trust caused by the dean situation would be difficult. 
"Once trust is broken, it's nearly impossible to bring back," he told The Nevada Independent last month.
Wilson said he's "not too worried" about the investigation because he hasn't done anything criminally wrong. 
Superintendent search: The Washoe County School Board of Trustees will discuss Tuesday how it wants to proceed with selecting the district's next superintendent.
The superintendent search is an agenda item for the school board's regular meeting. Trustees will consider everything from a hiring timeline and desired qualifications to the interview process and scope of the search. 
The agenda item includes a draft proposal request that seeks a search firm or consultant to help with superintendent hiring process. Other documents indicate the district hopes to have a new superintendent in place by July 23, 2020 — before the start of the 2020-2021 school year.
The school board terminated former Superintendent Traci Davis in July. Her ouster was related to leaked confidential information. Davis, however, adamantly denied any role in leaking the information during a special meeting, where trustees voted 6-1 to terminate her for cause.
Apprenticeship awareness: The Clark County School District has launched a website that officials view as a one-stop shop for students interested in apprenticeships.
The site includes information about apprenticeship opportunities in the trades, medical and information technology fields. It's the latest effort to drum up awareness about high-demand careers that don't necessarily involve a college degree. The site notes that more than 15,000 open construction jobs exist and some apprenticeships could lead to salaries exceeding $100,000.
Martin-Harris Construction President Guy Martin joined Jara for a news conference at Southeast Career Technical Academy (SECTA) to announce the apprenticeship portal. He said society needs to bring back the "nobility" of careers in the trades, which have suffered from too few workers in recent years.
"Our industry has a responsibility to change its presence, if you will, in society," he said. "We have to make construction a career and not an option."
SECTA students enrolled in the construction technology program praised the hands-on nature of their learning experience, which last year involved building a shed. But will it translate to a career?
"I might do construction, but I'm still figuring it out," said Alex Silva, a junior.
Stories
Candidate Trackers
Endorsements, Ads, Policies, Visits
& More
visit now
Comment Policy (updated 10/4/19): Please keep your comments civil. We reserve the right to delete comments or ban users who engage in personal attacks, use an excess of profanity, make verifiably false statements or are otherwise nasty.