Climate change threatens Great Basin waterbirds, a 'canary in the mine' for healthy lakes, wetlands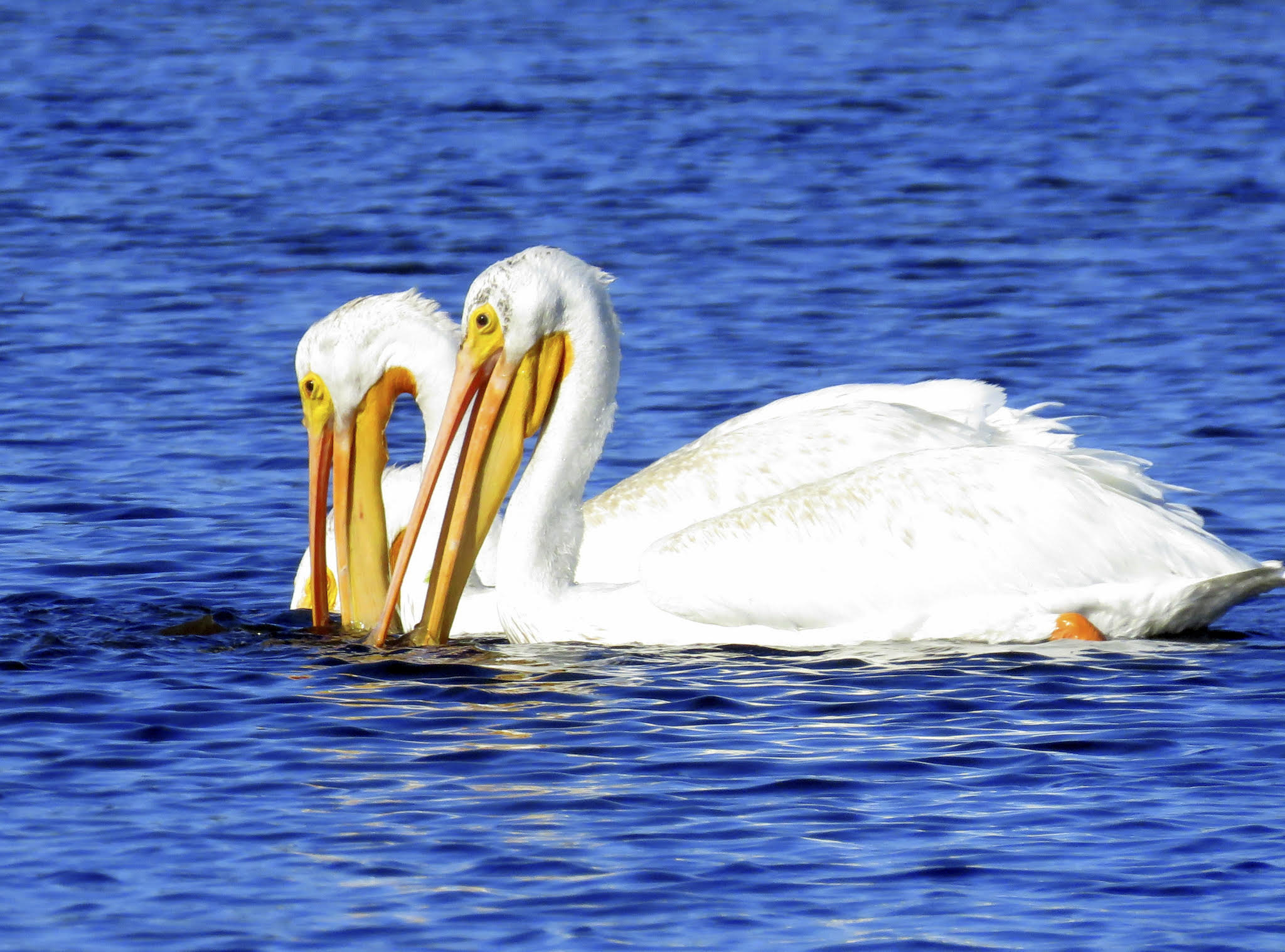 As snow dusts the Great Basin, a network of peaks and valleys that occupies most of Nevada, water flows into the wetlands and terminal lakes that dot an otherwise arid region. These precarious supplies of water — sensitive to human disturbances — play a key role in the annual migration and breeding of birds.
Since the early 1900s, diversions for cities, farms and ranches have changed the amount of water that makes it into these lakes, which form part of the Pacific Flyway, a Western migration path for waterbirds. Now researchers report that they are facing a new threat: climate change.
As warming temperatures change precipitation dynamics and snowmelt patterns, even less water is expected to flow into Great Basin wetlands and lakes, which could imperil several bird species. A study released this month in Scientific Reports showed that the footprint of climate change was already visible in the Great Basin. It concluded that in five of eight species with declining populations, an increase in temperature was contributing to a decline in waterbirds.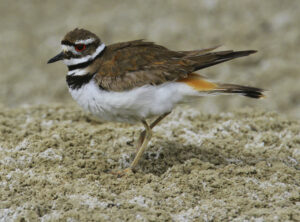 "Recent climate change is affecting an entire landscape of terrestrial and wetland ecosystems in a complex manner," the report found. "As the mix of wetlands shifts towards more saline and fewer freshwater wetlands, waterbirds experience increasing water stress. Together, these factors result in degradation of a continental migration route and important breeding area."
Susan Haig, the lead author, an emerita scientist at the U.S. Geological Survey and an Oregon State University professor, said "birds are like the canary in the mine" for the health of water.
"Humans should be very attentive to how birds are responding to water because it's right in their backyard and that's the water they use too," Haig said in a phone interview last week.
Although the study included wetlands in California and Oregon such as Mono Lake and Lake Abert, Haig said several wetlands in Nevada provide crucial habitat for birds at various points of their life cycle. Eared grebes are known to stop at Pyramid Lake, the terminus of the Truckee River northeast of Reno, on their migration path. Other water birds stop to breed at Walker Lake near Hawthorne or rest on their migratory path at the Stillwater National Wildlife Refuge near Fallon.
But climate change's impacts are not even — or necessarily harmful — for all species, at least in the short-term. The study found some species, such as the Black-necked Stilt and the Sandhill Crane, responded positively to recent climate change from 1980 to 2015, the period the study looked at. Still, the authors warned that climate change would ultimately stress "all species."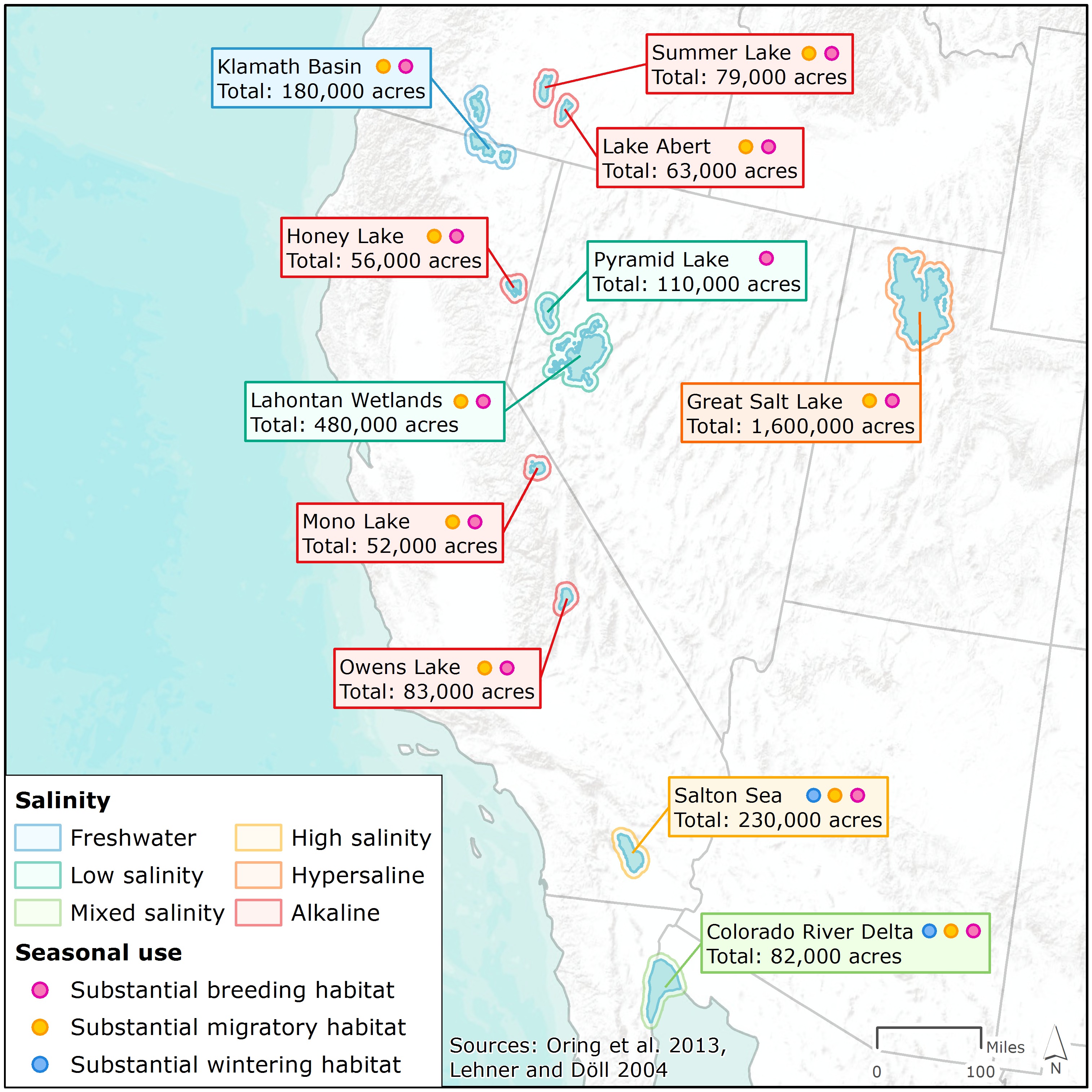 In some parts of their life cycle, migratory birds and more stationary birds required saline wetlands. But it's a careful balance. If the water is too saline, it could harm the bird's ability to hunt for prey. This is a central issue in Pyramid Lake, as historic diversions from the Truckee River left the lake at such a low elevation that salinity concentrations became deadly for fish, including the threatened Lahontan cutthroat trout, Nevada's state fish, and the Cui-ui.
"If the Great Basin is too salty and too hot, [the birds] have no place to go," Haig said.
Haig was concerned that changes to Great Basin wetlands, where water supplies are already limited,  could alter the entire Pacific Flyway migratory path, which stretches out for thousands of miles from Alaska to Patagonia. The report said some birds need to stop in the Great Basin.
"Without alternative breeding or migration sites to absorb these birds, bypassing the Great Basin on migration and moving further south would not be energetically possible," the report said, noting that the next closest stop would be the Salton Sea in Southern California, where fish and birds have also disappeared with less agricultural runoff from the Colorado River.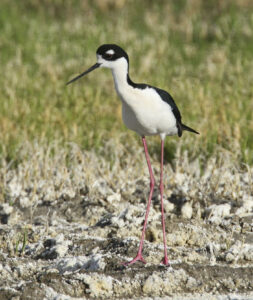 Chad Wilsey, a vice president of conservation science for the Audubon Society, stressed the importance of maintaining a variety of freshwater and saline water supplies. He said that his organization is doing work to bolster research into the Lahontan Valley wetlands near Fallon.
"If you live in the Intermountain West, you live in a very arid climate," he said. "And these habitats are an oasis for life, so we have a responsibility to try to preserve those."
He said the paper makes a "compelling argument" for the role that climate change plays in stressing bird populations. But it is not the only issue at play. The human use of water, mainly through diversions from rivers, over the past century have also affected bird populations. As water is used by cities, farms and ranches, less water replenishes natural lakes and wetlands.
In addition to conservation, groups in Nevada have aimed to restore lost habitat by challenging water rights in court or eventually reaching deals, like the Truckee River Operating Agreement.
Some of those efforts are ongoing. In the Walker Basin, water use from upstream tributaries led to significant declines in the elevation of Walker Lake — the terminus of the Walker River and a site for migratory birds — that Mineral County has asked a court to force the state to intervene. Such a move would require that minimum flows of water reached the lake to sustain its habitat. 
At the same time, the Walker Basin Conservancy is leading a program created by Congress to voluntarily acquire upstream water rights with the goal of keeping more water in the river. 
The effects of climate change on birds in Nevada are not limited to the Great Basin. Last year, a report from UC Berkeley found that 39 of 135 species in the Mojave Desert had become less common since the early 20th century, The Arizona Republic reported. Researchers attributed the species decline, in part, to drying and warming patterns. There is less rainfall in the Mojave Desert, which overlaps with part of Southern Nevada, and aquifer-fed springs have gone dry.
On the edge of the Great Basin, the Nature Conservancy is working on projects to bolster the Amargosa River near Betty. In February, the group purchased a 900-acre ranch at the river's headwaters, adding to its sizable ownership of land in Nye County, the Review-Journal reported.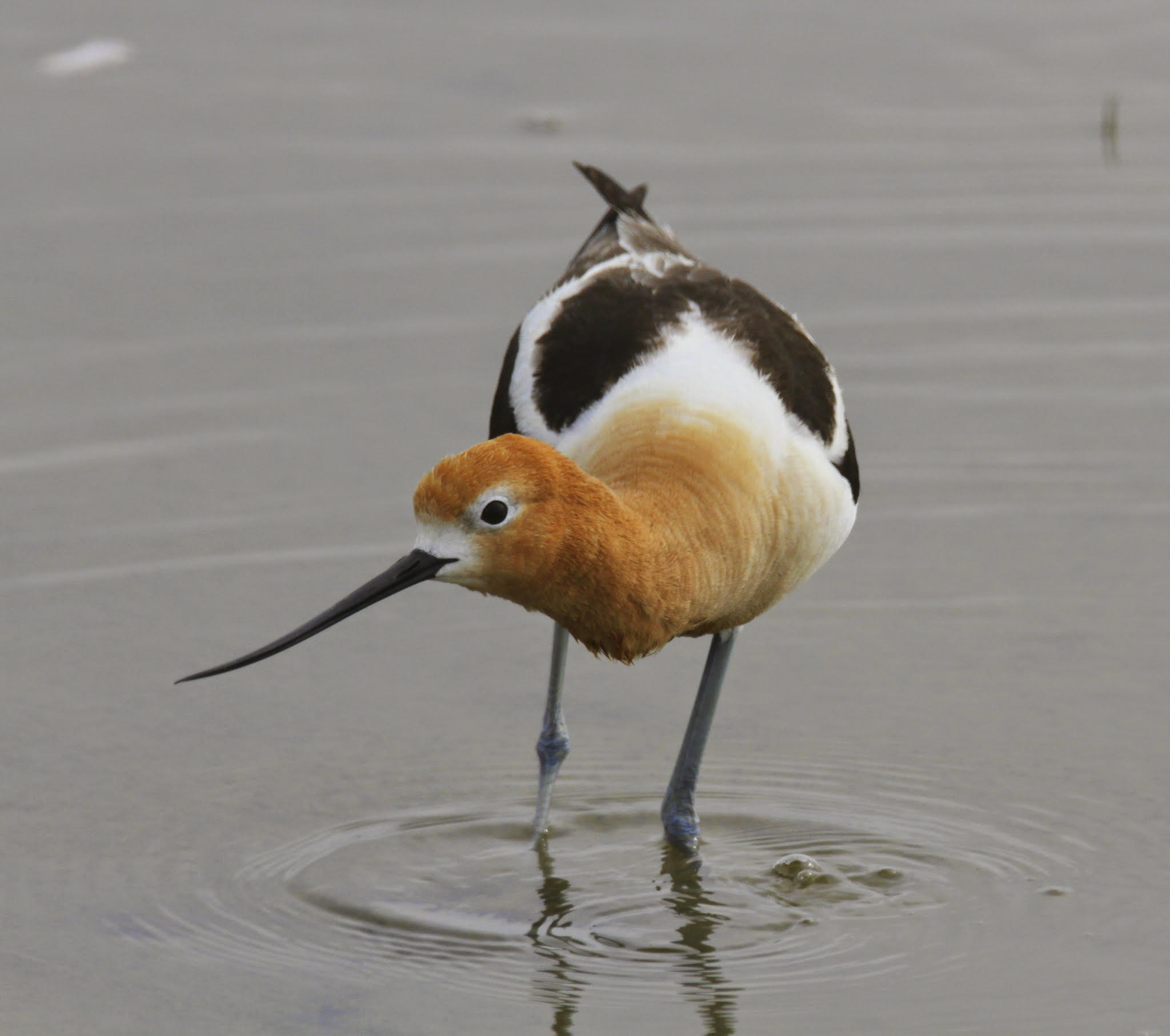 In removing water-hungry invasive species such as the small tamarisk tree, the Nature Conservancy hopes to improve the riparian habitat for birds such as the Southwestern willow flycatcher. Michael Clifford, a conservation scientist in the Southern Nevada office, said the projects in Amargosa Valley, could also benefit migratory birds, which can sometimes be seen from Las Vegas.
"Even if you're not a major birder — and you happen to see them fly over and you see them at Sunset Park — I think it's a really nice thing," he said. "It's a great experience for folks."
Sean Murphy, a co-author of the paper who currently serves as the state ornithologist for the Pennsylvania Game Commission, hoped the paper would bring more attention to the Great Basin, where he said more research should be done to understand climate change.
"One of the pieces that we really lean into at the end of the paper is that it really seems to be an underserved ecosystem in terms of research addressing climate issues," he said. "We're really excited to have this out there and [for it to] serve as a platform to build off of."
Updated: This story was updated on March 28 at 7:53 a.m. in captions and in the article to clarify whether certain species are waterbirds or shorebirds.
The Nevada Independent is raising $200,000 by Dec. 31 to support coverage of the 2024 election.
Tax-deductible donations from readers like you fund this critical work.
If you give today,your donation will be matched dollar-for-dollar.
Give + Get Matched
Featured Videos