Congressional Democrats maintain fundraising advantage in final stretch before election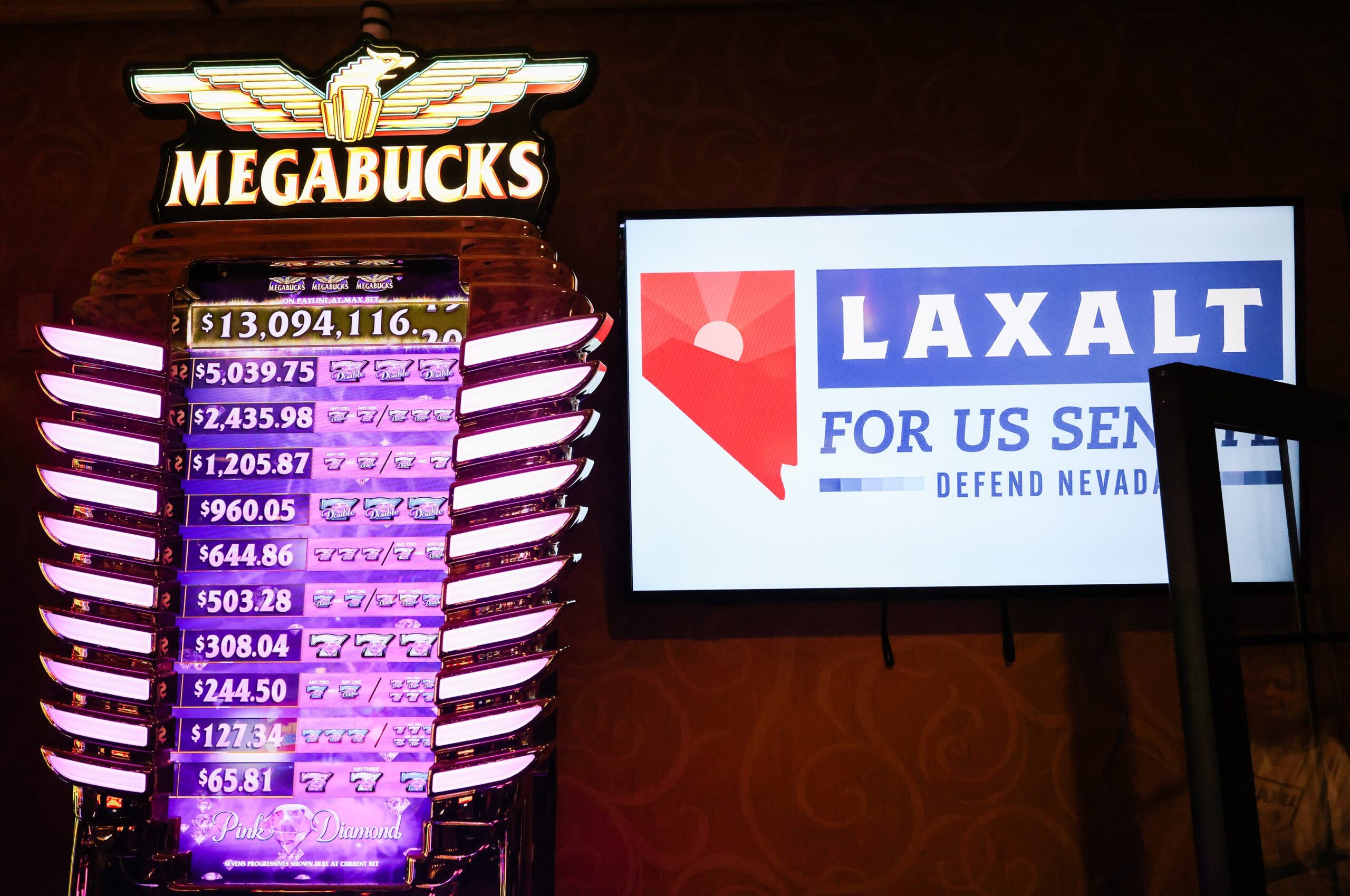 Through the first three weeks of October, Sen. Catherine Cortez Masto continued her record fundraising streak and brought in millions of dollars at a breakneck pace, while the state's vulnerable Democratic incumbents further depleted their cash reserves to defend their seats.
Cortez Masto reported raising nearly $9.1 million from Oct. 1-19 — a period that ended just three days before the start of early voting in Nevada and that is defined by the Federal Election Commission (FEC) as the pre-general election period for campaign finance activity. During that time, she and Nevada's three Democratic House representatives collectively spent two-and-a-half times as much money as their Republican opponents ($10.7 million to $4.1 million).
The difference in candidate spending has helped give Democrats a leg up on the airwaves, as they compete with dozens of well-funded outside groups for room in the extremely crowded Las Vegas television ad market.
But those outside spenders, including several conservative super PACs, have helped even the playing field by pouring in millions of dollars in attack ads. Republican challengers are polling evenly with or just ahead of Democratic incumbents in recent surveys of the state's top congressional races.
The Congressional Leadership Fund, a super PAC linked to House Minority Leader Kevin McCarthy (R-CA), has reported spending more than $16 million across Congressional Districts 1 and 3, which are both rated as "toss-up" races by the nonpartisan Cook Political Report. That's significantly more than those district's incumbents, Reps. Dina Titus and Susie Lee, have spent in this election cycle.
Below, we break down campaign finance numbers from the final fundraising stretch before Election Day, including a look at some data from the days following the pre-general election period. Between two and 20 days out from Election Day, candidates for federal office are required to notify the FEC within 48 hours of receiving any contributions of $1,000 or more.
The Democratic advantage in fundraising
During the pre-general election period, Nevada's congressional Democrats continued the midterm election cycle trend of outraising their Republican opponents.
From Oct. 1-19, Cortez Masto raised more than four times as much money as Republican Senate candidate and former Attorney General Adam Laxalt, bringing in $9.1 million to his $2.2 million.
Her big fundraising win was fueled by a massive number of small-dollar donations, as Cortez Masto brought in $3.9 million in unitemized contributions, covering donations smaller than $200. Laxalt raised just $700,000 from those.
In an unusually prolific period of fundraising, Titus raised the most among the state's House Democrats, pulling in more than $405,000. Her Republican opponent, Mark Robertson, raised nearly $146,000.
In prior election cycles, the longtime District 1 congresswoman has typically depended on a quieter fundraising operation than her fellow Democratic representatives, but that changed after last year's redistricting saw her district redrawn to include fewer Democratic voters, making it more competitive.
This year, Titus faces her most serious challenge since winning the district for the first time in 2012. A New York Times/Siena College poll released last week found Titus and Robertson knotted at 47 percent apiece.
Lee, the District 3 representative, raised more than $391,000 during the 19-day period. Her opponent, Republican April Becker, raised nearly $261,000 during that time.
In the District 4 race, Democratic Rep. Steven Horsford outraised his opponent by a margin of nearly 2 to 1, as Horsford pulled in $362,000 to Republican Sam Peters' nearly $193,000.
Democratic candidate get more out of television ad spending
More money raised generally means more money to spend on advertising. But as outside groups have helped even the playing field between Democrats and Republicans in terms of total spending, a 50-year-old law means that those dollars spent by candidates are getting more bang for their buck.
Under the Federal Election Campaign Act of 1971, candidates are entitled to a "lowest unit charge," meaning the lowest advertising rate available at a given station for radio and television ads run in the 60 days prior to a general election. That can result in dramatically different costs for candidates and super PACs purchasing nearly identical advertising slots.
During an Oct. 2 Las Vegas Raiders game, the broadcast included 30-second ads from both Cortez Masto and a Republican super PAC. Cortez Masto paid $21,000 for the spot, and the super PAC paid more than seven times as much, $150,000, according to reporting from the New York Times.
Across the board, Nevada's congressional Democratic incumbents have significantly outspent their opponents. In the Senate race, Cortez Masto has reported spending roughly $35 million more than Laxalt. In the latest, pre-general election period, she outspent Laxalt $7.7 million to $3.1 million. Cortez Masto's expenditures included nearly $6.1 million for television, digital and radio advertising.
With millions of dollars spent prior to the final weeks before Election Day, Cortez Masto recorded having $6.4 million in her campaign warchest, compared with $3.2 million for Laxalt.
In the District 3 race, Lee, who is considered among the most vulnerable House Democrats, drained her bank account in the opening weeks of October. She spent more than $1.4 million, of which 95 percent went toward advertising expenses, while her opponent, Becker, spent $550,000.
Following the spending blitz, Lee was the only Democrat in the four competitive races to report having less cash on hand than her opponent as of Oct. 19. She had less than $189,000 in her campaign account. Becker had $311,000.
In Districts 1 and 4, Titus and Horsford both kicked up spending, but still sit on significantly more cash than their Republican counterparts.
Titus outspent Robertson by a margin of 2 to 1, and she had more than $871,000 in her warchest, compared with just $186,000 for Robertson.
Horsford spent a hair more than $1 million across the 19-day period, while Peters spent nearly $276,000, depleting a majority of his cash on hand. Peters reported having $111,000 in the bank, less than one-fifth as much as the $621,000 on hand for Horsford.
But even with eye-popping spending from the congressional candidates, it may prove difficult for campaigns to find unreserved television airspace.
From Oct. 23-29, the first full week of early voting in Nevada, Las Vegas was the top television market in terms of political ad spending and saw $32 million worth of political ads, according to ad tracking firm AdImpact. Spending in Southern Nevada outpaced even much larger markets, including Los Angeles, New York and Chicago.
All three of the competitive House races stretch into the Las Vegas Valley, and urban Clark County is home to 71 percent of the state's registered voters.
Republican super PACs tighten the gap
Despite Democratic candidates' advantages in fundraising and spending, Republican challengers have received major, multi-million dollar boosts from super PACs.
In the Senate race, the Senate Leadership Fund, a group linked to Senate Minority Leader Mitch McConnell (R-KY), has spent nearly $22.1 million to support Laxalt. Club for Growth — a Republican super PAC that has endorsed Laxalt — has spent more than $14.4 million to help take down Cortez Masto.
That spending has come in the form of independent expenditures, which are communications that expressly advocate for the election or defeat of a candidate without involvement from any candidate. These expenditures, which are not subject to spending limits, typically include payments for ad production and placements, mailers, texting services and more.
Though those two super PACs have made waves in Nevada's closely watched, "toss-up" Senate race, Cortez Masto has also benefited from heaps of outside spending. That includes more than $28.3 million in spending from the Democratic Senate Majority PAC, which has raised tens of millions of dollars from an affiliated "dark money" group called Majority Forward.
Unlike in the Senate race, Republicans running in Districts 1 and 3 have received even more outside help than their Democratic opponents. The Congressional Leadership Fund (CLF), which has spent more than $180 million on independent expenditures nationwide during the 2022 election cycle, has reported spending more money in those two districts ($9.4 million in District 3, and nearly $7.1 million in District 1) than in any other districts.
CLF has launched ads relentlessly attacking Titus and Lee over the economy, tying major government spending bills they supported to high inflation.
But the super PAC has not spent any money in the District 4 race, where Horsford benefits from a larger built-in advantage for Democrats in terms of voter registration. The Cook Political Report recently changed its rating of the race from "toss up" to "lean Democrat."
Instead, Peters has been hammered by outside ads funded by the Democratic House Majority PAC, which has spent more than $11 million across the three congressional races to defend Nevada's Democratic incumbents.
Democrats maintain fundraising leads amid start of voting
With mail ballots delivered and early voting sites open, congressional candidates are still pulling in thousands of dollars each day. And since the conclusion of the FEC's pre-general election period, Democratic candidates have continued to outraise their opponents.
In the Senate race, over a period of just six days (Oct. 20-25), Cortez Masto raised $427,000 in contributions totaling more than $1,000 each, compared with $235,000 for Laxalt. The division continued down-ballot, with Horsford raising $62,000 more than Peters in the span of less than a week, and Lee outraising Becker by a margin of 3 to 1 in the same stretch.
With such tight races, some candidates are pushing out hyperbolic pleas for more dollars. In a late October fundraising email, Becker staked control of the entire 435-member House on her race.
"We're being outraised by the Democrats, and if we don't hit our FINAL End-of-Month Goal of $25,000, we will not flip this TOSS UP seat and take back the House for conservatives," her email stated.
Still, millions of dollars worth of ad reservations are already booked in the run-up to Election Day, and outside groups are leveraging their dollars during that time. Between Oct. 28 and Nov. 8, Republican-linked ad spending in the District 1 race outpaces Democratic ad reservations by $2.1 million to $520,000, according to AdImpact.
With close races up and down the ballot, and candidates still sitting on millions of dollars in cash, expect the ads to continue filling up your screens through Election Day.
Featured Videos
Comment Policy (updated 4/20/2021): Please keep your comments civil. We reserve the right to delete comments or ban users who engage in personal attacks, use an excess of profanity, make verifiably false statements or are otherwise nasty. Comments that contain links must be approved by admin.