Cops with complex trauma hope police cultures replace stoicism with mental health treatment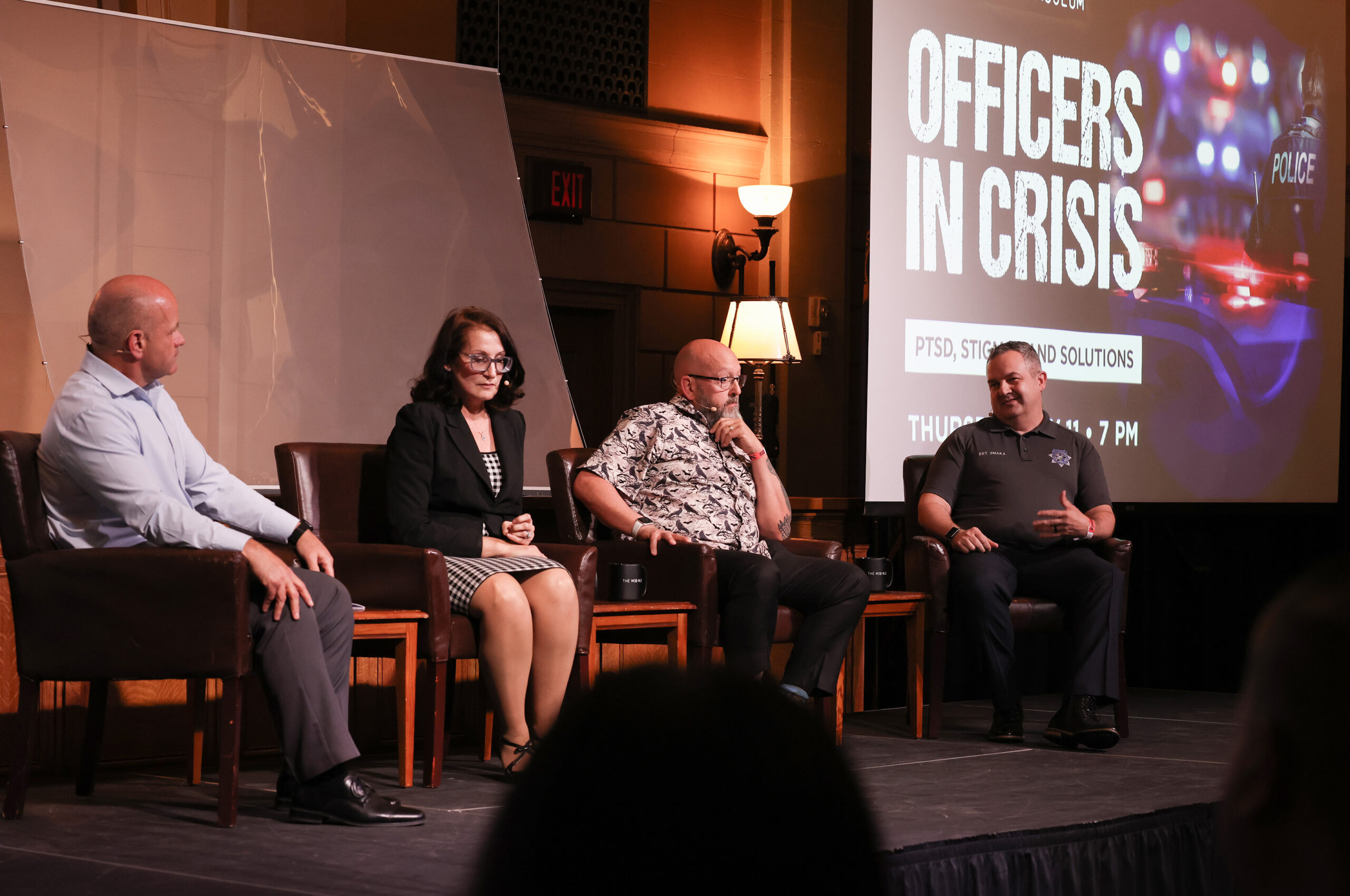 Despite frequently encountering trauma, whether it's a traffic accident leaving someone mangled in the street or a victim shot at the hands of a former lover, police officers usually have no downtime to process everyday tragedies in Southern Nevada.
Now, officers are speaking out, stating that it's crucial for cops to seek mental health treatment on a regular basis, especially before retirement.
"I've been on calls where a father cut his daughter's head off, and I still went back to work half an hour later," said retired Las Vegas Metropolitan Police Department (LVMPD) Capt. Harry Fagel during a panel discussion at the Mob Museum on Thursday, May 11. He said police officers' ability to trust can become completely eroded.
The discussion, titled "Officers in Crisis: PTSD, Stigmas and Solutions," included Fagel, LVMPD police employee assistance program (PEAP) manager Bill Gibbs, LVMPD PEAP counselor ​Trudy Gilbert-Eliot and Nevada State Police Sgt. Travis Smaka, and mainly focused on addressing stigmas inside police departments that discourage officers from seeking mental health help for fear of appearing weak or incapable of doing the job, and how developments such as the LVMPD Wellness Bureau marks a new era for cops.
Panelists said the job causes officers to become hypervigilant, on edge about potential threats and distrustful of their surroundings and "everyone's veracity" — behavior they said can spill into family and social life.
"Hypervigilance is an incredibly important survival skill that keeps you alive on the street," Fagel said. "But turning it on and off is the difficult part."
Clark County Sheriff Kevin McMahill, who heads the largest police agency in Nevada, promised to make mental health a priority at Metro during his January swearing-in ceremony. He said the nature of the job can cause police officers to suffer from post-traumatic stress disorder (PTSD), alcoholism, suicide, sleep deprivation and higher divorce rates.
The panel was moderated by former crime reporter Shakala Alvaranga, who said the goal of the conversation was to shine a light on the magnitude of responsibilities that first responders have and to examine the ramifications on the community at large, which she said raised concerns at previous criminal justice panels at the museum.
"They have complex trauma because they have trauma after trauma after trauma after trauma," said Gilbert-Eliot, a psychotherapist in an interview before the event. "So it's this huge bundle of things that have to be unbundled."
She said officers as well as firefighters and people who work in trauma-related fields can develop a complex form of PTSD, which she said is highly treatable. Gilbert-Eliot said PTSD has a cluster of symptoms that can include flashbacks and alterations in thinking, such as very negative thinking styles which can cause people to become "avoidant" of people or places depending on the initial trauma. She said other symptoms include difficulty with sleep and hypervigilance.
Gilbert-Eliot said with PTSD, no two people are alike when it comes to symptoms but sometimes there is overlap and that with "regular people," identifying the source of the problem is more simple than with officers who are overexposed to trauma.
"So it's more like death by a thousand cuts," she said of trauma in cops. "And then over time, the brain just becomes so fatigued, dealing with all of the trauma that it basically … says, I can't do this anymore, and you start to see, slowly but surely, more and more of that active symptomatology."
Gibbs said the atmosphere at police departments includes a lot of "macho folks" and "testosterone" where weakness isn't allowed, which sometimes causes officers to avoid mental health treatment.
After McMahill pledged to make mental health treatment a priority for officers earlier this year, the Las Vegas Review-Journal reported that Metro is seeking to create five positions for the proposed wellness bureau that models similar operations in other states.
Training, trauma and inspiration
Gibbs was involved in a shooting in 2011, when on duty as a traffic cop, a woman who was bleeding down her back was taken to him by a construction worker. Gibbs was issuing a ticket on the side of the road, and her boyfriend had just shot her in the back with a shotgun and was then shooting at passing cars on a nearby off-ramp.
With the help of the construction worker, Gibbs was able to walk down through a construction site to square off with the shooter along with another officer. After he and his partner split off into two directions, Gibbs said the suspect pointed the shotgun at his partner, which he said was cause for immediate fire action.
"I started replaying in my head what they tell us at the range," he recalled. "Don't pull the trigger, squeeze, squeeze."
He said he was always worried that his hands would shake and that he would miss a target when under attack. But he credited the outcome of the incident, which led to an arrest and no officers shot, to "reality-based training" at Metro. The incident was the longest-distance officer-involved shooting on record in Metro history at 38 yards, and Gibbs was awarded the Medal of Valor by Clark County Sheriff Doug Gillespie that year.
"And when I went back, again I'm just a simple traffic officer, I stopped somebody for speeding, just a John Q citizen, normal person," he said. "I walked up to the car — now my hands are shaking."
When Metro officers are involved in shootings they undergo an investigation and are sent to PEAP for counseling and training before they return to work. Gibbs said he was placed in a police car after his incident and driven to the station as the investigation began.
Nicole Chaffin Corbin, 25, a U.S. Marine Corps veteran who is in school to become a trauma nurse, said listening to the panel stirred up interest in joining Metro. She said the job would give her firsthand experience in the field of trauma before she is in hospitals working to save lives.
"I don't see it as defeat," she said about officers' testimonies. "I see it as something stronger."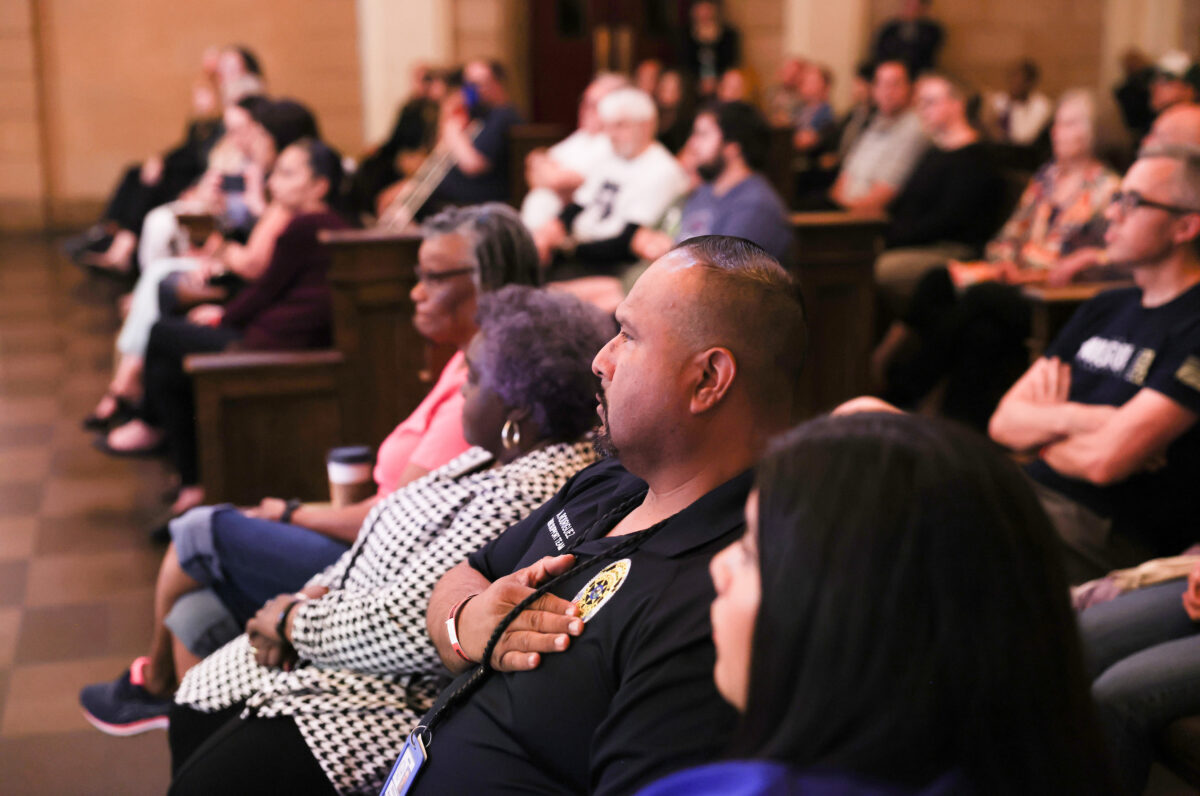 Chaffin Corbin went to the panel to support her friend, Courtney Oldenburg, 25, who wanted to go after seeing Facebook posts about the event on the Vegas Strong Resiliency page, of which she is a member. Oldenburg was at the Route 91 Country Music Festival during the 1 October mass shooting, which is also her birthday.
"I've struggled with PTSD for a while," she said. "Maybe there's something that I needed here tonight that I don't know."
Oldenburg works at Mandalay Bay as a cashier and said she recently has been thinking about being a therapist and specializing in trauma-related services. She said the panel increased her interest in seeking the career path.
"It actually wasn't until this past year that I met a therapist and she is actually still a student therapist, but she has saved my life in a way that I will internally be grateful for," Oldenburg said. "She was also the first one to explain that, 'This only works if you put in the work. And this only works if you feel like I'm the right fit for you."'
Oldenburg and Chaffin Corbin's friend, Principe Balderrama, 24, who tagged along to the event, said he was most concerned that the panel did not reveal whether the same mental health resources are available for all trauma-related professions such as nurses and doctors.
He said his roommate works in the medical field and comes home with concerning stories.
"You don't hear about these programs for our hospital workers," Balderrama said. "But they did say that they're going to change that. So I'm hoping that that happens soon."
The Nevada Independent is raising $200,000 by Dec. 31 to support coverage of the 2024 election.
Tax-deductible donations from readers like you fund this critical work.
If you give today,your donation will be matched dollar-for-dollar.
Give + Get Matched
Featured Videos