Cortez Masto, Lee top prior first-quarter fundraising tallies as congressional campaigns eye 2022 midterms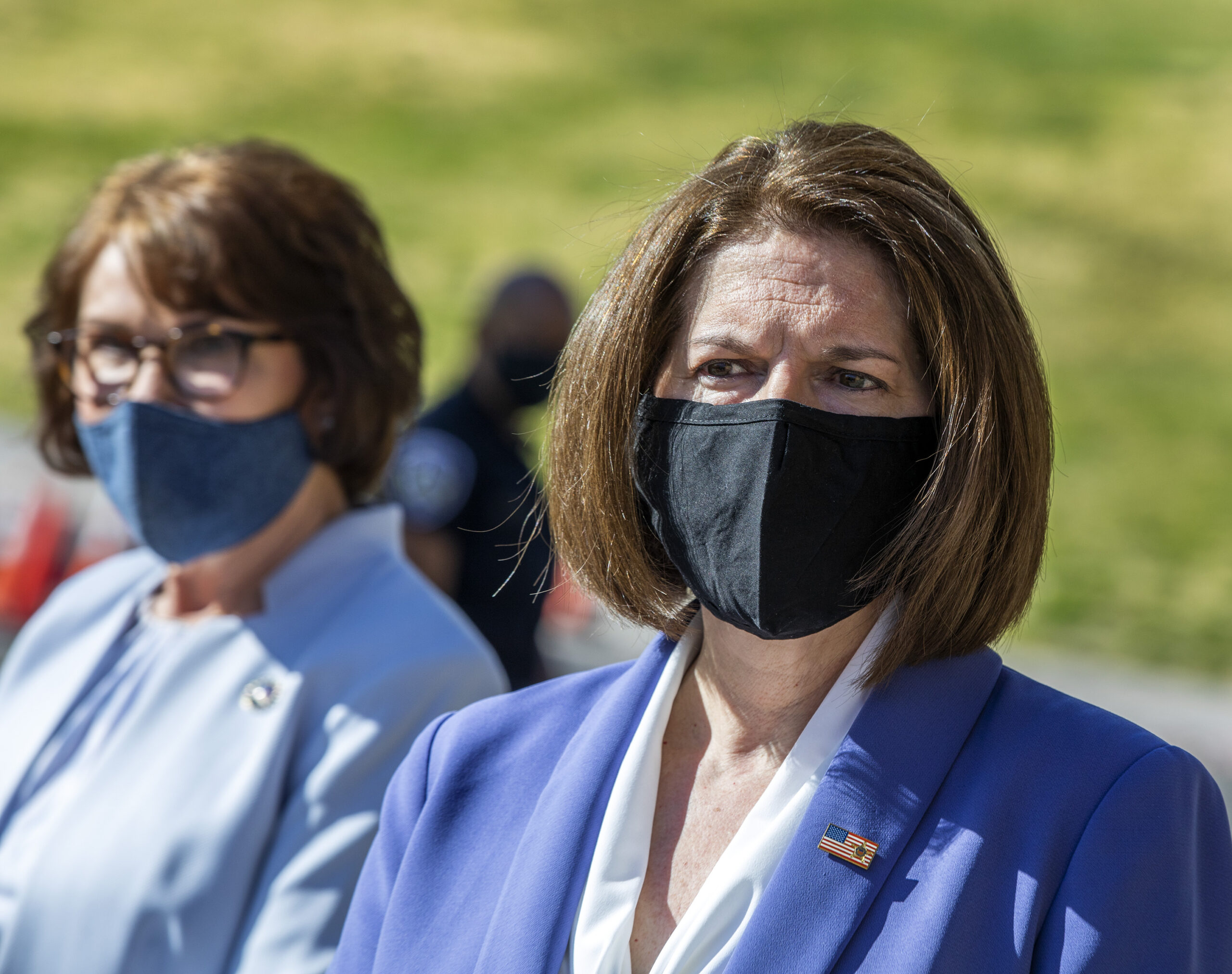 Congressional representatives across the state reported race-leading fundraising hauls this week, positioning each with an early money advantage more than a year in advance of next summer's primary elections.
Leading all fundraising was Sen. Catherine Cortez Masto, (D-NV), who reported more than $2.3 million in fundraising ahead of what is expected to be a competitive re-election bid. Sen. Jacky Rosen (D-NV), who is not up for reelection until 2024, reported $341,794.
In the House, District 3 Rep. Susie Lee (D-NV) led the state's delegation with $607,407 raised through the first quarter; District 4's Steven Horsford (D-NV) followed with $363,210; District 2's Mark Amodei (R-NV) reported $77,749; and District 1's Dina Titus (D-NV) reported $48,080.
With so much time left before the formal filing deadline for congressional elections next spring, the field of challengers in each district remains relatively small. Even so, two Republican challengers in the state's two swing districts reported six-figure fundraising hauls, including Sam Peters in District 4 ($135,000) and April Becker in District 3 ($143,000).
Below are some additional campaign finance numbers for each candidate, broken down by district from greatest cumulative fundraising to least.
Catherine Cortez Masto (D) — incumbent
Ahead of her first-ever bid for re-election as a U.S. senator and as Democrats prepare to defend their razor-thin margin in the Senate, Cortez Masto reported $2.3 million in fundraising, boosting her cash on hand by roughly 55 percent to nearly $4.7 million.
A vast majority of that money, about $1.8 million, came from individual donors, including roughly $1.35 million in itemized contributions and $460,000 in small-dollar unitemized donations. Cortez Masto also raised an even $349,000 from PACs, more than $51,000 from political party committees and nearly $86,500 from other fundraising committee transfers.
With a fundraising total orders of magnitude larger than any other candidate in Nevada through the first quarter, Cortez Masto also has by far the most individual donors of the entire field with thousands of itemized contributions reported, including several dozen contributions of the legal maximum.
By law, individuals can contribute up to $2,900 per candidate per election (i.e. for the primary and for the general) in federal elections, while PACs and other committees can contribute up to $5,000 per election. Major donors will often contribute that maximum twice, once for the primary and again for the general, up front, giving candidates between $5,800 and $10,000.
Among the many donors who maxed out their contribution to Cortez Masto were a handful of Nevada regulars, including businessman and major Democratic donor Stephen Cloobeck ($2,900 in the first quarter, $5,800 overall) and MGM Resorts International ($5,000).
With nearly $663,000 spent this quarter, no Nevada politician came close to Cortez Masto in outlays. Most of that money, $382,206, went to nine firms involved in fundraising operations, including mailers ($213,406) and online ($168,800).
Jacky Rosen (D) — incumbent
With more than three years before she'll face voters again, Rosen reported a comparatively modest $341,794 in contributions last quarter, but her campaign has more than $1.85 million in cash on hand.
Of that money, most ($226,165) came from individual contributions, with the rest flowing largely from PACs ($14,000) and authorized committee transfers ($97,600).
Among the several dozen donors giving Rosen the legal maximum were Las Vegas Sun owner Brian Greenspun ($5,800) and his wife, Myra Greenspun ($5,800); Niraj Shah, CEO of the furniture retailer Wayfair ($2,900); and a leadership PAC linked to former Alabama Sen. Doug Jones, the Seeking Justice PAC ($5,000).
Most of the $137,000 spent by Rosen was for regular operating expenditures, though her campaign twice spent $5,000 for online advertising from New York-based firm Assemble the Agency.
A district that covers much of the southern half of Clark County, including some of the Las Vegas metro's wealthiest suburbs, District 3 has switched hands between the two major parties three times since its creation in 2002.
For three cycles, that control has been maintained by Democrats, following a narrow win by Rosen in 2016, and subsequent victories by Lee in 2018 and 2020. Still, a narrow victory in the district by Donald Trump in 2016 and small voter registration gaps have marked District 3 as one of a few-dozen nationwide that may become key to deciding which party controls the House after the 2022 midterms.
Susie Lee (D) — incumbent
Frequently the top-fundraiser among Nevada's House delegation, Susie Lee continued her streak last quarter with $607,407 in contributions. After Lee largely depleted her campaign reserves in a pricey bid to keep her seat last year, that first-quarter fundraising has left her campaign with just over $484,000 in cash on hand.
Nearly all of that money — $493,070 — came from individual contributions, with the remaining $114,000 coming from big-money PAC contributions.
Among those individual donors were several dozen contributing the $2,900 maximum. Those big money donors were largely local business leaders — including Cashman Equipment CEO MaryKaye Cashman, MGM Resorts International CEO Bill Hornbuckle and former MGM Resorts International CEO Jim Murren — though the group also included television showrunner and producer Shonda Rhimes.
Among PACs that contributed the $5,000 maximum were a mix of business interests (including PACs related to Las Vegas Sands and MGM Resorts International), and unions (including the International Brotherhood of Electrical Workers and SMART, the sheet metal and transportation workers union, and the United Brotherhood of Carpenters.)
Lee reported spending nearly $146,000 last quarter, an amount second only to Cortez Masto among the delegation members. Most of that money went to campaign consulting and staffing costs, with the single largest chunk — $32,000 spread over five payments — going to Washington, D.C.-based digital consulting firm Break Something.
April Becker (R)
After her unsuccessful run for the Legislature in 2020, attorney April Becker is challenging Susie Lee (D) for her seat in Congress. In the first quarter of 2021, Becker raised $143,444 mostly from individual contributors.
Becker received $2,000 from PACs, such as the Stronger Nevada PAC and (although not officially endorsed by) the campaigns for fellow Republican politicians, former Sen. Dean Heller and Rep. Mark Amodei.
Several of her big individual contributors included family members; donations from individuals with the last name Becker totaled $29,500, nearly a fifth of the total contributions. Local business owners also contributed to Becker, including some car dealership owners: $5,000 from Gary Ackerman of Gaudin Motor Company; Cliff Findlay and Donna Findlay of Findlay Automotive each donated the maximum of $2,900, totaling $5,800; and Donald Forman of United Nissan Vegas gave $5,800.  
Co-owners of the Innovative Pain Care Center, Melissa and Daniel Burkhead, each gave $5,800 totaling $11,600. Other contributors included several medical professionals, real estate investors and attorneys.
In the first quarter, Becker kept most of the money collected, $131,460, reporting spending only $11,983 on more fundraising efforts.
Mark Robertson (R)
Also hoping to challenge Susie Lee, Army veteran Mark Robertson raised $61,631 in his first time running for a political seat. The sum includes $7,451 he loaned his campaign.
Although he collected less than half than Becker in the first quarter, retirees were large contributors to his campaign, some nearly reaching the $5,800 maximum for both the primary and general elections.
Several local architects, engineers and construction contractors were also among the contributors, including $5,000 combined from Kenneth and Michelle Alber of Penta Building Group, $3,000 from Brock Krahenbuhl, a contractor for GTI Landscape and $3,000 from Wayne Horlacher of Horrock Engineers.
Robertson reported spending $25,148, including $5,250 on campaign consulting, $3,138 on office supplies and $3,270 on video and print advertising production services. After the expenditures, Robertson is left with $44,034 cash on hand.
A geographically massive district — larger than some states — that encompasses parts of Las Vegas, North Las Vegas and much of the state's central rural counties, District 4 has been held by Democrats for all but one cycle since its creation in 2011. That exception came in 2014, when Republican Cresent Hardy unseated then-freshman Democrat Steven Horsford in an upset.
Horsford retook the seat in 2018, defeating Hardy in an open race after incumbent Democrat Ruben Kihuen declined to mount his own re-election bid amid a sexual harassment investigation. Horsford later won re-election in 2020, beating Republican Jim Marchant by 5 percentage points.
Steven Horsford (D) — incumbent
With $363,209 in reported fundraising, Horsford boosted his campaign war chest by more than 50 percent last quarter, lifting his cash on hand to $757,142.
That fundraising was driven mostly by $205,883 in individual contributions, though Horsford also brought in a much larger share of PAC contributions ($157,251) than his delegation counterparts.
Among Horsford's single-largest contributors was Las Vegas Sun owner Brian Greenspun and his wife, Myra, who both contributed the $2,900 maximum for the primary and general elections, or $11,600 combined.
Horsford's biggest PAC contributions came from a mix of political committees linked to the Democratic Party, unions and corporations. That includes $10,000 from the Congressional Black Caucus PAC (of which Horsford is a member), $5,000 from the public employees union AFSCME and $5,000 from MGM Resorts International.
A vast majority of the $102,000 spent by Horsford's campaign last quarter went to operating costs, salaries and consultants, though — like his fellow incumbents — a sizable portion ($21,000) still flowed to a pair of fundraising and finance compliance consultants.
Sam Peters (R)
After finishing second in last year's Republican primary for District 4, veteran and local business owner Sam Peters led Republican fundraising efforts in the district this quarter. Peters' campaign raised more than $135,000, which came entirely from individual contributions.
Those contributions were driven largely by retirees, as two-thirds of the 100 big-money contributions over $200 came from donors listing themselves as retired. Peters' campaign was also boosted by a few maximum or near-maximum donations, including $5,800 from Frank Suryan Jr., CEO of Lyon Living, a residential development company based in Newport Beach, California, and $5,800 from Suryan's spouse.
After spending a little more than $24,000, mostly on campaign consulting and fundraising services, Peters ended the quarter with nearly $115,000 in cash on hand, nearly double the amount he had at the end of the first quarter of 2021.
A district that includes Reno and much of rural Northern Nevada, District 2 has for two cycles been the only federal seat in Nevada still held by a Republican. The one-time seat of former Sen. Dean Heller and former Gov. Jim Gibbons, both Republicans, the seat has been held by incumbent Republican Mark Amodei since 2011, when he defeated Democrat Kate Marshall in a special election to replace the outgoing Heller.
Mark Amodei (R) — incumbent
After Amodei spent close to a thousand dollars more than he raised through the first three months of 2021, his campaign war chest sits at $323,347 entering the second quarter.
His fundraising of nearly $78,000 came largely from big-money contributions totaling more than $50,000, including roughly 30 donations between $1,000 and $2,000. But Amodei was also boosted by several maximum or near-maximum donations from Margaret Cavin, owner of plumbing company J&J Mechanical in Reno ($5,600), and Uwe Rockenfeller, president of Boulder City-based engineering firm Rocky Research ($5,800).
Amodei's fundraising was also boosted by a few large contributions from political committees, including $5,000 donations from PACs affiliated with MGM Resorts International and New York Life Insurance, $3,500 from a PAC affiliated with the aerospace company Sierra Nevada Corporation and $2,500 from Barrick Gold, a mining company.
Amodei's spending was distributed across a wide range of categories, as he spent $7,625 on radio advertising, $4,000 on campaign consulting, nearly $20,000 on fundraising consulting, $12,750 on accounting services and more than $7,500 on meals and entertainment for contributor relations — including nearly $700 paid to cigar companies and more than $2,000 spent at Trattoria Alberto, an Italian restaurant in Washington, D.C.
Located in the urban center of Las Vegas, the deep blue District 1 has been held by incumbent Democratic Rep. Dina Titus since 2012. Titus won the seat after losing a previous re-election bid in nearby District 3 in 2010, which she had held for one term after a win over Republican Rep. Joe Heck in 2008.
Dina Titus (D) — incumbent
With no clear challengers in the district, Titus finished the first quarter with the least money raised of any Nevada incumbent — she received $48,080, which was $1.85 less than she raised through the same period last year.
More than half of those funds were given by four PACs that contributed a combined $25,000. The American Institute of Architects' PAC, a PAC associated with the Las Vegas Sands Corp. and the International Brotherhood of Electrical Workers PAC gave $5,000 each, a pro-Israel PAC called Desert Caucus donated $10,000.
Titus also received $14,280 from individuals, including a $1,000 contribution from former Las Vegas City Councilman Bob Coffin and a maximum contribution of $5,800 from Uwe Rockenfeller, president of Boulder City-based engineering firm Rocky Research.
After spending $37,000 in the quarter, Titus brought her cash on hand total to almost $340,000.
Comment Policy (updated 4/20/2021): Please keep your comments civil. We reserve the right to delete comments or ban users who engage in personal attacks, use an excess of profanity, make verifiably false statements or are otherwise nasty. Comments that contain links must be approved by admin.