Cortez Masto, Sisolak stress climate change in Tahoe Summit speeches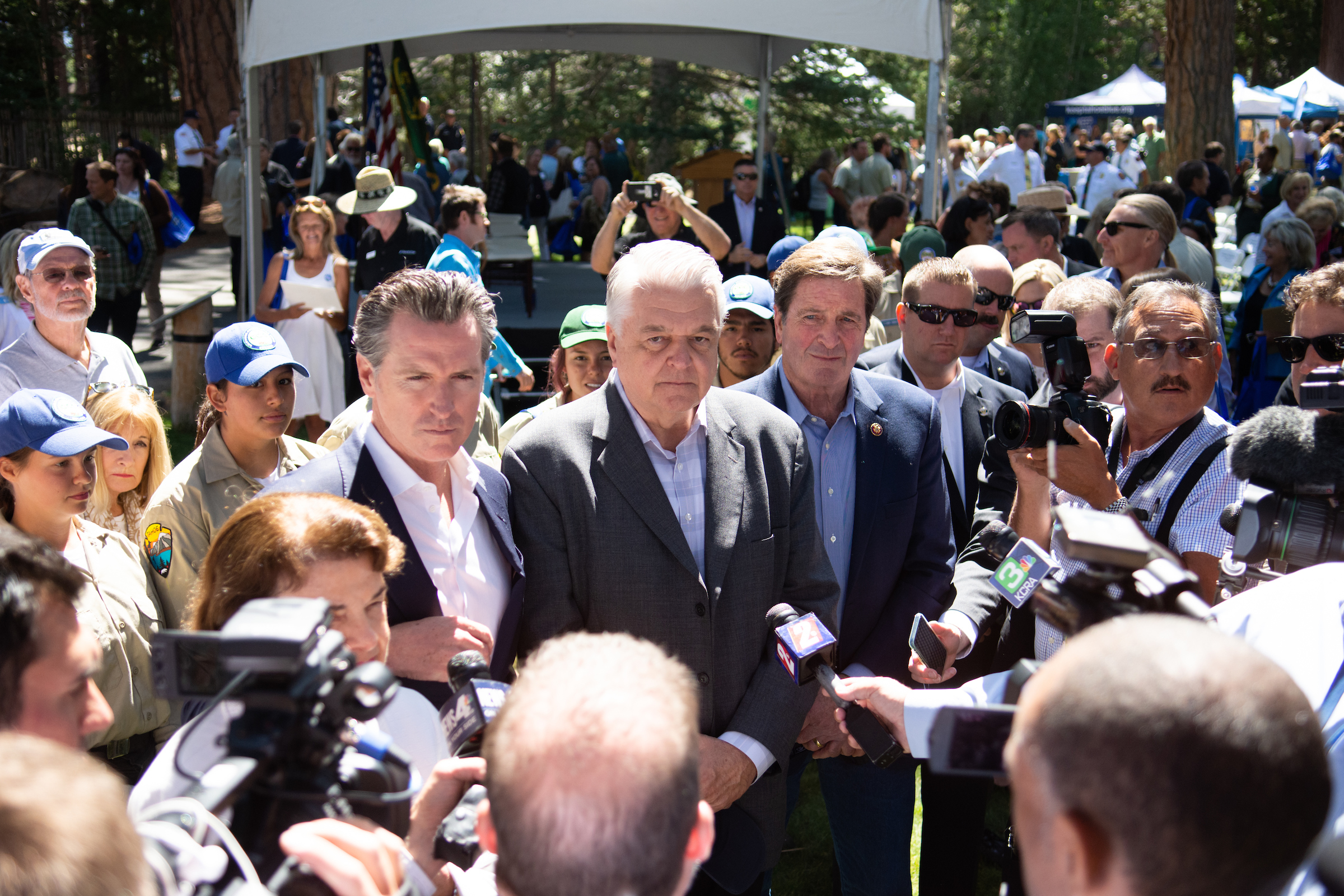 When Sen. Catherine Cortez Masto was preparing her speech for the annual bistate Tahoe Summit, she said she looked at the remarks delivered by President Bill Clinton at the first environmental gathering in 1997. Clinton, she said, mentioned "climate change" two times.
"It wasn't their focus," Cortez Masto said. "It was a footnote."
Climate change in the Lake Tahoe basin was at the forefront of this year's summit, hosted by California Sen. Dianne Feinstein near South Lake Tahoe in California. The speakers, from Feinstein to Gov. Steve Sisolak to California Gov. Gavin Newsom, vocalized their concern about climate change and the threats that it already poses — with a particular focus on wildfire risk. But for some guests, the speeches didn't go far enough. The summit drew about a dozen peaceful demonstrators who called on the lawmakers, especially Newsom and Feinstein, to do more.
Last year, political leaders delivered similar warnings about climate change at the gathering, but this year, their calls were more explicit after an election that saw Democrats take the Nevada state house and pick up a Senate seat. It was also set against a president that has targeted federal policies meant to stem carbon pollution and address increasing temperatures.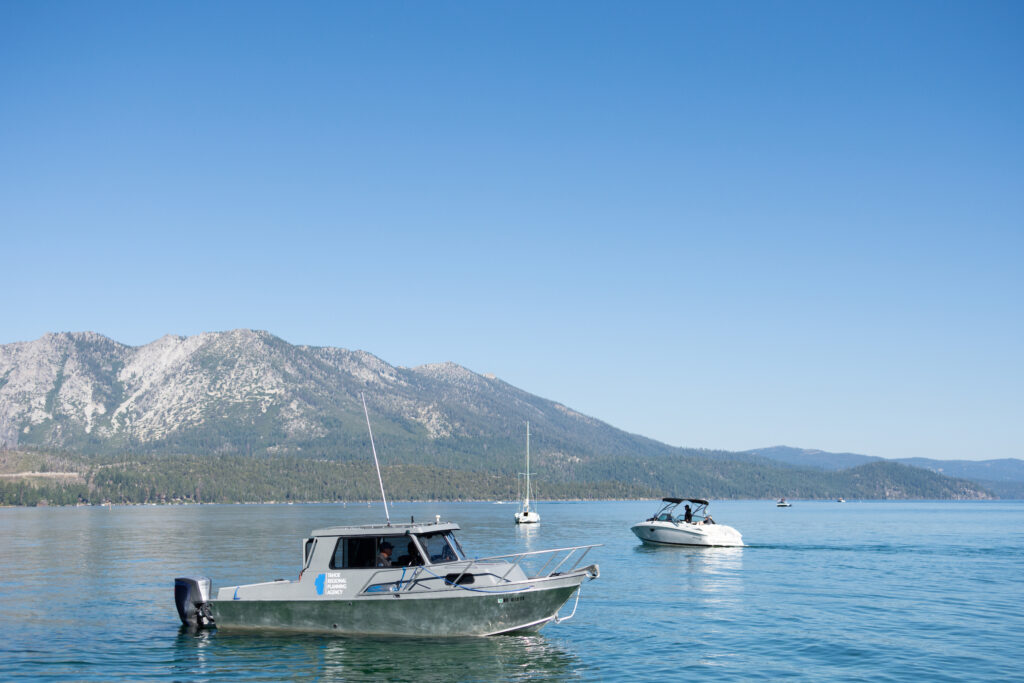 "Today we do not have the luxury of sidestepping climate change, especially not when this administration has abandoned America's crucial global leadership on this issue," Cortez Masto said. "We cannot put off solutions to carbon and other greenhouse gas emissions. And we cannot ignore the effects of climate change that are visible and around us every single day."
The changing climate is expected to affect the Tahoe Basin by fueling a more extreme wildfire regime and increasing the lake's surface temperature and chemistry, affecting its clarity and opening up niches for invasive species that crowd out species natural to the ecosystem. A shift in precipitation patterns — both in quantity and type (snow to rain) — could also affect clarity.
Feinstein said she believed that wildfire risk had decreased in the basin because of recent mitigation measures, including treating 9,000 acres of forest. She touted the project, along with other efforts to restore streams, inspect boats for invasive species and prevent sediment from muddying the lake as examples of where bi-state and bipartisan cooperation are working.
But Feinstein said that she was still "particularly worried about the risk of catastrophic wildfire helped along by climate change."
Sisolak said that Nevada was prepared to help on those issues.
"Nevada remains steadfast in addressing the threat of wildfires," he said in his speech, noting that the state recently removed trees in the backcountry near Spooner Lake to reduce fire risk. "Unfortunately, climate change is often deteriorating our forests more quickly than we can treat them. We need to be more innovative, including establishing a market for biomass closer to Lake Tahoe."
Throughout the summit, there were references to the Camp Fire, a devastating blaze that tore through the small northern California town of Paradise last year, killing 85 people and destroying thousands of homes. California regulators found that power lines operated by Pacific Gas and Electric were to blame for the fire. After Newsom spoke, demonstrators with the group Sunrise Movement interrupted the event, asking to speak directly with Newsom as he sat on the dais.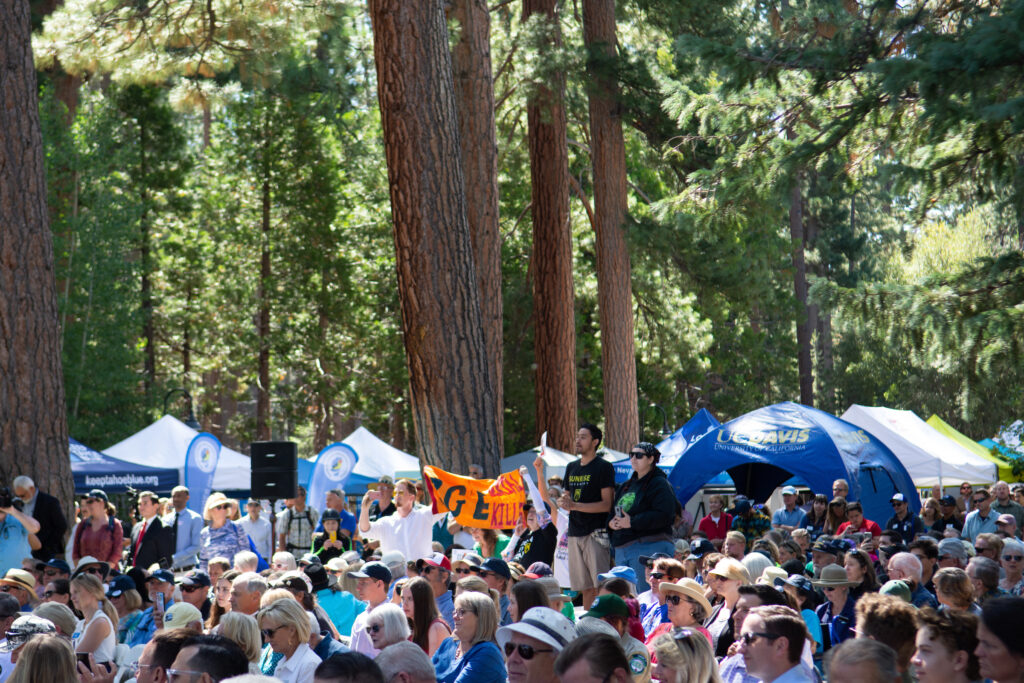 The demonstrators wanted Newsom to pledge not accept any future campaign donations from Pacific Gas and Electric, following a pledge to reject fossil fuel funds last year. After the group interrupted Feinstein, standing at the podium, Newsom stood up and said he would meet with them afterwards.
A separate group of climate activists, Extinction Rebellion, also staged a peaceful demonstration during the event, holding up small signs that said "climate emergency" and "negative carbon." An organizer said that it was a response to politicians not taking enough action on the issue. 
"All of the stuff they are trying to do to keep the lake OK — all the money they are throwing on it — in the end is all for naught if we don't fix our climate situation," said Joy Halstead, who protested with the group and traveled to the summit from Sacramento on her day off.
Comment Policy (updated 4/20/2021): Please keep your comments civil. We reserve the right to delete comments or ban users who engage in personal attacks, use an excess of profanity, make verifiably false statements or are otherwise nasty. Comments that contain links must be approved by admin.