View of Lake Tahoe from Sand Harbor State Park in Incline Village on Aug. 7, 2018. (David Calvert/The Nevada Independent)
As wildfires rage, lawmakers call for plans to protect the Tahoe forest, address realities of climate change on the lake
August 8th, 2018 - 2:15am
In 1997, President Bill Clinton traveled to Lake Tahoe, which straddles California and Nevada, to inaugurate what would become an annual bi-state forum focusing on environmental challenges at the lake. More than two decades later, the conversation has shifted, implicitly and at other times explicitly, for a new century and a Lake Tahoe watershed that must contend with changing weather dynamics, from warmer water to increasing wildfires.
At the 22nd Annual Lake Tahoe Summit in Incline Village on Tuesday, looming over the event was science that links climate change to a more extreme wildfire regime and warming temperatures, a trend that could have a long-term effect on the lake's crisp blue clarity. For weeks, this challenge has loomed over the Tahoe Basin in the most literal sense, with visibility and air quality thickened by smoke from massive wildfires in Northern California.
During the event, which was hosted by Sen. Dean Heller, federal lawmakers touted new funding for environmental activities at the lake. Alaska Sen. Lisa Murkowski, who chairs the Committee on Energy and Natural Resources, said the Senate recently passed an appropriations bill for the Department of Interior that included $12 million to protect Tahoe, though the bill still needs to be reconciled with an appropriations bill in the House of Representatives.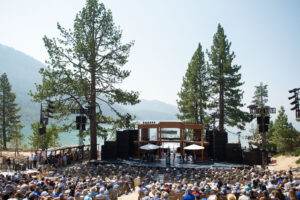 Murkowski, the event's keynote speaker, stressed the importance of funding for fire science. The Trump administration had proposed cuts in funding for the Joint Fire Science Program, a collaborative effort between federal agencies to research wildfire prevention. The senator from Alaska said that she opposed the administration's effort to defund the program.
"That to me doesn't make sense. As we're seeing climate change — as we are seeing greater intensity fires — understanding the science behind all of this is important," Murkowski said.
Over the past decade fires in the West have often grown larger and more intense. During his remarks, Graham Kent, who directs UNR's Nevada Seismological Lab, pointed out that California and Nevada, in just the last few months, have had to contend with the largest wildfires in their histories.
Scientists report that while changing climate patterns are often not the direct cause of fires, they contribute to why wildfires have become increasingly extreme. With prolonged drought and variation in the seasons, including more extreme swings in precipitation, a greater number of dry fuels are often left to burn. Other work has noted that the climate forcing is only intensified by policies that suppress certain fires.
Heller, who grew up going to Tahoe and used to chair the lake's regional planning board, also stressed Congress' involvement in funding fire prevention around the Lake Tahoe National Forest. Nevada's senior senator, who is running for another term this cycle, announced that the U.S. Forest Service will provide a grant of $226,000 to support a fire-alert network of cameras.
"Since its inception, AlertTahoe has played a role in stopping hundreds — hundreds — of potentially devastating fires that would cripple this basin," Heller said in his remarks.
Funds announced Tuesday will help AlertTahoe, a real-time system that includes 26 cameras, do upgrades and purchase two new cameras. The Parasol Tahoe Community Foundation donated an additional $42,000 in funding with a $55,000 endowment for future upgrades.
AlertTahoe could receive more federal dollars under the appropriations bill.
Heller stressed that work on Lake Tahoe challenges is and should remain a bipartisan effort. He praised California Sen. Dianne Feinstein, a Democrat, for championing the cause for decades. Feinstein, in her remarks, noted that more than $2 billion dollars in funding from the federal government, states, local communities and private partnerships have gone toward Tahoe.
But she said "there is still much more that needs to be accomplished."
"What we are seeing in this state is a dramatic change in weather. Drought and intense wildfires are being driven by climate change and this is well-indicated in our latest State of the Lake report," she said, citing a recent UC Davis report on Lake Tahoe. "Temperatures are rising in the surrounding basin. The hot summer season has increased by 26 days over the last 50 years."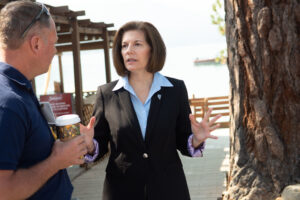 Sen. Catherine Cortez Masto also warned of the long-term impact that climate change is having on the Tahoe watershed and applauded a Tahoe resort for moving to 100 percent renewables.
"These extreme weather patterns are already upsetting the delicate balance of the Lake Tahoe ecosystem and the climate is on track to get more and more extreme in the years to come," she said. "The solution is to break our addiction to the fuels of the past and move toward our clean energy future."
As the Nevada Independent reported last week, the UC Davis report suggested that climate change could affect the balance of the lake's ecosystem. The report found that warming surface water could change the lake's chemistry, affect clarity and open up niches for invasive species.
Feinstein and Heller said the last decade has been a successful one for curbing the spread of invasive species. Since a boat inspection program was implemented ten years ago, no new invasive species, such as Quagga mussels, Asian clams or Mysis shrimp, have been reported. The Senate appropriations bill includes funding to combat invasive species, Heller said.
During his remarks, Heller spoke of former Gov. and Sen. Paul Laxalt, a political giant in Nevada politics and an advocate of Tahoe who died Monday four days after his 96th birthday. He quoted Laxalt who once said "I guess our reward for these efforts is being able to view beautiful Lake Tahoe — still blue, still clear — and say, 'We had a little bit to do with saving it.'"
"Senator Laxalt, you really did more than your share," he said. "You did more than a little bit."
Comment Policy (updated 3/21/19): We welcome reader comments on our stories. However, in keeping with our general policy of transparency, accuracy and accountability, we do not accept comments from anonymous accounts. Anonymous accounts are those without a valid first and last name. Any such comments will be deleted, and anonymous users will be blocked from commenting further. We also will block commenters who use offensive language, engage in personal attacks or state things that are verifiably false.
get our morning newsletter,
The Daily Indy
@TheNVIndy ON TWITTER