Cortez Masto, Susie Lee again lead second quarter fundraising tallies as 2022 money race ramps up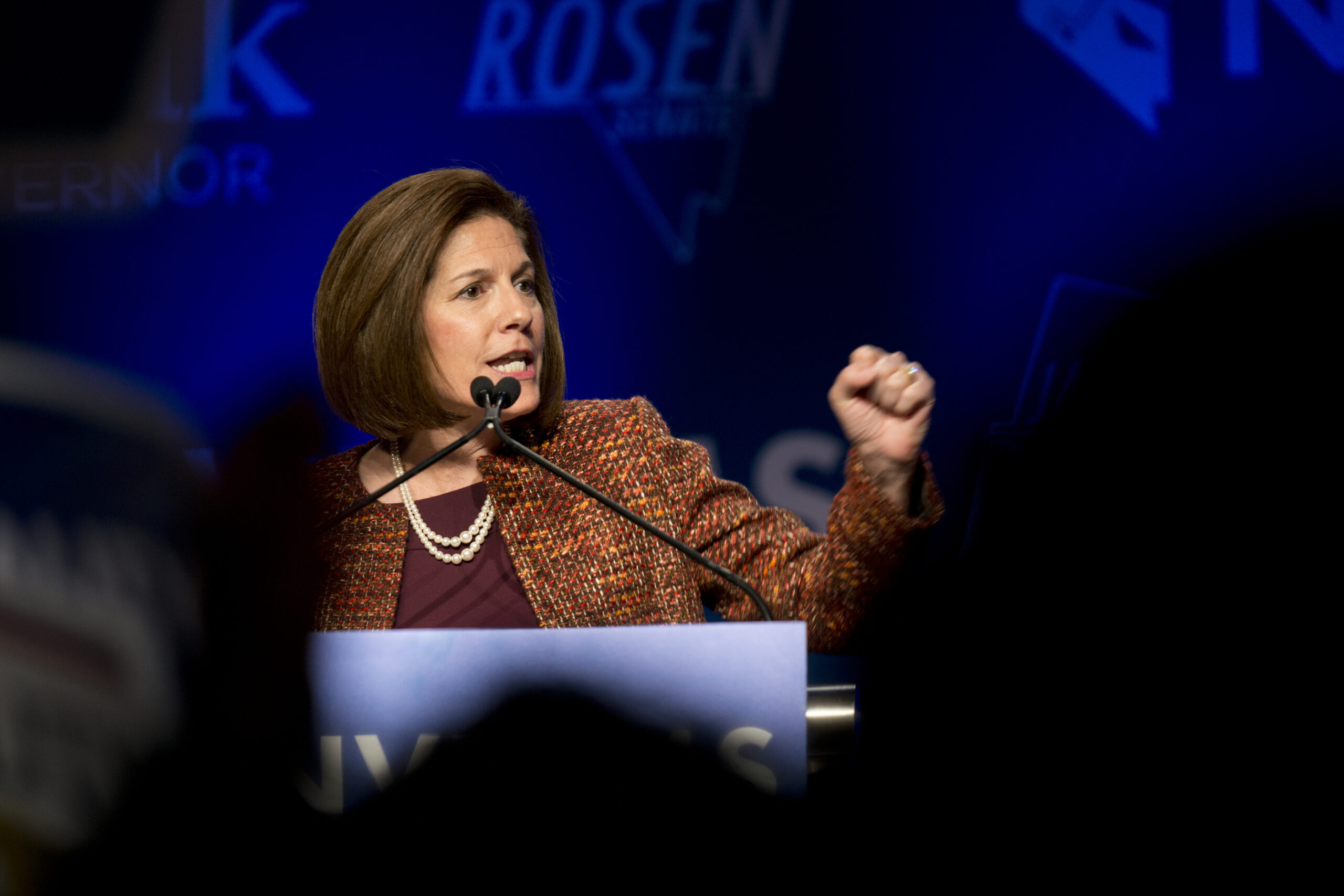 Nevada's incumbent Democrats padded their campaign war chests through the second quarter, with Sen. Catherine Cortez Masto and Rep. Susie Lee leading their respective fields, according to data reported this week by the Federal Election Commission.
Cortez Masto raked in nearly $2.8 million, exceeding her first quarter fundraising by nearly half a million dollars. Lee, meanwhile, raised more than $615,000, an amount roughly equaling her own first quarter numbers.
With just under a year remaining before next year's primary elections, fields in every race remain relatively small. Still, a handful of new entrants have emerged in the state's key congressional battlegrounds, including three Republicans each in District 3 and 4 (both held by Democrats), and a primary challenger to Democratic Rep. Dina Titus in the deep blue District 1.
Below are additional campaign finance numbers for each candidate who filed with the FEC as of Friday, broken down by congressional race and ordered from greatest cumulative fundraising to least.
Catherine Cortez Masto (D) - incumbent
With no declared challengers through the entirety of the second quarter, Democratic Sen. Catherine Cortez Masto boosted her campaign warchest with more than $2.7 million in contributions. Even after spending nearly $900,000, that sum lifted her cash on hand to nearly $6.6 million.
Cortez Masto's campaign touted that cash on hand cushion as a crucial advantage this week, though the race to take or hold her seat in the Senate will likely draw millions more in fundraising for both major parties as next year's general election approaches.
Still, her quarterly fundraising total was the lowest of any of the four Democratic Senate incumbents running in states rated as "Lean Democratic" by the Cook Political Report, a group of candidates that also includes Kelly ($6 million raised), Georgia Sen. Raphael Warnock ($7.2 million) and New Hampshire Sen. Maggie Hassan ($3.3 million).
A vast majority of her second quarter fundraising — more than $2.3 million — came from individuals. Another $342,000 came from PACs, with the remainder flowing from committee transfers ($101,000), expenditure offsets and other receipts.
Almost a quarter of Cortez Masto's spending — more than $218,000 — went to expenses related to fundraising mailers, including consultants, printing and postage, with even more ($343,000) dedicated to online fundraising expenses.
Two Republican candidates, Sharelle Mendenhall and Sam Brown, formed campaign committees in July and did not report fundraising in the second quarter, which ended in June.
Susie Lee (D) - incumbent
Frequently the top House fundraiser in Nevada, Democratic Rep. Susie Lee once again led the state's congressional candidates in the money race with more than $615,000 in second quarter contributions, pushing her cash on hand to nearly $955,000.
Almost three-quarters of Lee's fundraising, about $447,000, came from individual contributions, with another $156,000 coming from PACs. Much of the total also came from big-money donations, including eight contributions of the $5,000 maximum from PACs, and another 85 contributions of the maximum $2,900 for individuals (all totaling for a combined $286,500).
Lee's spending last quarter neared $144,000, with sizable chunks of that money flowing to consultants — who combined for $45,700 in expenses — and advertising, including $20,000 for a digital ad campaign from Washington, D.C.-based firm Break Something.
April Becker (R)
A one-time 2020 Nevada Senate hopeful-turned congressional challenger, April Becker led the district's field of Republicans last quarter with nearly $251,000 in contributions, as well as roughly $259,000 cash on hand.
Almost all of Becker's fundraising came from individual contributions, with some major donors including several linked to the Meruelo Group — including maximum $5,800 contributions from Alex Meruelo, his wife Liset, and Meruelo Enterprises Vice President Luis Armona — and members of the Station Casinos-owning Fertitta family, including $5,800 contributions from Frank Fertitta III, Jill Fertitta, Lorenzo Fertitta and Teresa Fertitta.
Becker also far outspent her rivals, dropping nearly $123,000, including more than $84,000 on expenses related to consulting or advertising. Of that money, more than $17,000 went to Las Vegas-based consulting firm November Inc., and nearly $19,000 went to October Inc.
Mark Robertson (R)
Another early entrant into the District 3 race, veteran Mark Robertson trailed Becker with $104,000 in contributions and nearly $117,000 in cash on hand.
Nearly all of his fundraising, roughly $97,000, came from individual contributions, with another $3,000 coming from PACs and $3,600 coming from candidate loans. Many of Robertson's biggest donors were Las Vegas-based business owners, including America's Mart owners Nick and Kristy Willden ($5,800 each), Sunrise Paving's Glenn and Jill Warren ($5,800 each) and Patrick's Signs CFO Tiffani Dean ($5,800).
Robertson reported spending only $31,000 last quarter, with much of it split between consulting, advertising and event fees.
Noah Malgeri (R)
The newest Republican challenger in the field who entered the race in early June — just before the quarter ended — Republican attorney and business owner Noah Malgeri trailed the rest of the field with nearly $39,000 in second quarter fundraising and $32,400 cash on hand.
That money stems mostly from more than $31,100 in candidate loans, buoyed by another $7,750 in individual contributions.
Of the $6,300 Malgeri spent last quarter, almost all of it ($6,033) went to Las Vegas-based firm McShane, LLC.
One other candidate, Republican Reinier Prijten, briefly filed in April before formally terminating his campaign committee in May.
Steven Horsford (D) - incumbent
Touting record off-year fundraising for a single quarter, Democratic Rep. Steven Horsford pulled in more than $581,000 last quarter, boosting his cash on hand to more than $1.2 million — a massive sum larger even than Nevada's usual fundraising frontrunner, Susie Lee, and almost eight times as much money as his next nearest Republican competitor.
A slight majority of Horsford's fundraising ($305,800) came from individual contributions, with the remaining $275,000 coming from PAC money. Like Lee, Horsford also saw most of his money flow from big-dollar fundraising and maximum contributions, including 15 $5,000 maximum contributions from PACs, and another 127 individual contributions between the maximum $2,900 and $2,000.
Together, those major contributions combine for more than $414,000.
Horsford's campaign spent more than $127,000 through the quarter, including more than $11,000 on online advertising and more than $22,000 on consulting.
Sam Peters (R)
The runner-up in last year's Republican primary in District 4, veteran and insurance salesman Sam Peters entered this year's race with a fundraising edge on his Republican rivals. That edge continued into the second quarter, where he raised more than $119,000 and was left with more than $155,000 cash on hand.
Peters saw a handful of maximum individual contributions through the quarter, with most coming from retirees or real estate-related donors.
Peters was the only Republican spending large amounts last quarter, dropping more than $76,000. A sizable chunk of that spending, almost $34,000, went to Las Vegas-based consulting firm McShane, while another $18,700 went to credit card fees.
Carolina Serrano (R)
Though she was a relatively late entrant into the race, only forming her campaign committee in June, former Trump campaign staffer Carolina Serrano still banked more than $49,000 last quarter and enters the third quarter with more than $42,000 left on hand.
A majority of that fundraising came from a handful of big names (both current and former) in the gaming industry. That includes maximum $5,800 contributions from former Wynn CEO Steve Wynn and his wife, Andrea, as well as another $5,800 from Meruelo Group President Alex Meruelo, $4,200 from his wife Liset, $5,800 from Meruelo Group Executive Vice President Luis Armona and $4,200 from his wife, Margaret.
Together, those six contributions alone total $31,600, or roughly two-thirds of all the money Serrano raised.
Serrano spent comparatively little last quarter — just $6,200 — though nearly all of it came through a $5,000 digital ad buy.
Tony Lane (R)
A former player for the UNLV Runnin' Rebels in the mid-90s and now a Las Vegas business owner, Tony Lane raised the least of any Republican in the race with just $3,942. He spent nearly all of it — $3,362 — leaving just under $580 cash on hand.
One other candidate, non-partisan John Johnson, did not report fundraising for this period, despite forming a campaign committee in February.
Dina Titus (D) - incumbent
Facing what could be her first serious primary challenge since winning District 1 in 2012, Democratic Rep. Dina Titus roughly tripled her fundraising from the first quarter to the second, raking in more than $152,000 and lifting her cash on hand to more than $463,000.
Of all Nevada's federal-level midterms next year, Titus' race could become the center of a split between the establishment wing of the state party and a surging group of left-wing activists.
Those activists won a key victory in March of this year, electing a slate of progressives to party leadership positions. Ahead of that loss, the party apparatus hemorrhaged staffers and hundreds of thousands in money was transferred from state party accounts to the Democratic Senatorial Campaign Committee.
Establishment Democrats have since launched a new campaign apparatus, the Nevada Democratic Victory campaign.
Titus' fundraising was almost even split between individual contributions ($80,000) and PAC money ($72,000), with some of Titus' largest fundraisers including Las Vegas mega-donor Stephen Cloobeck ($2,800), Las Vegas-based attorney and political director for the state Senate Democrats Alisa Nave ($5,600) and Las Vegas-based doctor and frequent Democratic donor Nic Spirtos ($5,800).
Titus spent little in comparison to her fellow incumbents, logging just under $29,000 in expenditures last quarter. Most of that money, almost $20,000, went to consultants, including more than $12,000 for fundraising consulting.
Amy Vilela (D)
A third-place runner up in the 2018 race to fill the open seat left in District 4 by the departure of Democratic Rep. Ruben Kihuen (a race ultimately won by Steven Horsford), Amy Vilela has entered 2022's primary for District 1 as a progressive challenge to the establishment-backed Titus.
Touting her efforts for the Bernie Sanders campaign in 2020 and, more recently, an endorsement from progressive Missouri Rep. Cori Bush, Vilela posted nearly $82,000 in second-quarter fundraising, with almost $58,000 cash on hand.
All of that fundraising came from individual contributions, and all came through the online Democratic fundraising platform ActBlue. As a result, much of her fundraising came from out-of-state. Of 56 unique contributors to Vilela's campaign, just 10 listed a Nevada address.
Vilela reported just $23,300 in spending, with almost all of it dedicated to operating expenses, including $2,500 spent on consulting.
Mark Amodei (R) - incumbent
As he has continued to leave the door open for a possible run at the governor's mansion, Republican incumbent Mark Amodei nearly outspent his fundraising through the second quarter, burning through more than $88,000 of the $90,000 raised, leaving roughly $325,500 cash on hand.
Outside one $2,900 contribution from Cashell Enterprises CEO Rob Cashell Jr., most of Amodei's major donations came from PACs or corporate donors. That includes $5,000 from Las Vegas Sands, $5,000 from the Credit Union Legislative Action Council, and $2,500 each from NV Energy, the American Bakers Association, construction materials company CalPortland and the law firm Holland & Hart.
Some of Amodei's spending went to a number of contributions to other Republican incumbents, including $1,000 each for Iowa Rep. Ashley Hinson, New York Rep. Claudia Tenney, Nebraska Rep. Don Bacon, North Carolina Rep. Richard Hudson, Illinois Rep. Rodney Davis, and California Rep. David Valadao.
However, Amodei also spent large sums on consulting ($37,500) and "contributor relations" expenses ($15,400).
One other candidate, Democrat Aaron Michael Sims, formed a campaign committee in the second quarter but did not file a campaign finance report as of Friday morning.
The Nevada Independent is raising $200,000 by Dec. 31 to support coverage of the 2024 election.
Tax-deductible donations from readers like you fund this critical work.
If you give today,your donation will be matched dollar-for-dollar.
Give + Get Matched
Featured Videos