U.S. Capitol. Public domain image.
Cortez Masto will vote 'no' on Gorsuch; nominee has 'refused' requests to meet
March 30th, 2017 - 2:03pm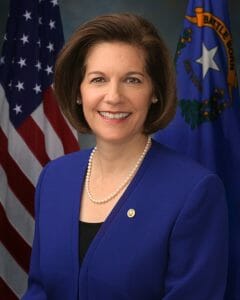 Democratic Sen. Catherine Cortez Masto said today she will vote against U.S. Supreme Court nominee Neil Gorsuch, who has "refused" to honor her request to meet with him over the past several weeks.
The junior senator from Nevada said she supported "full consideration" of Gorsuch, read his Tenth Circuit opinions and dissents, reviewed his private practice cases, watched his confirmation hearings and requested a one on one meeting with him. But her spokesman said that he has not done so despite her attempts to schedule a meeting with him and that her office was asked to make an argument for why the Supreme Court nominee should meet with her.
"Unfortunately, after requesting a meeting with the Judge for several weeks, he has refused to honor this request," Cortez Masto said. "The U.S. Constitution has entrusted the Senate with the role of advising the President on the highest court of the land and in refusing to meet with me, he has disrespected our nation's founding principles and pillars core to our democratic institutions."
Cortez Masto said in a statement that Gorsuch's qualifications are "impressive" but that she remains "concerned that his narrow view of the law will hurt the most vulnerable among us."
"Our nation's highest court requires a judge with an independent legal mind who will uphold our constitution and the separation of powers," Cortez Masto said. "Now more than ever, we cannot afford a Justice who will act as a rubberstamp to President Trump's extreme agenda."
Cortez Masto will also vote no on cloture on Gorsuch's nomination — required to overcome a filibuster and proceed to the final vote. She said that she believes that a "nominee of such importance" should require 60 votes to be confirmed, in line with what Senate Democratic Leader Chuck Schumer has said.
"I am not confident that Judge Gorsuch understands how his decisions will impact workers, immigrants, women's health and economic security, disabled Americans, and the everyday Nevadans that I am here fighting for," Cortez Masto said. "The next justice will make decisions that will have serious reverberations throughout the country for generations to come from a worker's right to organize to a woman's right to choose."
Comment Policy (updated 3/21/19): We welcome reader comments on our stories. However, in keeping with our general policy of transparency, accuracy and accountability, we do not accept comments from anonymous accounts. Anonymous accounts are those without a valid first and last name. Any such comments will be deleted, and anonymous users will be blocked from commenting further. We also will block commenters who use offensive language, engage in personal attacks or state things that are verifiably false.
get our morning newsletter, The Daily Indy
INDYMATTERS PODCAST
CAFECITO CON LUZ Y MICHELLE
@TheNVIndy ON TWITTER