COVID and the classroom: How one Las Vegas elementary school is navigating pandemic uncertainty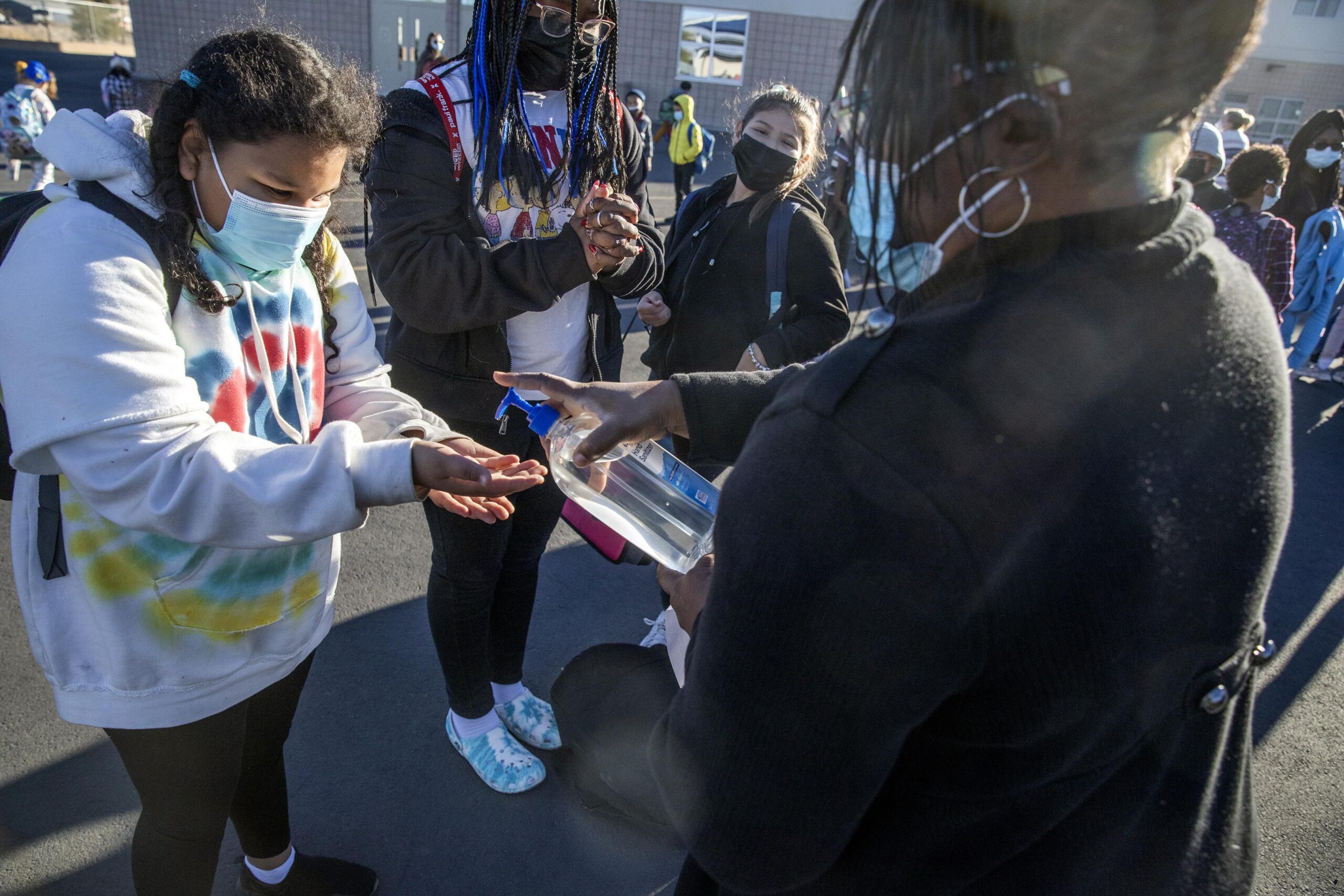 Lined up with their hands outstretched, fifth-graders outside Lomie G. Heard Elementary School waited for the modern-day equivalent of a high five — a squirt of hand sanitizer.
It was a crisp January morning, minutes before the daily sunrise ceremony in the school's courtyard. Their teacher, Jonika Stowes, offered a cheerful greeting with each dab of germ-busting liquid.
"Good morning!" she said while scanning her students for unsanitized hands. "Did you get any?"
This has been Stowes' morning routine since in-person learning resumed full time in August. It's one of the visual cues reminding students and educators that nearly two years after world health officials declared COVID-19 a global pandemic, school routines remain heavily altered. Sidewalk stickers encourage students to stay six feet apart, and teachers' fanny packs include face masks, disinfectant wipes, bandages and — yes — more hand sanitizer.
Stowes considers sanitizer, which parents donated in bulk, a first line of defense against pathogens students may have picked up on their bus or car rides to school.
"The hardest part is when a kid does get COVID or their family does get COVID and they have to be out of class," she said. "In-class instruction is completely different than online instruction or them missing school completely."
The fast-spreading Omicron variant, however, has complicated the quest to keep classrooms full. Student and staff absences, though not all COVID-related, have skyrocketed since the holiday break ended, creating operational challenges across the nation and in Nevada. Staff shortages ultimately compelled the Clark County School District to take a five-day "pause" over the Martin Luther King Jr. holiday weekend, giving students an extra two days off and, in theory, teachers time to recover.
The announcement during the school's morning ceremony on Jan. 12 — two days before the pause began — drew little fanfare from students. There was one audible clap.
Azariah Jones, one of Stowes' fifth-grade students, said his lukewarm reaction stems from anticipated boredom. Online games with friends are only fun for so long, he said, and his neighborhood doesn't have many kids who play together.
"I have friends and stuff at school," he said. "I could come and I could learn. I could run around because, well, I have stuff to do."
On this particular day, that included mixing water, glue and Borax during science class to make slime. Educators at the Las Vegas magnet school, meanwhile, are running their own experiments on a daily basis as they contend with lingering pandemic uncertainty and learning challenges.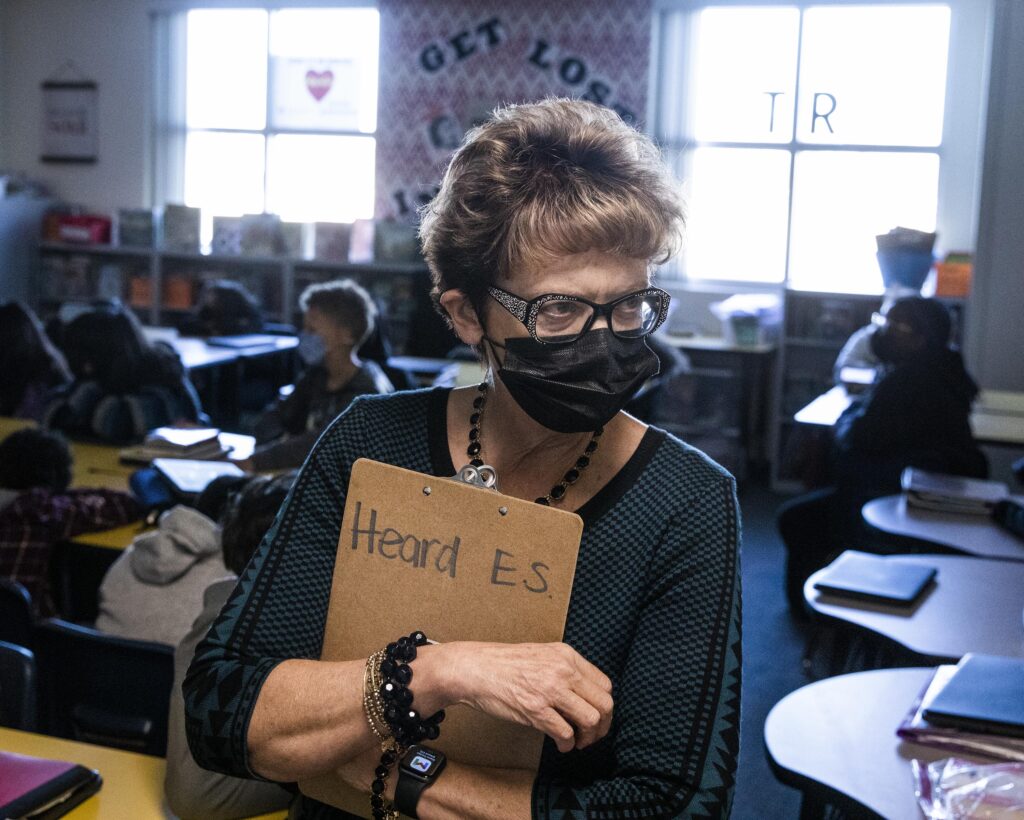 The staffing puzzle
Lomie G. Heard Elementary School is one of four schools on a single block in northeast Las Vegas. To prevent a crush of traffic, the schools have staggered start times. Lomie G. Heard's gates open at 8:25 a.m., but by the time Principal Rebecca Mestaz helps usher vehicles through the drop-off line, she has been working for more than three hours.
Mestaz starts thumbing through text messages and emails at 5 a.m. to see which teachers and staff members have called out — whether for illness, sick family members, medical appointments or other personal reasons.
Then begins the game of chess: How can she ensure classroom coverage and learning for the day?
Mestaz first reaches out to two substitute teachers who regularly work at the school. If they're not available, it can be difficult, if not impossible, finding other certified guest teachers.
Districtwide, substitute teachers only filled about 20 percent of teacher vacancies the first several days of this semester. The substitute shortage has forced schools to combine classrooms or ask teachers to forgo their planning periods to cover another class. Administrators, learning coaches and central office staff are filling in where needed, too.
It's more than just plugging holes. Mestaz said she keeps in mind her teachers' strengths and weaknesses as well as a running list of who has covered classes, recess and lunchroom duty. She doesn't want to ask the same people over and over again.
"You take the load off of folks as much as you possibly can," Mestaz said, explaining her philosophy for avoiding staff burnout.
On this day, a dozen of the school's 79 staff members — 15 percent — were absent. Six were classroom teachers. And with 1 in 5 students absent the same day and another 9 percent doing temporary distance learning, multiple desks sat unoccupied in classrooms.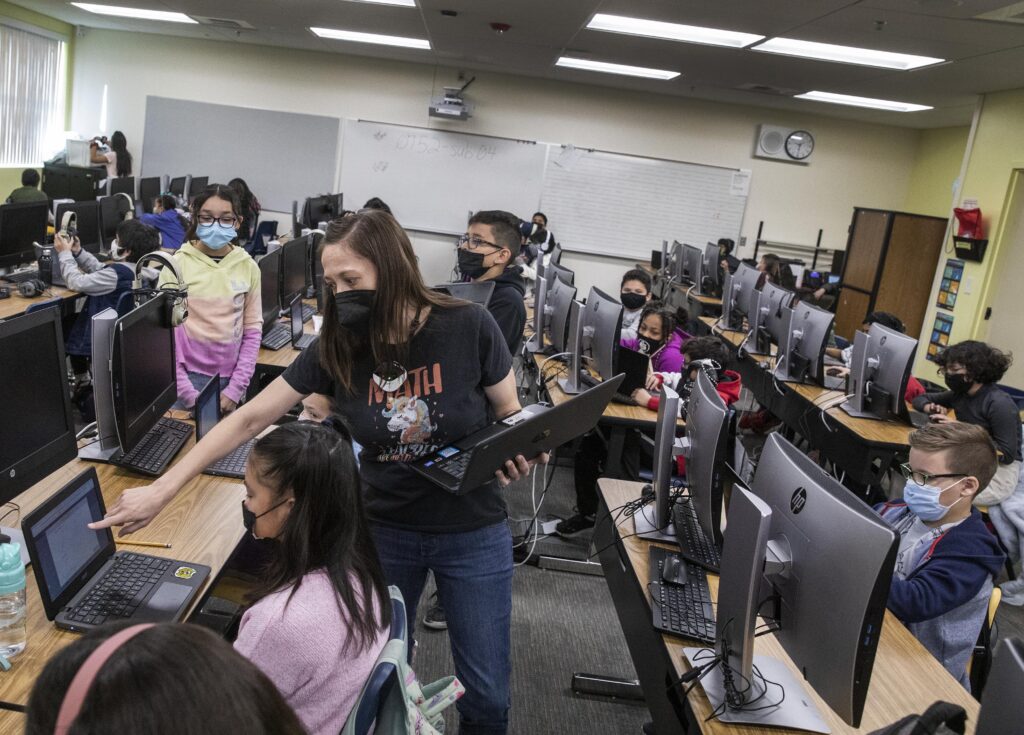 In a large computer lab, fourth-grade teacher Rachel Rose carried a laptop as she wandered around the room. It was her third day leading a combined classroom of roughly 60 students because of her partner teacher's absence.
She met with students individually as they completed assignments on Canvas, a digital learning platform. A software program on Rose's laptop served as a makeshift command center, showing student activity at their own computers. She could swoop in if they got off track.
But Rose credited her students — most of whom were quietly reading and typing — with helping make a tough situation easier.
"I think they understand the situation and that, you know, this is where we need to be to make sure that our learning doesn't stop," she said.
But learning paused later that week. The district canceled school for students on Friday and Tuesday, in addition to the Martin Luther King Jr. holiday on Monday. The two lost instructional days will be made up later this semester.
The temporary closure came as a relief to third-grade teacher Michele Hargrove. She described feeling like an intruder — in this case, COVID-19 — was about to break through the door. Her husband is immunocompromised, she said, adding an extra layer of fear. Eight of her students were absent on this day.
And from a logistical standpoint, teachers said juggling the needs of students who are in class, working remotely or playing catch up after an absence can make their heads spin.
"I think we all need a chance to take a deep breath," Hargrove said.
Mestaz, a retired principal from California, has led Lomie G. Heard Elementary School since it opened in 2017 as a magnet campus featuring personalized learning and a technology emphasis. COVID-19 emerged during the school's third year of existence, and remote learning kept most students out of the building for an entire year.
So when in-person instruction resumed full time in August, palpable excitement among staff turned to some discomfort weeks into the new school year, Mestaz said. Simply put, school felt different.
"It sounds trite, but I think the biggest adjustment was (that) it wasn't what we consider to be normal," Mestaz said. "It was something new."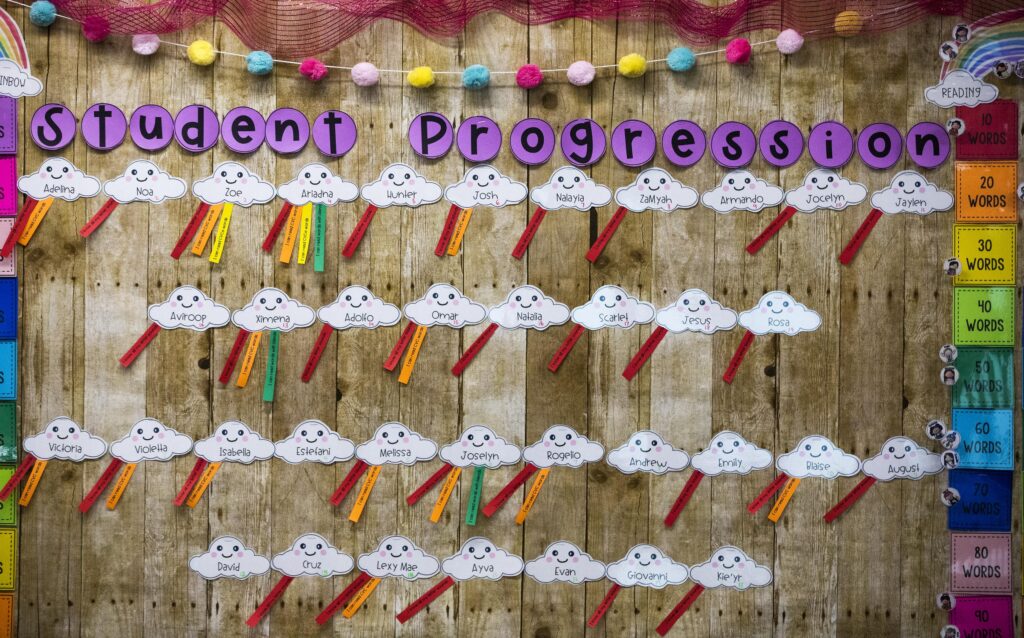 Finding reading resiliency
In a fifth-grade classroom with dimmed lights, students huddled over self-selected books while reading silently. Some paged through graphic novels, using the comics as context clues to understand the accompanying words. Their teacher watched for raised hands or body language suggesting a student needed help deciphering a word.
After more than a year of remote learning, educators encountered a larger number of older students returning to school this year without foundational reading skills. They stumble over common words and have trouble blending vowel and consonant sounds to figure out new letter combinations. They're still learning to read versus reading to learn — an academic shift that typically occurs by the end of third grade.
Silent reading has been a point of emphasis at Lommie G. Heard this year, an outgrowth of teachers acknowledging they had little control over how much reading students accomplished during distance education.
Fourth-graders, in particular, appear further behind in reading, Mestaz said, based on MAP Growth test results that measure discrete academic skills. Their reading growth between tests taken at the beginning and end of the first semester was not as steep as lower-level students' academic climbs during that same period. And that's simply examining academic growth, not whether students are on pace for meeting grade level standards.
Mestaz did not sugarcoat the academic reality facing upper elementary students, saying many are "desperately hurting." From educators' point of view, the clock is ticking.
"They're only with us for another year and a half and then they move on to middle school," Mestaz said.
The questions pile up one after another in her head: How much farther behind will students fall in middle school if they can't read? Will they even graduate high school? And if not, what kind of jobs await them as adults?
She knows heavy academic intervention needs to start now.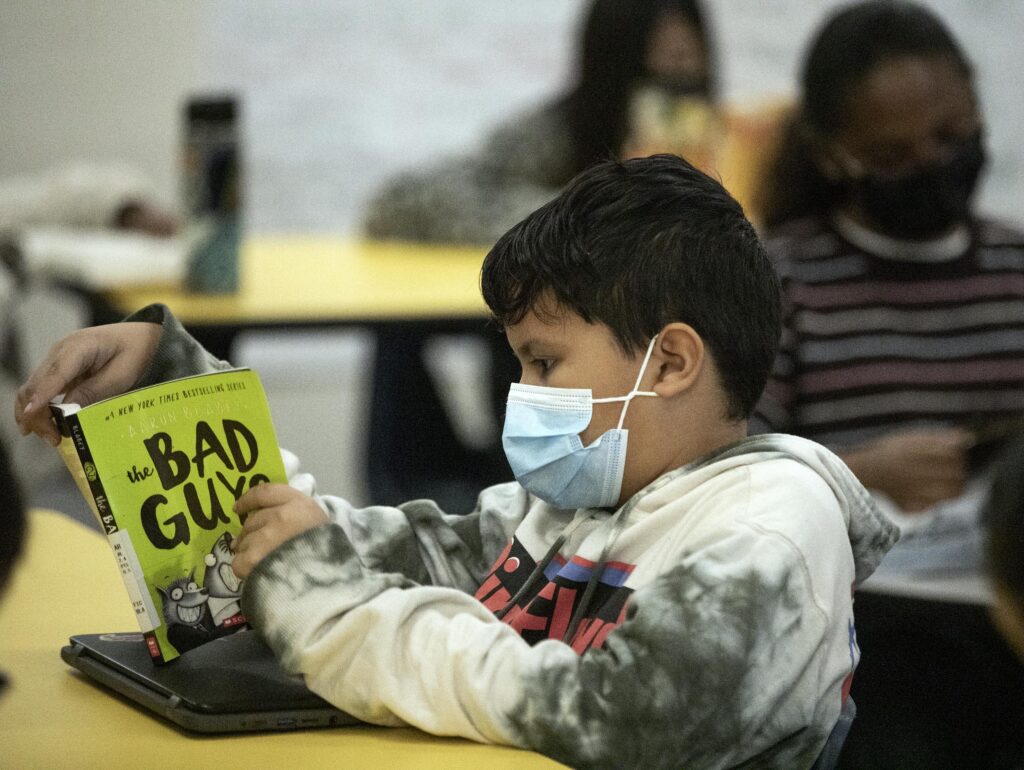 In the fall, staff launched a schoolwide initiative to boost student recognition of high-frequency words, such as "there," "down," "about" and "water." Sight words, as they're called in the education world, are so common they tend to be read without sounding out the letters.
Mastering sight words is a staple of lower elementary curricula, hence colorful classroom posters listing the common words. But in pandemic-era education, the need has expanded to students in upper elementary grades as well.
Prizes such as bracelets or charms reward students of all grade levels enrolled in the program as they add more sight words to their reading arsenal.
"This is not something we've ever done with upper grades — literally never," said Jessica Oliva, a K-5 literacy specialist and instructional coach at the school. "This is my 21st year in education. I have never seen this done above second grade."
On the flip side, teachers say the extended period of distance learning equipped students with tech-savvy skills they may not have otherwise gained. They type faster rather than pecking at the keyboard and can navigate digital learning programs without much adult guidance.
But when staff added miniature whiteboards and markers to the recess cart, much to their surprise, they quickly disappeared each day. Students were eager to use writing utensils again. Some are even trying to teach themselves cursive, which is no longer a required standard.
"They're so wanting to write. They're so wanting to use paper and pencil that they're doing things like that," said Darren Jacobs, the school counselor.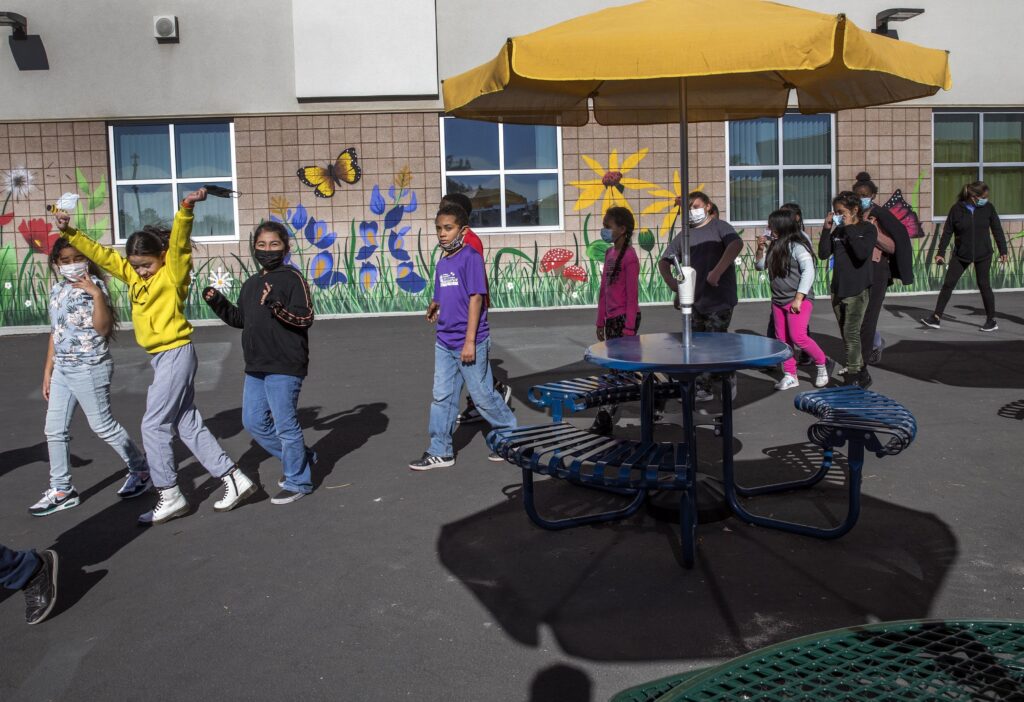 Educators at the school hope students' enthusiasm for being back translates to long-term resiliency, allowing them to overcome academic hurdles this disrupted period of schooling has thrown their way. Marylse Goodwin, a fifth-grader, said she concentrates better now that she is not trying to learn feet away from her mother, who works from home.
"I got really distracted," she said. "So I thought once we got back to school, it was, like, way easier."
Progress has been evident on the playground as well. Students came back to school bearing the physical side effects of too much time spent indoors, Mestaz said. They panted after running short distances and took more timid kicks of the soccer ball.
Now, halfway through the school year, they have their stride back.
The Nevada Independent is raising $200,000 by Dec. 31 to support coverage of the 2024 election.
Tax-deductible donations from readers like you fund this critical work.
If you give today,your donation will be matched dollar-for-dollar.
Give + Get Matched
Featured Videos