Culinary: More than 35,000 Strip workers plan to strike 6 days before Vegas Formula 1 race
Union leaders say months of contract talks with MGM Resorts, Caesars and Wynn have not led to an agreement; ask race fans to "take their business elsewhere."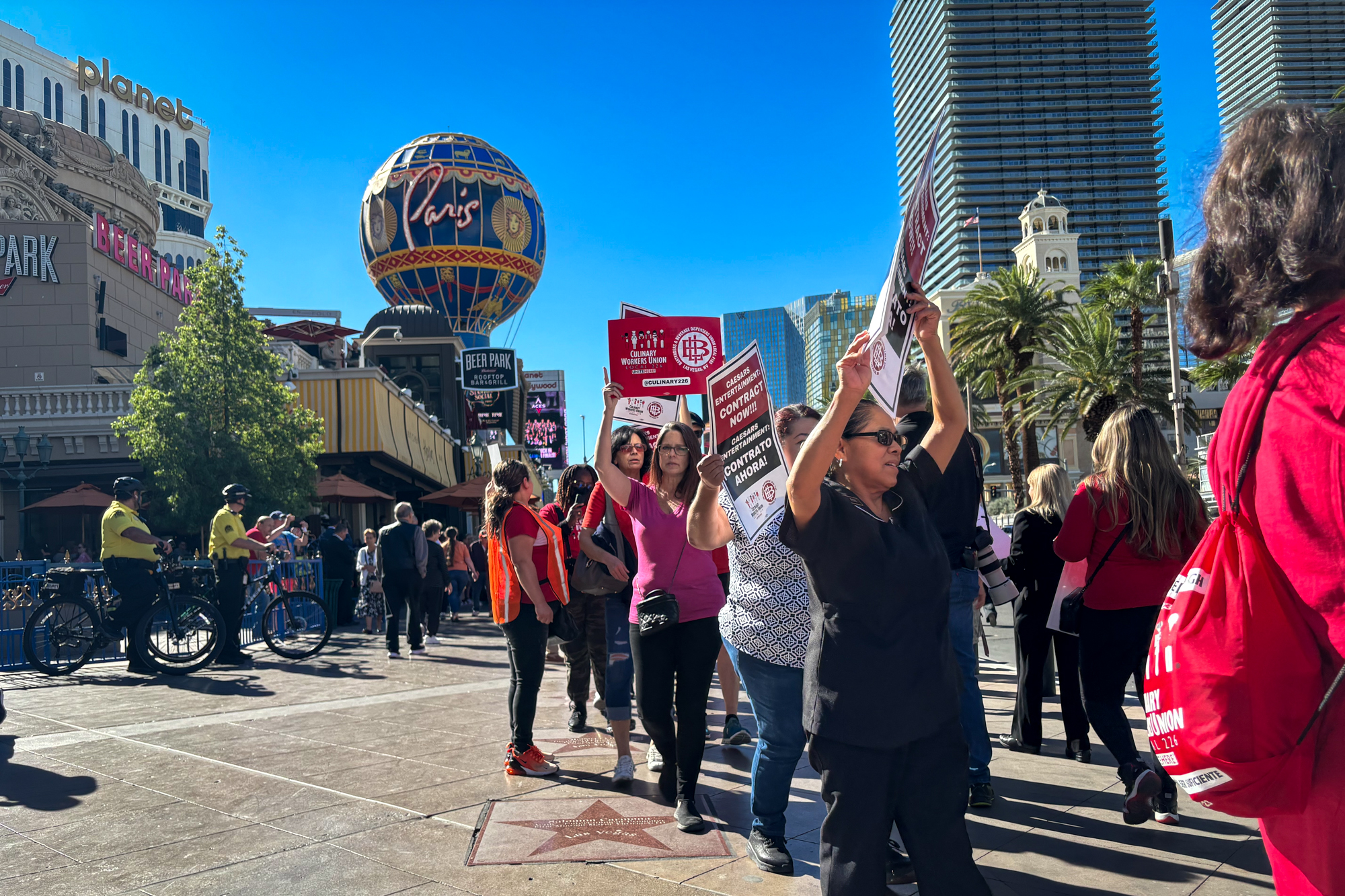 Culinary Workers Union Local 226 set its strike deadline with major Las Vegas casino companies for Nov. 10 at 5 a.m. — meaning more than 35,000 Strip workers would walk off their jobs six days before the start of the Formula One Las Vegas Grand Prix if no contracts are signed by then.
Culinary Secretary-Treasurer Ted Pappageorge said during the strike deadline announcement Thursday that the union has "gotten about as far as we can get."
The union has been in contract negotiations with MGM Resorts International, Wynn Resorts and Caesars Entertainment since April. Pappageorge said the companies "shouldn't be surprised" about the announcement after union members voted in September to authorize a strike.
"It's time to set a deadline because workers here in Vegas have been extremely patient but also suffering … And the companies are setting records — we are happy about that," Pappageorge said. "The future is incredibly bright in Las Vegas, and the workers deserve to participate."
The strike would happen ahead of the much-anticipated international auto race, which has seen record-breaking, four-figure hotel room rates and tickets that cost up to thousands of dollars per day. If the strike extends into the week of the race, Pappageorge said the union will ask visitors and customers to "take their business elsewhere."
"Customers would expect significant difficulty in receiving the kind of service that they expect when they come to Las Vegas. That's unfortunate," Pappageorge said. "But if we're forced on strike, then workers are going to withhold their labor."
A representative for the Las Vegas Grand Prix declined to comment on the Culinary's announcement.
Properties operated by all three companies are situated along the 3.9-mile race circuit that runs in front of many famous Strip landmarks. Several resort operators have built grandstands and temporary luxury suites for the race in anticipation of drawing big-spending customers to populate the high-end gaming areas.
Some of the issues in the contract negotiations include pay raises, daily room cleaning requirements, job protections, rules around adopting automation technology and health care benefits.
Acrimony between the gaming industry and the unions surfaced in Carson City during the most recent legislative session earlier this year, primarily around SB441 — a measure which repealed requirements enacted during the pandemic to clean hotel rooms on a daily basis.
On Thursday, Pappageorge blamed Democratic lawmakers for ending the daily room cleaning requirements.
"Democrats, other than a very few, turned their backs on these women and disagreed. And without that backstop, it has made these companies even bolder about this issue," Pappageorge said. "It affects room cleaners all over the state of Nevada, not just here in Las Vegas. What companies have seen is that they've been able to reduce labor costs significantly if they can convince guests to reject or relinquish daily room cleaning."
On Tuesday, Caesars Entertainment CEO Tom Reeg said he thought additional contract negotiations would occur this week. Caesars operates nine properties on the Strip.
In remarks made during the company's third-quarter earnings conference call before the strike deadline announcement, Reeg said the casino operator's employees "should and will" participate in the company's financial success.
"We have done quite well as a company post-merger, post-pandemic," Reeg said. "You should expect that when we reach an agreement on a contract, it's going to be the largest increase that our employees have seen in the four decades since we started interacting with the Culinary Union."
Reeg couldn't say when an agreement might be reached.
In response to a question, Pappageorge said he "appreciated" the comments by Reeg, but "now we need to see action."
MGM Resorts reports third-quarter earnings next week and the company declined to comment on the strike deadline Thursday. In August, CEO Bill Hornbuckle said the negotiating process was going well.
"We have decades of history with them on doing this," Hornbuckle said. "The town hasn't seen a strike since the 1980s, so I think we'll come to a reasonable resolution."
Wynn Resorts did not respond to a request for comment.
The unions did not declare June 1, the date the contracts formally expired, as a "strike deadline" because of the complexity of the talks. Contract extensions were reached with most Strip properties and any wage increases agreed to in a final contract will be retroactive.
The last major Culinary strike against the resort industry was in 1984, when 17,000 union workers walked off the job over contract disputes with 32 Strip resorts.
Updated at 4:38 p.m. on 11/2/2023 to reflect casino companies declined to comment.
The Nevada Independent is raising $200,000 by Dec. 31 to support coverage of the 2024 election.
Tax-deductible donations from readers like you fund this critical work.
If you give today,your donation will be matched dollar-for-dollar.
Give + Get Matched
Featured Videos