Culinary Union votes to authorize citywide strike if no contract by June 1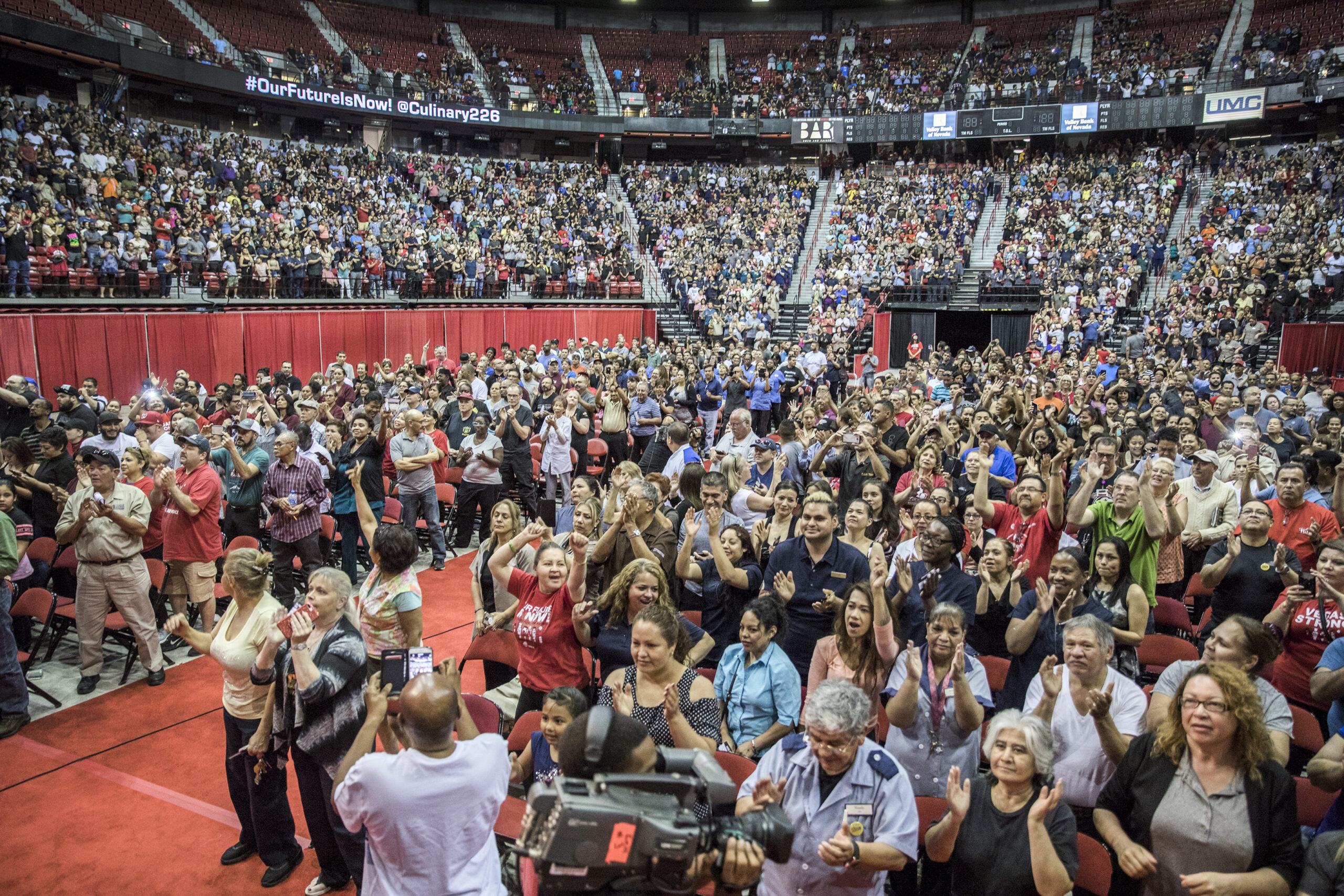 Guest room attendants, bartenders, cooks and other hotel workers voted Tuesday to authorize a strike that could paralyze resorts up and down the Strip and in downtown Las Vegas as negotiations between their union and casino companies have stalled ahead of next week's deadline to renew their contracts.
Roughly 25,000 of the 57,000 members of the politically powerful Culinary Union and its sister union, the Bartenders Local 165, cast ballots during two strike vote sessions Tuesday morning and evening at the Thomas & Mack Center at UNLV.
The Tuesday vote doesn't mean the workers will automatically strike — workers have previously voted to strike and not actually done so — but it does put additional pressure on gaming companies to reach a contract by midnight on June 1, when the existing contracts expire. If they don't, the union's negotiating committee is authorized to call a strike at any point if contracts with 34 resorts aren't renewed by the deadline.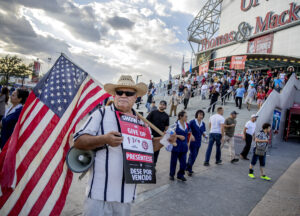 The contracts cover 50,000 union workers at properties owned by Caesars Entertainment, Penn National, Golden Entertainment and Boyd Gaming, among others. The Culinary Union's last citywide strike was in 1984 when thousands of workers walked off the job for 67 days; workers last voted for a citywide strike in 2002 but a deal was reached before workers went on strike.
MGM Resorts said in a statement Tuesday night that the vote is "an excepted part of the process."
"We are confident that we can resolve the outstanding contract issues and will come to an agreement that works for all sides. In fact, MGM Resorts and the Culinary and Bartenders Unions have scheduled talks for this week and next," the company said in the statement.
Caesars Entertainment, in a statement Wednesday afternoon, said that they expect to reach an agreement with the union on or before June 1.
Union members — many of them still in their work uniforms in hues of grey, teal, navy, brown, maroon and purple — streamed by the thousands into Thomas & Mack Center at UNLV Tuesday night, which was adorned with banners in the Culinary's signature red color reading, "Show up or give up" and "Our future is now." Organizers outside led chants of "Whose town? Our town," and "Who runs the Strip? We run the Strip."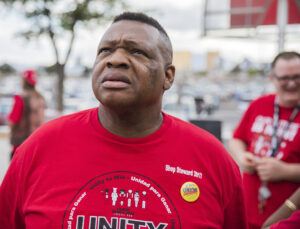 Olee Stewart, a 58-year-old cook at Harrah's, said he felt an obligation to ensure that a younger generation of workers has the same benefits he has had over his 20 years with the union.
"You know because we have people that were here before us and I'm doing my part to keep it going for the ones that's going to be after," Stewart said. "We're paving the way for them."
Geoconda Arguello-Kline, the union's secretary treasurer, said that the union is negotiating for a better economic package, more protection against sexual harassment for workers, safeguards for workers amid technological improvements and assurances that workers will be able to keep their jobs and benefits in the event that a company decides to sell a property.
She said that the union worked with the resorts during the difficult times of the recession but that now that the economy is doing better, workers should see their share of the benefits too.
"The companies they are very successful, very successful, and we're very happy about that. The economy is really good. It's moving. Everybody feels great right now," Arguello-Kline said. "But we're asking the companies to have an economic package with a share for the workers."
She also said that the union is pushing for panic buttons for workers who have to enter hotel rooms alone, such as guest room attendants, bellhops and room service attendants. The union is also asking for additional language to protect women and men from sexual harassment in the workplace.
Jocelyn Egbalic, a 41-year-old beverage showroom server at the Rio, said that sexual harassment is happening "in the back of the house and the front — everywhere, actually."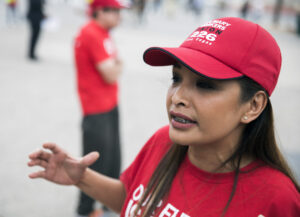 "We just want to be able to come to work comfortably and able to do our job properly and not scared of having to come to work and worry about if we're going to get any protection from the high rollers or from the guests. 'What's he going to do?' — you know what I mean?" Egbalic said.
She said that she sees the companies negotiating a new contract as a positive for their businesses.
"I think that the companies will get more respect from not just the people from the outside of the union but the whole world knowing that they take care of their employees," Egbalic said. "I think this is a good message out there that these big companies making all these monies are also taking care of their employees."
Disclosure: The Culinary Union, MGM, Caesar's and Boyd have donated to The Nevada Independent. You can see a full list of donors here.
Updated 5-23-18 at 2:05 p.m. to include a statement from Caesars Entertainment.
The Nevada Independent is raising $200,000 by Dec. 31 to support coverage of the 2024 election.
Tax-deductible donations from readers like you fund this critical work.
If you give today,your donation will be matched dollar-for-dollar.
Give + Get Matched
Featured Videos