Indy DC Download: Rep. Susie Lee to back impeachment; House approves prescription drug price, farmworker and defense legislation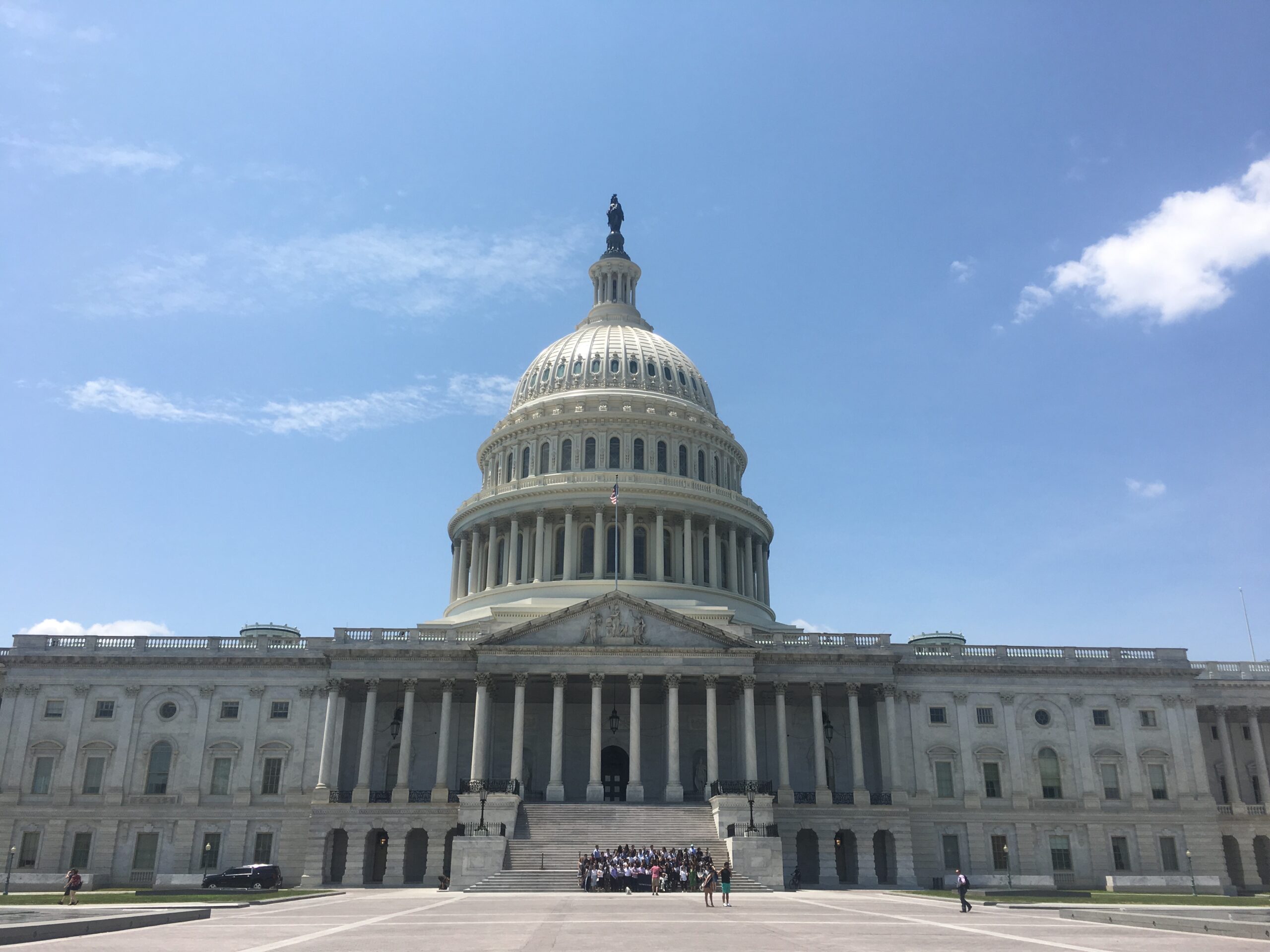 Rep. Susie Lee capped off a busy week in the nation's capital by announcing her support to impeach President Donald Trump.
But before her Friday announcement, the House approved a sweeping Democrat-drafted prescription drug price-reduction bill, bipartisan legislation that would legalize undocumented farmworkers and a compromise version of the $738 billion annual defense policy act.
The House action came as the Senate confirmed four of President Donald Trump's nominations, including Lawrence VanDyke, Nevada's former solicitor general, to join the U.S. Court of Appeals for the Ninth Circuit. VanDyke's confirmation came over the objections of Democratic Sens. Catherine Cortez Masto and Jacky Rosen who argued he was a conservative ideologue.
Impeachment
Lee's announcement triggered a press release from Trump's re-election campaign.
"Susie Lee is choosing Nancy Pelosi and the House Democrats' unhinged caucus over her constituents. Voters won't forget her cowardice," Trump Victory spokesperson Keith Schipper said. "Lee's political career is over."
Republicans and allied groups have targeted Lee, and Rep. Steven Horsford, on impeachment in hopes of flipping those seats. Lee represents one of the 31 districts that Trump won in 2016, but are represented by Democrats.
Her district tends to swing between the parties, but Lee won her seat by almost 10 percentage points in 2018.
With a vote on the two articles of impeachment—abuse of power and obstruction of Congress—expected on Wednesday, two members of the delegation have yet to declare their positions on the historic vote. Democratic Rep. Steven Horsford and Republican Rep. Mark Amodei have yet to announce while Democratic Rep. Dina Titus is for impeachment.
Judging from the recent comments made by Horsford and Amodei, the delegation could split along party lines on impeachment, similar to what's expected in the full House.
"I did not come to Congress to impeach a President, but the evidence presented makes it clear that he abused the powers of the office, obstructed Congress and put our national security at risk," Horsford said in a statement from his office Friday. "No one is above the law and must be held accountable for their actions under the Constitution."
Amodei, who has been critical of the Democrats' impeachment process, said last week that the charge of obstruction of Congress strikes him as something that is general and could have applied to the previous administration.
"I'm gonna do my homework," Amodei said between votes on the House floor Tuesday. "I'm going to give it its full due, I'm not going to dismiss…but those are pretty general things to start out."
A House vote is expected Wednesday. That will trigger a trial in the Senate, likely to begin next month.
Senate Majority Leader Mitch McConnell, who appeared on Fox News on Thursday, said that there was "zero chance" that there were the votes to remove Trump from office. Sixty-seven votes would be needed, but there does not appear to be 20 Republicans that would have to vote with all 47 Democrats for removal.
Asked if it was disheartening that Trump could be acquitted by the GOP-controlled Senate, Titus said that it is Congress's duty under the Constitution to go through the process irrespective of the outcome.
"I think it's still important to do it constitutionally. It's our responsibility to do it," Titus said, adding that doing it this year is important in order to keep the president from further soliciting foreign interference in the 2020 election. Democrats allege that Trump withheld military aid to Ukraine to pressure the nation to interfere in the 2020 election against a political opponent.
She noted that the trial would also put vulnerable Republicans on record, which could open them up to criticism from their Democratic opponents.
"I just find it astonishing that they just turn a blind eye to all the evidence," Titus said of Republicans who have closed ranks behind Trump.
Prescription drugs
Meanwhile, House Democrats approved prescription drug legislation, 230 to 192, that is designed to overhaul how prescription drugs are priced by mandating that Medicare directly negotiate the price of up to 250 prescription drugs, including insulin. Currently, negotiation is banned under a 2003 law. The measure would also make the negotiated prices available to those with private insurance.
Only two Republicans voted with all House Democrats to pass the measure. Amodei, who was not among the two, said he thinks the bill is heavy-handed and does not stand a chance to be taken up by the Senate.
"Under the bill, drug companies would sell prescription drugs at a price arbitrarily set by government bureaucrats who would set a maximum price for the drug," Amodei said in a release. "If a manufacturer refuses to comply with that price, the government will tax the drug manufacturer's overall revenue at 65 percent, a rate which keeps rising until it hits a 95 percent tax rate. In short: do what I say or go out of business."
And, according to the Congressional Budget Office, drug manufacturers would see a decrease in revenue under the bill that would result in lower spending on research and development and thus reduce the introduction of new drugs. Trump has threatened to veto the measure.
Approval of the legislation came after House Speaker Pelosi negotiated with some progressives and other members who wanted the bill to apply to more people. Titus was among the group, which managed to negotiate an increase in the minimum number of drugs that would have their prices negotiated from 25 to 50 in all but the bill's first year.
Titus also wanted the bill to apply to the uninsured so they too could receive the negotiated prices on prescription drugs, but an amendment she supported was denied by the House Rules Committee, which governs the debate on the floor.
"This is particularly a problem in Nevada where nearly 400,000 residents still do not have health insurance," Titus told the panel Tuesday before they ruled against letting the amendment be offered.
In her district, there are 115,000 uninsured. But she nevertheless supported the measure.
"I wish that [amendment] had been accepted and I wish it covered more drugs, but it is such a good bill, so transformational," Titus said in a brief interview Thursday. "We've got to move forward and those become things we worked towards. You don't let that keep you from doing the bill."
Passage of the legislation also represented victories for Horsford and Lee, who both campaigned on cutting the cost of health care. The Democratic Congressional Campaign Committee, the House Democrat's campaign arm, bought Facebook ads targeting their constituents to underscore the point.
Both lawmakers had legislation they introduced included in the measure.
The bill included Horsford's bill, among others, to establish a $2,000 out-of-pocket limit on prescription drugs under Medicare Part D, which is designed to help Medicare beneficiaries pay for prescription drugs.
The measure also includes legislation introduced by Lee that would change the law so that disbursements of retirement savings are not counted for determining qualification for Medicare Part D's low-income subsidy program.
On a call with reporters Tuesday, Horsford said the bill would reduce drug costs for the roughly 90,000 people in his district enrolled in Medicare Part D and nearly half a million people enrolled in private health insurance.
Lee, who was also on the call, said that the bill would help the 96,000 Medicare Part D enrollees in her district and the 625,000 on private insurance.
"Like everyone on this call, I ran on a campaign promise addressing skyrocketing prescription drug prices," Lee said, adding that passage of the bill is a promise kept.
Farmworkers and defense
Although the delegation split on prescription drugs, all of the members voted for the farmworkers bill and the annual National Defense Authorization Act (NDAA).
The measure was approved on a 260 to 165 vote. Amodei, a co-sponsor of the legislation and one of 34 Republicans to vote for the bill, argued that the measure is good for businesses and supported by the U.S. Chamber of Commerce.
Amodei highlighted a provision that would cap the annual growth of the Adverse Effect Wage Rate (AEWR) for 10 years. The AEWR is effectively the minimum wage that must be paid to agricultural workers under the H-2A visa program.
"In Nevada, double-digit AEWR increases in recent years have put a squeeze on agricultural employers that use the H-2A program, and I've heard strong support for the decade of wage stability and predictability this bill will provide," he said in a release.
The measure also includes a program under which farmworkers without legal status could become legalized. Once legalized the farm workers could seek to become permanent residents, but that would take between 9 and 14 years. About half of the nation's farm laborers lacked the authorization to live and work in the United States in 2016, according to a National Agricultural Workers Survey.
"This reform will also go a long way in alleviating labor shortages for producers who face year-round needs, like the dairy industry," Amodei said.
Horsford praised the measure as an important legislative accomplishment. He said that he had been in contact about the bill with Peri & Sons Farms in Yerington.
"They've come in to talk to me about the need to have a better and more efficient worker visa program for farmworkers," Horsford said. "And so this bill accomplishes that. I had my team reach out to him to let them know."
Horsford also lauded House passage, on a 377 to 48 vote, of the final version of the NDAA, which was unveiled Monday by House and Senate negotiators.
"It's huge," Horsford said. The bill authorizes $57 million for the 365th Intelligence, Surveillance, and Reconnaissance (ISR) Group, which is headquartered at Nellis Air Force Base in his district. Those funds would still need to be appropriated.
The measure also provides a 3.1 percent pay increase for service members, and for the first time would establish paid parental leave for federal employees, including 12 weeks paid parental leave in the case of birth, adoption or fostering. In exchange for parental leave, which had been a Democratic priority, the bill would create the Space Force, a new branch of the military focused on space warfare and a priority for Trump.
The legislation also repeals the spouse of a service member who is killed in action to receive both Dependency and Indemnity Compensation and Survivor Benefit Plan benefits.
Three of Lee's amendments prodding the Pentagon and Department of Veterans Affairs (VA) to modernize their electronic health records system were included in the NDAA. Lee is chairman of the House Veterans' Affairs Committees' Technology Modernization subcommittee, which oversees the project.
"My three bipartisan amendments that passed as part of the NDAA today will hold VA accountable for effectively modernizing their Electronic Health Records program, by giving them the guidance and structure they've been lacking," she said in a release.
Senate
In the Senate last week, both Rosen and Cortez Masto took to the floor to try to urge their colleagues to oppose the VanDyke nomination. He was confirmed 51 to 44 with one Republican, Susan Collins of Maine, joining with all Democrats in opposing the judge.
"No matter who is president or who controls the Senate, you would want qualified judges with connections to the state, who will be fair to your constituents, and not use cases to advance their personal ideological agenda," Rosen said in her speech. "Mr. VanDyke fails this basic standard, and as such I oppose his nomination to a Nevada Seat of the Ninth Circuit."
VanDyke was deemed unqualified for the post by the American Bar Association, which evaluates judicial nominations. But Republicans dismissed the ABAs assessment despite the fact that it raised concerns about his ability to be impartial with members of the LGBTQ community and describing him as arrogant, lazy, an ideologue, and lacking in knowledge of the day-to-day practice, including procedural rules.
For his part, VanDyke and his supporters, including former Attorney General Adam Laxalt, have said he is qualified, smart, impartial and professional.
With a lifetime appointment, VanDyke, 47, will have a long-lasting impact on the state. The powerful Ninth Circuit has jurisdiction over District Court cases tried in Nevada. His appointment is part of Trump and McConnell's plan to install conservative judges to remake the nation's federal bench.
VanDyke is the 50th appellate court judge Trump has nominated, more than any president in their first full term since 1980.
The two Democratic senators also voted against Aurelia Skipwith to be the director of the Fish and Wildlife Service. She was confirmed 52 to 49. Only two Democrats, Sen. Doug Jones of Alabama and Sen. Joe Manchin of West Virginia voted with all Republicans to confirm Skipwith.
Both cited her lack of experience and concerns about enforcing the Endangered Species Act. Skipwith, who is the first African-American woman to head the agency, previously served as deputy assistant secretary for Fish and Wildlife and Parks at the Department of the Interior and also worked at Monsanto as a researcher and executive.
"The senator also had serious concerns about Skipwith's involvement in developing regulations that drastically alter the implementation of the Endangered Species Act as well as possible conflicts of interest due to her ties to agribusiness," Cortez Masto's office said.
A spokesman for Rosen said she "opposed Ms. Skipwith's nomination due to her lack of commitment to enforcing the Endangered Species Act, lack of relevant experience, and her history of connections to partisan lobbyists and corporations that have harmed our environment and our wildlife."
For a full rundown of the measures the delegates supported or opposed this week, check out The Nevada Independent's congressional vote tracker and other information below.
SEN. CATHERINE CORTEZ MASTO
Legislation co-sponsored:
S. 3034 – A bill to make trade adjustment assistance available to workers whose jobs are eliminated through automation, and for other purposes.
S. 3016 – A bill to amend the Federal Food, Drug, and Cosmetic Act to ensure that consumers can make informed decisions in choosing between meat products such as beef and imitation meat products, and for other purposes.
S.3007 – A bill to amend title 18, United States Code, to require a provider of a report to the CyberTipline related to online sexual exploitation of children to preserve the contents of such report for 180 days, and for other purposes.
SEN. JACKY ROSEN
Legislation sponsored:
S. 3040 – A bill to amend the Higher Education Act of 1965 to include teacher preparation for computer science in elementary and secondary education.
REP. DINA TITUS
Legislation sponsored:
H.R.5412 – To direct the National Council on Disability to conduct a review of the implementation of standards under the Americans with Disabilities Act of 1990 in the travel, tourism, and hospitality industries.
IndyFest is proudly sponsored by:
Comment Policy (updated 4/20/2021): Please keep your comments civil. We reserve the right to delete comments or ban users who engage in personal attacks, use an excess of profanity, make verifiably false statements or are otherwise nasty. Comments that contain links must be approved by admin.