Democratic presidential hopeful Castro says country needs Yucca alternative, must re-commit to Paris climate deal during Las Vegas roundtable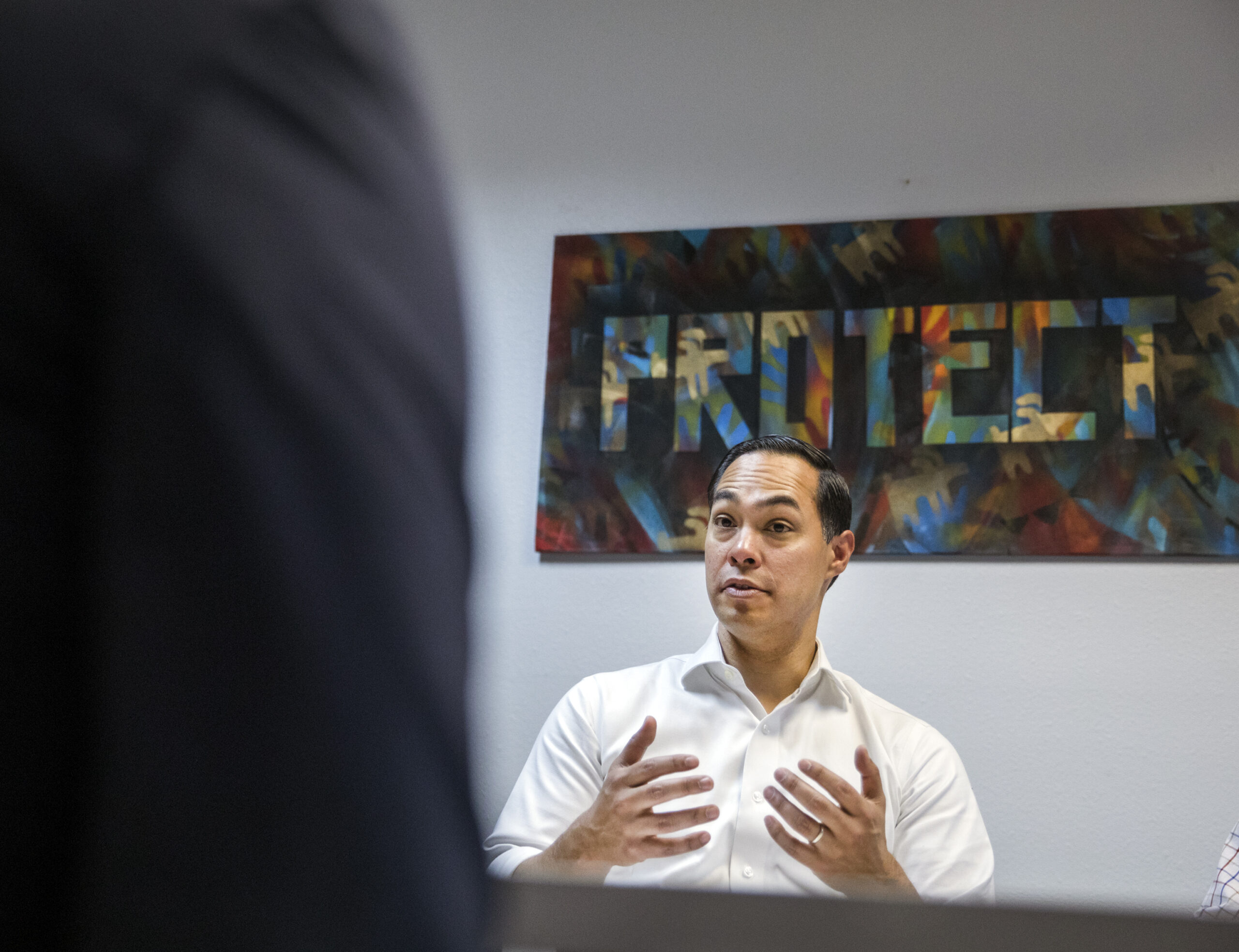 Democratic presidential hopeful Julian Castro told a panel of conservationists and political activists Friday that he wouldn't seek to reopen the shuttered nuclear waste repository at Yucca Mountain, adding to a growing list of Democratic contenders who have turned away from the project as a means to store high-level nuclear waste.
"I'm sure many of the other candidates are opposed to restarting that conversation," Castro said. "Of course, we're going to have to deal with the issue, the underlying issue of what you're going to do with that nuclear waste, but I do think that there are better ways to approach it."
The Trump Administration has tried multiple times to kickstart the facility through proposed budgets, though to no avail. There is, however, a contingent in Congress who have sought to reopen Yucca, and court filings revealed in January revealed the Department of Energy had secretly shipped plutonium to Nevada without first informing the state's representatives.
Speaking to The Nevada Independent, Castro said he would like to see a process that accounts for communities that "may be interested in taking on that challenge.".
"I know that there have been different processes that have been proposed, and I'm open to those different processes, but I don't believe that we should restart the Yucca mountain conversation," he said.
The comments came as the former mayor of San Antonio and Housing and Urban Development Secretary under President Barack Obama swung through Las Vegas ahead of a day-long candidate forum on Saturday.
The visit is his seventh visit to Nevada since 2016 and his fifth since joining the presidential field in January the most of any candidate so far. His roundtable with the Conservation League was just one of three stops he made Friday, including visits to Rancho High School and the Service Employees International Union.
During the roundtable discussion, Castro went on to reaffirm a commitment he's made in the past to rejoin the U.S. into the Paris Climate Accord as part of a broader effort to reduce the country's carbon footprint. He has also vocally supported the so-called Green New Deal, which provides a series of wide-ranging policy goals meant to deal with climate change.
"What we need to do in addition to rejoining the Paris Climate Accord is invest in reducing carbon emissions and follow the lead of so many local communities and states that have made a pledge to reduce their carbon emissions and make important investments in sustainability."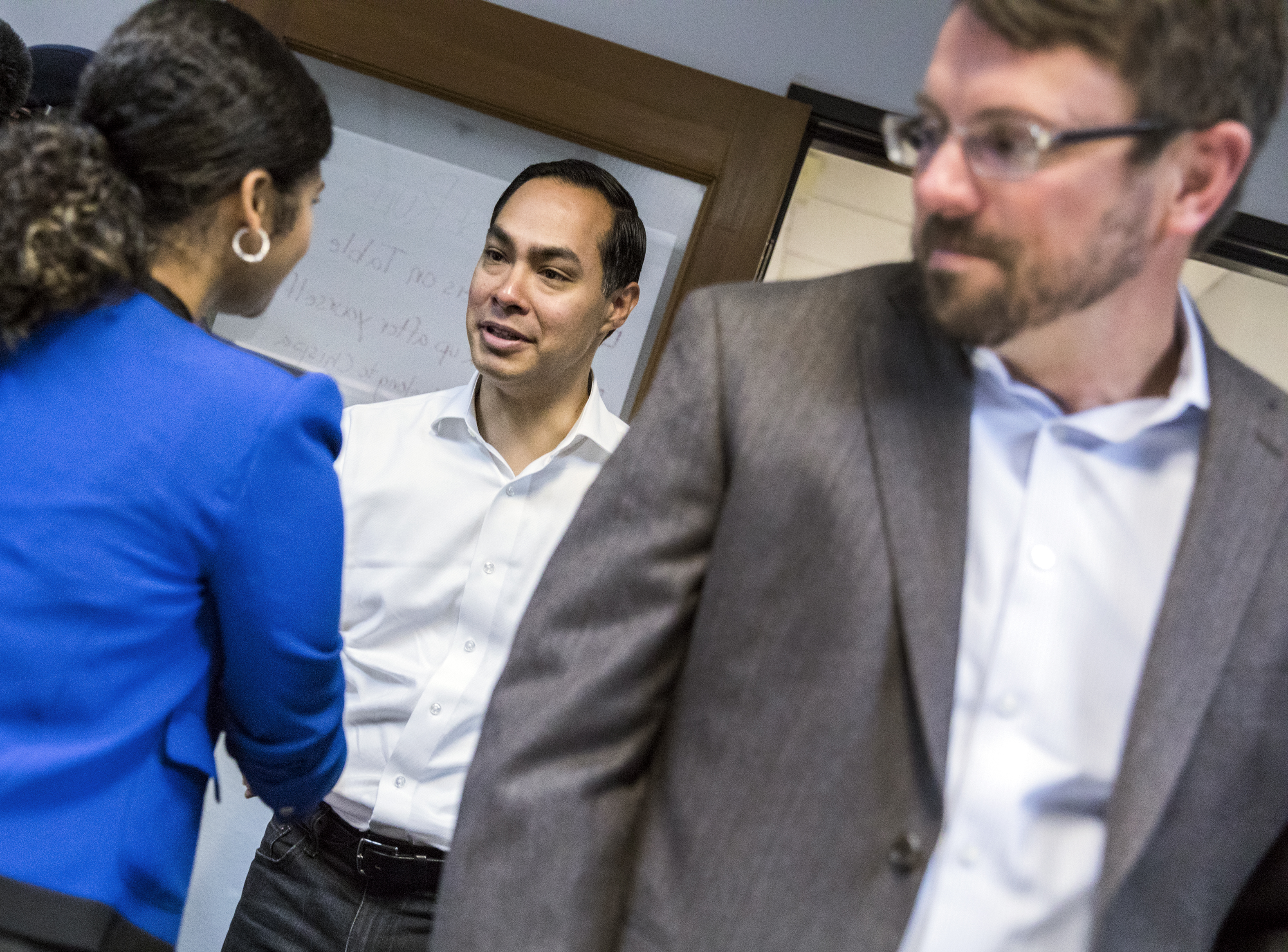 Castro has a history of supporting conservationist policies; during his time as mayor of San Antonio, he worked with the energy utility CPS energy on renewable energy efforts, and as HUD secretary, Castro wielded a $1 billion program meant to help disaster-stricken areas rebuild and prepare for climate change.  
But in 2011, he also touted economic benefits of fracking, at a time when oil from a nearby shale deposit brought the city thousands of jobs.
The controversial method of oil extraction has led to an economic boon across large swaths of the U.S., but environmentalists have long charged that the chemicals used in the process have tainted local water supplies and increased the probability of earthquakes.
In Las Vegas, however, Castro reiterated his position that the present and future of energy lies in renewables and spoke out against moves by the Trump Administration to open land to oil and gas leases and development over the objections of conservationists.
"I'm convinced that's a false choice," Castro said. "I would not support new leases on these lands, and I've seen plenty of examples of the opportunity that exists in the clean energy economy, and that we ought to stress that. We can continue to develop our own energy capacity here in the United States and do it with a large focus on clean energy."
Among a crowded field, Castro has lagged in early polls. Nationwide surveys this week from Monmouth and Morning Consult show Castro between 0 and 1 percent, respectively, while his overall polling average sits at 1.3 percent.
Still, his poll numbers mean he appears to have met the qualifications for upcoming debates this summer, and the former mayor still managed to raise $1.1 million through the first quarter of 2019.
Castro's visit comes as part of a wave of presidential attention for Las Vegas this weekend as eight Democratic challengers crowd the city for a day-long union forum, among other individual events. Those candidates include: California Sen. Kamala Harris, Massachusetts Sen. Elizabeth Warren, former Texas Rep. Beto O'Rourke, Minnesota Sen. Amy Klobuchar, former Colorado Gov. John Hickenlooper, Massachusetts Rep. Seth Moulton and author Marianne Williamson.  
For a full accounting of presidential visits, including who visited, when and where, see our 2020 presidential candidate tracker.
The Nevada Independent is raising $200,000 by Dec. 31 to support coverage of the 2024 election.
Tax-deductible donations from readers like you fund this critical work.
If you give today,your donation will be matched dollar-for-dollar.
Give + Get Matched
Featured Videos