Democrats attack Laxalt, Duncan over endorsement from embattled rural sheriff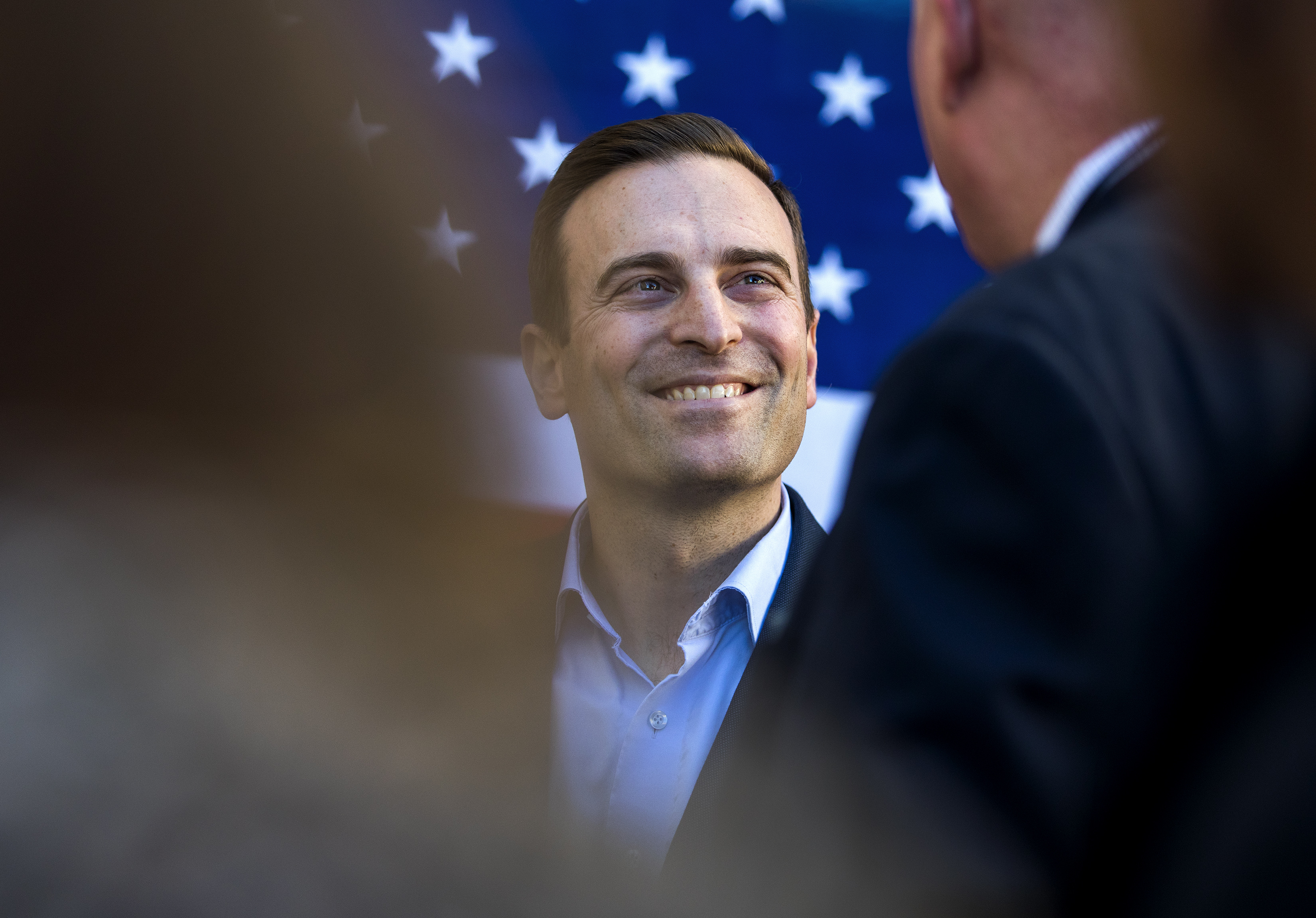 Accusations of rampant sexual misconduct by a rural Nevada sheriff are the latest cudgel being used by state Democrats to hammer Republican candidates who have accepted his endorsement.
Democratic candidates for governor and attorney general are highlighting claims against Storey County Sheriff Gerald Antinoro, including revelations that he has been the target of more than 10 harassment or wrongful termination complaints since taking office in 2010 and is currently being sued by a former deputy.
In a deposition, Antinoro admitted to telling sexually explicit details of his personal life to his former chief deputy, including paying his ex-wife to have sex with other men while he watched and taking his ex-girlfriend to a swingers club in Las Vegas.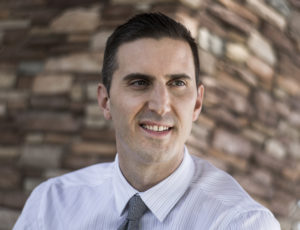 Antinoro, who has dismissed the accusations as "dirty politics" driven by a group of prominent Northern Nevada developers, has nonetheless thrown his support behind several top Republican candidates on the 2018 ballot, including gubernatorial front-runner Adam Laxalt and Attorney General candidate Wes Duncan.
But his support for their campaigns is now being weaponized by Democrats, including a spokeswoman for attorney general candidate Aaron Ford's campaign who criticized Duncan's silence on the sheriff's legal problems.
"Wes Duncan's refusal to disavow the endorsement of known harasser and alleged rapist, Gerald Antinoro, proves that he has one set of rules for his friends and political allies and another set for everyone else," Ford campaign manager Peggy Yang said in a statement. "Duncan can't create a safer Nevada as long as he's protecting a predatory sheriff, and Nevadans can't trust someone who would put his political career ahead of protecting victims."
A spokesperson for Duncan declined to comment, and Laxalt's campaign didn't respond to a request for comment on Antinoro's support for their campaigns. Both still list his support on press releases announcing the endorsements of multiple county sheriffs.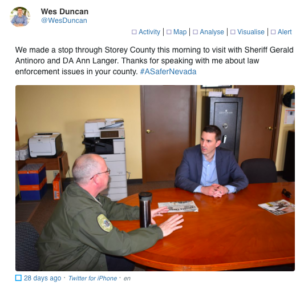 Duncan, a former state assemblyman and top deputy in the attorney general's office, deleted a tweet sent in late March that included a picture of himself and Antinoro, and thanked him for "speaking with me about law enforcement issues in your county."
Antinoro also appeared alongside Laxalt in an ad for a National Rifle Association-backed group opposing a 2016 ballot measure expanding background checks on private party sales and transfers of firearms.
"By looking the other way, Laxalt and Duncan are telling Nevada women that they won't fight to keep them safe from abusers," Nevada State Democratic Party spokeswoman Helen Kalla said in a statement.
Clark County Commissioner and Democratic gubernatorial candidate Chris Giunchigliani also tweeted on Thursday that it was "unthinkable" for Laxalt "to stand by a confirmed sexual harasser."
Fellow commissioner and gubernatorial candidate Steve Sisolak also pummeled Laxalt for not renouncing the endorsement.
"This failure to stand up to a predator like Antinoro sends a clear message that Laxalt will show no leadership when it comes to combating sexual harassment or violence in our state," he said in a statement on Monday.
Republican Assembly Caucus Leader Jim Wheeler, who represents a district encompassing Storey County, is listed as one of the sheriff's supporters on his campaign website and states that Antinoro's "honor and integrity, are in my opinion, above reproach."
Wheeler said in an interview that the endorsement was from the sheriff's 2014 re-election campaign, but didn't see a reason to withdraw it until the legal process had run its course.
"I have no reason not to continue to endorse until there's been an adjudication," he said. "Anyone can make allegations."
Antinoro survived a recall attempt launched in 2017 that was largely paid for by developers of the Tahoe-Reno Industrial Center, a major industrial park in Storey County. He is up for re-election in 2018 and is facing off against two other candidates — Bruce Clark and Mike Cullen.
Disclosure: Steve Sisolak and Chris Giunchigliani have donated to The Nevada Independent. You can see a full list of donors here.
Updated at 10:05 a.m. to include a quote from Steve Sisolak.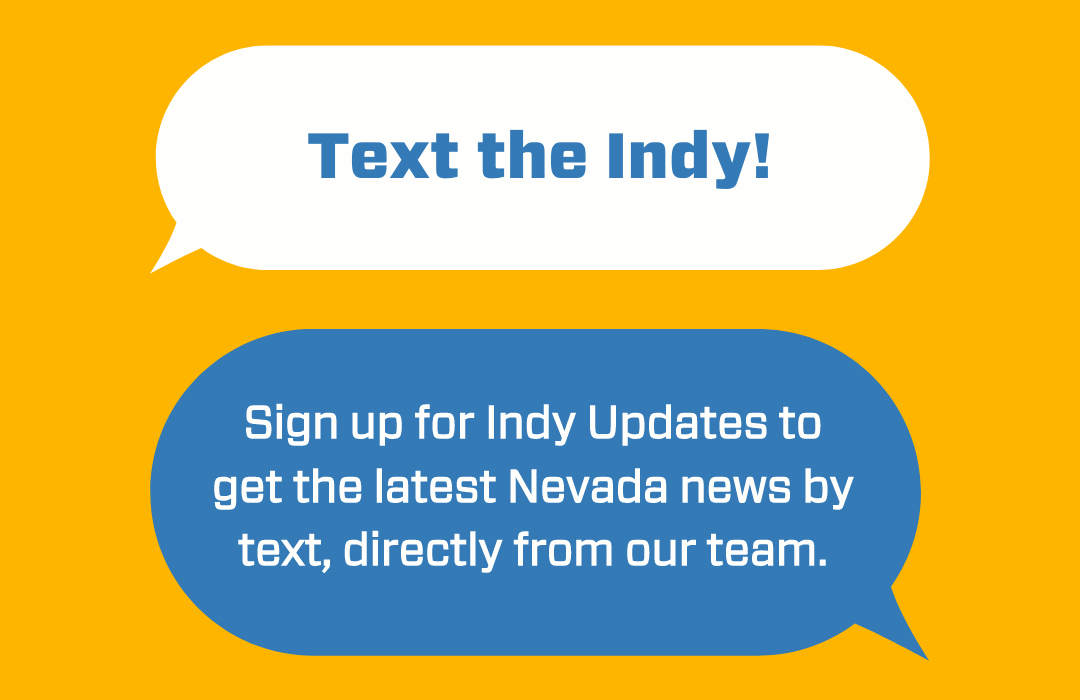 Featured Videos